This Peeps Easter Fondue Recipe is a fun and delicious treat you and your family will enjoy.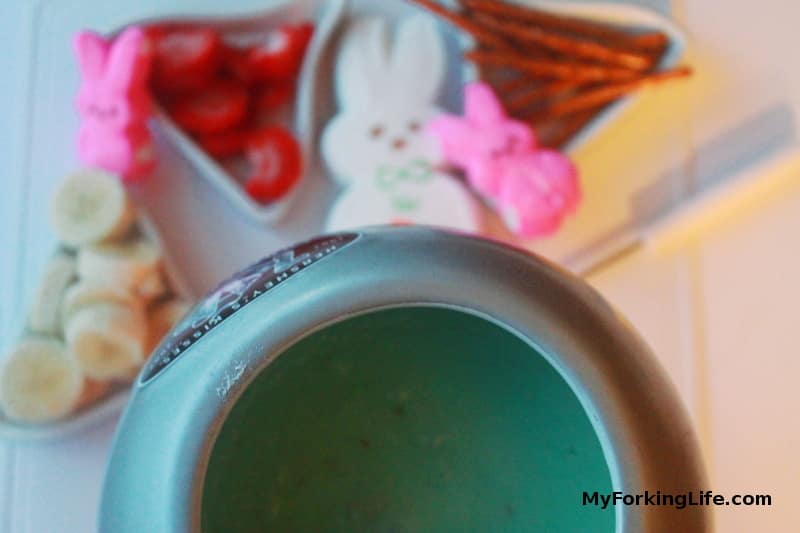 Easter is near, nothing to fear, the Peeps are here! How do you like my rhyming skills? I believe I was a rapper in a former life. My skills are ridiculous.
On a more truthful note, Easter Peeps and their cute colorful selves love to make an appearance around Spring time. From ducks to bunnies, you can find all the colors of the pastel rainbow.
For those of us who like to get fancy with our peeps, this Peeps Easter Fondue recipe is a delight.
Please be warned, there were little pink bunnies and baby blue ducks harmed during the making of this fondue. I have no regrets.
First, melt a 12 oz bag of white chocolate morsels and 4 TBSP heavy cream over a double boiler over low heat. Stir until smooth.
*If you don't have a double boiler, make your own. I grabbed two saucepans of similar sizes, put some water in the bigger one and let it come to a simmer. I placed my other saucepan over it and  pure magic, I had fancy kitchen equipment.
Next, break a 10-12 pack of Peeps, bunnies or ducks, whichever you prefer, into small pieces and add to your chocolate mixture. Stir until all of your little Peeps have dissolved.
Place in Fondue dish, keeping warm and stirring ever so often to ensure even heating.
*Please note that your pastel colors may fade once added to the chocolate as my blue duckies turned greenish. Feel free to add a bit of food coloring to achieve the desired color.
Dip your favorite fruit, vegetables?, and other items in this dip. Our favorite was to dip pretzels for the sweet and salty taste. Enjoy.
*Also note that once your mixture cools down, it's still delicious! Let it cool down too long, it will harden and become a delicious block of chocolate. The deliciousness will never end!
Look at mama bear, chillin' poolside with her baby bunnies!

Easter Peeps Fondu

This Easter Peeps Fondu is the perfect fun dessert for Easter.

Ingredients

1

12 oz

bag of white chocolate morsels

4

Tbsp

heavy cream

1

10-12

pack peeps bunny or ducks

Instructions

Melt white chocolate and heavy cream in double boiler over low heat until smooth.

Breaks peeps into small pieces and add to chocolate. Stir until melted and smooth.

Pour into fondu pot and keep warm, stirring every so often. Serve with pretzels and various fruits. Enjoy 🙂

Subscribe to my YouTube

Subscribe to my YouTube Channel for full length recipe videos. Click the bell icon to be notified when I upload a new video.

Although myforkinglife.com attempts to provide accurate nutritional information, these figures should be considered estimates. Varying factors such as product types or brands purchased, natural fluctuations in fresh produce, and the way ingredients are processed change the effective nutritional information in any given recipe. Under no circumstances will myforkinglife.com be responsible for any loss or damage resulting for your reliance on nutritional information.

Pin Peeps Easter Fondue Recipe for Later