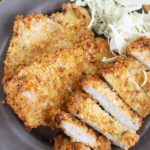 Print
Air Fryer Boneless Pork Chops (Japanese Tonkatsu Style)
These Air Fryer boneless pork chops are nice and crispy with tons of flavor and no added oil. Enjoy this delicious Asian inspired recipe without the added oil.
Place flour, eggs, and panko breadcrumbs in separate shallow bowls. Set aside.

Wash and pat pork chops dry.

Sprinkle both sides of pork chops with salt and black pepper.

Take each pork chop and coat it in the flour, then the eggs, and then the panko.

Place pork chops in Air Fryer basket, making sure there is no overlap.

Set Air Fryer to 360 degrees Fahrenheit and cook for 8 minutes. Once 8 minutes is up, flip pork chops over and continue cooking for 5 more minutes.

Remove and repeat for remaining pork chops.
Notes on Air Fryer Boneless Pork Chops (Japanese Tonkatsu)
Feel free to change up the panko breading seasoning to suit your taste.
This recipe was made in my Phillips Avance XL Air Fryer. Other brands may require a little longer of a cook time.