These Air Fryer Boneless Pork Chops are nice and crispy with tons of Asian flavor. Have fun with the seasonings to create your own flavor combo or just follow the recipe as stated below.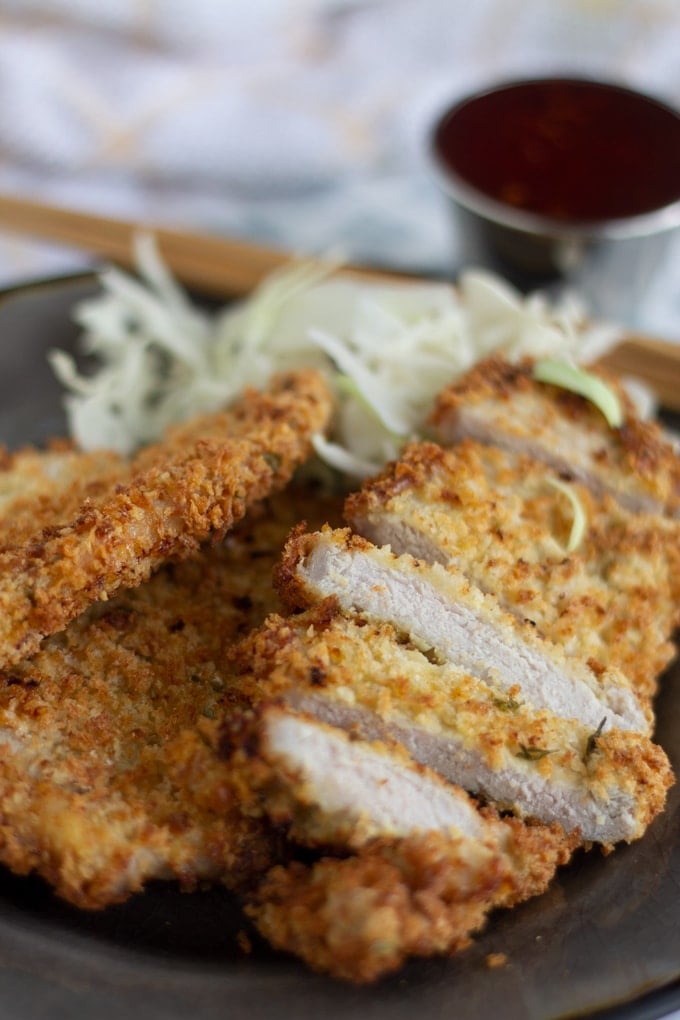 This post may contain affiliate links, please read my full disclosure here.
Our Air Fryer is our go to when we are craving fried foods. Traditional frying has become a thing of the past (except when making things with loose batter). The internet has let me know that you all love your Air Fryers too which is awesome. I'll keep the Air Fryer recipes coming 🙂
I find that the Air Fryer is perfect for cooking all kinds of meat, especially pork. If you haven't tried my Air Fried Jamaican Jerk Pork Recipe, you should, it's amazing! These air fried pork chops are just as amazing and about as easy to make in your air fryer.
I made this recipe with a traditional Japanese pork tonkatsu recipe in mind. Japanese Tonkatsu is thinly sliced pork (cutlet or chops) that is breaded in flour, egg, and panko and fried to perfection.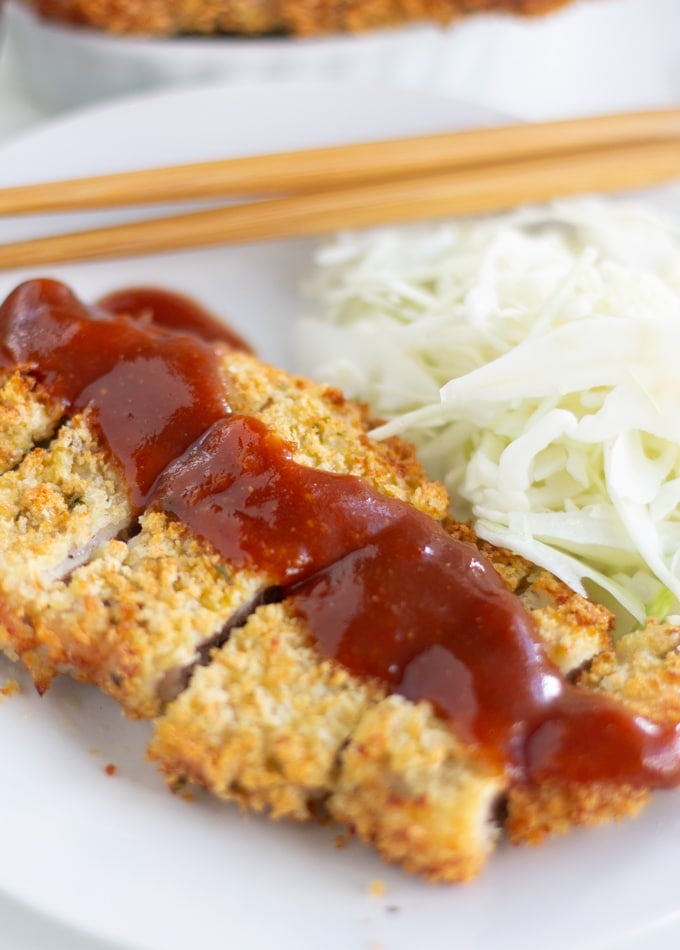 It's generally served with a side of finely shredded cabbage and tonkatsu sauce. I usually skip the tonkatsu sauce and serve it with sweet chilli sauce.
You can adapt this recipe and use any flavor breadcrumbs you like but I highly suggest using panko. I use seasoned Japanese panko breadcrumbs.
HOW TO MAKE AIR FRYER BONELESS PORK CHOPS?
You'll want to get a working station set up with flour, beaten eggs, and flavored panko breadcrumbs. Make sure your pork chops are dry and coat both sides in the flour, then the egg, and the panko breadcrumbs. Place in your Air Fryer to cook.
WHAT IS THE BEST TEMPERATURE TO COOK MY AIR FRYER BONELESS PORK CHOPS?
For the best results, I recommend air frying the pork chops at 360 degrees Fahrenheit, rather than a higher heat. Cooking the pork chops at 360 allows the pork chops to get nice and crisp on the outside without drying out the meat.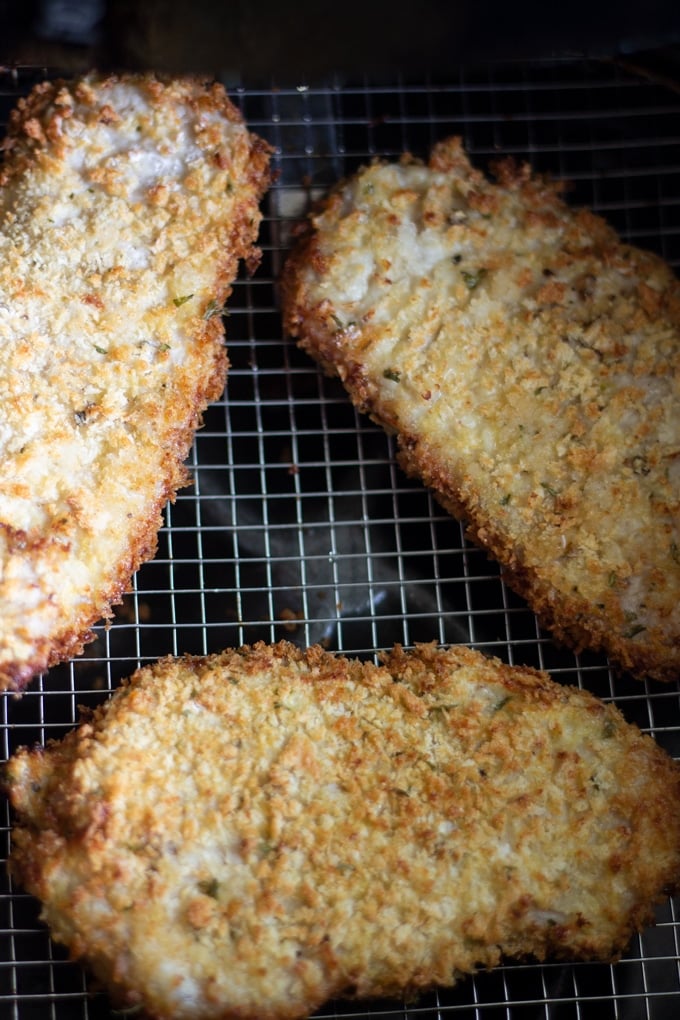 OIL OR NO OIL, THAT IS THE QUESTION?
For this recipe, when using thinly sliced pork chops, I don't spray the chops. I do spray the basket to avoid sticking as I don't want to lose any breading when I flip.
You may wonder what determines if meat needs to be sprayed or not. For the most part, it will depend on the type of breading, how long you cook, your Air fryer brand, and the amount of natural oils the food releases. I mention this briefly in my 10 Tips Every Air Fryer Owner Should Know post.
And that's it. These pork chops are so easy and so flavorful and healthy since they are made in the air fryer. As always, enjoy 🙂
Looking for more Air Fryer Recipes? Try these out:
Perfect Air Fryer Steak with Garlic Herb Butter
Korean Air Fried Chicken Wings
Air Fryer Pork Chops
Air Fryer Boneless Pork Chops (Japanese Tonkatsu Style)
These Air Fryer boneless pork chops are nice and crispy with tons of flavor and no added oil. Enjoy this delicious Asian inspired recipe without the added oil.
Instructions
Place flour, eggs, and panko breadcrumbs in separate shallow bowls. Set aside.

Wash and pat pork chops dry.

Sprinkle both sides of pork chops with salt and black pepper.

Take each pork chop and coat it in the flour, then the eggs, and then the panko.

Place pork chops in Air Fryer basket, making sure there is no overlap.

Set Air Fryer to 360 degrees Fahrenheit and cook for 8 minutes. Once 8 minutes is up, flip pork chops over and continue cooking for 5 more minutes.

Remove and repeat for remaining pork chops.

Serve pork chops with tonkatsu sauce or sweet chili sauce on the side.
Notes
Notes on Air Fryer Boneless Pork Chops (Japanese Tonkatsu)
Feel free to change up the panko breading seasoning to suit your taste.
This recipe was made in my Phillips Avance XL Air Fryer. Other brands may require a little longer of a cook time.
Nutrition
Subscribe to my YouTube
Subscribe to my YouTube Channel for full length recipe videos. Click the bell icon to be notified when I upload a new video.
Although myforkinglife.com attempts to provide accurate nutritional information, these figures should be considered estimates. Varying factors such as product types or brands purchased, natural fluctuations in fresh produce, and the way ingredients are processed change the effective nutritional information in any given recipe. Under no circumstances will myforkinglife.com be responsible for any loss or damage resulting for your reliance on nutritional information.
Step by Step Photos of Air Fryer Boneless Pork Chops (Japanese Tonkatsu Style)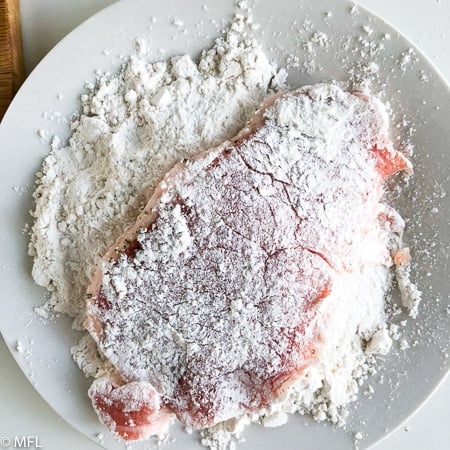 Place pork in flour.
Then place in egg.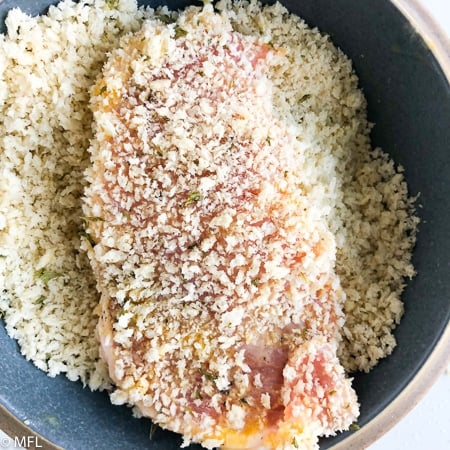 And then panko.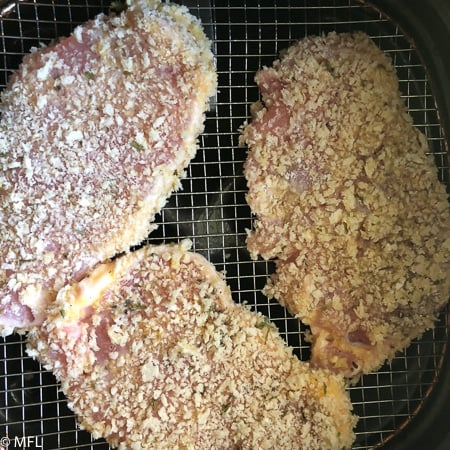 Place pork in Air fryer. Cook at 360 degrees Fahrenheit for 8 minutes on one side.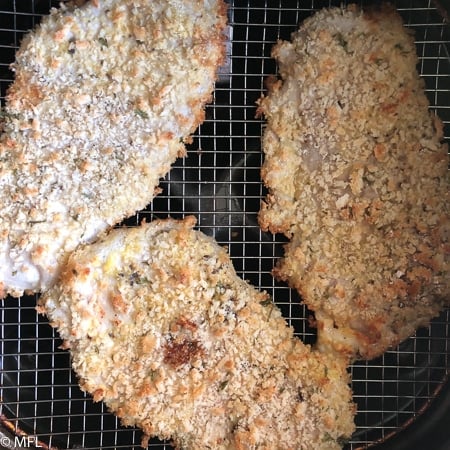 Flip and cook for 5 minutes more.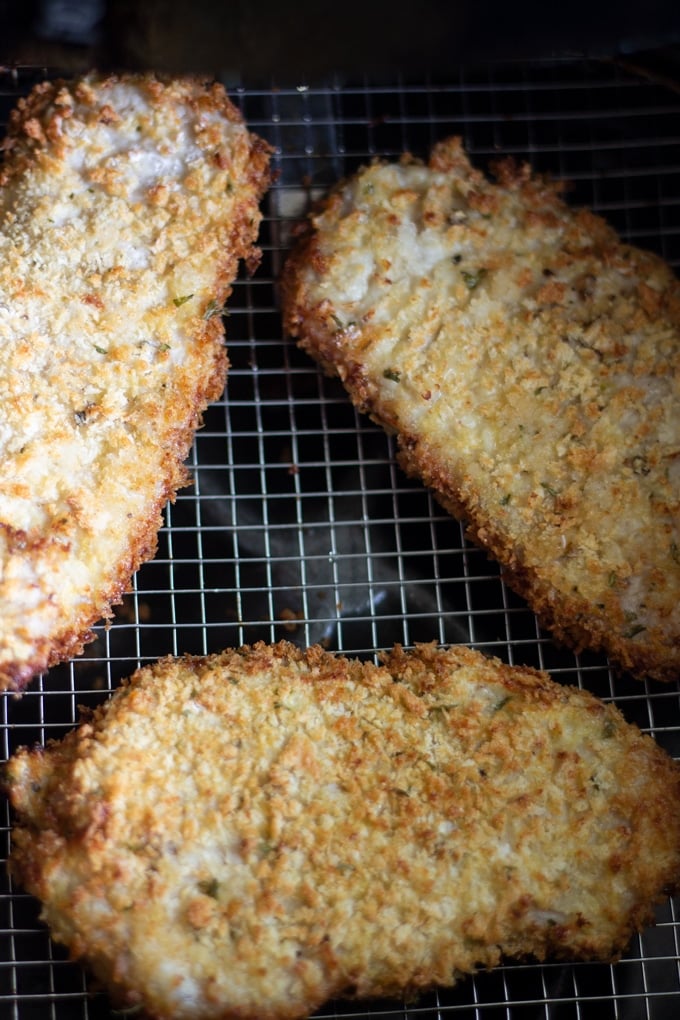 All done.