This Jamaican Callaloo and Saltfish recipe is the perfect main course or side dish for any meal. Generally eaten for breakfast in Jamaica, this delicious dish can be served at any time of the day.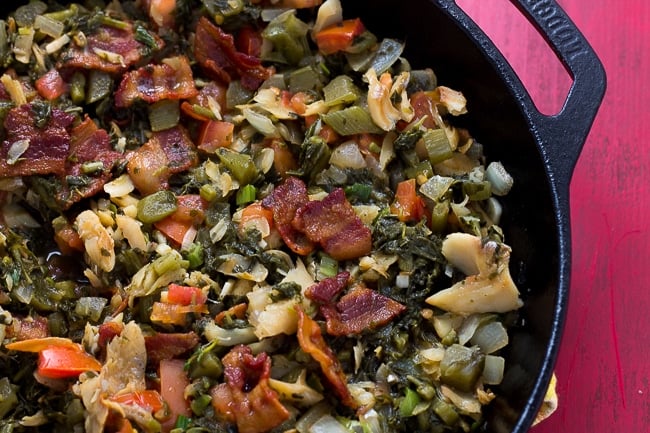 This post contains affiliate links, please read my full disclaimer here.
Full Recipe Ingredients/Instructions are available in the
recipe card at the bottom of the post.
You can find important tips/tricks in the
blog post.
What a gwan?
Translation: What is going on?!?
You gon fi luv mi callaloo n sal fish recipe.
Translation:You are going to love my callaloo and saltfish recipe.
I love speaking Jamaican patios but my mom tells me I sound horrible when I try. Although I was raised in a Jamaican household, I was raised in the lovely states of Maryland and Florida and only visited Jamaica once in a while. When I speak patios I sound like the actors in Cool Runnings. Great movie but horrible accents. Moving on…
I was honored to be invited to a Black History Month Virtual Potluck, organized by Meiko of Meiko And The Dish and Aaron of The Hungry Hutch. This potluck will include 28 of some of the best black food bloggers in the world. We are talking Southern, African, Caribbean, Creole…all kinds of amazing recipes.
I decided to bring one of my favorite Jamaican dishes, Jamaican Callaloo and Saltfish, to this virtual potluck for all my virtual friends to enjoy. Don't forget to like My Forking Life on Facebook and/or Twitter because for the next 28 days I will be sharing some yummy recipes from this virtual potluck. Or peep down below for links to all the recipes from my fellow foodie blogger friends.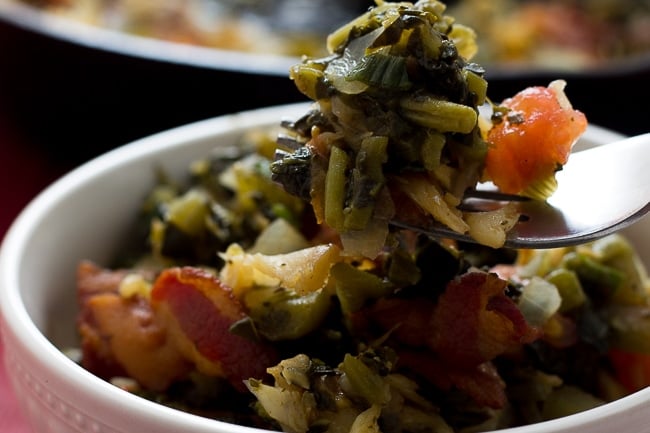 What is Callaloo and Saltfish?
Callaloo and saltfish is typically served for breakfast but I'll eat it at any time of the day. Callaloo, one of the stars of this recipe, is a dark green leafy vegetable that is incorporated into a lot of Caribbean and African cuisine. Although similar to collard greens, the origins of the plants differ as well as the way it's prepared. Also, fresh collard greens are easier to find in most major grocery stores in the U.S.
What if you don't have fresh callaloo?
I haven't been able to find fresh callaloo in the grocery stores in my area but the canned callaloo works just fine. It actually cuts down on cooking time and comes pre-chopped. Less work for me.
What is Saltfish?
Saltfish, the other star of this recipe, is usually made with cod fish that is cured with dry salt for preservation. Since it is so salty, saltfish needs to be prepped prior to cooking. Either soak the fish in water over night or boil it a few times to decrease the amount of salt on the fish.
Add a few other vegetables and spices to this dish and you will have a dish that everyone loves.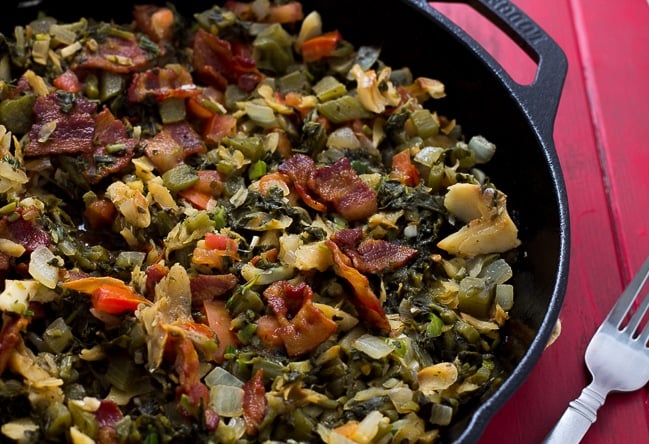 I hope you enjoy this callaloo and salt fish recipe as much as my family does. Don't forget to check out the links below of my black foodie blogger friends and as always, Enjoy 🙂
Notes on Callaloo and Saltfish
Fresh spinach or kale can be substituted for callaloo in this dish. However, in order to stay truly authentic, I would recommend sticking with callaloo.

Salt fish is really salty. Reduce the amount of salt by soaking fish in water in fridge overnight and then boil fish in water and pour water off. If you don't have the patience to soak the fish overnight, add fish to water and boil 3 times, changing the water each time.

I don't add salt to this recipe since salt fish has more than enough salt on it's own.

Make sure your saltfish is boneless. Check and make sure there are no bones present when shredding the saltfish.
This recipe calls for Jamaican scotch bonnet pepper, a super spicy peppa from the island. If I can't find it in the store, I substitute with this Scotch Bonnet Pepper Sauce.
If you liked this recipe, try my ackee and saltfish recipe.
Callaloo and SaltFish
Ingredients
1/2

lb

salted fish

4

strips

bacon

chopped

1

19 oz can

callaloo

drained

1

medium

yellow onion

chopped

2

green onions

chopped

2

garlic cloves

minced

1

scotch bonnet pepper

chopped

2

Roma tomatoes

chopped

2

sprigs

thyme

1/4

teaspoon

black pepper
Instructions
Soak salted fish in water overnight. Next, heat salted fish in water on stove until water boils. You should see a foam on top. Remove from heat and drain. Set aside and shred salted fish once it cools.

Cook bacon in skillet over medium heat until crispy. Remove bacon from heat and drain the majority of the bacon grease, leaving about 1 Tbsp in the skillet.

Add yellow onion, green onion, scotch bonnet pepper, and garlic to the skillet and stir. Cook for about 2 minutes or until onions soften. Add salted fish to skillet and stir. Cook for about a minute.

Next, add callaloo, roma tomatoes, thyme, and black pepper. Stir to combine and cook until heated through, about 2 minutes.

Enjoy 🙂
Nutrition
Calories:
279
kcal
|
Carbohydrates:
5
g
|
Protein:
39
g
|
Fat:
10
g
|
Saturated Fat:
3
g
|
Polyunsaturated Fat:
2
g
|
Monounsaturated Fat:
4
g
|
Trans Fat:
1
g
|
Cholesterol:
101
mg
|
Sodium:
4136
mg
|
Potassium:
1020
mg
|
Fiber:
1
g
|
Sugar:
2
g
|
Vitamin A:
454
IU
|
Vitamin C:
14
mg
|
Calcium:
111
mg
|
Iron:
2
mg
Subscribe to my YouTube
Subscribe to my YouTube Channel for full length recipe videos. Click the bell icon to be notified when I upload a new video.
Although myforkinglife.com attempts to provide accurate nutritional information, these figures should be considered estimates. Varying factors such as product types or brands purchased, natural fluctuations in fresh produce, and the way ingredients are processed change the effective nutritional information in any given recipe. Under no circumstances will myforkinglife.com be responsible for any loss or damage resulting for your reliance on nutritional information.
Step By Step Photos of Callaloo and SaltFish
Want to see more recipes from black food bloggers around the world? Join our Facebook Group, We Love Black Food Bloggers
Black History Month Potluck!
Meiko and the Dish | Crispy Fried Chicken with Pepper Jelly Molasses
Whisk It Real Gud | Trinidad Oxtail Pelau
Dash of Jazz | Aunt Georgia's Peach Cobbler
Foodie In New York | Twice Baked Yams
The Seasoning Bottle | Jamaican Sorrel/Senegalese Bissap
Savory Spicerack | Po' Boys with Cajun Tempura Shrimp
Chocolate For Basil | Groundnut Stew (Peanut Stew)
Simply LaKita | Banana Pudding
My Forking Life | Callaloo and Saltfish
Kaluhi's Kitchen | Ukwaju (Tamarind) Marinated Spicy Chicken Thighs
Sweet Savant | Coffee-Rubbed Lamb Ribs
Salty Sweet Life | Southern Greens Shakshuka
Eat.Drink.Frolic. | Maple Roasted Brussels Sprouts
I Heart Recipes | Southern Fried Cabbage
Jehan Can Cook | Mango Turmeric Smoothie
Margarita's On The Rocks | Lemon Pepper Fish Tacos with Collard Green Slaw
A Soulful Twist | Slow-Cooker Gumbo (Gluten Free)
The Kitchenista Diaries | Coconut Milk Braised Collard Greens
Butter Be Ready | Skillet Cornbread
D.M.R. Fine Foods | Curry Chicken Pot Pie
The Inner Gourmet | Lamb Fried Rice
Marisa Moore Nutrition | Hoppin' John Patties with Warm Tomato Salsa
The Hungry Hutch | Blood Orange Cornmeal Cake