This easy recipe for gravy without drippings is perfect for when you want delicious gravy but don't have the drippings to get it done. It's made from scratch, no packets, and has a delicious gravy flavor.
This post contains affiliate links, please read my full disclaimer here.
Full Recipe Ingredients/Instructions are available in the
recipe card at the bottom of the post.
You can find important tips/tricks in the
blog post.
I want gravy and I don't have the drippings. This happens to me often and I'm sure it's happened to you too. Luckily, you don't need drippings to make a delicious brown gravy on the stovetop that is full of amazing flavor.
The key to the perfect gravy without the drippings is all about technique. You've got to sauté the right vegetables in the right fat, add the right amount of flour and brown it to the perfect caramel color, add some low-sodium broth and reduce. I promise you, it's quite easy and perfect.
Ingredients Needed
How to make brown gravy without meat drippings
I use prep containers to place all my ingredients before I get to the stove. Chop your onion, carrot, and celery stalk. Measure out your butter, flour, and seasonings. Open your broth.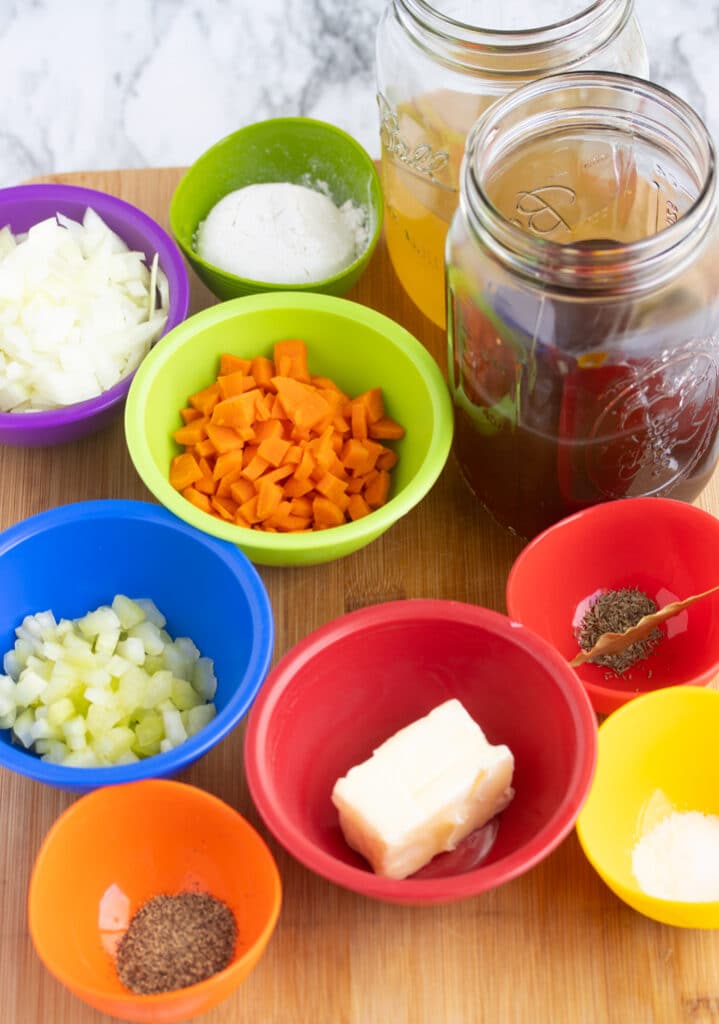 Melt butter in sauce pan over medium-high heat in a skillet. Add onions, carrots, and celery stalk and stir consistently until vegetables have softened, about 8-9 minutes. Do not stop stirring at this point or your butter may get too hot and burn. Burnt butter = bitter gravy.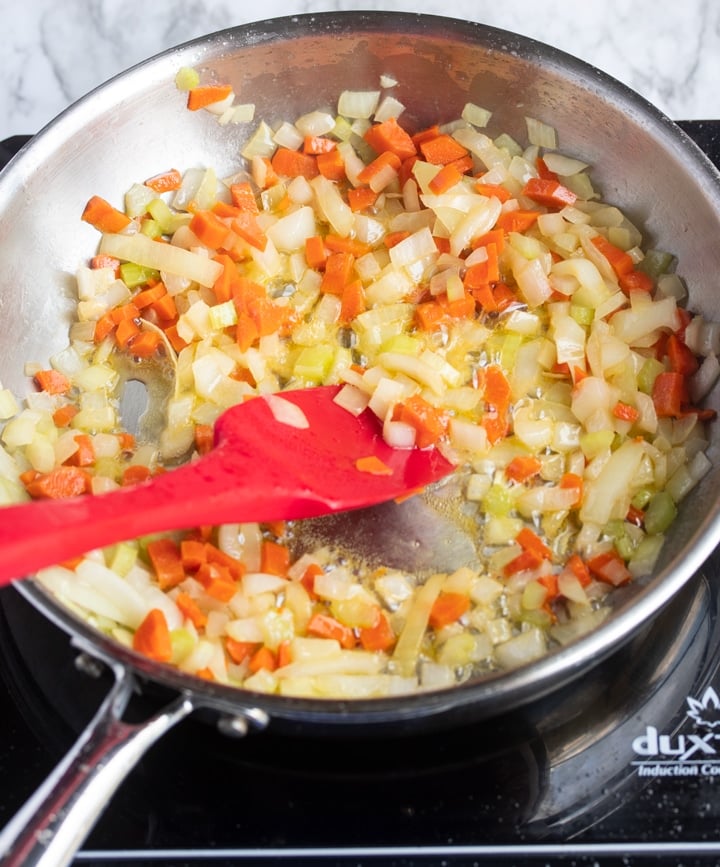 Sprinkle flour over vegetables and continue to stir for about 3-4 more minutes to allow the flour to cook. You'll notice that your flour is getting darker, which is perfectly fine. Your flour should turn a tan/light caramel color. Any darker than that can leave you with bitter gravy.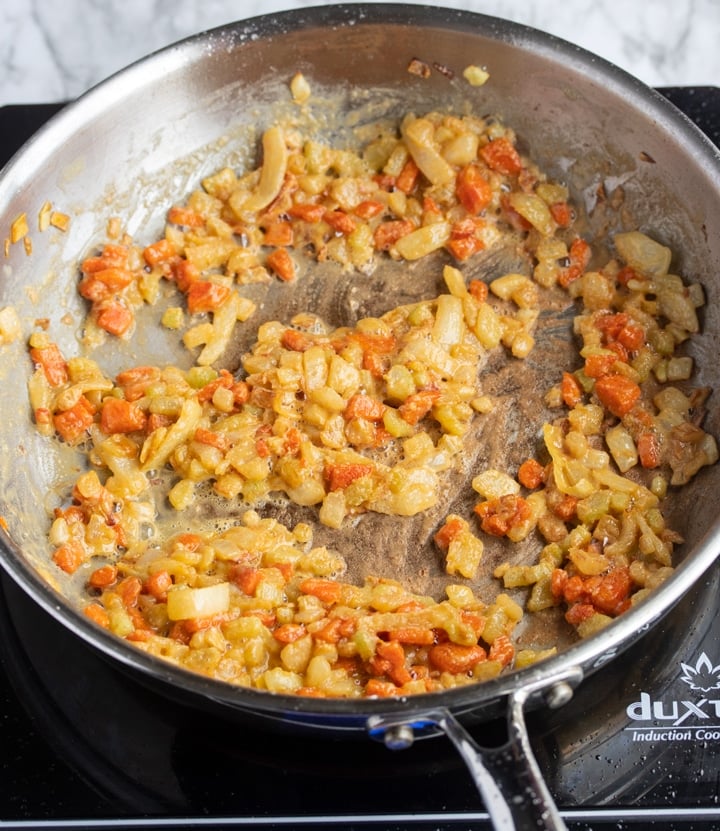 Once your flour has reached the desired color, stir in beef and chicken broth. Add bay leaf and thyme.
Allow your gravy to simmer for 20-25 minutes, stirring occasionally. Use a metal spoon to remove any foam that appears around the edges.
After 20-25 minutes, your gravy should be thick enough to coat the back of a spoon.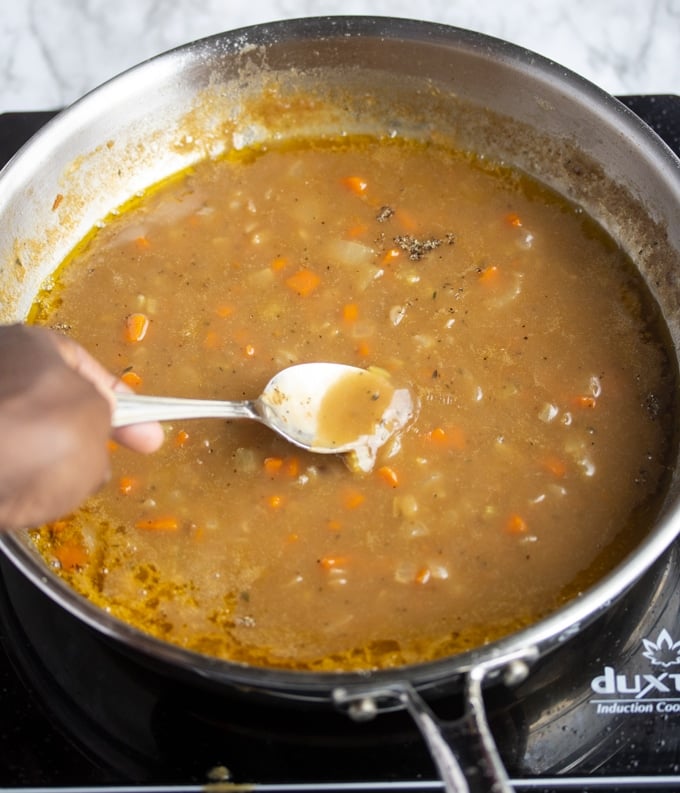 Use a colander and drain the gravy. Discard the vegetables.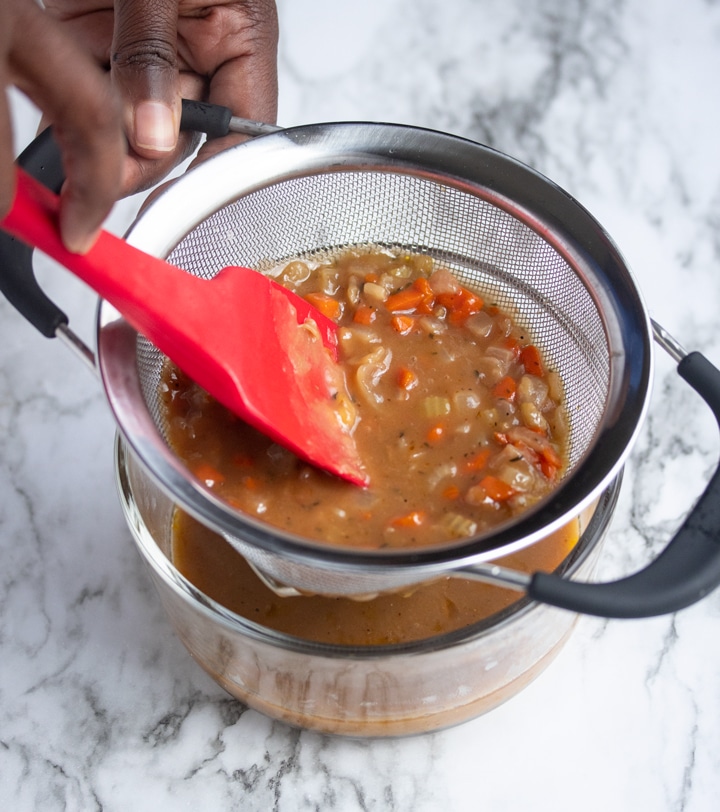 Serve and enjoy 🙂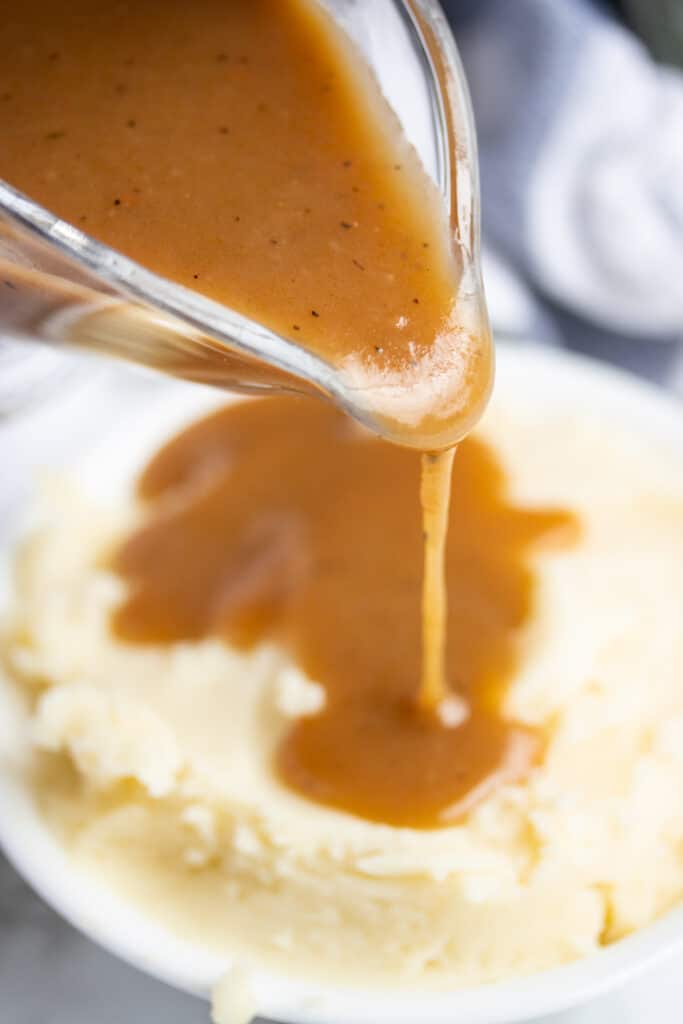 How long does this gravy last?
This homemade gravy will last for 4 days in the refrigerator. You can reheat it gently on the stovetop to serve, adding in a little water if needed. You can also freeze it for 2-3 months and defrost it in the fridge before reheating.
Can I make this gravy without flour?
Yes! Keep this gravy gluten-free by thickening it with cornstarch instead of flour. To thicken the gravy with cornstarch, omit the flour and stir the broth into the melted butter and vegetables over medium heat. Allow the broth to simmer for about 10 minutes. In a separate bowl, create a slurry by whisking together 2 Tablespoons cornstarch and 1/4 cup water. Pour the slurry into the simmering liquid while whisking to combine. Allow it to simmer for an additional 1-2 minutes before removing from heat.
Can I make this gravy ahead of time?
Yes, you can make gravy 3-5 days ahead of time. Store the gravy in an airtight container in the refrigerator. When you're ready to use it, simply reheat the gravy over low heat until it's warmed through.
NOTES
I hope you enjoy this gravy recipe as much as we do!
If you're looking for recipes to serve this gravy with, I strongly suggest these Creamy Mashed Potatoes.
You could also serve it along with these yummy favorites:
For a Full Southern Meal, throw in these recipes:
Can I use water instead of gravy?
Yes, but you will need to add extra seasoning to ensure the gravy isn't bland.
How can I avoid lumps in my gravy?
Your best bet to avoid a lumpy gravy is to create a roux by adding the flour to the fat. Allow the flour to cook into the fat while whisking. Cook for a few minutes. Then slowly add in the liquid while whisking.
How do I fix a gravy that is too thin?
To fix a thin gravy, simply let it cook a little longer. Gravy will reduce over time. The longer it simmers, it will thicken and concentrate the flavor.
How do I fix a gravy that is too thick?
To fix a thick gravy, whisk in more liquid. Taste the gravy and adjust to taste.
If you have tried this gravy without drippings recipe, or any other recipe on my blog, then please rate it and let me know how it turned out in the comments below!
Easy Recipe for Gravy without Drippings
Here's how to make easy and delicious gravy with no drippings. All made from scratch with no packet either.
Ingredients
4

Tablespoon

unsalted butter

1

onion

chopped

1

carrot

peeled and chopped

1

rib celery

chopped

¼

cup

all-purpose flour

14

oz

chicken broth

low sodium

14

oz

beef broth

low sodium

1

bay leaf

½

teaspoon

dried thyme

Salt and pepper to taste
Instructions
In a 10-inch skillet, melt butter over medium-high heat. Add carrot, celery, and onion and stir for about 8-9 minutes to allow the vegetables to soften.

Sprinkle flour over vegetables and continue to stir for about 3-4 more minutes until your vegetables are a tan/caramel color.

Pour in beef broth and chicken broth and stir, removing any stuck bits from the bottom of the skillet. Add bay leaf and dried thyme.

Allow your gravy to simmer for 20-25 minutes, stirring occasionally. Your gravy should be thick enough to coat the back of a spoon. Remove any foam that appears around the side of the skillet with a spoon.

Use a strainer and drain the gravy. Discard the vegetables.

Season with salt and pepper to taste.
Suggested Tools
Notes
It's so important to make sure you don't let the gravy get too brown during the sauteing phase. A gravy that is too brown can taste extremely bitter and is quite hard to fix.

If you find that your butter is browning too quickly or burning, lower the heat to medium. Consistent stirring before you add the liquid is key to stopping it from burning.

You can try and fix a bitter gravy by adding a pinch of sugar. For best results, have everything prepared and ready before you start cooking the gravy to avoid a bitter gravy.

You can always choose to make gravy with pan drippings if you prefer. You would need the drippings from roasted meat.
Nutrition
Calories:
63.42
kcal
|
Carbohydrates:
4.24
g
|
Protein:
1.18
g
|
Fat:
4.77
g
|
Saturated Fat:
2.95
g
|
Cholesterol:
12.04
mg
|
Sodium:
298.59
mg
|
Potassium:
88.76
mg
|
Fiber:
0.44
g
|
Sugar:
0.77
g
|
Vitamin A:
1159.01
IU
|
Vitamin C:
3.95
mg
|
Calcium:
10.65
mg
|
Iron:
0.39
mg
Subscribe to my YouTube
Subscribe to my YouTube Channel for full length recipe videos. Click the bell icon to be notified when I upload a new video.
Although myforkinglife.com attempts to provide accurate nutritional information, these figures should be considered estimates. Varying factors such as product types or brands purchased, natural fluctuations in fresh produce, and the way ingredients are processed change the effective nutritional information in any given recipe. Under no circumstances will myforkinglife.com be responsible for any loss or damage resulting for your reliance on nutritional information.
This post was updated on September 12th, 2022 with additional helpful recipe tips.