This Creamy Baked Macaroni and Cheese recipe is the perfect combination of flavor and creaminess. This is the recipe to use when making that big casserole of macaroni and cheese for the Holidays.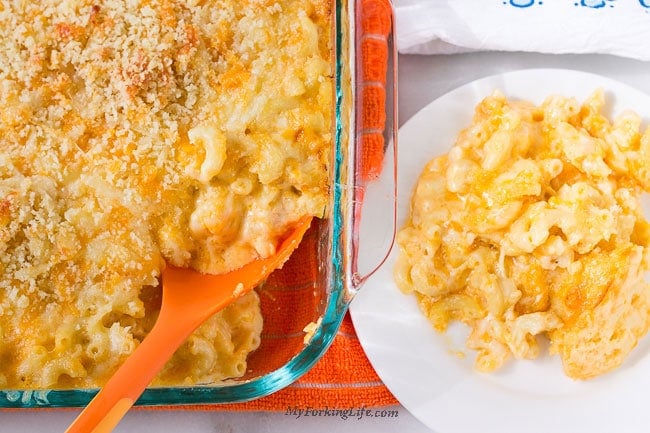 This post contains affiliate links, please read my full disclaimer here.
Full Recipe Ingredients/Instructions are available in the
recipe card at the bottom of the post.
You can find important tips/tricks in the
blog post.
If you were wondering what side you should make and bring to Thanksgiving this year look no further. It's this creamy baked macaroni and cheese recipe. As a matter of fact, don't even wait that long to make this homemade creamy baked macaroni and cheese.
Make it now, thank me later. If you do decide to make it, perhaps for dinner, why not try it along with these Easy Baked Chicken Wings and wash it down with this Peach Sweet Tea & Rum for that Southern feel.
This recipe comes courtesy of Elgin. Thanks Elgin! Here's a little back story…Two years ago, a friend of mine, Sally, had a beach getaway for her hubby, Lou, where we were all invited to stay at this lovely beach house on the outer banks.
Sally invited her friends which included me and hubby, and Lou invited his friends, which included Elgin and his wife, among other friends. The things that happened that weekend are for another post…or maybe I'll never tell because what happens at the beach house, stays at the beach house.
Ok, back to this mac and cheese. So apparently one night, Elgin makes this baked creamy macaroni and cheese and everyone in the house gets some…except for me. Why not you may ask? Well they claim I was drunk…or asleep. I don't believe it, I just think the greedies in the house didn't want to share. hmmmpph. So I got none of this macaroni and cheese but I heard enough about it the entire weekend to imagine how delicious it was.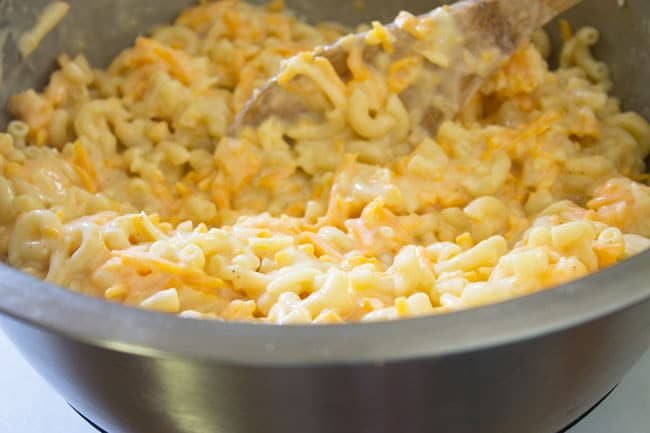 Fast forward to a year later and my friend put together another event for her hubby. This time, everyone pretty much demands that Elgin makes this baked macaroni and cheese. This time, I for sure was going to get me a plate. Get me a plate I did and I had about 4 servings that night of this macaroni and cheese.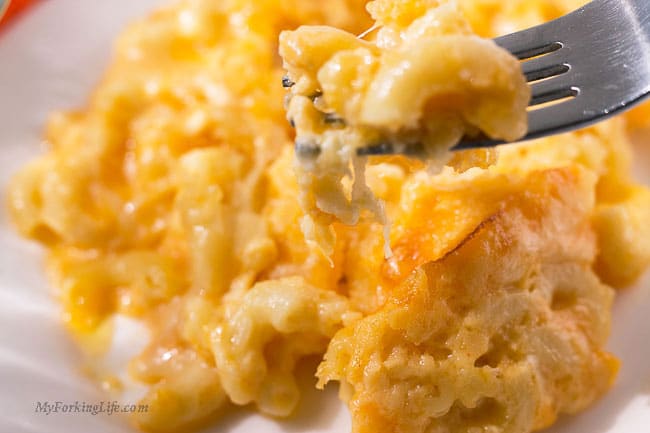 This macaroni and cheese was so creamy and delicious, it reminded me of stove top….but it was baked! Yall, I have had so much dry and bad baked macaroni in my life that I usually run when I see it.
But this macaroni was so creamy and cheesy and gooey that it was love…all love! It as so good that I begged and pleaded with Elgin for the recipe. Just kidding! I asked once and he was like "sure, let me write it down" and his wife even got the pen and paper. Seriously, if it were me, I don't know if I'd share. hmm…thinking of hitting the delete button on this post…just kidding.
I hope you all enjoy this oooey goooey creamy baked macaroni and cheese recipe. I will go ahead and go on record and say that this is the BEST baked macaroni and cheese recipe I have ever had. No more of that dry baked macaroni and cheese…Come on over to the creamy side.
Notes on Creamy Baked Macaroni and Cheese
The original recipe for this macaroni and cheese recipe comes from Patti Labelle. She is a beast in the kitchen so no surprise that it's so good. Elgin did make modifications by doubling the cheese and substituting whipping cream for half&half.
I modified the recipe as well by creating a crunchy topping, increasing the heat by 25 degrees. I also subbed colbyjack/monterey cheese for just monterey. Feel free to leave the panko topping off if you choose but I feel it's a must in a baked macaroni and cheese recipe.
This recipe has 5 types of cheese. Yes, 5 different kinds of cheese. The amount of cheese will scare you at first but believe me, it's necessary and makes this dish delicious.
Is this recipe healthy? Probably not…but who cares because…CHEEEEEEEESE.
I'd recommend keeping the cheeses the same as stated…even the velveeta. The beauty of this is that all the cheese melts and taste perfectly. There is a science to melting cheese.
Looking for more Recipes for the Holidays??? Try these out:
Southern Style Pressure Cooker Collard Greens
Pressure Cooker White Cheddar Macaroni and Cheese
Roasted Cauliflower and Sweet Potato Recipe
Southern Candied Sweet Potatoes
Looking for more pasta recipes?
Pressure Cooker Cajun Chicken Pasta
Pressure Cooker Chicken Spaghetti
Creamy Air Fryer Mac and Cheese
You can also use this leftover macaroni and cheese to make these Air Fried Macaroni and Cheese Balls recipe.
Creamy Baked Macaroni and Cheese
This Creamy Baked Macaroni and Cheese recipe is the only baked macaroni cheese recipe you will need. It's the combination of different cheeses that makes this a crowd favorite.
Ingredients
1

lb

elbow macaroni

olive oil

salt

8

oz

mild cheddar cheese

8

oz

sharp cheddar cheese

8

oz

monterey jack cheese

8

oz

Muenster cheese

8

oz

velveeta cheese

2

eggs

2

cups

heavy whipping cream

1

stick of butter

unsalted

1

teaspoon

creole seasoning

1/4

teaspoon

salt

1

cup

panko breadcrumbs

3

Tbs

butter

unsalted
Instructions
Preheat oven to 350 degrees.

Prepare macaroni following instructions on the box. (Add 1 Tbsp oil and 1 tsp salt to 4 cups water and bring to boil. Cook to al dente.). Drain and Set aside.

Meanwhile, shred mild cheddar, sharp cheddar, monterery jack, and Muenster cheese. Mix shredded cheese in bowl and remove 1 cup of cheese and set aside. Cut Velveeta cheese into small pieces and mix with the other cheese.

Cut butter into small pieces (leaving one small piece to the side) and add to hot drained noodles and stir.

Coat a 3qt glass casserole dish with a small piece of butter and set aside.

Add eggs and cream to a cup and stir. Add to hot butter macaroni and stir. Add cheese, creole seasoning, salt and stir to combine.

Pour mixture into casserole dish and spread out.

Melt 3 TBsp butter and stir in 1 cup panko breadcrumbs. Add 1 cup of cheese and stir. Sprinkle over the top of the macaroni.

Bake in preheated oven for 35-40 minutes, until bubbly.

Remove from oven and allow to cool. Enjoy
Subscribe to my YouTube
Subscribe to my YouTube Channel for full length recipe videos. Click the bell icon to be notified when I upload a new video.
Although myforkinglife.com attempts to provide accurate nutritional information, these figures should be considered estimates. Varying factors such as product types or brands purchased, natural fluctuations in fresh produce, and the way ingredients are processed change the effective nutritional information in any given recipe. Under no circumstances will myforkinglife.com be responsible for any loss or damage resulting for your reliance on nutritional information.