This Beet Apple Carrot Juice is one of my favorite juice recipes. Yes, raw beets can be delicious!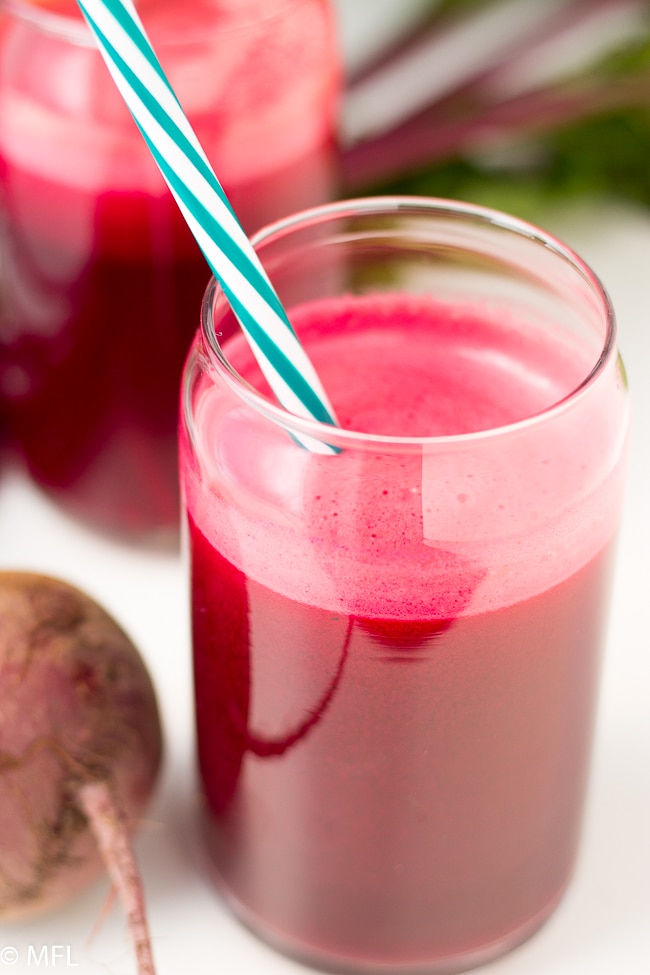 This post contains affiliate links, please read my full disclaimer here.
Full Recipe Ingredients/Instructions are available in the
recipe card at the bottom of the post.
You can find important tips/tricks in the
blog post.
The first time I had beets, which wasn't that long ago, I thought they were the grossest thing on the planet. Seriously, I wondered why anyone would even consider eating them. Granted, the beets I tried were pickled and I ate them by themselves. So for a while, I left the beets alone.
Then one day, I was reading…as I tend to do often because I'm a smarty pants, and discovered that beets have a ton of health benefits. Like a freaking ton. And since I'm on this whole healthy kick in my life (except for the fact that I've been test baking macarons every night), I decided I was going to have to find a way to get beets in my belly, other than pickled of course. Hence the creation of this Beets Apple Carrot Juice recipe.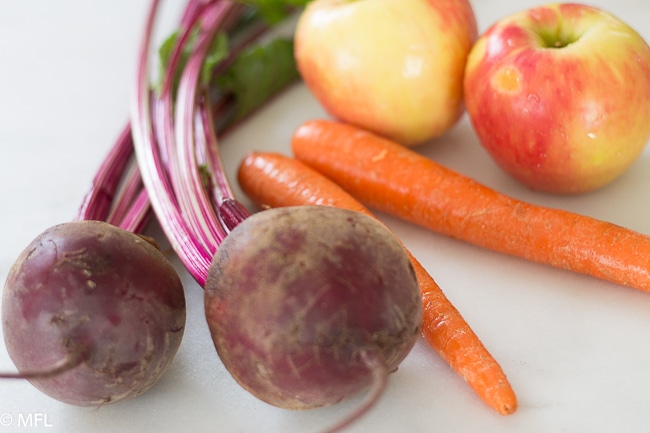 I played around with a lot of different ingredients when it came to creating beet juice. The first time I had way too many things added and decided to keep it simple with what was in my kitchen at the time, which happened to be beets, carrots, and Honeycrisp apples. Once I mixed these together, I was surprised by how delicious it was and it became my go-to breakfast drink.
Side Effects of Beet Juice
Now of course, there were a few…umm, complications when it came to drinking this beet juice. First, this beet apple carrot juice causes a little stomach discomfort initially. Oh heck, I'll call it what it is…It causes gas. My hubby seriously threatened to leave and I provided so much laughter to my daughter when I started drinking this juice. Now I can't be sure if this was caused totally by the beet juice or the fact that I started eating fruits and vegetables like crazy. If your body isn't used to tons of healthy food, it may react like that initially. I no longer have this problem if anyone was wondering.
Also, be prepared for your…umm…bodily waste to turn red. Don't freak out., it's normal and won't last that long. Again, your body has to get used to all the beet love. Other than those weird occurrences, beets are great!!!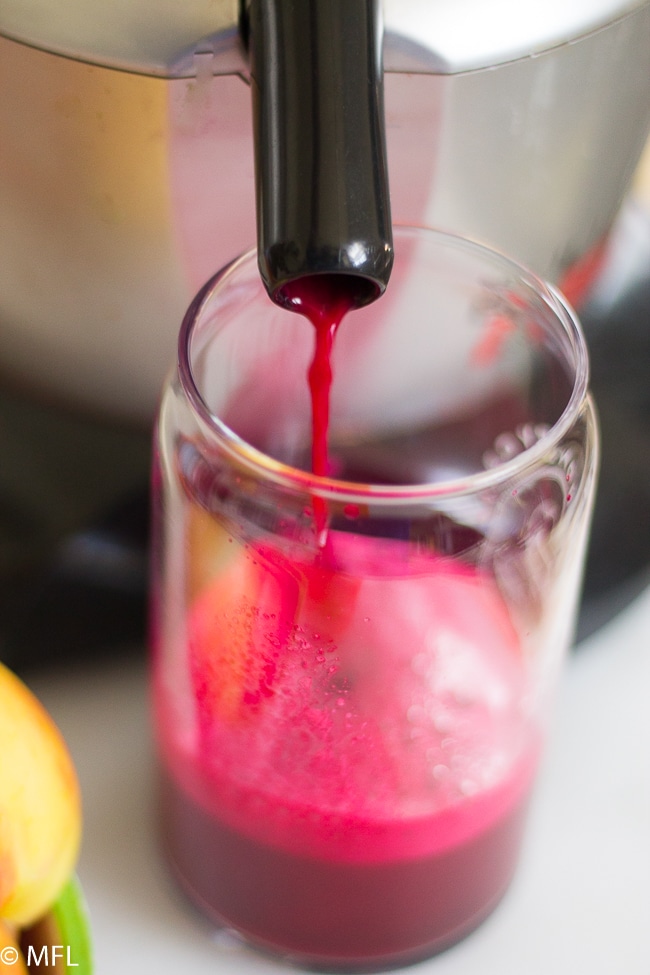 Health Benefits of Beet Carrot Apple Juice
So what about those health benefits of this beet apple carrot juice you may ask? Here's a nice list for ya
Beet juice lowers blood pressure and is good for overall heart health. According to Web MD, beet juice can lower blood pressure immediately after consumption.
Beets are known to decrease the risk of spinal defects and brain delay in the fetus for pregnant women.
Carrots are known to help with heart health as well as vision. I talk a little more about carrots here in my Jamaican Style Carrot Juice. Not as healthy but oh so good.
An apple a day keeps the doctor away. ok, not really true but apples have a ton of health benefits as well.
This juice is not recommended for anyone that suffers from kidney stones as beets and other oxalate-rich food should be eaten with caution.
Can I make Beet Carrot Apple Juice in a Juicer or Blender…That is the Question??
Both work wonderfully…however, if you decide to blend…I'd use a high quality blender and strain the juice afterwards.
Well, I hope you like this beets carrot apple juice recipe as much as I do. I'll be sure to continue to include more healthy (and non healthy…I love my sweets man) recipes in the coming weeks. Until next time…
Looking for more beet recipes? Try these beet chips or these sautéed beet greens.
Beet Apple Carrot Juice
This 3 Ingredient Beet Apple Carrot Juice Recipe is a delicious and healthy drink. Beets have a ton of health benefits and this is a great way to get it in your diet.
Ingredients
2

medium

beet roots

peeled

2

medium

carrots

stems removed

2

large

honey crisp apples

seeds removed
Instructions
Add ingredients to a juicer. Stir and enjoy.
Nutrition
Subscribe to my YouTube
Subscribe to my YouTube Channel for full length recipe videos. Click the bell icon to be notified when I upload a new video.
Although myforkinglife.com attempts to provide accurate nutritional information, these figures should be considered estimates. Varying factors such as product types or brands purchased, natural fluctuations in fresh produce, and the way ingredients are processed change the effective nutritional information in any given recipe. Under no circumstances will myforkinglife.com be responsible for any loss or damage resulting for your reliance on nutritional information.
Notes on Beet Carrot Apple Juice
Please use Honey Crisp or a similar juicy sweet apple. This is what gives the juice a sweet delicious taste.
This juice can be made with a juicer or a blender. If you're making with a blender, add a tiny bit of fruit juice or water and blend. Pour through a strainer and enjoy.
If your juicer is old school like mine and you have a thick consistency on top, either run through a strainer or stir juice before drinking.
Beets stain…so be careful when peeling because your hands will turn red, would hate to get that on your clothes.
Pin Beet Carrot Apple Juice Recipe for Later