I recently had the opportunity to attend a pairing dinner at Corkbuzz Restaurant & Wine Bar in Charlotte, NC. The event was coordinated by The Charlotte Food Bloggers and I had the opportunity to have good eats with other Food Bloggers in the area. I had a blast. I should start by letting you know that if you ever have the opportunity to attend a pairing dinner…GOOO!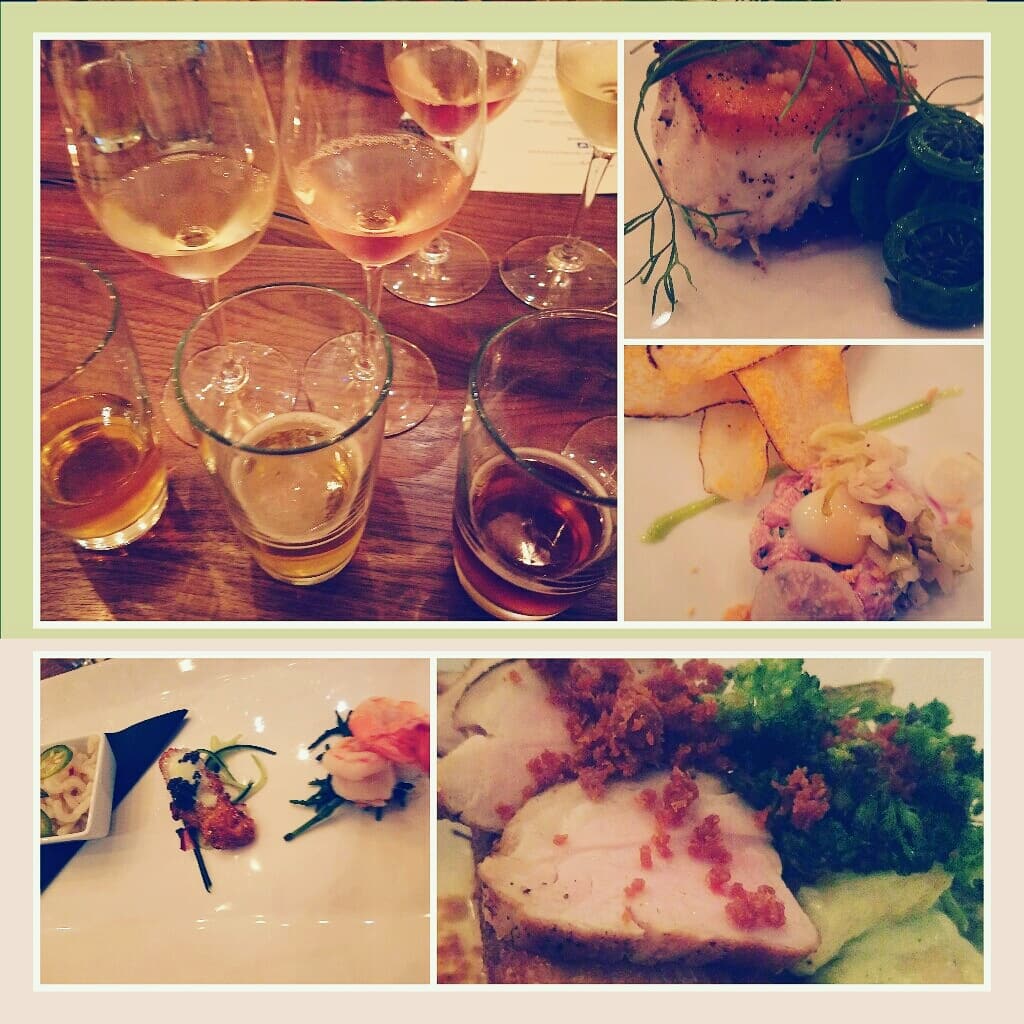 A pairing dinner is generally when multiple courses are prepared and you are given the opportunity to taste wine/beer and decide which food item it pairs best with. This pairing dinner had a traditional choice and a discovery choice of wine/beer to be paired with each food item. The experience was great and it was fun deciding which wine or beer paired best with all the delicious food. And OMG was this food delicious. Here's a breakdown of all the exquisite food I ate:
1st Course
Our first course included scallop noodles with apple, mint, jalapeño, preserved lemon (left); fried oysters with caviar, cucumber, crème fraiche (middle); and pickled shrimp with sea beans, smoked ricotta (right).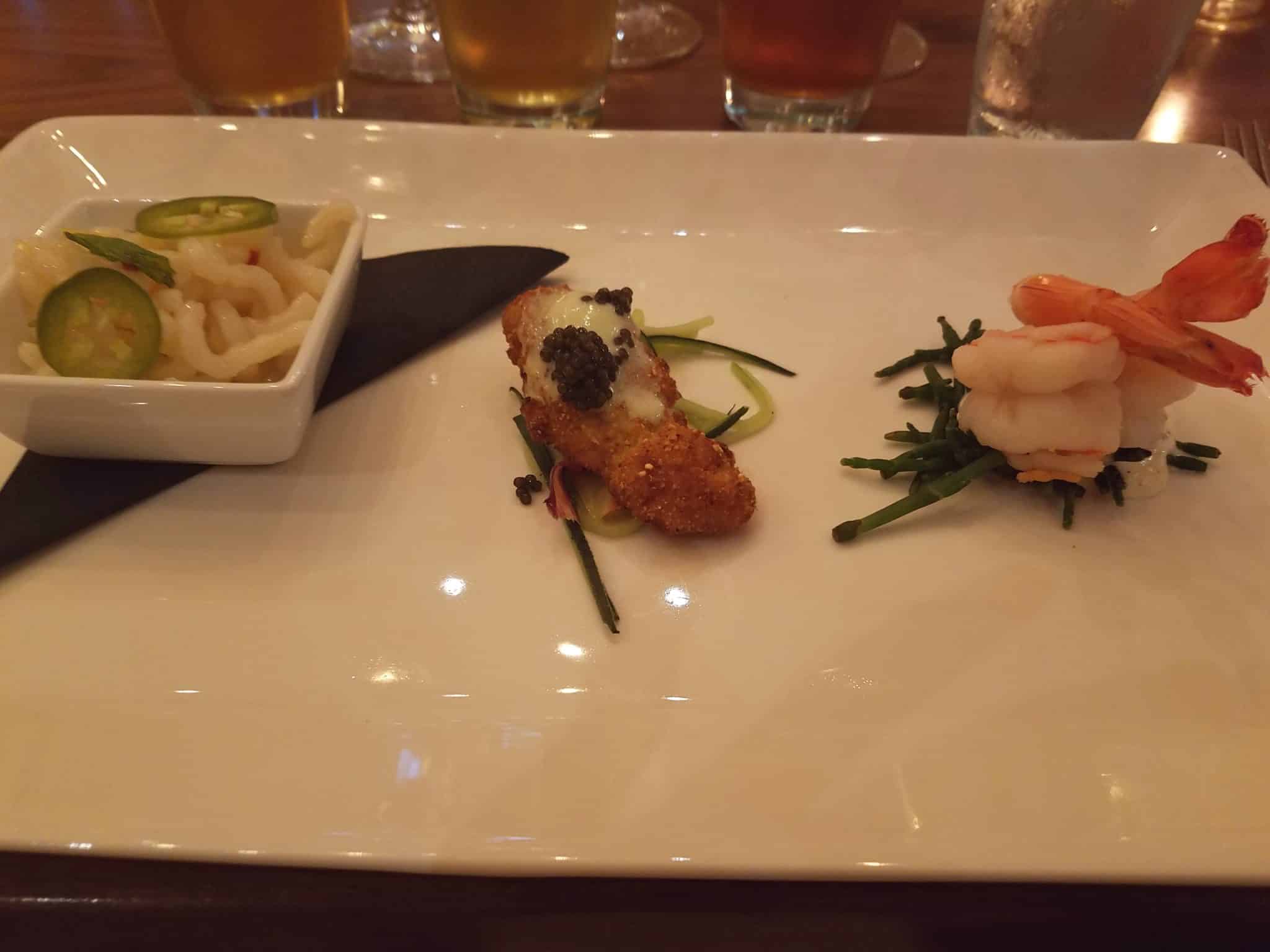 Anyone ever have a scallop noodle? It was my first too, but it was pretty good. Not my favorite kind of noodle but I loved the creativity and the fact that it had jalapeño on it. Yum. The fried oyster was tasty on its own but with the caviar….OMG! Delicious! I am not sure if I ever had caviar before…I feel like this was a first for me. I now see what all the hype is about. Would you like some caviar Madame? LOL. I know, I'm a nerd. The pickled shrimp tasted just like you could imagine…like a plump and juicy fresh shrimp with a slight taste of pickle juice. I love shrimp and I felt this was an interesting take on it. Something I plan on experimenting with in my own kitchen.
I felt that the Scallop Noodles paired best with the Man o' War Sauvignon Blanc '14 – Waheke Island, New Zealand. *traditional.
I felt the Fried Oyster paired best with the beer, OMB Hornet's Nest Hefeweizen – North Carolina. I mean fried oysters and beer just seems right. *discovery
I felt the Pickled Shrimp paired best with the Man o' War Sauvignon Blanc '14 – Waheke Island, New Zealand. *traditional
2nd Course
Veal Tartare with fermented cabbage, turnip, quail eggs, and cheddar chips.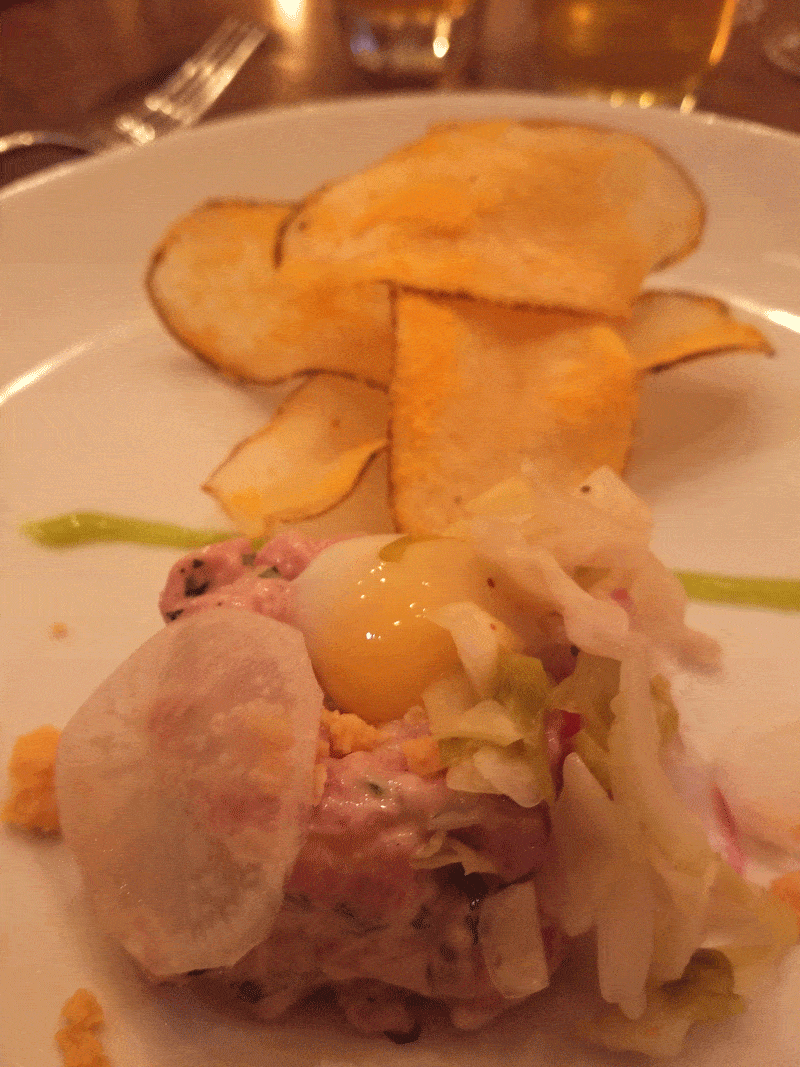 This may have been my favorite course of the entire night. That veal tartare melted in my mouth yall. I don't know how meat melts in your mouth but with the quail egg and the tartar, it melted. I literally closed my eyes and went "mmm." Not too loud though, I didn't want to embarrass myself. But it was good! According to my husband, fermented cabbage is a fancy way of saying sauerkraut. Well it didn't taste like the sauerkraut I am used to eating. It was so good. And the cheddar chips…freshly made and OMG so tasty.
I felt that this course paired best with Grangeneuve les Dames Blances du Sud '14 – Grignan-lés-Adhémar, France. *traditional
3rd Course
Corvina Sea Bass with braised radishes and fiddlehead ferns.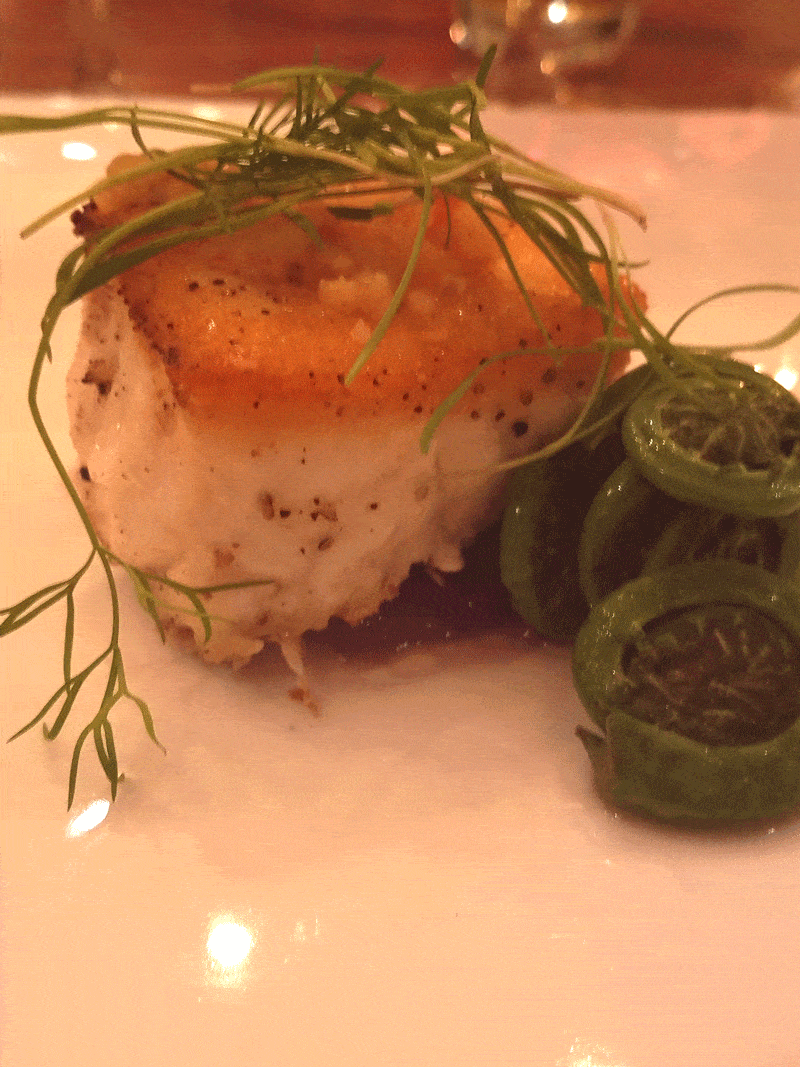 This Sea Bass was perfectly seared and tasted so darn good. I wasn't the biggest fan of the braised radishes but then again, I'm not the biggest fan of radishes. Have you ever had a fiddlehead fern? I have never even heard of them before but they are pretty good. I cleaned this plate. Yum.
I felt that this paired best with the Kurt Darting Pinot Meunier Trocken '13 – Pflaz, Germany. *discovery
4th Course
Confit Pork Belly with Pork Tenderloin, nduja, roasted broccoli, gnocchi, parmesan consommé.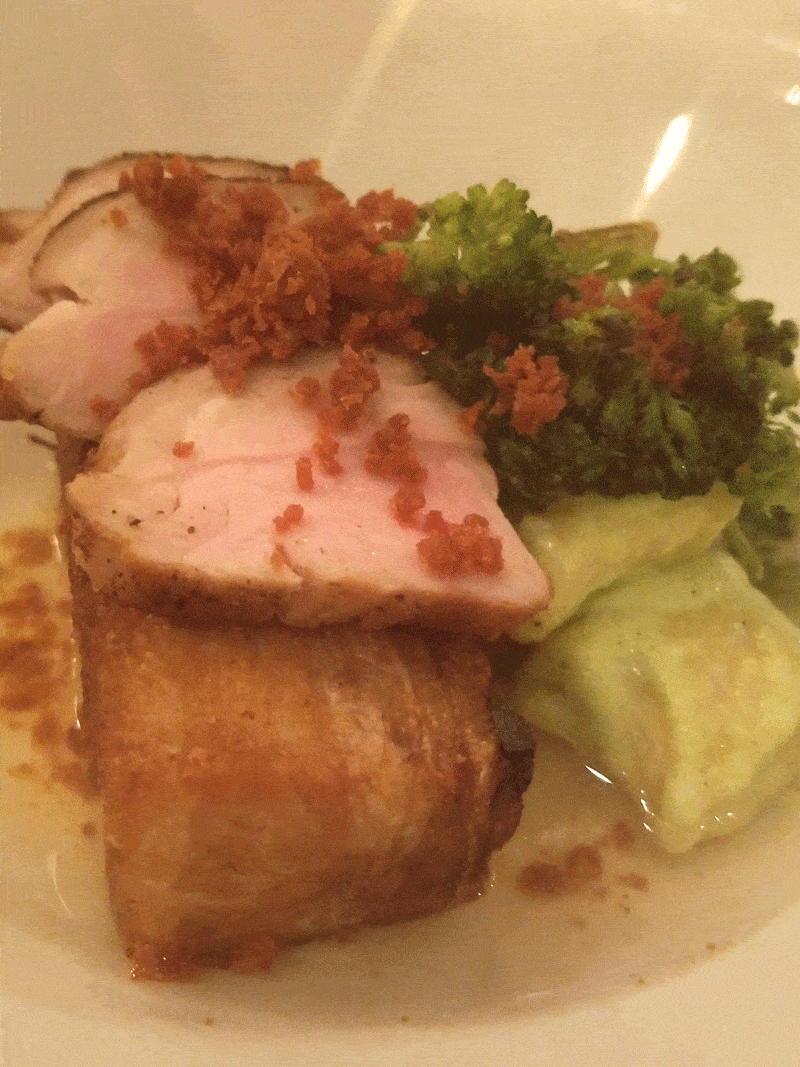 Another dish I thoroughly enjoyed. The pork was cooked to perfection. What I really went crazy over was the gnocchi. First, let me admit that I had been pronouncing this word wrong all along until my friend Chrissy said it correctly at the dinner table. It's great to have food blog friends, lol. It's pronounced "nyo-key". The gnocchi melted in my mouth. Imagine eating a giant pillow….a delicious giant pillow. It is ironic that this course had gnocchi as I had attempted to make this just a few days before this dinner. Mine didn't turn out anywhere as good as this one. I shall leave the gnocchi to the experts for now.
This dish paired best with the Vecchia Torre Primitivo Barocco Reale '11 – Puglia, Italy. *traditional
5th Course
Avonlea Cloth Bound Cheddar with blueberries, strawberry jam, rosemary toast.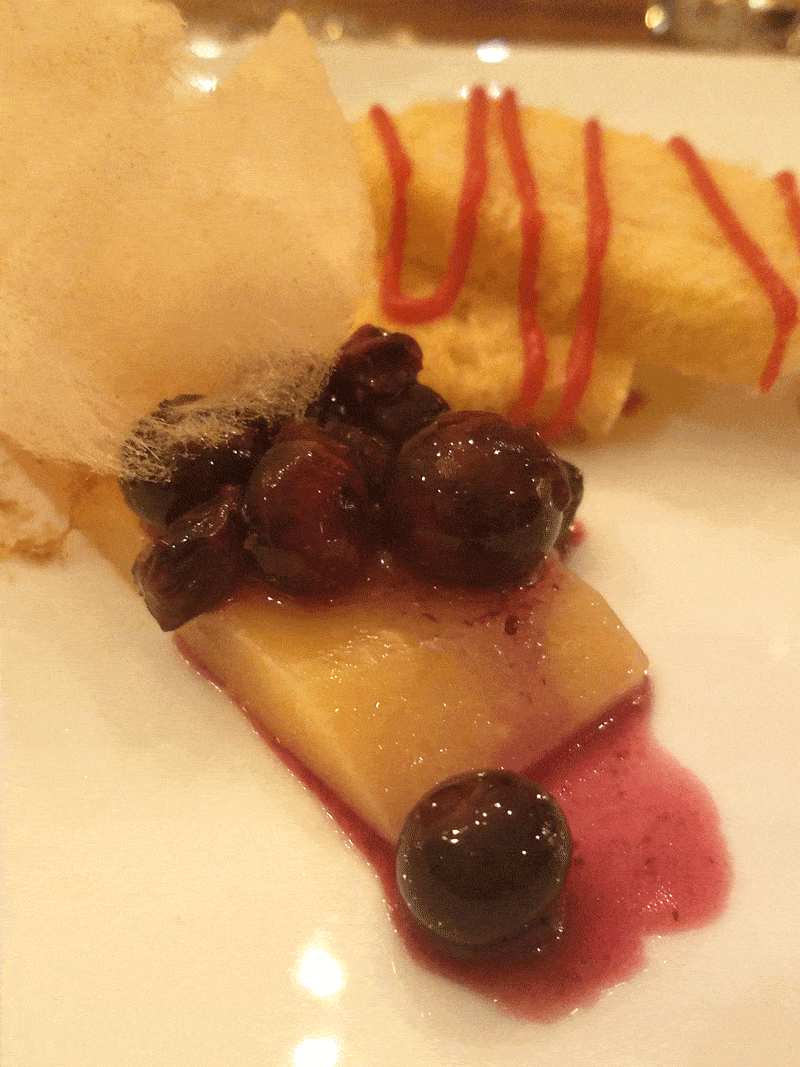 Our final course! By this time I was stuffed, a little tipsy, and ready to take a food nap. That pink fuzz you see on the top of the cheese is cotton candy. I ate that first cuz I sure love me some cotton candy. The rosemary cracker was yum and the cheese and blueberries was an interesting mix.
I found that the cheese paired best with La Perle Mandiale Strong Ale – Belgium. That's beer. Yup, I chose the beer over the wine with this dish. How odd is that? Next time you get invited to a wine & cheese party ask them where the beer at. You won't be disappointed.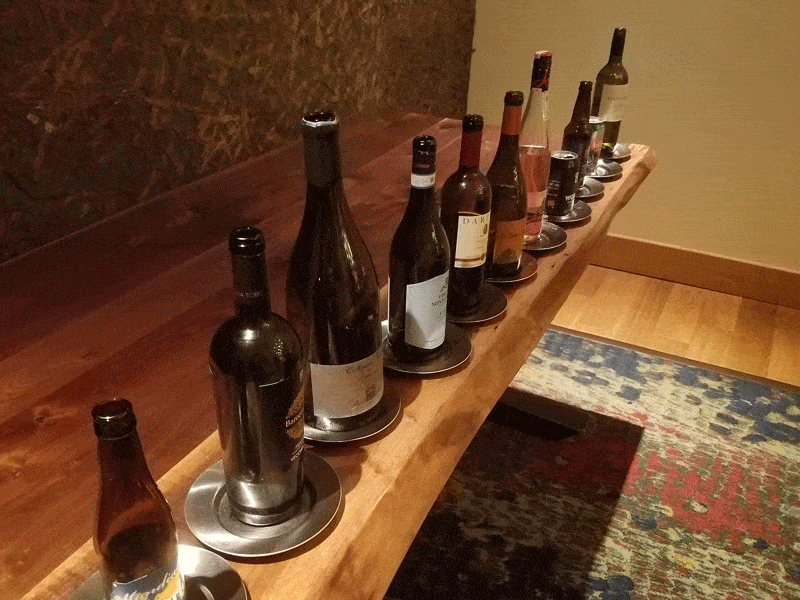 Here is a lineup of all the wonderful wine and beer we sampled. I wanted to thank LeAndra at Love&Flour for organizing and wanted to give a shout out to all the lovely Food Bloggers who were able to make it out.
Major props to Chef Allen who prepared this wonderful meal. We were able to meet him at the end of the night and he even told us how to make a scallop noodle. I forgot what he said because I was a wee bit tipsy. Can't wait to share my next fancy restaurant dinner experience with you all.