This Creamy Pressure Cooker Pumpkin Pie Oatmeal is a delicious spin on traditional oatmeal. Make this quick and easy pressure cooker oatmeal in your Electric Pressure Cooker any day of the week.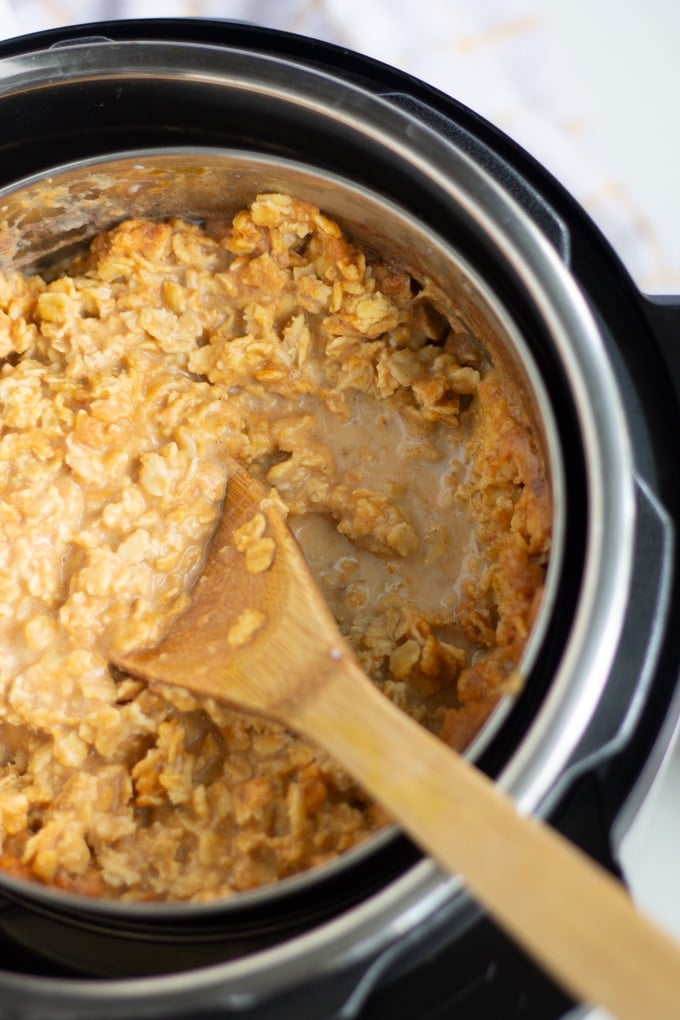 This post may contain affiliate links, please read my full disclosure here
I'll be the first to admit that Breakfast in the morning is not always easy. But using the Instant Pot Electric Pressure Cooker for oatmeal saves the day most mornings. I can make all kinds of breakfast without standing in front of a stove stirring, tossing, and flipping anything.
Keep reading for a super top secret way to get the pot to come to pressure quickly in this recipe.
I've shared a few Instant Pot breakfast recipes on the blog…such as the Copycat Starbucks Sous Vide Egg Bites in the Instant Pot and this Instant Pot Jamaican Cornmeal Porridge.
So now is the perfect time to share this Pressure Cooker Pumpkin Pie Oatmeal recipe with you all.
WHY MAKE OATMEAL IN THE PRESSURE COOKER?
Making oatmeal in the Pressure Cooker is pretty much hands off. Traditionally, oats on the stove requires stirring and careful watching. In all honesty, the majority of the time I made oats on the stove, they burned 🙁 I get distracted easily.
With the pressure cooker method, I just put everything in my handy dandy steamer insert, stir once, set the timer, walk away and put on my make-up, come back and breakfast is ready.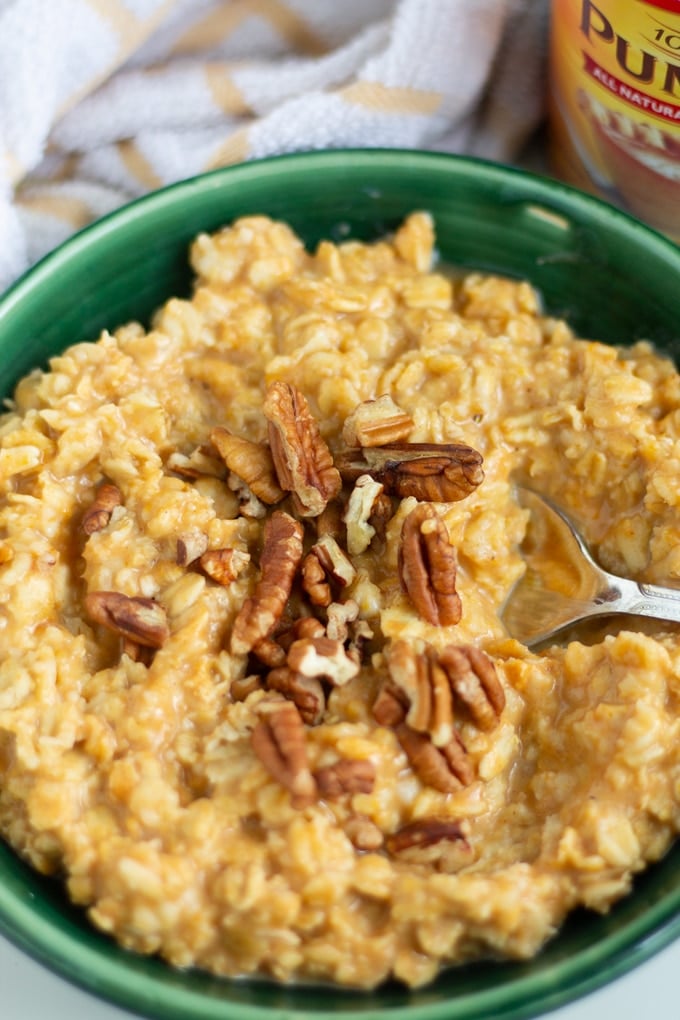 WHAT KINDS OF OATS TO USE IN PRESSURE COOKER OATMEAL?
I use Old-Fashioned Rolled Oats to make my oats in the Pressure Cooker. I believe a lot of people like steel cut oats. I've had them once and I wasn't the biggest fan. Old Fashioned is what I use to get that creamy oatmeal…plus, it's cheaper. Win win!
USING THE STEAMER INSERT TO MAKE PRESSURE COOKER OATMEAL
I purchased this steamer insert with the intention of making baby food. I quickly realized it was the perfect vessel to make this pumpkin pressure cooker oatmeal.
It works by creating a vessel around your oatmeal and liquids so it cooks but keeps the steam inside, resulting in perfectly cooked oatmeal.
Check out my handy video for this Pumpkin Pie Pressure Cooker Oatmeal to see how I use it.
You could use a large pyrex glass dish (7cup) if you don't have the steamer basket (I've used both) but I find the steamer basket an additional accessory that's totally worth the investment. It's much easier to place in the pressure cooker and get out of the pressure cooker.
NOW FOR MY SUPER TOP SECRET WAY TO GET THE INSTANT POT TO COME TO PRESSURE QUICKLY…
So here it is…I add a cup of water (as the recipe indicates) in the Instant Pot and press the sauté button. While the water is heating up, I prepare my oatmeal in the steamer basket as indicated. By the time I'm done with that, my water in the IP is already boiling. I cancel the the sauté mode and continue along with the recipe.
Generally it takes my Instant Pot about 10 minutes to come to pressure. With this top secret tip (it's really not that top secret, I'm sure a ton of people do this) it takes about 5 minutes because the water has gotten a head start on getting warm.
If you're going to do this method, just make sure your water doesn't boil for a long. You don't want that 1 cup of water to evaporate.
I hope you enjoy this recipe as much as we do. If you've made it, liked it or loved, please consider leaving a comment below and sharing 🙂
Creamy Pressure Cooker Pumpkin Pie Oatmeal
This Creamy Pressure Cooker Pumpkin Pie Oatmeal is a delicious spin on traditional oatmeal. Make this easy delicious breakfast in your Electric Pressure Cooker any day of the week.
Ingredients
2

cups

water

divided

2

cups

rolled old fashioned oats

1 ¾

cup

milk 2%

½

cup

pumpkin puree

1

teaspoon

pumpkin pie spice

1/4

teaspoon

vanilla extract

½

cup

maple syrup

Chopped pecans for topping
Instructions
To make the Pressure Cooker come to pressure quickly
Pour one cup of water in the Pressure Cooker. Press sauté button to boil the water.
To make the Oatmeal
Meanwhile, add oats, other one cup of water, milk, pumpkin puree, pumpkin pie spice, vanilla extract, and maple syrup to steamer insert or pyrex dish, whichever you are using. Stir and cover.

Press Cancel on the Instant Pot and place covered steamer insert directly in Pressure Cooker. If using Pyrex dish, place on trivet.

Cover Pressure Cooekr and cook on high pressure for 8 minutes.

Once timer goes off, allow Pressure Cooker to naturally release for 5 minutes, then release remaining pressure.

Remove oatmeal from Pressure Cooker and stir. Top with chopped pecans.
Notes
If making this directly in pot without no steamer basket, omit 1 cup water and reduce pressure cook time to 4-5 minutes for rolled oats.
If you hate all things pumpkin, this recipe can be modified and made into plain oatmeal. Just omit the pumpkin puree and increase the milk by ¼ cup.
You can also sub on the sweetner if maple syrup isn't your thing. This recipe works best with Libby's brand pumpkin puree. It's thicker than other generic brands and has a strong delicious pumpkin flavor. I highly recommend it in this recipe.
This recipe was made in a 6qt Instant Pot Electric Pressure Cooker. Please adjust accordingly for bigger or smaller models.
Suggested Tools for Pressure Cooker Oatmeal:
Nutrition
Calories:
326
kcal
|
Carbohydrates:
62
g
|
Protein:
9
g
|
Fat:
4
g
|
Saturated Fat:
1
g
|
Cholesterol:
8
mg
|
Sodium:
62
mg
|
Potassium:
444
mg
|
Fiber:
5
g
|
Sugar:
30
g
|
Vitamin A:
4870
IU
|
Vitamin C:
1.3
mg
|
Calcium:
203
mg
|
Iron:
2.2
mg
Subscribe to my YouTube
Subscribe to my YouTube Channel for full length recipe videos. Click the bell icon to be notified when I upload a new video.
Although myforkinglife.com attempts to provide accurate nutritional information, these figures should be considered estimates. Varying factors such as product types or brands purchased, natural fluctuations in fresh produce, and the way ingredients are processed change the effective nutritional information in any given recipe. Under no circumstances will myforkinglife.com be responsible for any loss or damage resulting for your reliance on nutritional information.
STEP BY STEP PHOTOS OF PRESSURE COOKER OATMEAL