I had the opportunity to travel to the Bojangles test kitchen and learn how to make Bojangles Biscuits. Continue reading to learn all about my experience in making these perfect fluffy buttery Bojangles Biscuits.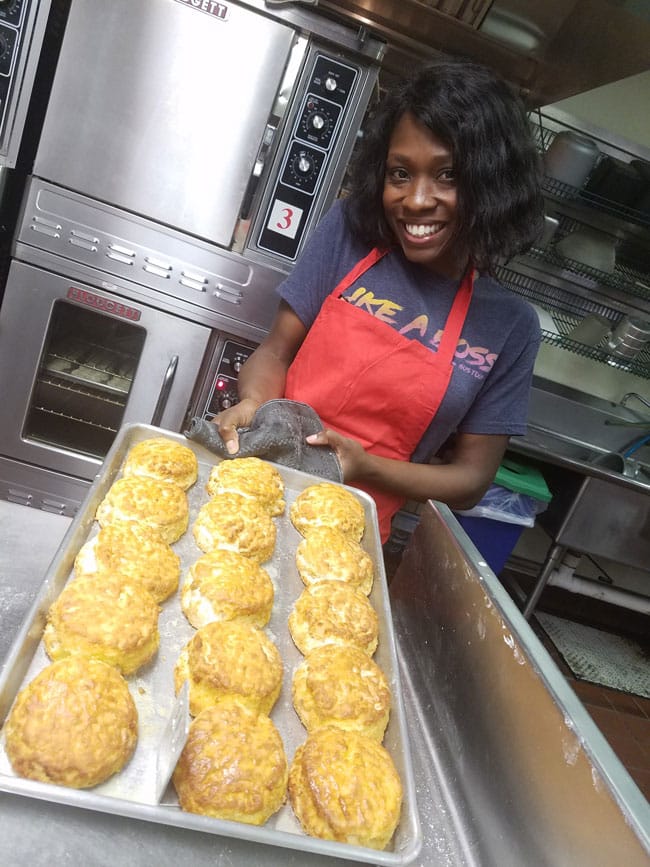 If you've come here looking for all the secrets and the exact recipe for how to make Bojangles biscuits, well let me let you know now that I ain't got it. There is no way in the world Bojangles is going to give me or anyone else all their secret ingredients for those beautiful biscuits. I don't blame them either. However, I was able to learn a few things about the magic of how they make these biscuits. Keep reading if you want to learn more. Here's my recipe for fluffy buttermilk biscuits from scratch.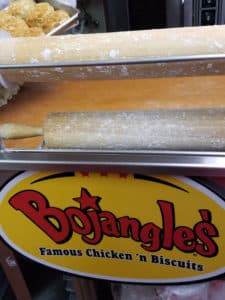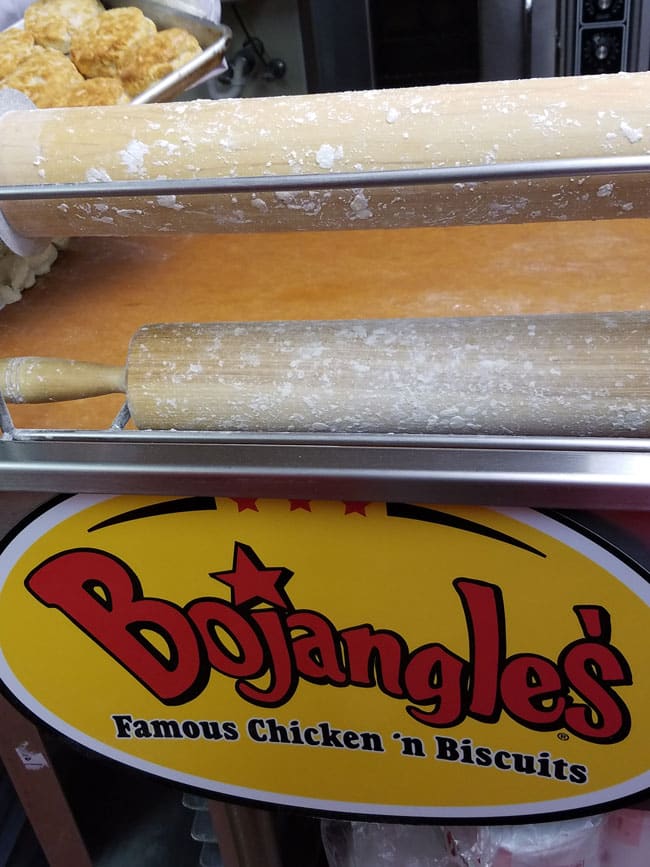 Not all biscuits are created equally. Bojangles, a fast food chain that boast about its famous chicken and biscuits, has some pretty good biscuits. So imagine how excited I was when I was invited to the test kitchen with my Charlotte Food Blogger friends to make biscuits. Seriously, imagine it…I was too excited. I think hubby and daughter kind of got tired of hearing about it.
I've only made biscuits a few times before learning how to make Bojangles biscuits. Feel free to check out my blueberry biscuit or Cinnamon Raisin Biscuits recipe.
Rumor is, there are at least 48 steps on how to make Bojangles biscuits. No, that's not a mistype…48. But I'll break it down in easier steps. As a matter of fact, I may be missing a few steps but I'll high lite the most important.
First, place your dry ingredients, including shortening, in a huge bowl. Make a well in the middle of the bowl and add your cold milk, then stir with your hands until it resembles cottage cheese. Allow it to set for a while, maybe about 5 minutes.
Next, flour your surface. We made two circles, one small one to flatten our dough on and then another huge one to roll out our dough.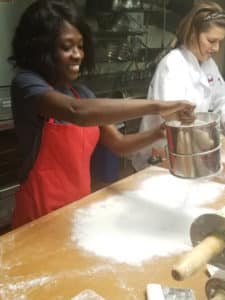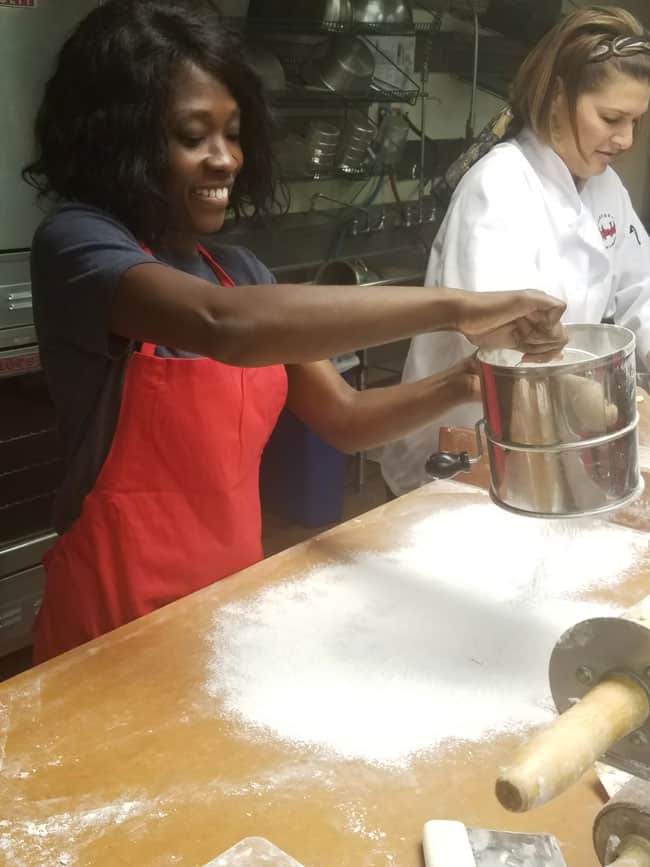 Once you've done that, remove your dough from the bowl and place it on the small circle of flour. Press your dough down with your hands. You will flatten it a bit, fold it over each side into the center, and roll it from the top to make a cylinder.
Once you've done that, roll the dough out with the pin. We used two pins, one to spread the dough out and one with nice metal circles on the end to ensure our dough was rolled out evenly. A similar rolling pin can be found here Joseph Joseph 20085 Adjustable Rolling Pin Removable Rings Beech Wood Classic for Baking Dough Pizza Pie Cookies, Multicolored.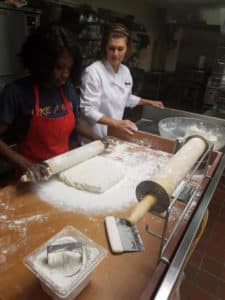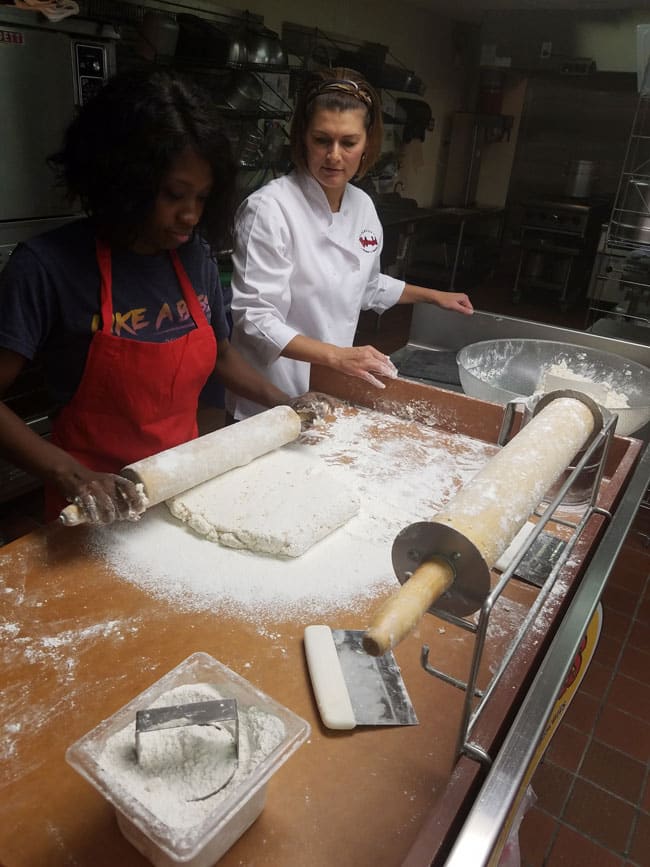 Then we use our biscuit cutter to cut all of these biscuits. I was supposed to get 15 biscuits out of my dough and somehow I only got 14. Oooops.
Place biscuits on the tray, going from outside in to ensure all biscuits fit.
Bake biscuits in a preheated oven on 400 degrees for about 9 minutes and then you have beautiful biscuits.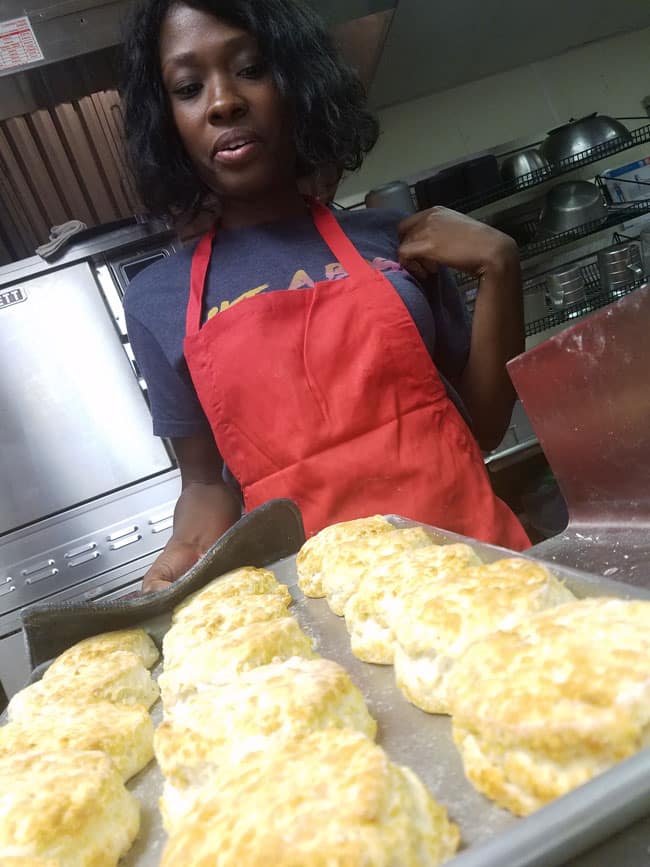 Now of course I could have eaten these biscuits just like they were but since I was at the test kitchen, I had to have some fun and create masterpieces with my biscuits. My sandwich was good but that dessert biscuit I made was something else. Ever had a bo berry biscuit?? It's a Bojangles biscuit with blueberries and icing. Now they are good by themselves but when you add some whip cream and sprinkles, it takes it to a whole other level.
Notes on how to make Bojangles Biscuits (or any biscuit)
Use all cold ingredients. That dough was freezing cold when I first put my hands in it but it allowed my biscuits to get nice and fluffy. The ingredients, including the dry ingredients, were all refrigerated before we started making biscuits.
Make sure that all your shortening is broken into small pieces. If any large pieces of shortening end up on the top of your biscuit, the biscuit will crack and it won't be pretty.
When rolling out dough, make sure your hands and utensils (rolling pins, counter top, etc.) are well floured so it doesn't stick. Have an extra bowl or sifter with flour handy to re flour.
Do not add flour directly to the dough. This is a no no. I honestly forget why, but hey, if the biscuit master says so, I follow instructions.
When cutting out biscuits, re-flour biscuit cuter after about 3 cuts to avoid flour stick.
Once you have cut your biscuit circles, remove outer scrap pieces first. It'll make your biscuits easier to pick up.
When placing biscuits in baking tray, go from outer in. It'll make your biscuits fit on the tray easier.
Do not grease your pan with butter….or it will burn. Griddle oil or shortening works best.
Brush the top of your biscuits with room temperature butter that is melted. Yummy Yummy in my tummy.
My experience was wonderful. I hope you learned a thing or two from my experience at the Bojangles kitchen. Also, make sure the next time you go into Bojangles and purchase a Bo berry biscuit, take it home and add whip cream to it. Best thing ever!