Store your fresh herbs longer with these handy tips and tricks!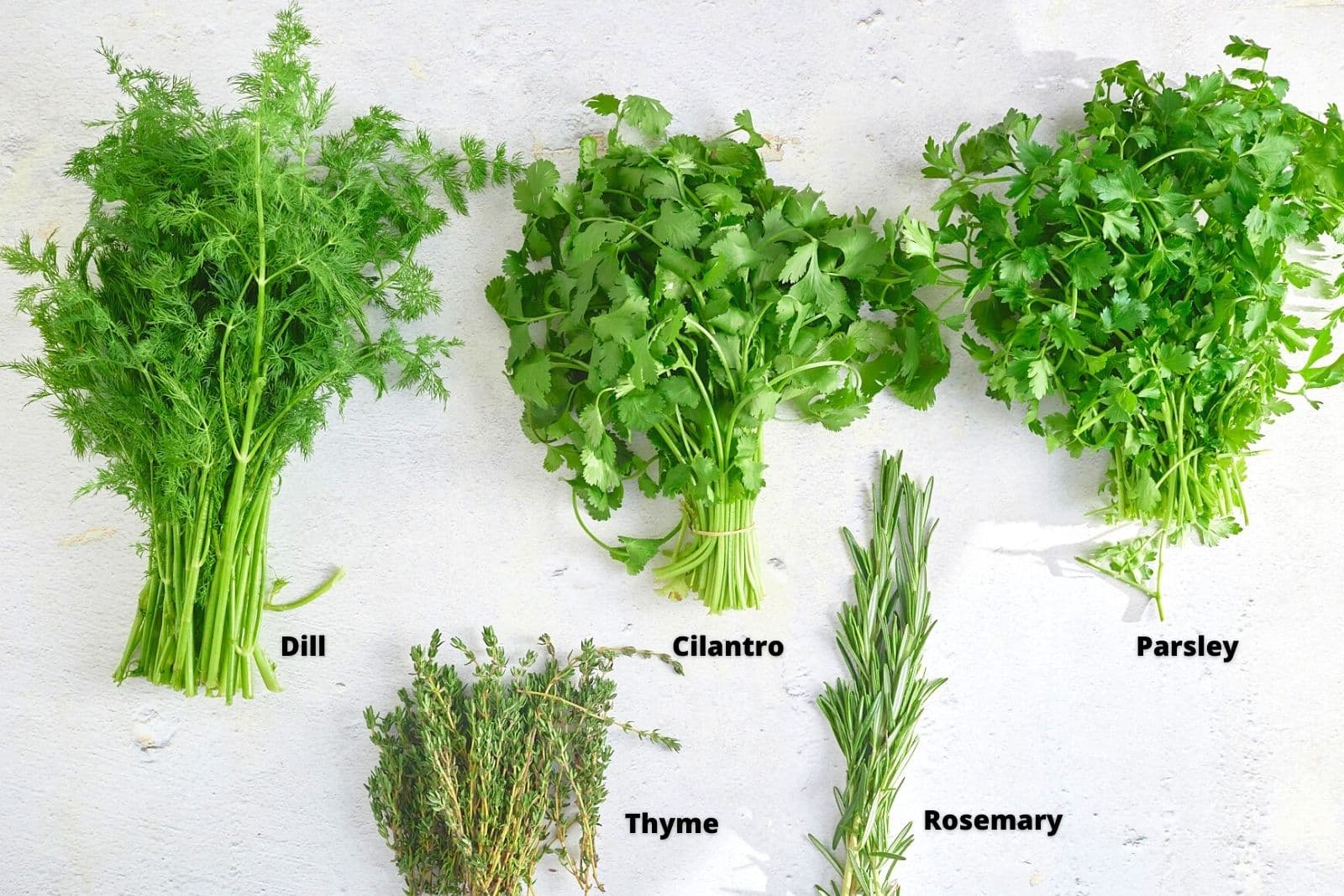 When it comes to flavor, cooking with fresh herbs makes all the difference. Vibrant dill, zingy cilantro, and hardy thyme brighten just about every dish they're in. As spring approaches, home gardens, farmers markets and local grocery stores will be filled with tons of fresh herbs ready to toss into salads, pastas, entrees and appetizers.
This is also the time of year when home cooks everywhere ask questions like: how do you store fresh herbs? And, how long can I store fresh herbs once I bring them home? Of course there's always, how the heck do I extend the life of all these deliciously fresh herbs?
For a quick refresh on the best way to store fresh herbs, keep reading.
The basics
Fresh herbs are notorious for spoiling early if they aren't stored properly. We've all pulled a recently purchased bag of basil from the fridge only to find it wilted and a little slimy. Sound familiar?
The first step to understanding how to store fresh herbs is to know which kind of herb you're working with.
Tender herbs vs. hardy herbs: What's the difference?
Storing fresh herbs gets a lot easier once you learn there are two types of herbs: tender herbs and hardy herbs. How you store your herbs will depend on the herb type. Soft-stemmed varieties like dill, basil, mint, parsley and cilantro, are tender herbs. While herbs with hard, wood-like stems like rosemary, thyme, and oregano are considered hardy herbs.
If you're ever in doubt as to which type of herb you're working with, just check the herb's texture and stem.
A quick word about chives: while chives feel soft to the touch, and they don't have a hard stem, they're actually considered hardy herbs. You'll want to store these guys just like you would rosemary, thyme and oregano.
Washing the herbs
To ensure your fresh herbs are ready to use when you need them, give each bundle a good wash before starting the storing process. Salad spinners are great for washing and drying fresh herbs quickly. Use the spinner the same way you would if you were washing salad leaves.
If you don't have access to a salad spinner, fear not! You can always rinse the herbs under cool water and gently dry them between two paper towels. Use caution if drying the herbs on a kitchen towel. Pressing down on the herbs too hard in the drying process may cause them to snap. And when fresh herbs break apart, they can leave behind a green stain.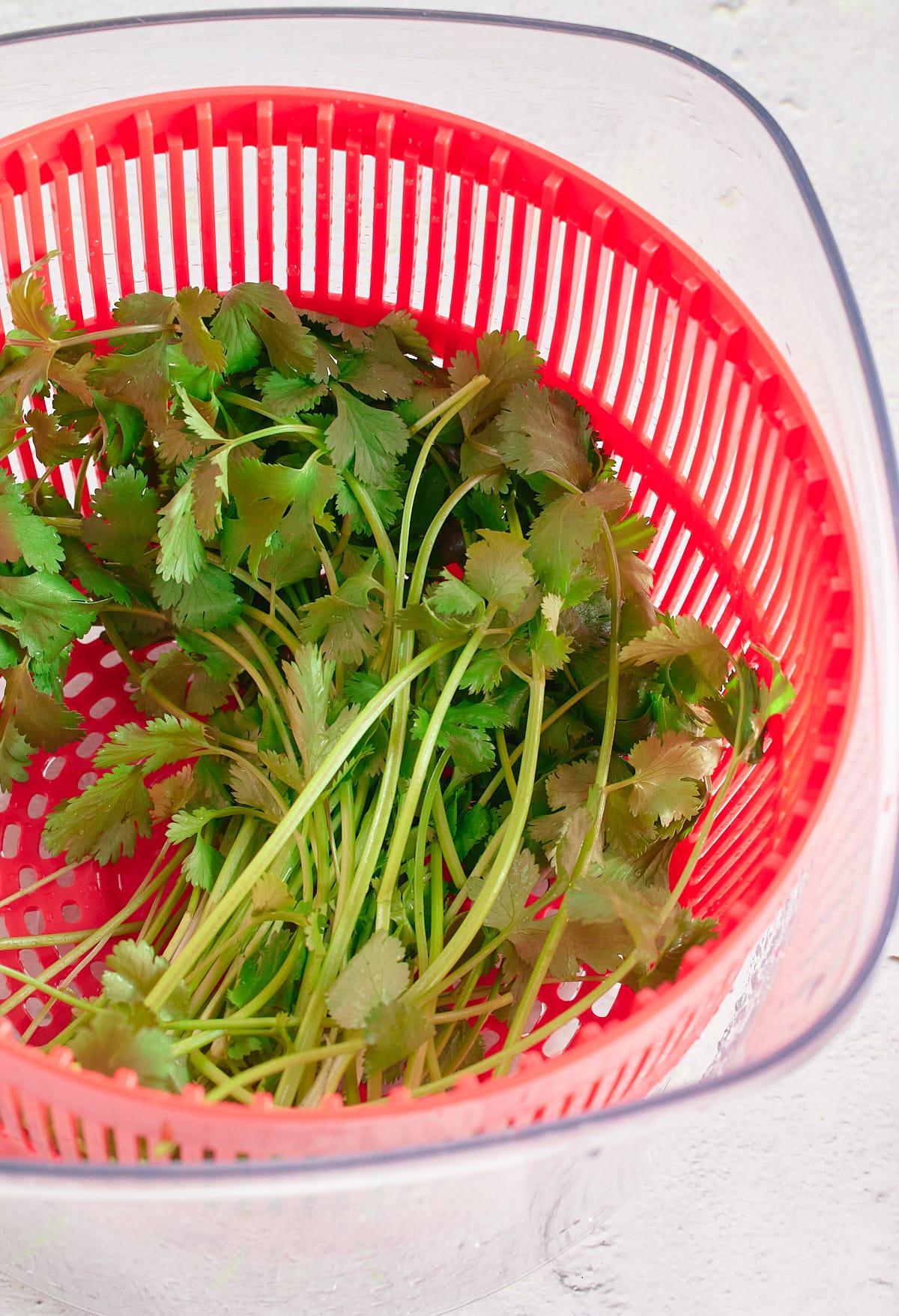 How to store tender herbs
Tender herbs love moisture. These herbs stay fresher longer if you store them the same way you'd store cut flowers. First, cut a small amount of stem from the bottom of the herbs just as you would a bouquet of flowers. Next, place an inch of water in a small jar (a Mason jar works great) or a plastic quart container. You'll want to make sure the stems stay upright in the container so they can absorb the water from the bottom, rather than laying in it.
Once your herbs are in their container, place a ziplock bag over the top to help lock in the moisture and prevent the herbs from drying out. Storing herbs in glass jars in the refrigerator will help keep your herbs fresh and flavorful until you're ready to use them.
How to store hardy herbs
Storing rosemary, thyme, or other hardy herbs doesn't require quite as much water as tender herbs, but you'll still need to provide some moisture in order to keep them fresh. To extend the shelflife of these herbs, fold or roll a damp paper towel around the bundle of herbs snuggly, then place them in a ziplock bag.
Dampen the paper towel every few days to ensure they don't dry out.
Should fresh herbs be refrigerated?
While you may be tempted to place your jar of herbs in a sunny spot on the kitchen counter, extra sun exposure may cause your herbs to yellow and wilt. Always place both tender and hardy herbs in the refrigerator.
How long can I store the herbs in the refrigerator?
Stored properly, most fresh herbs will stay fresh for up to two weeks in the refrigerator. Parsley, tarragon and rosemary will keep for up to three weeks.
Whether you're trying to extend the life of your herbs or just trying to prevent them from wilting for a few extra days, following these simple steps makes storing fresh herbs a breeze.
Recipes Using Fresh Herbs
here are a few of my favorite recipes using fresh herbs.