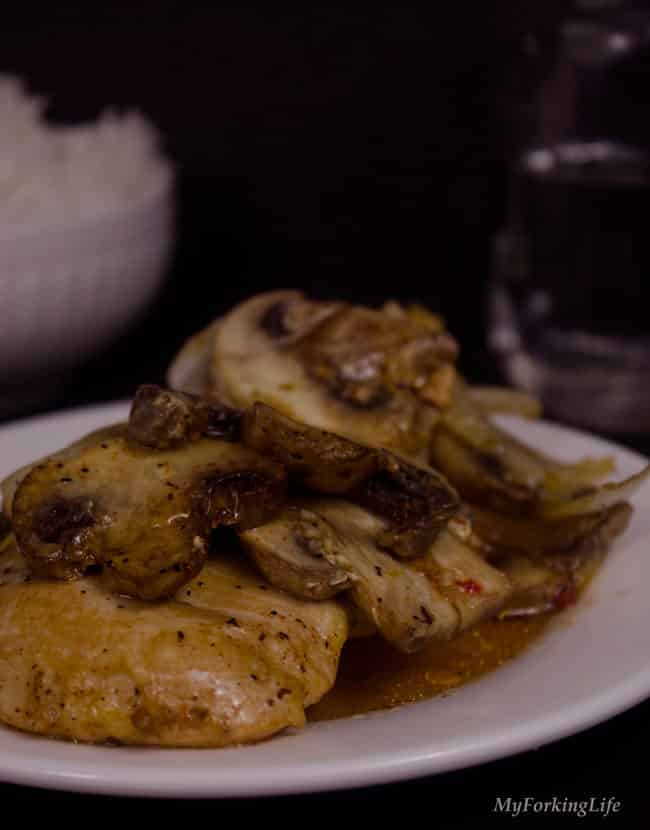 This post contains affiliate links, please read my full disclaimer here.
Full Recipe Ingredients/Instructions are available in the
recipe card at the bottom of the post.
You can find important tips/tricks in the
blog post.
This Baked Italian Chicken with Mushrooms recipe is quick, easy, and flavorful. Perfect for those days when you're in need of a quick dinner fix with very little fuss.

Alrighty, enough of my complaints...let me get to the point of this post, this Italian Chicken with Mushrooms recipe. Busy months require recipes like this...when you can come home, put the ingredients in the oven for about 35-40 minutes, and BAM, dinner is ready. No more whining from the kid and no more pouting from the hubby about when dinner will be served.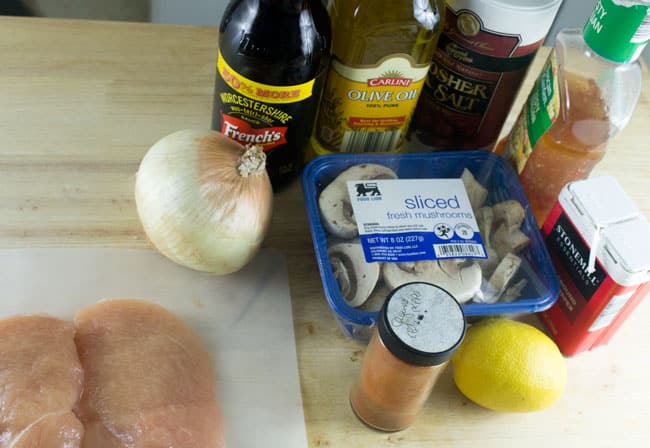 So in a nutshell, these are all the ingredients you will need to make this Italian Chicken, except for the chicken broth. Again, I was super busy and I'm surprised I had the brain cells to grab my camera and take this photo. No worries, I'll remember to list it as an ingredient below.
The recipe for this Italian Mushroom Chicken is pretty simple and involves minimal chopping and stirring. Check out my dish before being placed in the oven.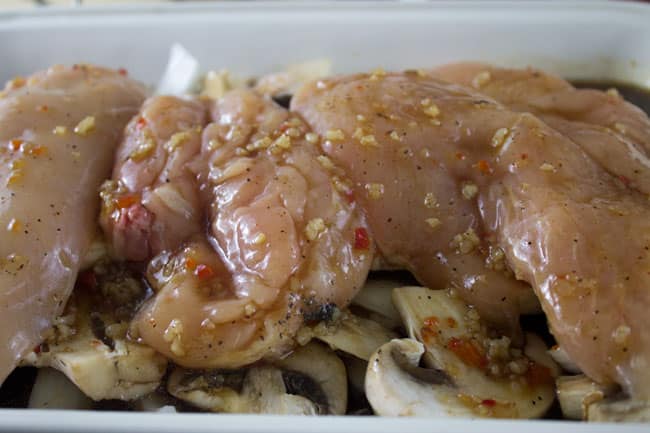 And after with one stir in the oven.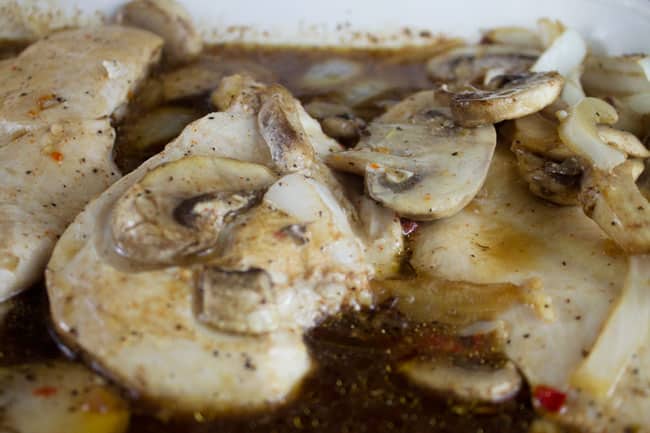 There you have it. Simple, easy Italian Chicken and Mushroom dinner. I like to serve this with plain white rice so it can soak up all the juices. Here's a few notes about the dish:
Notes
Always remember to check to ensure that your chicken is fully cooked by checking with a quick read meat thermometer. I'm super paranoid when it comes to chicken, you should be too, but I also hate overcooked chicken breast. That chicken should reach a internal temperature of 165 degrees Fahrenheit before you take it out that oven. You can buy one like this one, Instant Read MEAT Thermometer - Best Quick Read Digital Cooking Thermometer for All Food, Meat, Turkey, Grill, BBQ, Smoker, Kitchen and Candy - LCD Screen, Long Probe
Feel free to thicken the sauce if it's too watery for you. I like my gravy with this dish watery, hubby likes it a bit thicker. Depending on my mood, I'll sometimes thicken it by removing the chicken when done, adding the liquid to a pot on the stove, adding 1 Tablespoon corn starch and 1 Tablespoon water to a small bowl, whisking to combine to make a slush, and then adding to the sauce, whisking while I add.
Searing the chicken breast on the stove top before baking sounds like a grand idea. I love searing before baking because FLAVOR!!! Yes, searing meats does add an immense amount of flavor but honestly, this dish has so much flavor that I don't find this step necessary. Admittedly, I haven't tried searing it first but next time I make this for dinner, I will.
This sounds like a great idea for a crock pot meal. I haven't tried making it in a crockpot yet because it's generally reserved for those nights I come home and forgot to even think about dinner. I'd imagine the chicken would fall apart and could be shredded. That sounds amazing over rice.
Here are the recipe deets for this easy, delicious, (and lazy) Baked Italian Mushroom Chicken. As always, I hope you Enjoy :)
Baked Italian Chicken with Mushrooms
Ingredients
1 1/2

lb

chicken breast

1

large onion

8

oz

mushrooms

sliced

1/2

cup

Zesty Italian dressing

1/2

chicken broth

2

Tablespoon

olive oil

2

Tablespoon

fresh lemon juice

3

Tablespoon

Worcestershire sauce

2

garlic cloves

minced

1/2

teaspoon

salt

1/2

teaspoon

black pepper

1/4

teaspoon

cayenne pepper
Instructions
Preheat oven to 350 degrees Fahrenheit.

Flatten chicken breast.

Slice onions and mushrooms. Place chicken, onions, and mushrooms in a 9x13 baking dish.

Combine Italian dressing, chicken broth, olive oil, lemon juice, Worcestershire sauce, garlic, salt, black pepper, and cayenne pepper in a bowl and stir to combine. Pour over chicken,

Bake for 35-40 minutes, until chicken is fully cooked. Enjoy :)
Subscribe to my YouTube
Subscribe to my YouTube Channel for full length recipe videos. Click the bell icon to be notified when I upload a new video.
Although myforkinglife.com attempts to provide accurate nutritional information, these figures should be considered estimates. Varying factors such as product types or brands purchased, natural fluctuations in fresh produce, and the way ingredients are processed change the effective nutritional information in any given recipe. Under no circumstances will myforkinglife.com be responsible for any loss or damage resulting for your reliance on nutritional information.
Looking for more easy chicken recipes?
Zucchini Chicken and Mushrooms
Instant Pot Copycat NY Street Cart Chicken