These Mint Oreo Cupcakes for Two will leave your sweet tooth satisfied and are the perfect portion size for a quick weeknight dessert.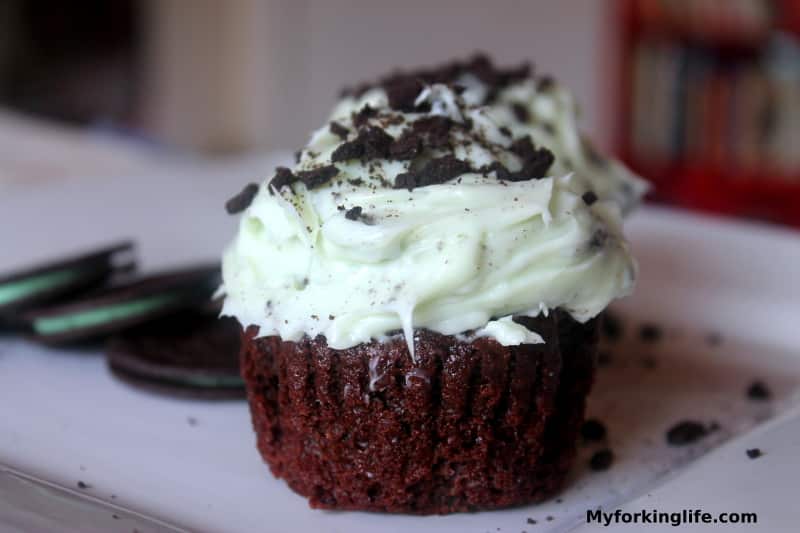 This post contains affiliate links, please read my full disclaimer here.
Full Recipe Ingredients/Instructions are available in the
recipe card at the bottom of the post.
You can find important tips/tricks in the
blog post.
Mint! Chocolate! Combined?!? Yes Please! That's how excited I get about mint chocolate anything. Like seriously, whoever came up with the idea is a genius. I love you. It hurts me to say this but I am the only one in my household who likes mint and chocolate. My hubby claims he is allergic to chocolate. However, he loves German Chocolate Cake. I guess chocolate from Germany is allergen free? My daughter loves chocolate, my daughter likes mint candy, but as soon as I use these two words in the same sentence, her face distorts into a look of disgust. Then she claims she is allergic to mint while sucking on a peppermint candy. *Sigh*
All is not lost however. Thank goodness cupcakes can be made into smaller portions. I couldn't imagine making and eating 12 cupcakes in one sitting. Well, yes I can but it just doesn't seem too healthy. These Mint Oreo cupcakes for two (or one) are the perfect solution for me.
First, preheat your oven to 350 degrees. Grab 2 mint oreo cookies (I used the oreo thins so I used 4 of those) and remove the filling from the cookies and set the filling aside. Set half of the cookie halves aside and crush the other half of the cookies until they are tiny bity pieces, like this: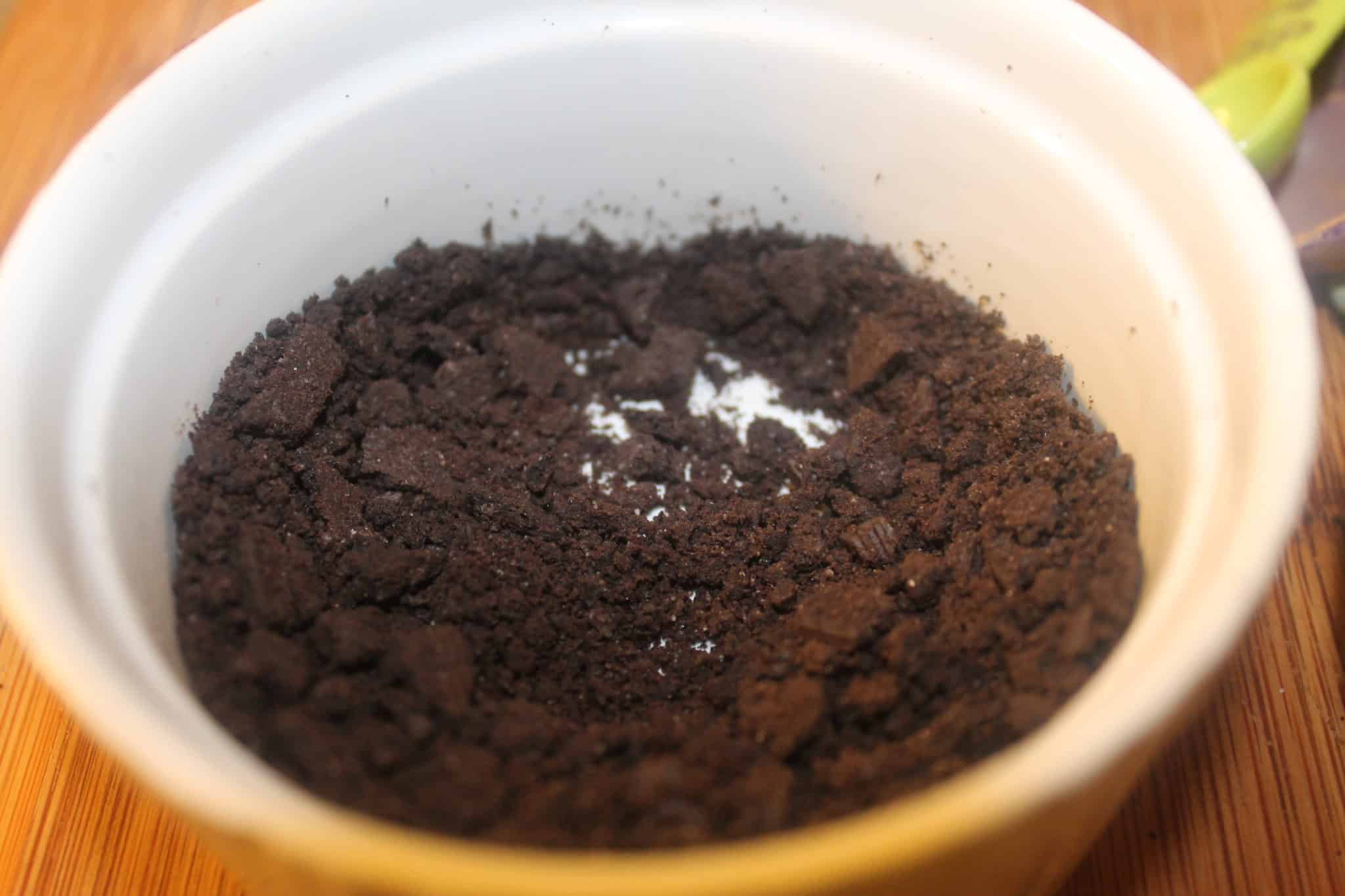 Set aside.
Then, combine them dry ingredients:
3 TBS flour, 2 TBS sugar, 1 TBS cocoa powder, 1/4 tsp baking soda, and a pinch of salt. Your mixture should look like this:
Check out my mini spatula. Pretty cool, huh.
Next, combine 3 TBS milk, 1 TBS vegetable oil, and 1/4 tsp vanilla extract. Then add that to your dry mixture. It should look like this: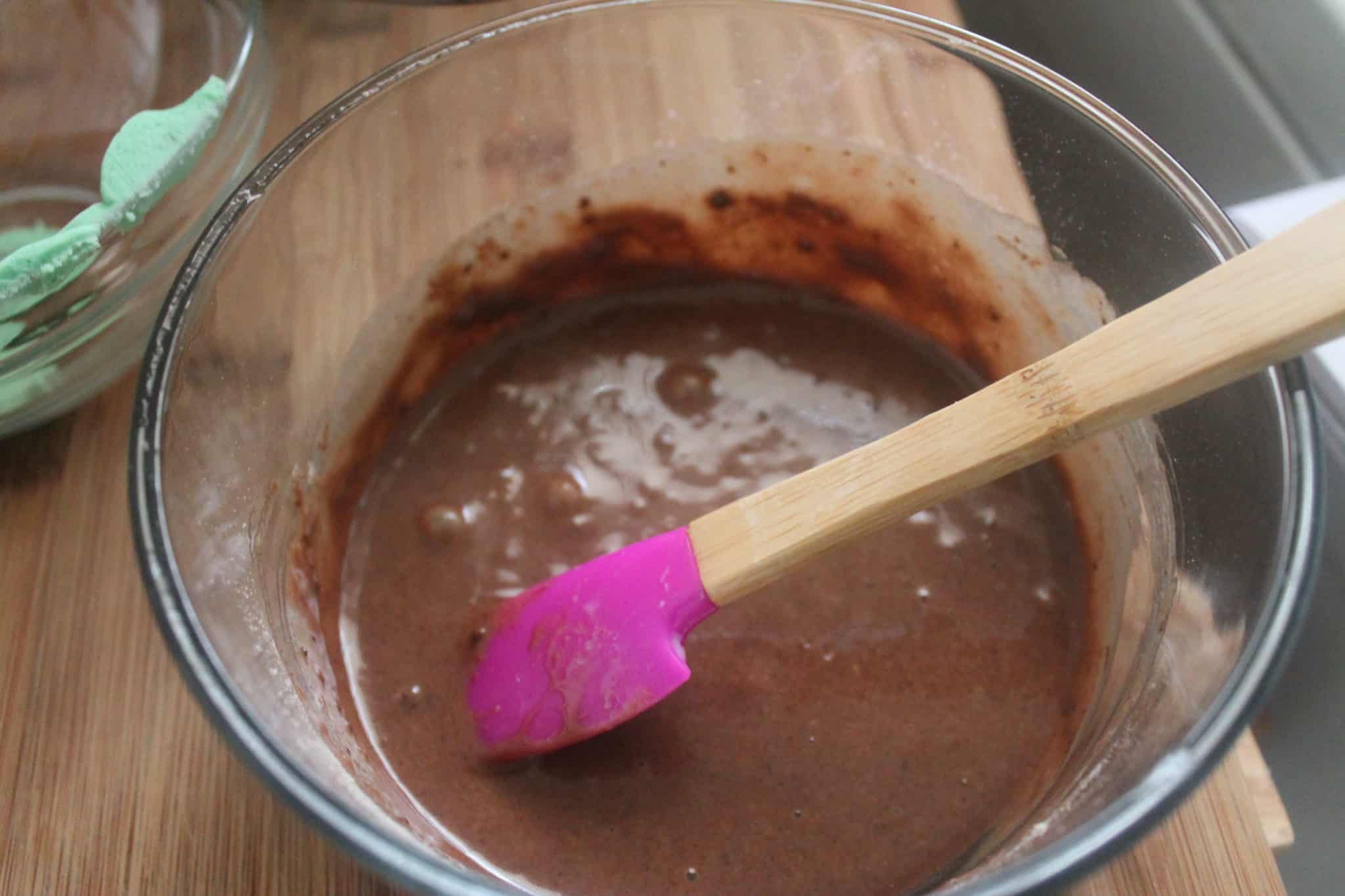 Line a muffin tin, I use my 6 muffin tin tin, with 2 cupcake liners. Place an oreo cookie in the bottom of each cupcake liner. Divide the mixture between the two cupcake liners. Bake in preheated oven for about 25 minutes, or until you stick a toothpick in it and it comes out clean. Let cupcakes cool completely on wire rack.
While your cupcakes are cooling, make that delicious cream cheese frosting. Combine 2 TBS softened cream cheese, 1 softened TBS butter. Stir until smooth and well combined. Then add 2 1/2 TBS powdered sugar and stir until combined. Then and the mint filling from your oreos.
Once your cupcakes are cooled, frost them and sprinkle with the crushed oreos. Then, enjoy and share with no one.
Mint Oreo Cupcakes for Two
Ingredients
2

oreo mint cookies

3

Tablespoon

flour

2

Tablespoon

sugar

1

Tablespoon

cocoa powder

1/4

teaspoon

baking soda

pinch

of salt

3

Tablespoon

milk

1

Tablespoon

vegetable oil

1/4

teaspoon

vanilla

2

Tablespoon

cream cheese

softened

1

Tablespoon

butter

softened

2.5

Tablespoon

powdered sugar
Instructions
Preheat oven to 350 degrees.

Separate oreo filling from cookies. Set filling aside and crush 2 cookie halves. Set aside.

Combine flour, sugar, cocoa powder, baking soda, and salt in a bowl.

Combine milk, vegetable oil, and vanilla in a separate bowl. Add to dry ingredients and stir until combined.

Line muffin with two liners and place whole cookie halves in the bottom. Add batter into the tins on top of the cookies. Bake for 25 minutes or until you can stick a toothpick in it and it comes out

clean.

Set aside muffins to cool. As they are cooling, combine cream cheese and butter in a bowl until smooth. Add powdered sugar and combine. Add mint filling and stir until incorporated.

Frost cupcakes with cream cheese frosting and sprinkle with crushed cookie bits.
Subscribe to my YouTube
Subscribe to my YouTube Channel for full length recipe videos. Click the bell icon to be notified when I upload a new video.
Although myforkinglife.com attempts to provide accurate nutritional information, these figures should be considered estimates. Varying factors such as product types or brands purchased, natural fluctuations in fresh produce, and the way ingredients are processed change the effective nutritional information in any given recipe. Under no circumstances will myforkinglife.com be responsible for any loss or damage resulting for your reliance on nutritional information.