I was recently invited to the Rusty Bucket located in the South Park area of Charlotte to sample and enjoy their menu. I had no clue what to expect when I arrived but OMG, where has this place been hiding all my life? Ok, apparently they haven't been hiding, I've heard wonderful things from friends but I regret taking so long to try this place out. Keep reading to learn more about my experience and for the yummy yellow rice recipe adapted from the restaurant.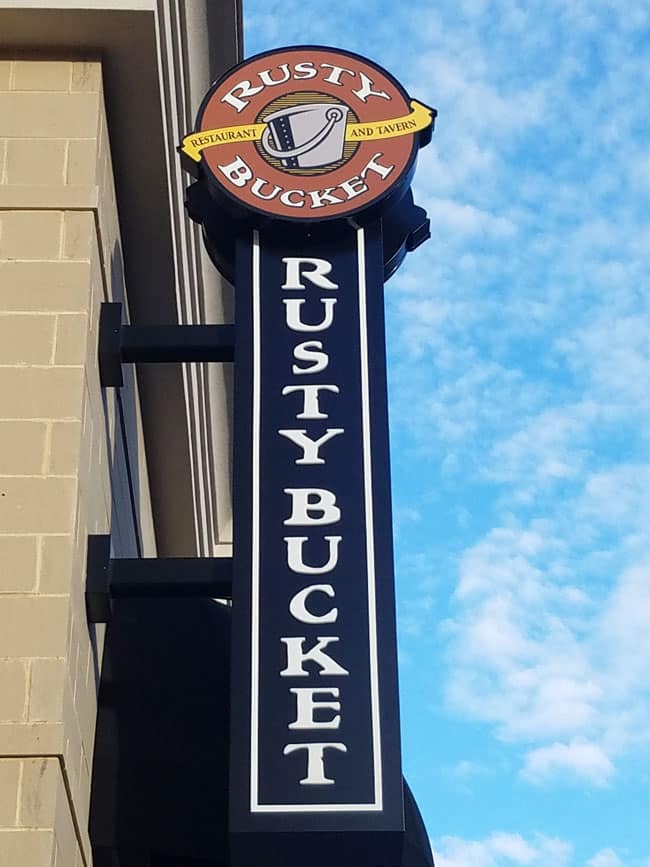 So I am a little in love with this restaurant. The food is great! I'll get a little more into detail about that in a second…but the atmosphere is my dream come true. As a parent of a lovely 8 year old, it's usually difficult for us to find a place that we can all go to that we all love. A place where hubby can watch the game, I can have a fancy cocktail, and my daughter can enjoy her dinner while playing with the kids menu. No doubt, these places exist but they usually are lacking in great food or great drinks. However, the Rusty Bucket doesn't lack in either of these areas.
Another thing I must say I went giddy over in this restaurant is their kids menu. Each menu came with a kids bookmark with the incentive that if the kid reads 5 books, they get a free meal. I like the sound of that. Reading is fundamental…so is saving my monies.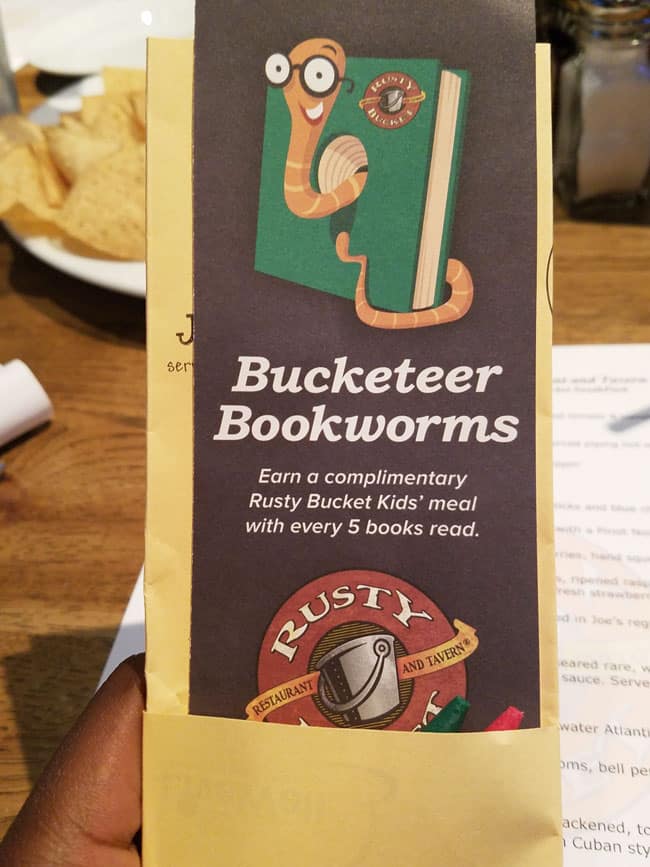 Now on to the the food….I had a lot to eat on our night out but I will high-lite some of my favorites. First, I'll start with this amazing Spinach con Queso and these delicious Deep Fried Pickles. I was addicted to the spinach dip. It was the right blend of flavors and the cheese blend in it was perfection. I couldn't stop eating this dip even when the other food items came out. These Deep fried pickles have the perfect crunch. It's hard to perfect a fried pickle as most places produce a pickle that is soggy..but these pickles were perfect and crunchy.
I was lucky enough to sample a lot of entrees from the Rusty Bucket….and they all were great! You honestly can't go wrong with any of the entrees as all are good. I guess that's a given since this restaurant has a scratch kitchen. That surprised and delighted me. Most restaurants that focus on the bar tend to ignore the food options. However, I'll give this restaurant props because they don't provide the same boring typical food with typical flavors. Everything I tried was fresh and full of flavor.
If I had to pick a favorite, which is hard to do because they were all so good, I would go with the Juicy Lucy, or the Veggie Pizza, or the Ahi Tuna Wrap. I know, I'm all over the place but I'll admit it's hard for me to pick a favorite because it was all so good. I can tell you that my daughter loved the Veggie Pizza. You heard that right. My meat loving baby girl loved a pizza with no pepperoni on it. I think it's the marinara sauce that makes it so tasty.Either way, if she loves it than you know it's good, she's a picky one.
The drinks! Another thing I was thoroughly impressed with in this establishment. Although I like a good beer every now and again, I loveee good cocktails. These drinks right here were amazing! Not too sweet, just the right amount of alcohol, and worthy of a trip back just for these drinks.
I usually skip dessert but I won't when I eat here. This place comes through with these homemade delicious desserts. Now for all my chocolate lovers, you cannot skip on this triple chocolate cake when you come here. So much chocolate, so delicious, so rich…I am in love with this chocolate cake. The bread pudding was also AMAZING…but it's always hard to compete with chocolate.
This place will be a regular on our list for places to eat out. Now as promised, a recipe!!!! The Rusty Bucket was nice enough to provide me with a few secret recipes.  I decided to adapt the yellow rice that goes along with the mahi mahi tacos at the restaurant. The rice turned out perfect and flavorful and this will be my go to recipe for making yellow rice. Or I'll just skip over to the Rusty Bucket and order it from there…along with the Ahi tuna, or the Veggie pizza….Gosh darn it, I think I'll find it difficult to order from this place since I'll want all the food. Enjoy 🙂