These Scalloped Potatoes with Blue Cheese are a great spin on your traditional scalloped potatoes. Impress your friends and family with this fancy side dish.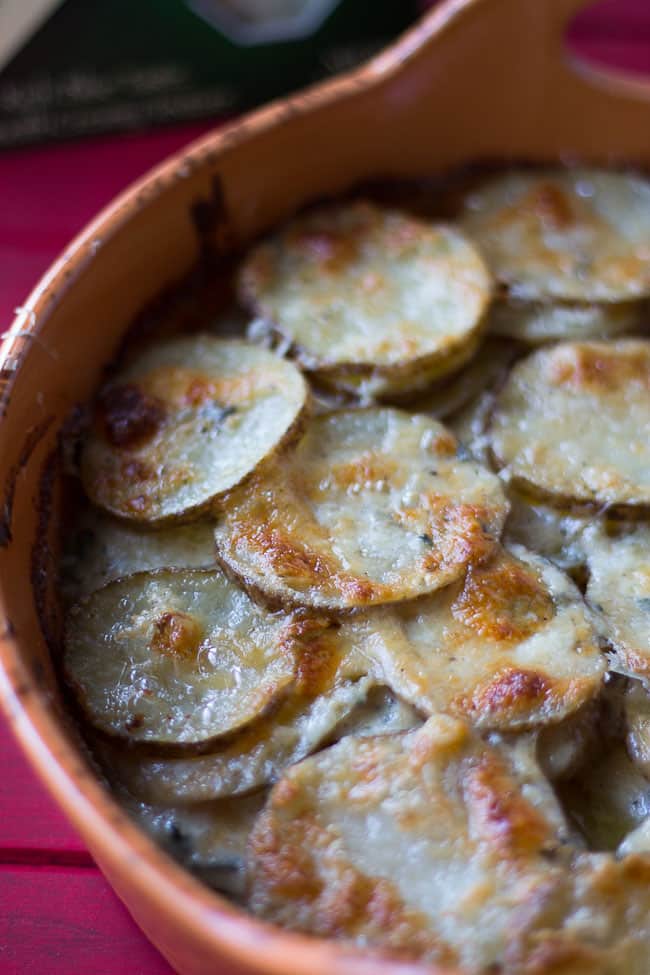 This post contains affiliate links, please read my full disclaimer here.
Full Recipe Ingredients/Instructions are available in the
recipe card at the bottom of the post.
You can find important tips/tricks in the
blog post.
What happens when the Managing Director of the French Dairy Board comes to your town and discusses all kinds of cheeses from overseas? You halfway listen and stuff your mouth with all the beautiful cheese. Ok, no…don't do that, you should actually listen and focus less on stuffing your face. But yea, I stuffed my face. So yea, there was that time that the Managing Director of the French Dairy Board came to visit and I ate cheese until my heart was filled with joy. I posted this picture on my Instagram from the event.
One of the cheeses I was able to try was the Saint Agur Blue Cheese. This Blue Cheese was simply amazing! Creamy with just the right amount of strength. I despise blue cheese that is way too strong. The flavor is present but it's not too intense, which is usually the problem with most blue cheeses. Hubby always says that blue cheese taste like soap (I have no clue what he means by that) but when he tried this one, he actually liked it.
So I brought the cheese home and had fun with it. First, I drizzled some honey over it (a trick the Managing Director of the French Diary Board taught me) and had it as a snack with a glass of wine. Then I stared at it and asked "what in the world do you want me to do with you?!" And Eureka!!! Scalloped potatoes with blue cheese popped into my mind!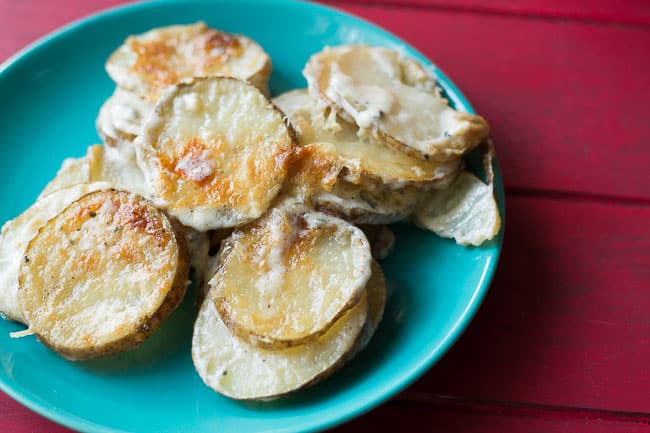 The cool thing about these scalloped potatoes with blue cheeese is that they are super easy to make. In the spirit of Thanksgiving, easy and fancy recipes are a must. Who has times to slave over the side dishes when so much time will be spent on the turkey…and the pies. In less than an hour, you can have this in the oven baking up, ready for dinner. Also, everyone will think you are so fancy because blue cheese is so much fancier than cheddar.
Notes about Scalloped Potatoes with Blue Cheese
A nice and pretty casserole dish, about 1.5 to 2 quarts, works best for this type of dish. You should have about 4 layers if you use a similar sized dish.
Make sure you end with the Parmesan cheese on top when layering the ingredients. This will give that beautiful golden melted cheese crust on top of the dish.
Use a mandolin slicer on the 3.5mm setting for slicing your potatoes. I urge you to take extreme precautions when using this slicer. Please pay attention when using this. I learned my lesson the hard way. *ouch*
Any brand of blue cheese will do but the Saint Agur Blue Cheese highly recommended.
As always, Enjoy 🙂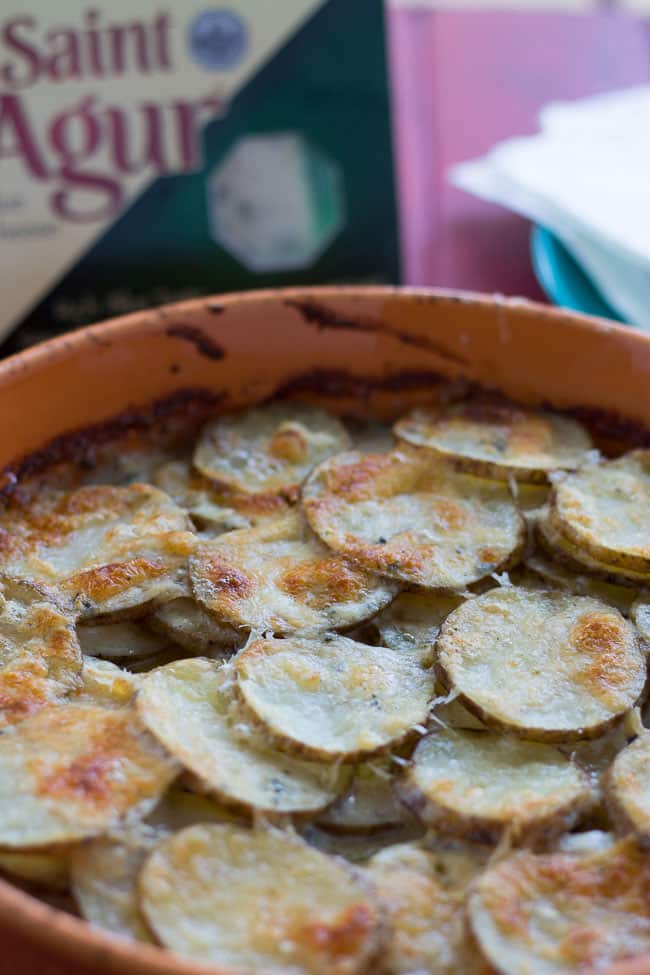 Recipe adapted from Blue Cheese Potatoes Gratin
Scalloped Potatoes with Blue Cheese
Ingredients
2

lbs

Russet Potatoes

1.5

cup

heavy cream

1/2

cup

crumbled blue cheese

1/2

cup

parmesan cheese

2

cloves

garlic

1

Tablespoon

butter

1

Tablespoon

flour

salt&pepper to taste
Instructions
Preheat oven to 375 degrees.

Thinly slice russet potatoes and set aside.

Melt butter over medium low heat in a saucepan. Mince garlic and add it to butter. Cook for about 1 minute, stirring constantly.

Add flour and stir until flour is dissolved. Add heavy cream and cook over medium low heat until mixture thickens, about 5 minutes. Season with salt and pepper to taste.

Remove from heat and add blue cheese. Stir to combine.

Spread some of the potatoes evenly on the bottom of a 2 qt casserole dish. Add enough blue cheese sauce to cover the potatoes, then add some shredded parmesan cheese on top of this layer. Continue with these layers (potatoes, blue cheese sauce, shredded parmesan cheese) until you have about 4 layers, finishing with the parmesan cheese on top.

Bake in preheated oven uncovered for 50 minutes or until potatoes are tender. Enjoy 🙂
Subscribe to my YouTube
Subscribe to my YouTube Channel for full length recipe videos. Click the bell icon to be notified when I upload a new video.
Although myforkinglife.com attempts to provide accurate nutritional information, these figures should be considered estimates. Varying factors such as product types or brands purchased, natural fluctuations in fresh produce, and the way ingredients are processed change the effective nutritional information in any given recipe. Under no circumstances will myforkinglife.com be responsible for any loss or damage resulting for your reliance on nutritional information.