This Simple Pumpkin Cake Recipe is the perfect sweet treat for the Fall. No mixer needed when making this delicious Southern and Simple cake.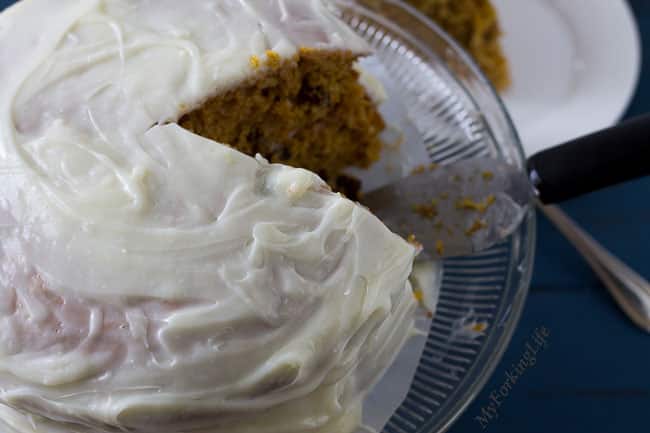 This post contains affiliate links, please read my full disclaimer here.
Full Recipe Ingredients/Instructions are available in the
recipe card at the bottom of the post.
You can find important tips/tricks in the
blog post.
Fall is here! O.k, it's been here for a while but I think I am just starting to accept it. We have had warm weather here in Charlotte and it's just starting to really feel like Fall. Booooooo!!!! I am not a fan of cold weather and all the shivers it brings to my body. I guess all is not negative when it comes to the weather changing, especially when it comes to food. Bring on the chillis, the soups, and pumpkin flavored everything. Speaking of pumpkin, I am now officially tired of it. However, before I toss out all my canned pumpkins sitting in my cabinet, I wanted to share this Simple Pumpkin Cake Recipe.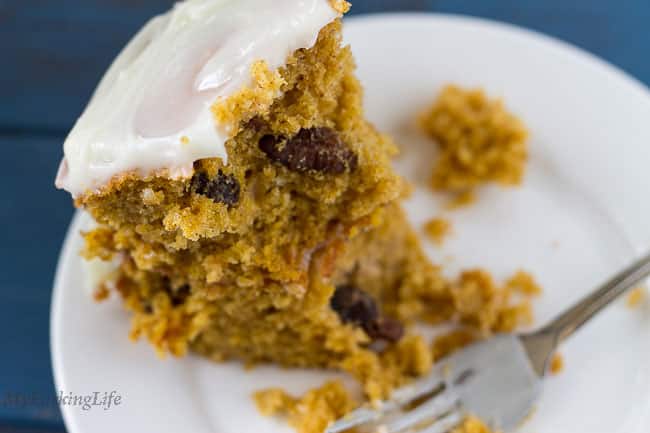 This Pumpkin Cake Recipe is something I discovered in the Southern Cakes: Sweet and Irresistible Recipes for Everyday Celebrations. I encourage everyone to check out this book. There truly are some gems inside.
Back in July, when the weather was lovely, I saw a co-worker of mine with the book. I asked to browse through it briefly and asked if at some point I could borrow it. Not too long after, the book ended up in my mailbox at work. There are a tons of cakes in here that I said I would try before I return it. So far, I've only tried this one. I've had it held hostage since then because I want to try more recipes. I promise I will return it soon y'all.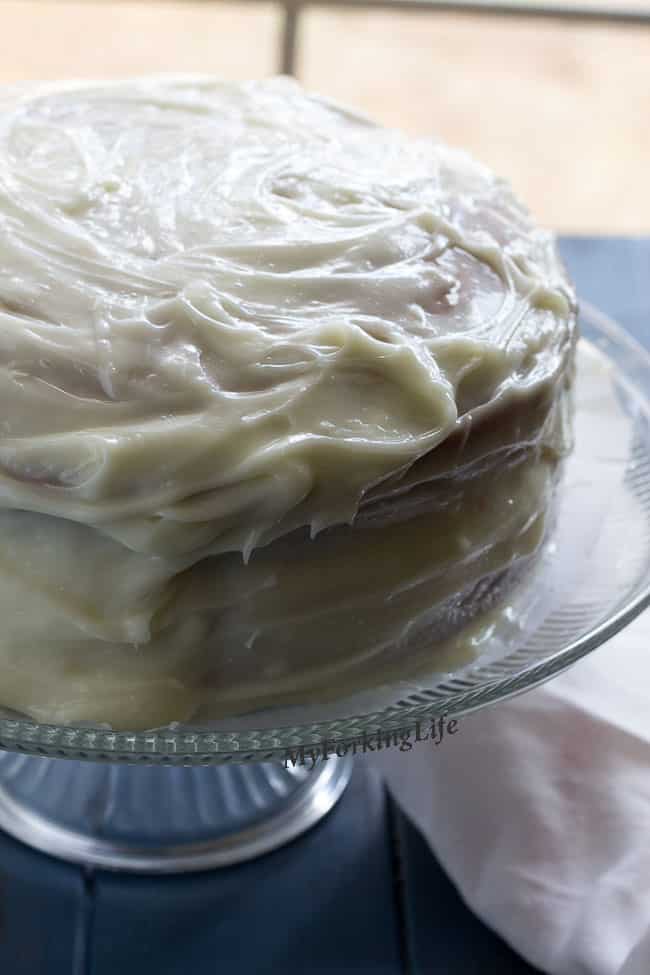 This cake came out with the perfect consistency between being moist and crumby. The flavor reminds me of a spice cake with a pumpkin twist. The frosting is a lemon cream cheese frosting and it is a perfect combination when it comes to flavor. Another cool thing about this cake is that I made it with no mixer. I love my red KitchenAid but sometimes a Classic Wooden Kitchen Spoon is so much better. In fact, it's what the book recommends when it comes to combining the ingredients.
I hope you continue to enjoy the Fall if cold weather is you're kind of thing. I also hope you enjoy this recipe 🙂 Let me apologize in advance of having no video of me creating this beautiful cake. Darn camera wouldn't let me be great.
Simple Pumpkin Cake Recipe
Ingredients
2 1/2

cups

All purpose flour

2 1/2

tsps

of baking powder

1 1/4

teaspoon

salt

1/2

teaspoon

baking soda

2

teaspoon

ground cinnamon

1/2

teaspoon

ground nutmeg

1/2

teaspoon

ginger

3/4

cup

raisins

1

cup

chopped pecans

1

cup

plus 2 Tbsp vegetable oil

2

cups

sugar

4

eggs

2

cups

canned pumpkin
For the Lemon Cream Cheese Frosting
3

cups

powdered sugar

8

oz

cream cheese

softened

1

lemon

2

Tablespoon

milk

pinch

of salt
Instructions
Preheat oven to 325 degrees. Grease two 8 inch round cake pans, set aside.

Combine flour, baking powder, salt, baking soda, cinnamon, nutmeg, and ginger in a bowl. Set aside.

In another bowl, combine raisins and pecans. Add 1/4 cup from the flour mixture to the raisins and nuts and stir to combine, set aside.

In another bowl, combine the sugar and 1 cup of vegetable oil. stir to combine. Add eggs one at a time and stir to combine.

Add the flour mixture to the sugar mixture and stir until all the flour disappears from the batter. Add the canned pumpkin and stir to combine. Then add the raisins and pecan mixture and stir until combined.

Place in prepared cake pans and bake in preheated oven for about 25 minutes, until the cakes are golden and a toothpick inserted in the center comes out clean. Remove from oven and allow cakes to cool completely.
For the Lemon Cream Cheese Frosting
Zest the lemon over a bowl. Cut the lemon and squeeze out all the juice in same bowl. Add cream cheese, milk, powdered sugar, and pinch of salt. Mix until smooth.

Frost the cake with frosting. Enjoy 🙂
Subscribe to my YouTube
Subscribe to my YouTube Channel for full length recipe videos. Click the bell icon to be notified when I upload a new video.
Although myforkinglife.com attempts to provide accurate nutritional information, these figures should be considered estimates. Varying factors such as product types or brands purchased, natural fluctuations in fresh produce, and the way ingredients are processed change the effective nutritional information in any given recipe. Under no circumstances will myforkinglife.com be responsible for any loss or damage resulting for your reliance on nutritional information.
// ]]>