It's officially Holiday Season and although I somewhat feel it's a bit early to see all the Christmas decorations out in the stores, it's a reminder that I need to go on and get my list together. I truly feel that everyone has an inner love for cooking.
O.k. maybe not but you may have that person in your life who has started to take an interest in cooking and you're wondering which book to get them. This list of the best cookbooks for beginners should help you with that purchase. All of these I have found tremendously helpful in my foodie life.
This post contains affiliate links, please read my full disclaimer here.
The Best Cookbooks for The True Beginners
1. How to Cook Everything The Basics: All You Need to Make Great Food–With 1,000 Photos

This is the book that started my love for cooking and my eventual creation of My Forking Life. It literally teaches you How to Cook Everything, from how to scramble eggs, to salads, soups, entrees, breads, desserts…you name it! I even made cornbread from scratch with this book. I've used this book so much that it is literally falling apart. I still pull it out when I am looking for recipe inspiration. Each recipe comes with photo instructions as well as tips and variations for each recipe. This book is the perfect cookbook for a beginner chef.
The Joy of Cooking cookbook is a classic! Which is why it made my best cookbooks for beginners list. It's a must for anyone wanting to dive into cooking and baking. I bought this book after I had been cooking for a few years but would have loved it in my very early stages. The book is massive with over 1,000 pages full of recipes, instructions, and information about various food items. The book also has international recipes in it such as the Thai Beef Salad, pg. 212 and the Vietnamese Pho. pg. 117. Each recipe has write ups that will sometimes have substitutions and tips. This is another book I reference when looking for a specific recipe or recipe inspiration. The only negative about this beginner cookbook is the lack of photos.
3. The America's Test Kitchen Cooking School Cookbook

Per reviews on Amazon, the hard copy of this book is quite hefty. I bought the Kindle version and it does have a wealth of information, from knife skills, to basic measuring skills, and how to instructions on common foods. It teaches how to equip your kitchen and how to stock your pantry and refrigerator. I bought this well into my love for cooking but still use it as a reference when it comes to recipe creation. It really does have everything you need to know to become a great cook…well at least the basics. It is one of the best cookbooks for a beginner…but I wouldn't necessarily make the purchase for someone who has been in the kitchen for a while. Also, this is more of a reference book rather than a cookbook.
The Best Cookbooks for those Chefs who Want to Experiment in the Kitchen
4. The No Recipe Cookbook: A Beginner's Guide to the Art of Cooking

I use this cookbook when I want to know the basic components of a dish. There are no recipes in this book but it has general descriptions of what items compose a certain dish. For example, if I wanted to make soup from scratch, the book lets me know the components for soup are generally liquid, vegetables, grains & beans, and thickening. Then it gets more in detail about the kinds of vegetables and other ingredients you may want to use, etc. The book has a few flavor profiles that I have found helpful. It's also great for the ratios. I've used it before when I made fruit crisp and cookies from scratch by following the ratios suggested in the book.
5. The Flavor Bible: The Essential Guide to Culinary Creativity, Based on the Wisdom of America's Most Imaginative Chefs

In the kitchen, combining flavors is of great importance. This is where the Flavor Bible comes in as a great reference. Here, food ingredients are listed and flavor pairings for each ingredient are listed as well. For example, let's say you are in the mood for bananas and decided to make a banana cake but want to get a bit fancy with it…You would just pop open your Flavor Bible and look up bananas. The section will tell you the season, taste, function, weight, volume, techniques for cooking, and any tips about bananas. It also will list tons of ingredients that pair well with the bananas. According to the flavor bible, ginger pairs well with bananas. Be on the look out for that Banana Ginger Cake recipe 🙂 This book is worth it for those cook who want to create their own recipes. So although this book has made my best cookbooks for beginners list, I would buy it for any chef, no matter the skill level.
6.Ratio: The Simple Codes Behind the Craft of Everyday Cooking
I initially rented Ratio from the library and had to go on ahead and make the purchase. Although geared towards baking ratios, those who love to cook will still find helpful ratio gems in the book, like ratios on stocks and fat based sauces. I haven't had the chance to try a ratio yet (life just won't let me be great) but I am looking forward to using the ratios to create fabulous recipes. I wouldn't recommend this book to super beginner chefs. I would recommend it to those who have cooked for a little while and want to become more creative in the kitchen.
7. Salt, Fat, Acid, Heat: Mastering the Elements of Good Cooking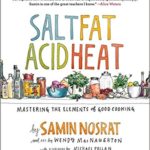 Salt, fat, acid, heat is one of my favorite culinary books. There are a few recipes, but the focus is on the four fundamentals in cooking that all cooks should know. The book has a few recipes, which I haven't tried yet. This is more like a fun reference book with fun pictures to help you along the way.
Just a few cookbooks for beginners that I like
8. Cravings: Recipes for All the Food You Want to Eat
I'm not only recommending this book because Chrissy Teigen is my BFF in my head but it actually has some amazing recipes in here. Each recipe has a cute little write up about the recipe, instructions, and directions. These recipes are not complicated at all and are easy to follow, perfect for beginners. I've tried the Pad Grapow Chicken, pg 119 and the Cobb Salad with Honey-Mustard Ranch dressing, pg. 72. The dressing for that salad is amazing and I make it quite often. Also, John Legend pops up in the book from time to time and I can't help but love the book even more just because of that. But yea, buy it for the recipes.
I found this book while grocery shopping in Aldi. Odd right? It has beautiful photos that show step by step how to create each recipe. I haven't tried a recipe from here yet either (oh life and ho it won't let me be great) but the photos are so easy to follow that I know I will be giving one a try soon. I still wanted to add it to the list because the step by step photos are great and all the recipes are easy. Plus, the price point on this book is quite low.
I sure hope you find this list helpful. Are there any other cookbooks you would recommend for beginners? Please comment below and let me know. 🙂
Pin the Best Cookbooks for Beginners Holiday Gift Guide for later