These are the best red velvet cupcakes you will ever have! So red, so velvet, so good.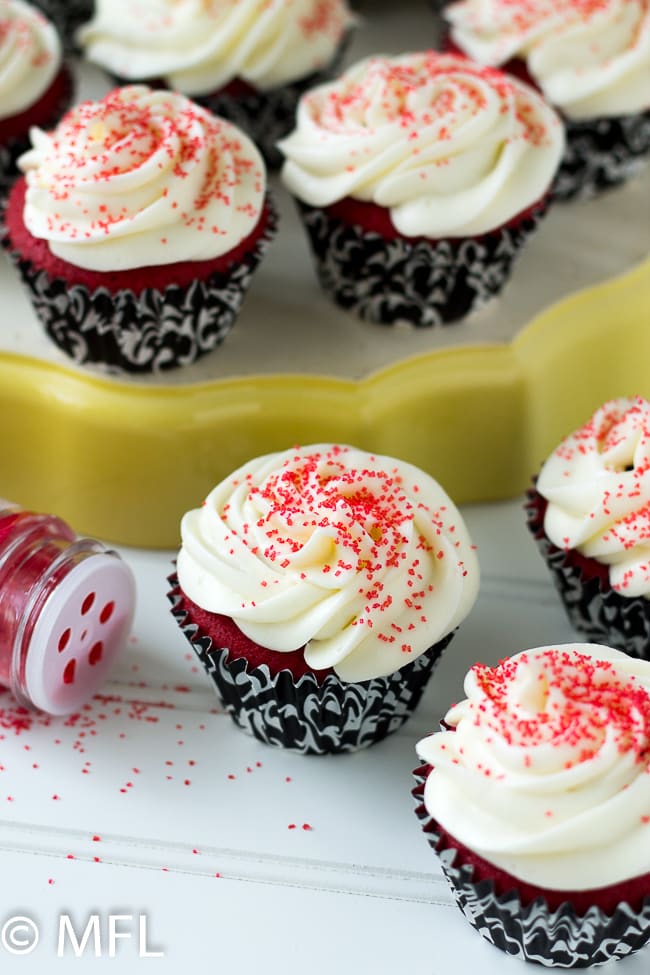 This post contains affiliate links, please read my full disclaimer here.
Full Recipe Ingredients/Instructions are available in the
recipe card at the bottom of the post.
You can find important tips/tricks in the
blog post.
Yes, you read it right, these are the Best Red Velvet Cupcakes in the whole wide world! That's such a bold statement but it is what it is. These things are so moist, so delicious, and so red. They never disappoint and the recipe is easy peasy.

Ahhh Valentine's Day, It can't get her soon enough. Flowers, candy, love…blah. hehehe. I like Valentine's Day but hubby and I aren't too big on celebrating it. I think we show each other love each and everyday by small gestures. He makes me coffee every morning, I drink it and I cook him a fabulous meal almost every night. At least I think it's always a fabulous meal. Ok, enough about our love, you are waiting to hear about these red velvet cupcakes and why they are the best in the world.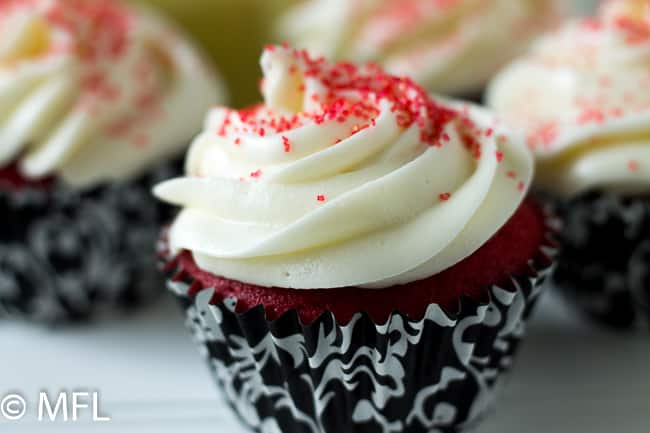 These cupcakes are rich and moist. I've had dry red velvet cupcakes before and it made me so angry. Like really mad, lol. When you bite into a red velvet cupcake, it should be light and fluffy yet moist, not dense. Well, that applies to all cupcakes but especially to a red velvet cupcake. I guess that's where the term velvet comes from.
The other necessity for a red velvet cupcake is the cream cheese frosting. Cream cheese frosting is a must to achieve the best red velvet cupcake. My cream cheese frosting is a bit different than the traditional as I like to add a hint of lemon rather than vanilla extract like most recipes call for. Why do I add lemon? I don't know, I had lemon one day and just decided why not, but the results were amazing! I have been adding it to this frosting ever since.
I hope you enjoy the best red velvet cupcakes in the world as much as I do. Check out the video below for details on how to make them.
Notes on The Best Red Velvet Cupcakes
When making cupcakes, you want to buy cupcake liners that say they are no fade. I used the Reynolds Stay Brite Baking Cups.
The cream cheese frosting will yield more frosting than you need. I'd rather have much more frosting than less frosting. I refrigerate the leftover frosting and eat it when I need a little sweetness in my life.
I used a larger decorating tip for frosting these cupcakes. The bigger the tip, the better the frosting for your cupcake. Purchase the right size tip to ensure even and pretty frosting.
It should also be noted that I am not the best cupcake decorator in the world. It takes skill and practice to get these looking perfect. I sprinkle the top with red sprinkles to jazz it up. It gives it a nice taste too.
Looking for more cupcake/cake recipe? Try these out:
The Best Red Velvet Cupcakes
Ingredients
2.5

cups

all purpose flour

1.5

teaspoon

unsweetened cocoa powder

1

teaspoon

baking soda

1

teaspoon

salt

2

eggs

1.5

cups

granulated sugar

1

cup

buttermilk

1.5

cups

vegetable oil

1

teaspoon

vanilla extract

1

teaspoon

white vinegar

1

1 oz bottle

red food coloring
Cream Cheese Frosting
2

8 oz packs

cream cheese

1/2

cup

butter

1

Tablespoon

fresh lemon juice

6

cups

powdered sugar
Instructions
Preheat oven to 350 degrees.

Combine flour, cocoa powder, baking soda, and salt in a medium bowl and set aside.

In a large mixing bowl, beat eggs and sugar until fully combined. Add buttermilk, vegetable oil, vinegar, and vanilla extract and stir to combine. Add flour mixture. Your batter should be a light brown.

Add entire bottle of red food coloring and stir to combine, ensuring it is fully combined and very red.

Spoon batter into cupcake tin that has liners. Bake in preheated oven for 25 minutes or until toothpick inserted in center comes out clean, or almost clean.

Allow cupcakes to fully cool before frosting.
Cream Cheese Frosting
Mix cream cheese and butter until fluffy. Add lemon juice.

While mixing, slowly add powdered sugar.

Frost cooled cupcakes and Enjoy 🙂
Nutrition
Subscribe to my YouTube
Subscribe to my YouTube Channel for full length recipe videos. Click the bell icon to be notified when I upload a new video.
Although myforkinglife.com attempts to provide accurate nutritional information, these figures should be considered estimates. Varying factors such as product types or brands purchased, natural fluctuations in fresh produce, and the way ingredients are processed change the effective nutritional information in any given recipe. Under no circumstances will myforkinglife.com be responsible for any loss or damage resulting for your reliance on nutritional information.
Cake Recipe adapted from Southern Plate
Pin The Best Red Velvet Cupcakes Recipe for Later