Dukkah Spice Mix, also known as Egyptian Spice Mix, is probably my favorite spice mix in the whole entire Universe. Ok, those are some strong words but I will say that when I came across this Dukkah Spice mix, I fell in love. This mixture of flavorful spices will have you fall in love too. This post may contain affiliate links, please read my full disclosure here.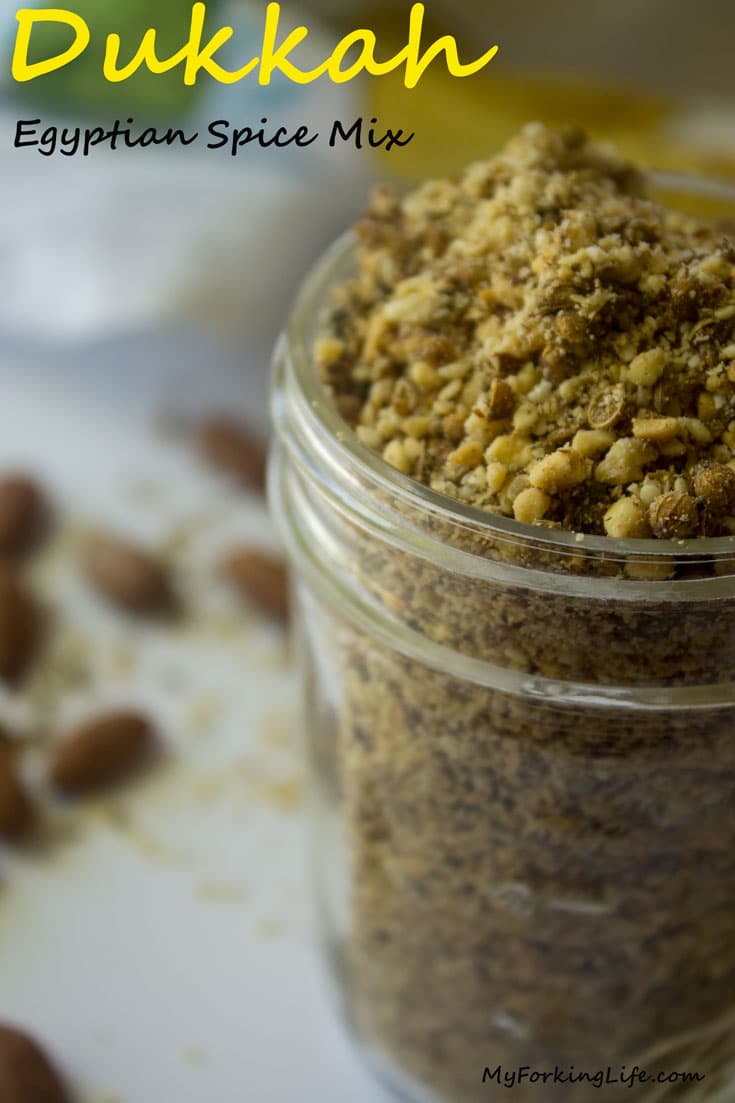 I came across this spice mixture when I ordered one of those cooking at home kits where they deliver the meals to your door. Love those things! Anyways, this kit had a Dukkah Spiced chicken recipe. What in the world is Dukkah I thought and will I really be this courageous to try it? Oh well, here goes I thought. The kit came with a little packet of the spice mix, chicken, and sweet potatoes. There were a few other ingredients but I now forget what they were.
I was instructed to chop my potatoes, add olive oil, and sprinkle with the Dukkah spice seasoning. I was instructed to add the same seasoning to the chicken as well. Odd I thought, very odd. Why in the world would they tell me to add this seasoning to the chicken and potatoes? Because it is just that forking delicious!!!
After dinner that night, I rummaged through my kitchen looking for that little spice packet. What the heck is in this stuff I thought. It must have 40 ingredients! To my surprise, it listed only 5: Almonds, coriander, cumin, sesame seeds, and salt. That's it! I've got to find this stuff I thought.
So for weeks, I went searching for this stuff in the stores and could never find it. Like seriously, my local grocery stores are missing out by not stocking this magical Dukkah Spice Mix. Then it hit me, duh Tanya, you can make this at home…it has like 5 ingredients.
So I went to the world wide interwebs and I found out how to make it. This stuff is so good, don't be surprised if you get a jar of it from me for Christmas. In the meantime, you can make it yourself.
So now I will share my recipe with you all. Oh, by the way, did I mention that all (well most) of my recipes will be on video as well? I love visual explanations and thought I would give it a go. Feel free to leave me feedback on whether you like the videos or not. Here are the recipe deets: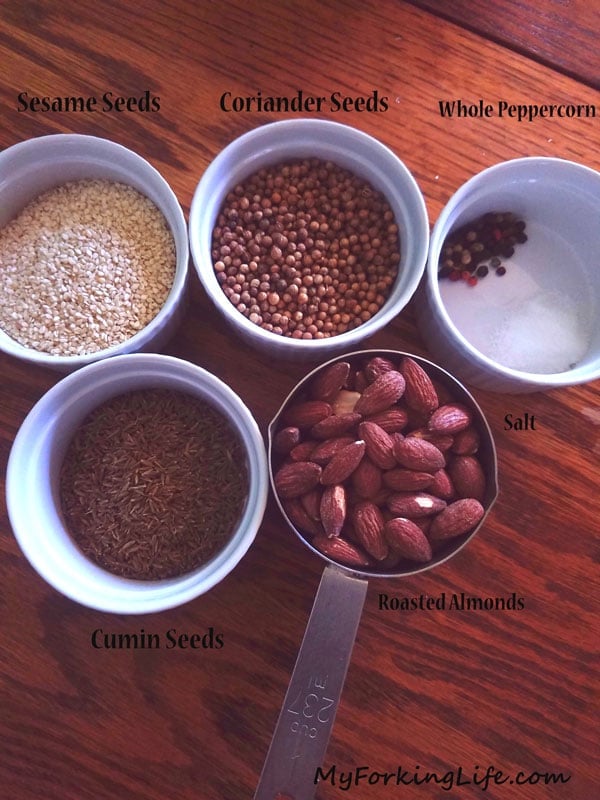 First, grab your ingredients:
Then, add your coriander seed (1/2 cup), sesame seeds (1/2 cup), cumin seeds (1/4 cup), and whole black peppercorn (1tsp) to a skillet over medium low heat and stir until you can smell the spices, about 5 minutes.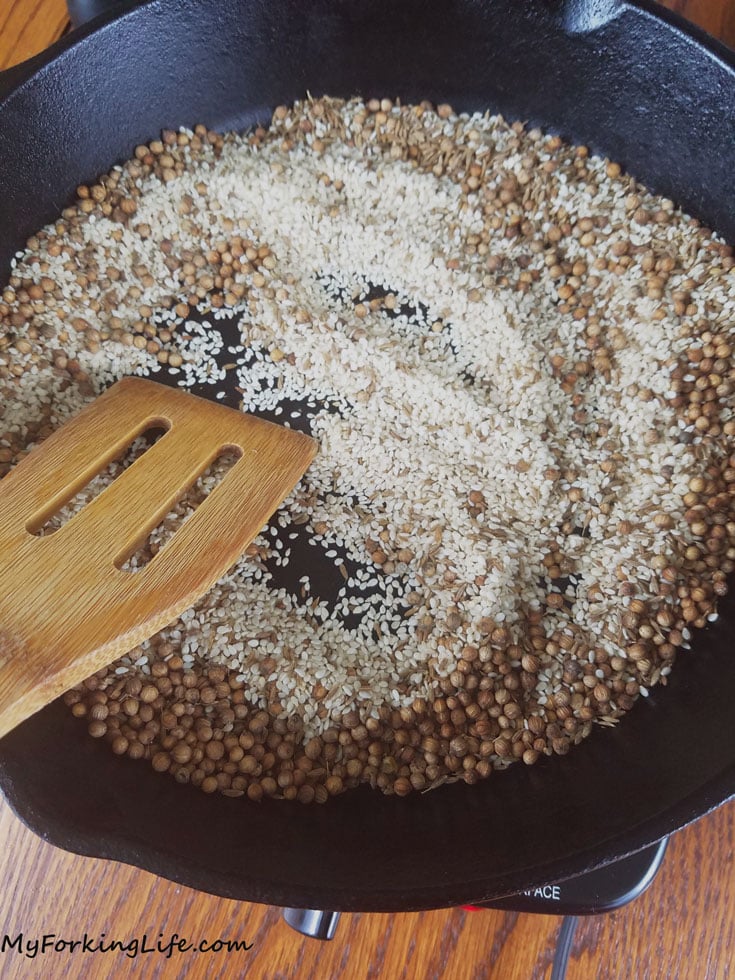 Once your nose is filled with the beautiful smell of spices, remove seeds from stove and add to a food processor with 1 cup roasted whole almonds and 1 tsp salt.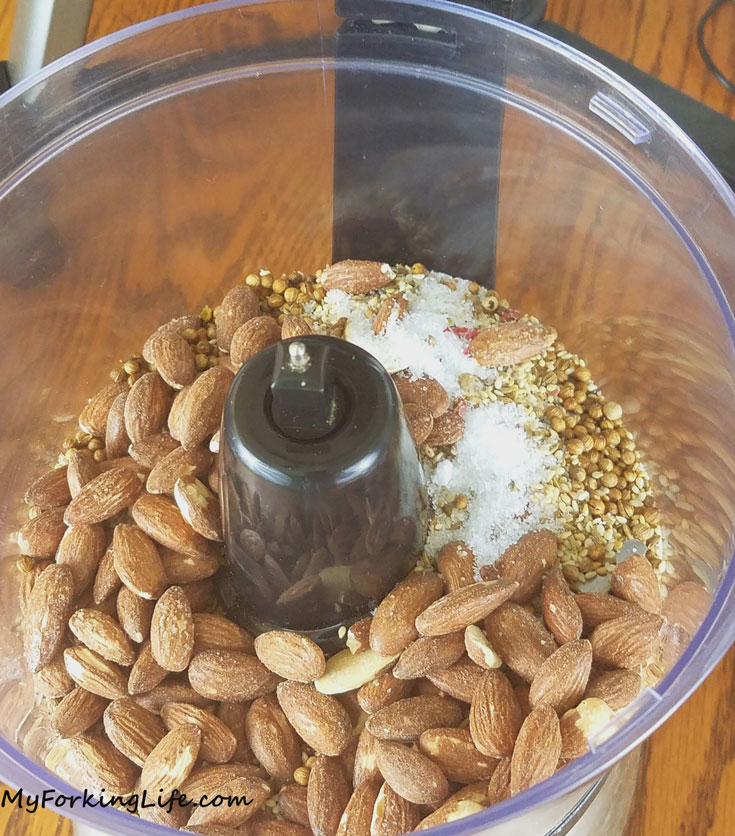 Pulse until ground.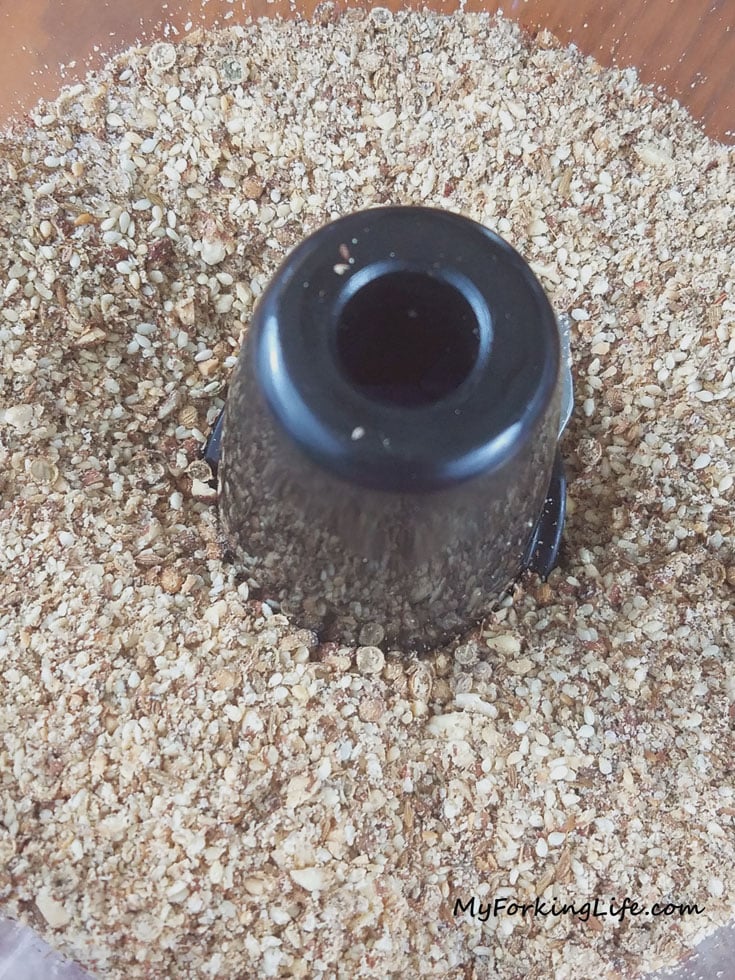 And there you have it, Dukkah Egyptian Spice Mix. Sprinkle over any meat, fish, or vegetable you like.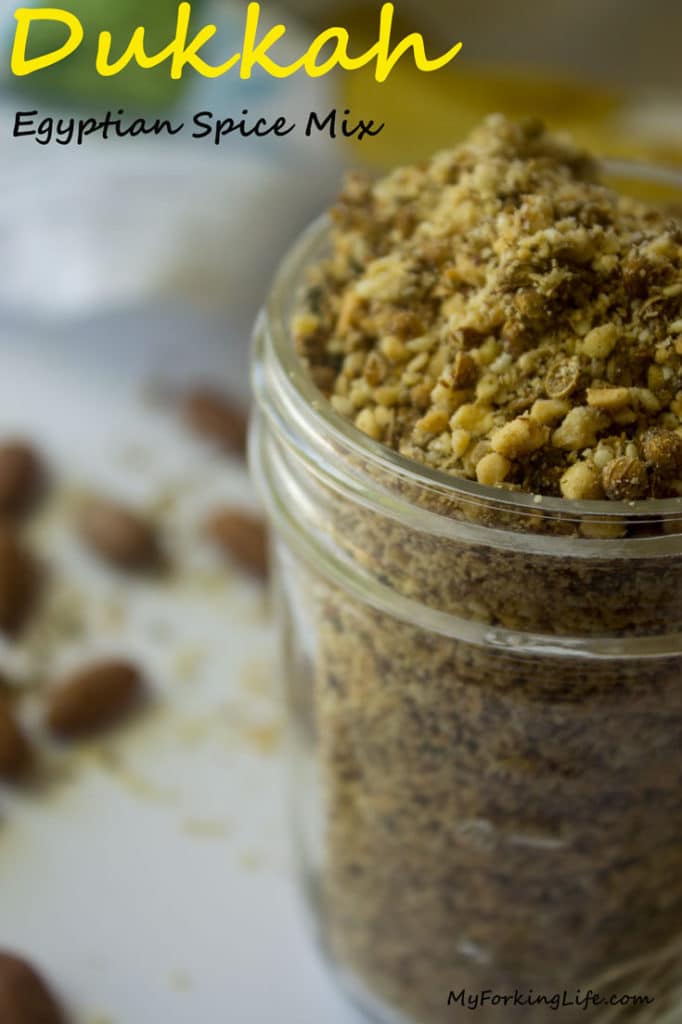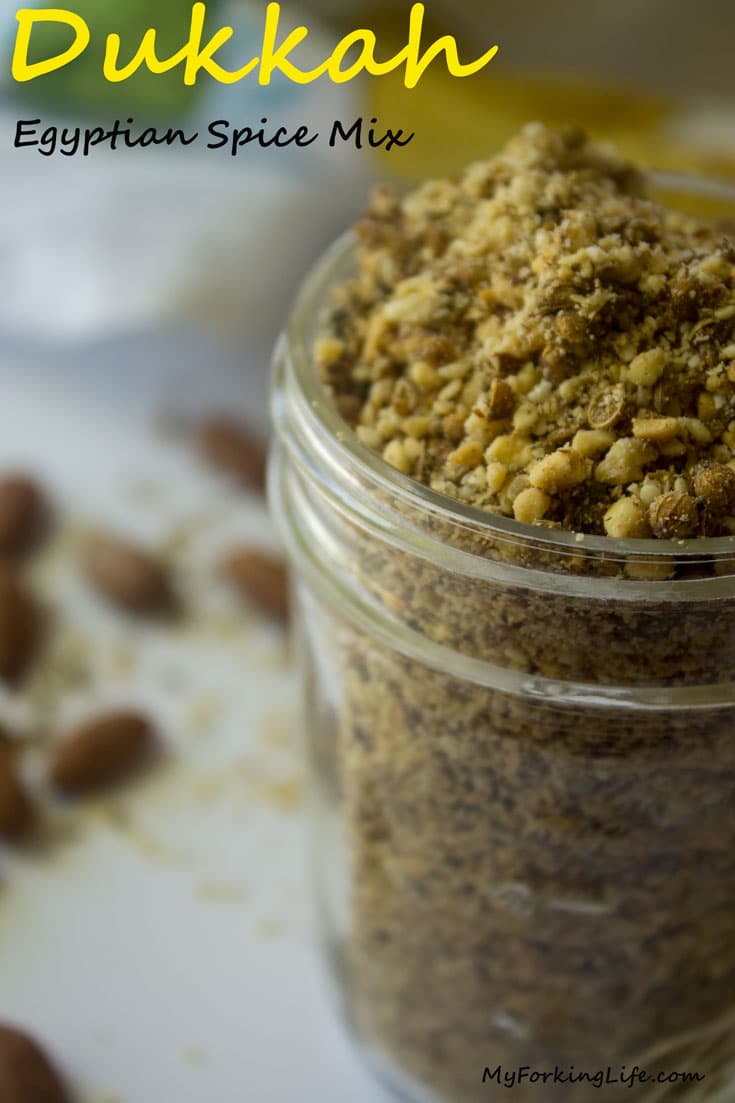 Here's a photo of my pan fried chicken with the Dukkah spice seasoning. Looks yummy right!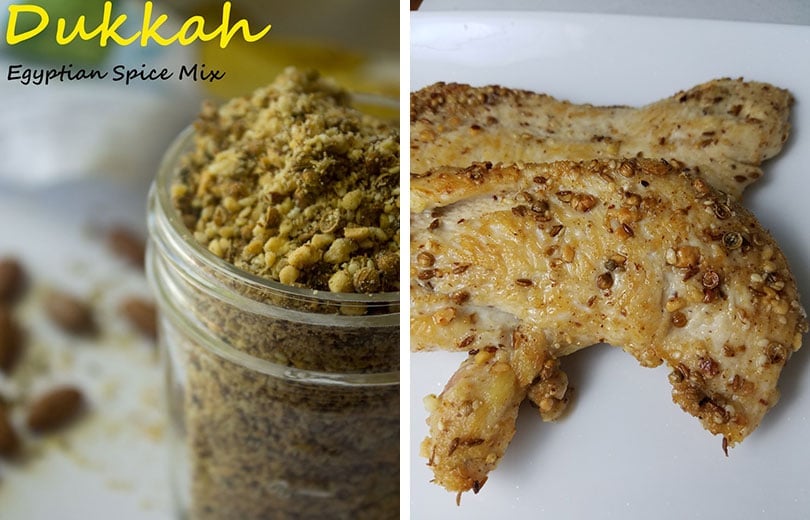 Looking for more Homemade Spice recipes? Try these out:
Dukkah Spice Mix
Easy and flavorful Dukkah spiced mixed.
Ingredients
1

cup

roasted almonds

1/2

cup

sesame seeds

1/2

cup

coriander seeds

1/4

cup

cumin seeds

1

tsp

whole black peppercorn

1

tsp

sea salt
Instructions
Add sesame seeds, coriander seeds, cumin seeds, and whole black peppercorn to skillet over medium-low heat for about 5 minutes, or until you can smell the aroma of the spices. Make sure to stir continuously to avoid burning.

Once toasted, remove seeds and add to food processor. Add roasted almonds and sea salt. Turn on processor and process until nuts and seeds are finely ground.

Store in an airtight container in the refrigerator,
Notes
Can be added to meat, fish, or your favorite vegetable.
Subscribe to my YouTube
Subscribe to my YouTube Channel for full length recipe videos. Click the bell icon to be notified when I upload a new video.
Although myforkinglife.com attempts to provide accurate nutritional information, these figures should be considered estimates. Varying factors such as product types or brands purchased, natural fluctuations in fresh produce, and the way ingredients are processed change the effective nutritional information in any given recipe. Under no circumstances will myforkinglife.com be responsible for any loss or damage resulting for your reliance on nutritional information.
Adapted from The Kitchn
Pin Dukkah Spice Mix for Later