This Easy Five Spice Chicken Thighs recipe is one of the easiest yet tastiest chicken recipes you will ever eat. Keep reading to find out more, recipe at the bottom. This post contains affiliate links, meaning if you click on a link and make a purchase, I get a little bit of change.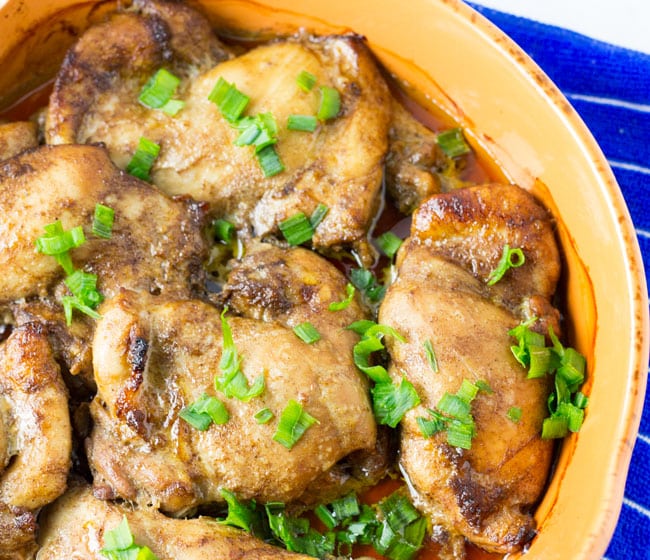 This post contains affiliate links, please read my full disclaimer here.
Full Recipe Ingredients/Instructions are available in the
recipe card at the bottom of the post.
You can find important tips/tricks in the
blog post.
I love easy peasy recipes. It's kind of a requirement for meals that are in our weekly rotation. Especially when I have busy work weeks and this week has been busy busy busy. So here's an easy peasy 5 spice chicken thighs recipe for you busy folks like me.
I created this recipe one night when I had chicken thighs in the fridge and not a clue what I wanted to do with them. So I went searching and searching through my spice cabinet trying to figure out what the heck I was going to put on these thighs. So I am searching and come across this 5 spice powder I had in my cabinet. I have tons of random spices by the way…I'm a spice hoarder, not afraid to admit it.
So I grabbed this powder and pulled out other ingredients and went to mixing and creating like a mad scientist and came up with this marindade. And this marindade…OMG, delish!
Over time, I tweaked the recipe a little. I suggest you allow the chicken to chill in the marinade for about 4 hours so those flavors really get in the chicken. Then just preheat your oven, throw them in a dish, bake for about 40 minutes, and KAZAM…dinner with a delicious sauce is ready.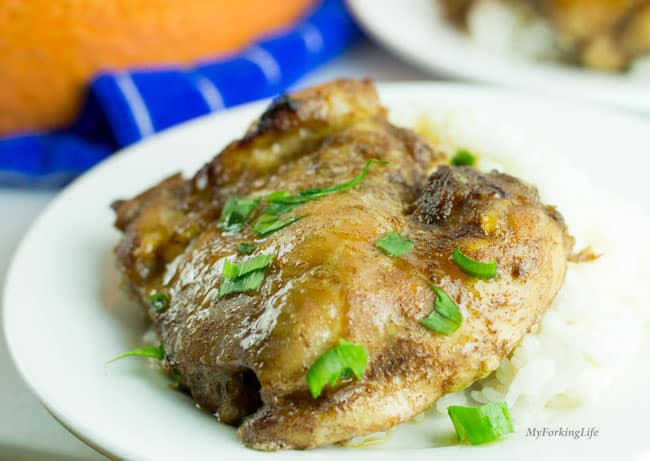 Notes About Five Spice Chicken Thighs
Five spice powder can be found at your local grocer. You can also buy spices online. Frontier Five Spice Powder, 1.92-Ounce Bottle
Typical spices in Five spice powder are cinnamon, anise, fennel, ginger, clove, and licorice root.
The green onion topping on these five spice chicken thighs are not mandatory but it makes the dish look fancy. Fancy wins…plus since I omitted the onion in the marinade I feel like it's a nice touch.
This recipe calls for baking the thighs. I would love to grill these babies and assume they would be even more delicious over a charcoal grill. I love charcoal over gas grills by the way…I just love that charcol flavor in grilled foods. Yummy. If you choose to grill, get rid of that extra marinade.
As always, make sure your chicken reaches an internal temperature of 165 degrees Fahrenheit. Always use a Instant Read MEAT Thermometer to ensure your chicken is done.
Five Spice Chicken Thighs
Ingredients
1.5

lbs

boneless and skinless chicken thighs

Marinade

2

Tablespoon

olive oil

1

Tablespoon

soy sauce

1

Tablespoon

rice wine vinegar

1

Tablespoon

brown sugar

1

teaspoon

minced garlic

1

teaspoon

Five Spice Powder

1

teaspoon

Siracha

pinch

of salt

green onion

chopped (for topping)
Instructions
Combine all ingredients in a large bowl. Massage marinade into chicken, ensuring you coat all pieces. Place in fridge and allow to marinate for 4 hours.

Preheat oven to 425 degrees Fahrenheit. Place in an oven safe dish and bake uncovered for about 40 minutes or until chicken has reached an internal temperature of 165 degrees F.

Remove from oven. Cover with foil paper and allow chicken to rest for 10 minutes. Sprinkle with green onion. Enjoy 🙂
Subscribe to my YouTube
Subscribe to my YouTube Channel for full length recipe videos. Click the bell icon to be notified when I upload a new video.
Although myforkinglife.com attempts to provide accurate nutritional information, these figures should be considered estimates. Varying factors such as product types or brands purchased, natural fluctuations in fresh produce, and the way ingredients are processed change the effective nutritional information in any given recipe. Under no circumstances will myforkinglife.com be responsible for any loss or damage resulting for your reliance on nutritional information.