I was recently invited out to eat at Fleming's Prime Steakhouse & Wine Bar by the Dine Rewards program. It was perfect timing too as hubby and I hadn't had a date night in a while. Shout out to my friend Pretty Girl Loc for babysitting.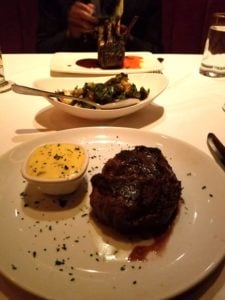 So what exactly is Dine Rewards? I'm glad you asked. It's a loyalty program ran among the four following restaurants, Outback Steakhouse, Carrabba's Italian Grill, Bonefish Grill, and Fleming's.
Whenever you eat at one of the restaurants, you can earn what's called a "qualified visit." You must spend $20 on food and non-alcoholic beverages at Outback, Carrabba's, and Bonefish in order to receive a qualified visit. You must spend $40 at Fleming's. Once you've made three qualified visits within 6 months, you earn 50% off your next visit. This is perfect for individuals or families who love taking the time out to eat at some of these restaurants. It's great because you have the variety of restaurants to choose from.
It's free to sign up for the Dine Rewards program and you receive $5 off Carrabba's, Outback, and Bonefish and $10 off for Fleming's just for signing up. Also, no worries about carrying around a card to receive your discounts and track your qualifying visits. All you need to do is provide your telephone number associated with your account when you visit to get your discount on your 4th visit.
Great right? I signed up…I mean why not, it's free, and I like all the restaurants on the list.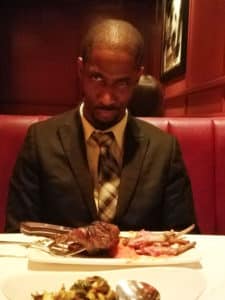 So about Fleming's….this night was hubbys and I first time visiting Fleming's, which is located in uptown Charlotte. Once we walked inside, I was impressed by the atmosphere. It was perfect for a date night as the lights were dim but this is horrible for a food blogger trying to take photos. Oh well, I'd rather have dim lights…my photos will just have to take a back seat on this one.
The service here was pretty amazing! Another reason why I loved the atmosphere.Our waiter was on it, ensuring that we had everything we needed and did a great job on making suggestions of what we should eat. You all know I have a problem making decisions when it comes to ordering my meal, so if a waiter can help me with that it's a huge plus. Management also came by to make sure we were well taken care of.
Once seated, we were given bread and some flavored butters. I wish I took better notes on the flavor of these butters because they were so delicious. I recall one being whipped with champagne and I believe the other had a cheddar flavor to it. I seriously devoured my bread and butter like it was my main course. It was so good.
I was really impressed with the drink menu. Well, it came on an Ipad. I found this impressive because on the Ipad, you can get a little bit of detail on all the wines and cocktails they had to provide…and there was a good bit. I found this handy when trying to decide on a drink. I chose the Jam Jar, and that's because it's a red wine from Africa.
I ordered a filet mignon for my main course with brussel sprouts as the side. Interesting thing you should know…the sides at Fleming's are meant for sharing. Therefore, it's likely that if you are with a guest, you may want to split sides. Hubby and I both love brussel sprouts so we chose that as our side.
My filet was delicious!!!! I ordered it medium, which is what I generally do at any professional steak house. It was perfectly cooked and honestly needed no additional rubs or sauces. The brussel sprouts were good as well, crispy cooked with a nice hint of bacon.
For dessert, we had this beautiful molten chocolate cake that came with a side of ice cream. I believe it was pistachio flavored ice cream. Forgive me for not knowing exactly, it's extremely rude to take notes on date night.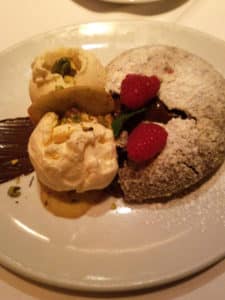 We thoroughly enjoyed our time at Fleming's and will be back. Once we go, I'll make sure to use my Dine Rewards to get my qualified visits.