Indoor Grill. Chilli Powder. Lime. Shrimp. Yum. That pretty much sums up this recipe.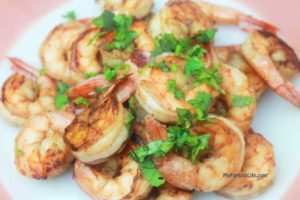 This post contains affiliate links, please read my full disclaimer here.
Full Recipe Ingredients/Instructions are available in the
recipe card at the bottom of the post.
You can find important tips/tricks in the
blog post.
I should start by saying….I'm back!!!! I missed last week and it had me pretty sad . If you were following me you would notice a new look to the blog. You like? I am now self-hosted! The change was not as easy as I thought it would be but I managed. I am still working on the site but spent a lot of my time researching website layouts, domains, and my bank account as I knew I would have to pay for self-hosting, lol.
During the week, I was super busy and honestly didn't have time for the cooking, photo taking, and recipe development. In all honesty, I didn't have much time to cook. I am sure you all have had those weeks too. When you're even busier than most weeks and your stress level is on 100 and your kid is asking, "what's for dinner?" and you just sigh in response. That's when quick meals like this made on the indoor grill come in handy.
I am sure many of you wonder why I would even mention cooking on an indoor grill when summer is so close. I wondered it a little too when I made it. But in reality, we have a grill that uses coal and I wasn't going outside to try to figure out how to strike that thing up. Plus, what will I do when it's dark outside? I just fire up that indoor grill by plugging it into that wall socket.
Shrimp also makes this recipe ideal for those super busy nights, especially when you forget to take anything out the freezer the night before. Yikes! I defrost my shrimp quickly by running it under cold water.
Here are the recipe deets:
First, defrost your shrimp following the instructions if frozen. Feel free to use fresh shrimp if you fancy like that. Deveine your shrimp (you all know what that stuff is in the shrimp back) and peel your shrimp, leaving the tail ends on if you like.
Combine 3 TBSP soy sauce, 1 TBSP olive oil, 1 tsp chilli powder, 2 tsp brown sugar, 1/2 tsp garlic powder, 1/4 tsp cumin, 1/4 tsp cayenne powder, and 1 tsp lime juice in a bowl. Add shrimp and stir to cover in marinade. Let marinate for 15-20 minutes.
Next, fire up your indoor grill by plugging it in and wait for it to heat up. My indoor grill, as a majority of them do, has grill plates on both sides so no flipping is required. Place your shrimp on the grill and cook for about 3 minutes, until done.
Remove from grill, plate, and serve immediately with your favorite side dish. I topped my shrimp with cilantro. Enjoy 🙂
Indoor Grill Chilli Lime Shrimp
Ingredients
16

oz

shrimp

3

Tablespoon

soy sauce

1

Tablespoon

olive oil

2

teaspoon

brown sugar

1

teaspoon

chilli powder

1

teaspoon

lime juice

1/2

teaspoon

garlic powder

1/4

teaspoon

cumin powder

1/4

teaspoon

cayenne powder
Instructions
Defrost shrimp (if using frozen shrimp), peel, and devein.

Prepare marinade by combining soy sauce, olive oil, brown sugar, chilli powder, lime juice, garlic powder, cumin powder, and cayenne powder in a bowl.

Add shrimp to marinade and stir to coat. Let marinate for 15-20 minutes.

Start indoor grill and place shrimp on grill once hot. Close cover and cook for about 3 minutes.

Serve immediately and sprinkle with chopped cilantro if you like. Enjoy 🙂
Subscribe to my YouTube
Subscribe to my YouTube Channel for full length recipe videos. Click the bell icon to be notified when I upload a new video.
Although myforkinglife.com attempts to provide accurate nutritional information, these figures should be considered estimates. Varying factors such as product types or brands purchased, natural fluctuations in fresh produce, and the way ingredients are processed change the effective nutritional information in any given recipe. Under no circumstances will myforkinglife.com be responsible for any loss or damage resulting for your reliance on nutritional information.