This Parmesan Breadcrumb Chicken is not only a quick and easy weeknight dinner option, it's also a sure fire way to ensure you have no more dry chicken breast.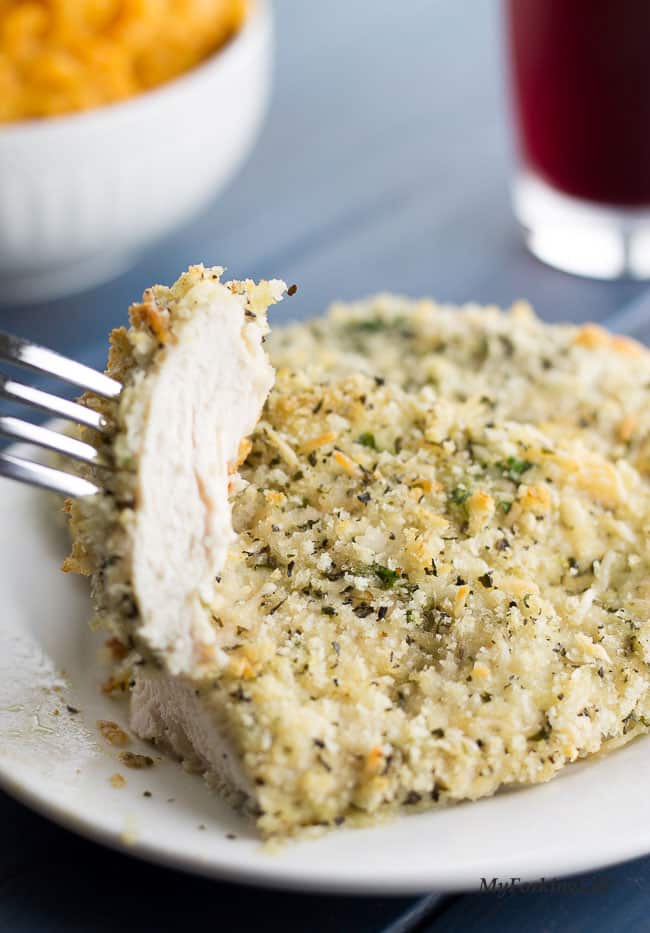 Hi friends, I'm back. I had to take a few days away from the blog. I find it difficult to post when my mind and heart are full of emotion. Within the last week, two events hit me hard. Those were the deaths of Terrence Crutcher and Keith Scott. Two families lost loved ones by the hands of the police. Children are without their fathers. Things just shouldn't happen this way. Life is too precious to be lost this way. There has to be a way that this just doesn't happen anymore.
As a mother, wife, a black woman, wife to a black man, and a public defender living in Charlotte, these recent events consumed my mind so much that I even lost my appetite at times. Surprising right?  It hurt…I saw the people of my city hurting. Blogging and writing about food just seemed unnatural for me. So I took a week off of creating content. Please forgive me.
As my first post after my week off, I wanted to post a quick and easy recipe that my family loves…this Parmesan Breadcrumb Chicken. In my not so professional opinion, chicken breast is one of the hardest parts of the chicken to cook perfectly. I remember back in the day, before I cared about the culinary arts, how much of a disaster it was when I tried to bake boneless chicken breast. I'd buy the chicken breast from the store, you know, those super thick pieces of boneless chicken breast. I'd preheat my oven, sprinkle a little season, mostly salt, pepper, and maybe paprika if I was feeling fancy, and stick it in the oven. I'd let it bake for a longggg time because my biggest fear is undercooked chicken. How would it turn out you may ask?? A super dry thick breast mess. May be the reason for some relationships ending in the past…
Fast forward to now. I still find chicken breast to be a bit difficult at times but not with this Parmesan Breadcrumb Chicken Recipe. Every time I make this, the chicken is moist and flavorful. My daughter and hubby love it and I never stress about dry chicken.
Here are all the ingredients you will need: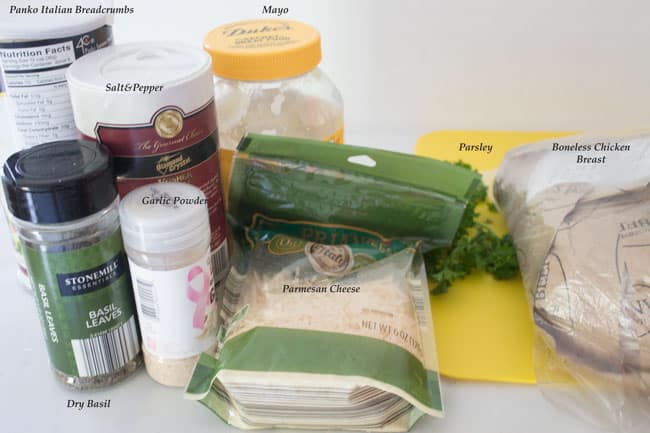 That's it…not that much. Dinner will be done quickly and your chicken breast will look like this in about 30 minutes.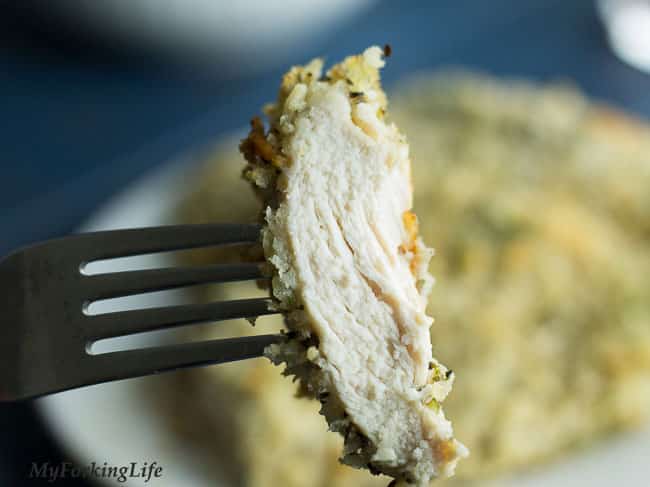 Hooray for no more dry chicken, Recipe deets are below. As always, don't forget to Enjoy 🙂
Parmesan Breadcrumb Chicken Recipe
Ingredients
1.5

lbs

boneless

skinless chicken breast

1/3

cup

mayonnaise

1

cup

Italian Panko Breadcrumbs

1/2

cup

shredded parmesan

1

TBSP

fresh parsley

finely chopped

1

TBSP

dry basil

1/2

tsp

garlic powder

Salt and pepper
Instructions
Preheat oven to 400 degrees.

Flatten chicken breast or slice in half to desired thickness.

Season chicken breast with a little salt and pepper. Rub mayonnaise all over chicken.

Add breadcrumbs, parmesan cheese, parsley, basil, and garlic powder to a dish and combine. Dip chicken breast in mixture and make sure each piece is fully coated.

Place on baking sheet and bake in preheated oven for about 30 minutes or until done, when temperature reaches 160 degrees F. Enjoy 🙂