If you want easy and delicious Pressure Cooker Recipes all in one place, than This Old Gal's Pressure Cooker Cookbook is a must have. Keep reading to see my thoughts on it.
This post contains affiliate links, please read my full disclaimer here.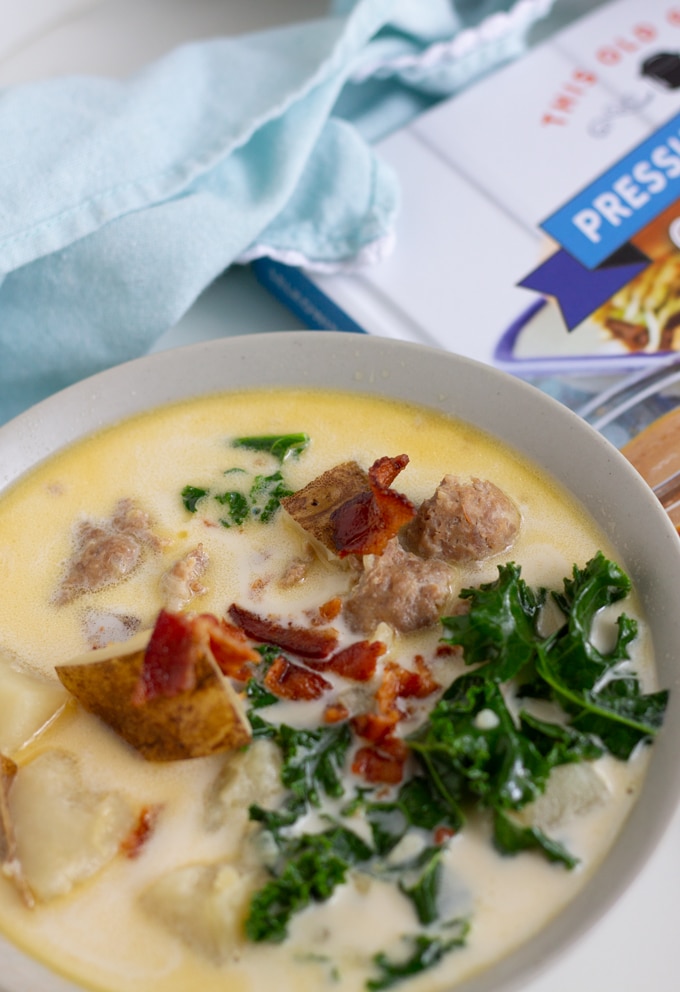 I received a copy of this Old Gal's Pressure Cooker Cookbook in exchange for my full and honest review.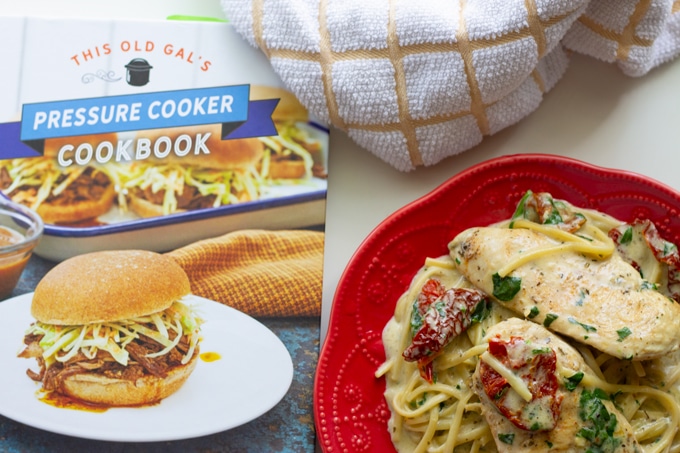 I first stumbled across This Old Gal's blog about a year after I had been blogging myself. It was when I purchased my Instant Pot Electric Pressure Cooker and I needed to find some good recipes. I'm not sure what or who led me to her website, but I was happy that I found it. Ask anyone that uses their electric pressure cooker a lot, and they will let you know all about how amazing her recipes are.

So of course I screamed like a little girl in excitement when I realized she was writing a Pressure Cooker Cookbook. Yes ya'all, I literally screamed. I'm a huge hardback cookbook collector and I love adding to my collection.
So What's in This Old Gal's Cookbook?
The book has 120 recipes and covers everything from Breakfast, Lunch, Dinner, and Dessert. All of these items can be made right in your Pressure Cooker.
The other cool thing is that although her recipes can be made in your Instant Pot, they are adaptable to any electric pressure cooker you may have.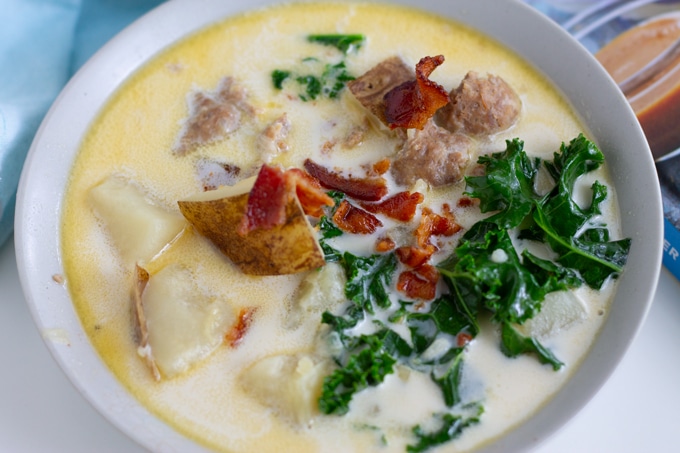 Book Format
Introduction – You will find an Introduction that talks about Jill's (the writer/creator of This Old Gal) background and why she wrote this cookbook. Let's just say, this section made me connect with her even more. I usually skip introductions in books but hers is definitely worth a read.
This Old Gal's Pressure Cooking Tips – Here's where Jill explains helpful tips and provides useful information on how a Pressure Cooker works. Not enough people know the basics of Pressure Cookers so I think it is extremely helpful.
Seasonings, Sauces, and More – Here you will find Jill's recipes to some sauces and seasonings that compliment her recipes. These include a special This Old Gal Seasoning, Taco seasoning, Seafood seasoning, and much more.
Recipes – These stem from breakfast, chicken dinners, pork dinners, Indian, Jewish Favorites, Chinese, Appetizers, and even Desserts. I like her recipes because they truly allow you to get creative with the Pressure Cooker.
Recipes I've Tried
Creamy Tuscan Garlic Chicken, pg 38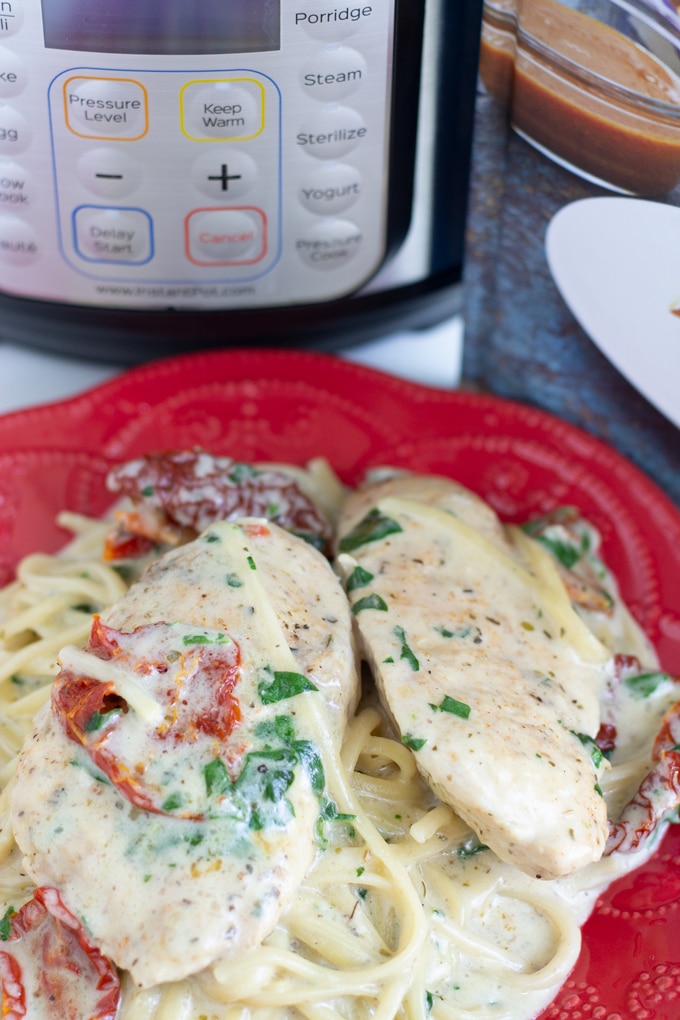 I made this Creamy Tuscan Garlic Chicken for lunch for me and my hubby. He went back for thirds. This meal was so flavorful and seriously easy to make. It's like having a restuarant quality meal in your own home all made in your Pressure Cooker.
The directions were easy to follow and I was thrilled that I was able to make an entire dinner recipe in my Instant Pot.
Zuppa Toscana, page 110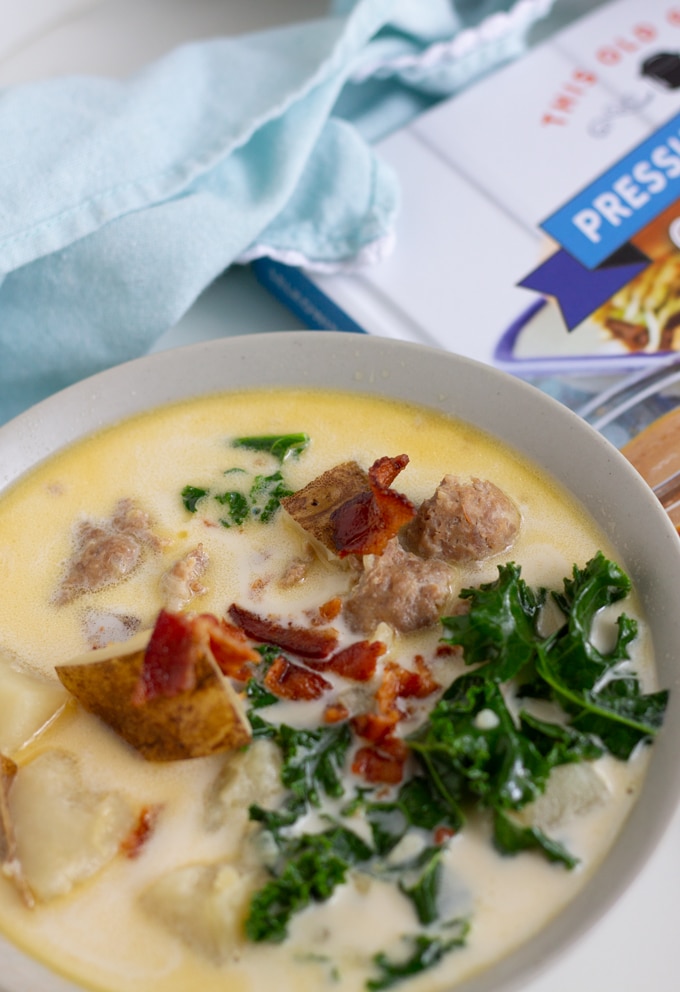 Hubby actually made this for dinner. Since I'm the Pressure Cooker expert in our house, I wanted to see if the book was easy enough for him to understand. It was and he had no issues making this soup.
This was also delicious and will for sure be on regular rotation in our household. I love Zuppa Toscana at the restuarants and I loved This Old Gal's version of it.
Recipes I will Try Next
I'm looking forward to trying a dessert recipe next. There is a Rum Raisin Rice Pudding (page 186) that keeps calling my name.
Final Thoughts on this Old Gal's Pressure Cooker Cookbook
I love this book and I'm pleased that I can add it to my bookshelf. The recipes are easy to follow and it will have you cooking like a pro in your Pressure Cooker. Whether your a beginner pressure cooker user or have cooked in it for years, you will benefit from this book. You can purchase your copy here The Kindle version is available know and the print version will be available on September 25th, 2018 on Amazon. You can pre-order your hard copy now. Happy Pressure Cooking.