Making meatloaf in the Air Fryer became a game changer for us. Now you can make delicious moist meatloaf in less time in your Air Fryer.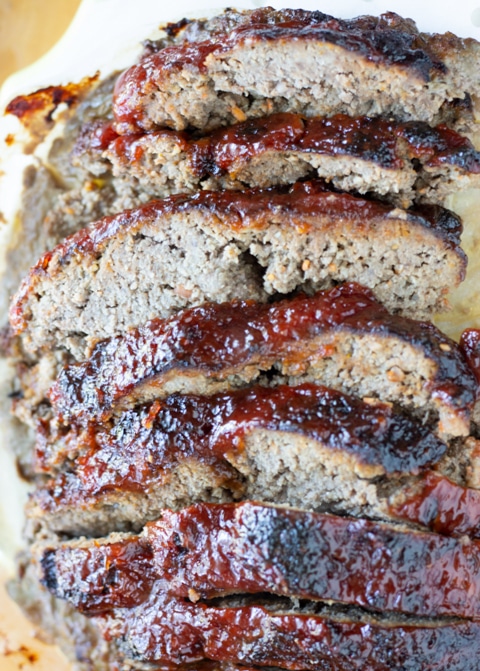 This post may contain affiliate links, please read my disclosure here
Full Recipe Ingredients/Instructions are available in the
recipe card at the bottom of the post.
You can find important tips/tricks in the
blog post.
We are still on the Air Fryer bandwagon in our home and it's not going to stop anytime soon. Fact is, it has made our lives so much easier when it comes to getting dinner on the table in a hurry. Since both my hubby and I work full time and have a ton of side projects, we just don't have much time to devote to meals that take a long time to cook.
That's where this Air Fryer Meatloaf comes into play. Meatloaf is one of my comfort foods but it typically takes me almost a good 90 minutes to bake a 2lb meatloaf in my oven, unless I'm making my Mini Mozzarella Stuffed Meatloaf in the oven. But for a huge loaf, the Air Fryer allows me to cut that time almost in half. Thanks Air Fryer!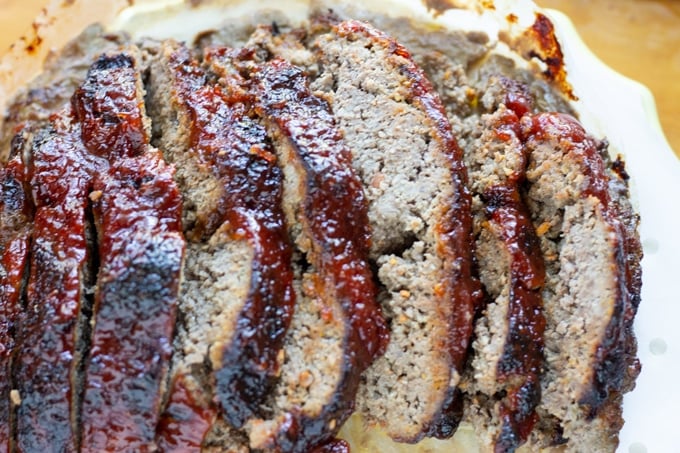 How to Cook Meatloaf in an Air Fryer
Making meatloaf in your Air Fryer is easy peasy. You will use whatever meatloaf recipe you like (my meatloaf recipe is included below) and "fry" it in your Air fryer at 390-400 degrees Fahrenheit. How long will depend on how much meat you put in your loaf. For a 1lb meat loaf, cook for about 25-30 minutes. For a 2 lbs of meat, go up to about 45 minutes.
I like to combine my loaf made of meat and place it directly in the Air Fryer basket or on my Phillips brand grill tray. This grill tray didn't come with my Phillips Air Fryer so I had to purchase it seperatley. I find it handier than the basket and easier to clean. No worries, if you don't have the grill tray for your air fryer, you can still place your meatloaf in the basket.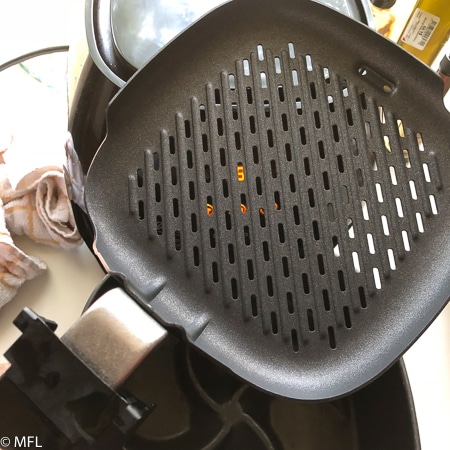 I do however recommend using foil paper or these parchment paper rounds for the bottom of your meatloaf so it's easier to remove and doesn't leave a humongous mess. I make a foil paper sling with foil paper if I'm not using my grill tray.
Once the recommended time on your meatloaf is done, use a calibrated quick read thermometer to check the temperature. Ground beef should reach a temperature of 165 degrees Fahrenheit.
Meatloaf in an Air Fryer vs. Oven, What's the Difference?
Time. That's pretty much it. As far as texture and taste, it's the same. But the time saved making a meatloaf in the Air Fryer is worth taking the time to put it in the Air Fryer. The Air Fryer preheats much quicker than the oven and the time it takes to get done is much quicker.
What kind of meat to use for Air Fryer Meatloaf
Whatever kind your heart desires. Beef, turkey, pork, a combinaition…they all will work in your Air Fryer.
I used Butcherbox ground beef for my first air fryer meatloaf and loved it. ButcherBox (You can see my unboxing of my first box of meat on Facebook) and used the grass fed beef to make this meatloaf.) It was delicious!
Watch this full video tutorial on Youtube where I make this meatloaf from start to finish.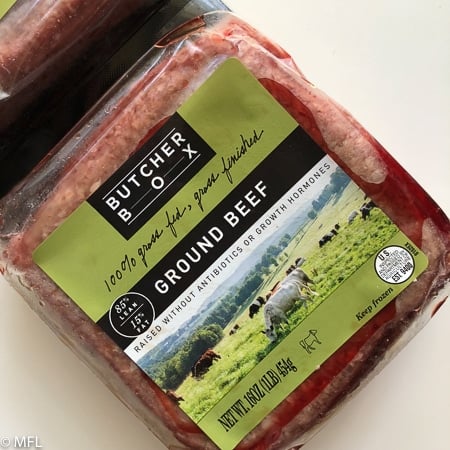 I've also written a 9 month review of Butcher Box delivery service.
Important Updated Notes on Air Fryer Meatloaf:
I originally cooked my meatloaves in the Phillips Starfish Technology XL Air Fryer with

Grill Tray. The grill tray allowed the meat to be further away from the heating element which allowed my meatloaf to cook without becoming too dark too quickly. My newer air fryer doesn't have the same option so I cover it with heavy-duty foil paper to ensure the top doesn't get too dark too quickly.
All air fryers won't need the foil covering. I recommend checking on your meatloaf periodically. If it starts to get too brown during the cooking process, cover with foil until it's time to add the glaze.

There are many factors that may affect how long it takes to cook your meatloaf in the air fryer. If you find that your meatloaf is not done at the recommended cook time, place it back in the oven and check on it about every 5-10 minutes until it has reached 165 degrees Fahrenheit.
Looking for more Air Fryer meat recipes? Try these out:
Air Fryer Meatloaf
Making meatloaf in the Air Fryer became a game changer for us. Make delicious moist meatloaf in less time in your Air Fryer.
Ingredients
1

cup

fresh soft bread crumbs

¼

cup

beef broth

½

cup

chopped mushrooms

½

cup

shredded carrots

½

cup

chopped onions

2

cloves

garlic

2

eggs

lightly beaten

3

Tablespoon

ketchup

1

Tablespoon

Dijon style mustard

1

Tablespoon

Worcestershire sauce

½

teaspoon

kosher salt

2

lbs

ground beef
Instructions
Add breadcrumbs and beef broth to a small bowl and stir until breadcrumbs are coated. Set aside.

Add mushrooms, carrots, onions, and garlic and process until finely chopped. Place in large bowl.

Add ground beef, eggs, soaked breadcrumbs, ketchup, Dijon style mustard, Worcestershire sauce, and salt to large bowl. Mix with hands until incorporated. Form into a loaf.

Preheat Air Fryer to 390 degrees.*

Place Meatloaf in Air Fryer and cook for 40-45 minutes.

While meatloaf is cooking, prepare glaze by combining ketchup, brown sugar, and dijon mustard. When there is about 5 minutes left on your timer, spread glaze over meatloaf in Air Fryer.

Remove and allow meatloaf to rest for 10 minutes before slicing.
Notes
Most Air Fryers have a maximum temperature setting of 400. The Phillips brand has a maximum temperature of 390 degrees.
I love using fresh breadcrumbs in this recipe. I take about 4 slices of whatever bread we have around the house, toss 'em in the food processor for about 1 cup of breadcrumbs.
Adding vegetables to your meatloaf helps keep it moist and not dense.
Wait a few minutes before slicing your meatloaf if you don't want it to fall apart.
Check on your meatloaf periodically. If it starts to get too brown during the cooking process, cover with foil until it's time to add the glaze.
Suggested Tools for making Meatloaf in Air Fryer
Nutrition
Subscribe to my YouTube
Subscribe to my YouTube Channel for full length recipe videos. Click the bell icon to be notified when I upload a new video.
Although myforkinglife.com attempts to provide accurate nutritional information, these figures should be considered estimates. Varying factors such as product types or brands purchased, natural fluctuations in fresh produce, and the way ingredients are processed change the effective nutritional information in any given recipe. Under no circumstances will myforkinglife.com be responsible for any loss or damage resulting for your reliance on nutritional information.
Step by Step Photos of Air Fryer Meatloaf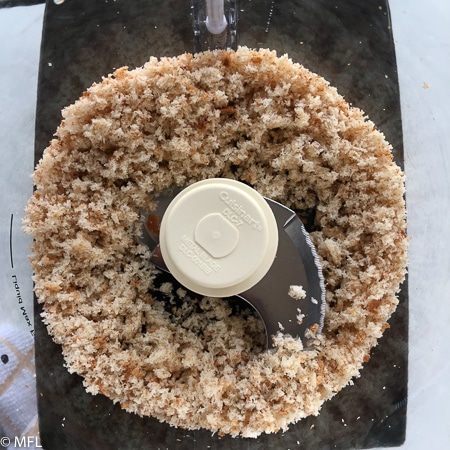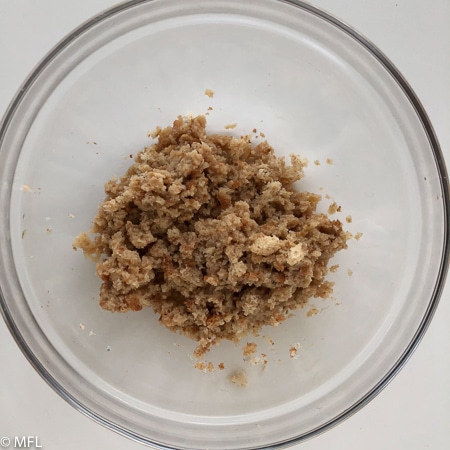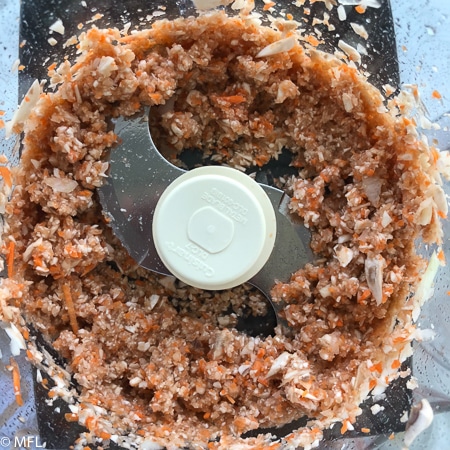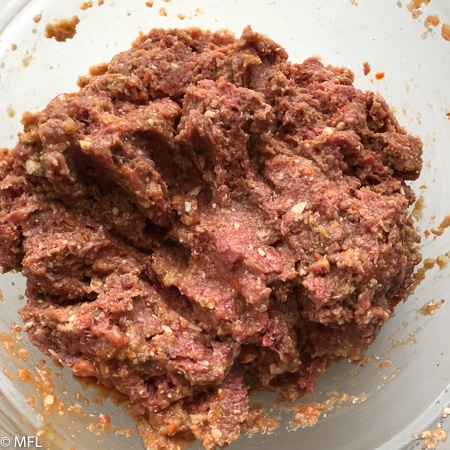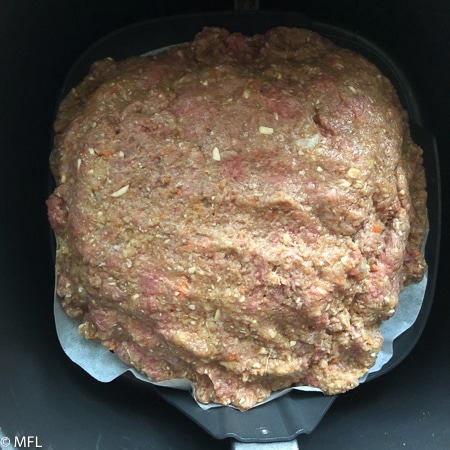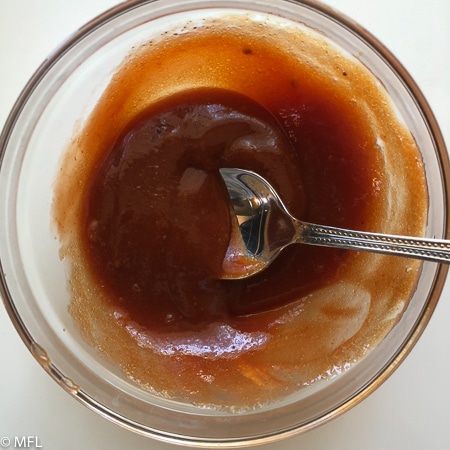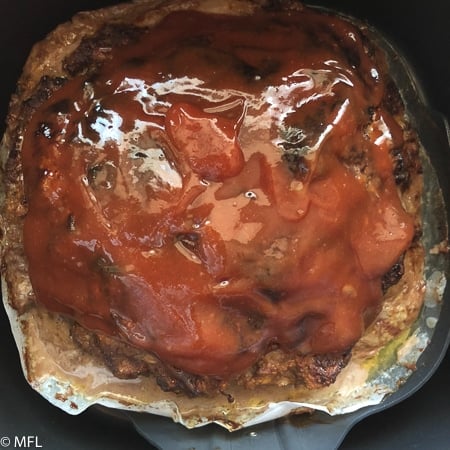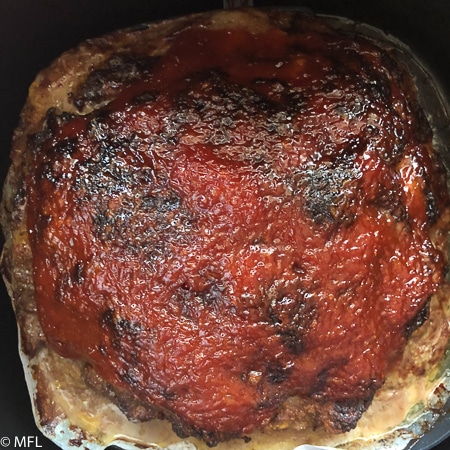 Have you tried my Perfect Air Fryer Steak yet?