This Balsamic Shrimp and Sausage Dinner is a flavorful weeknight meal that can be on your dinner table in less than 20 minutes.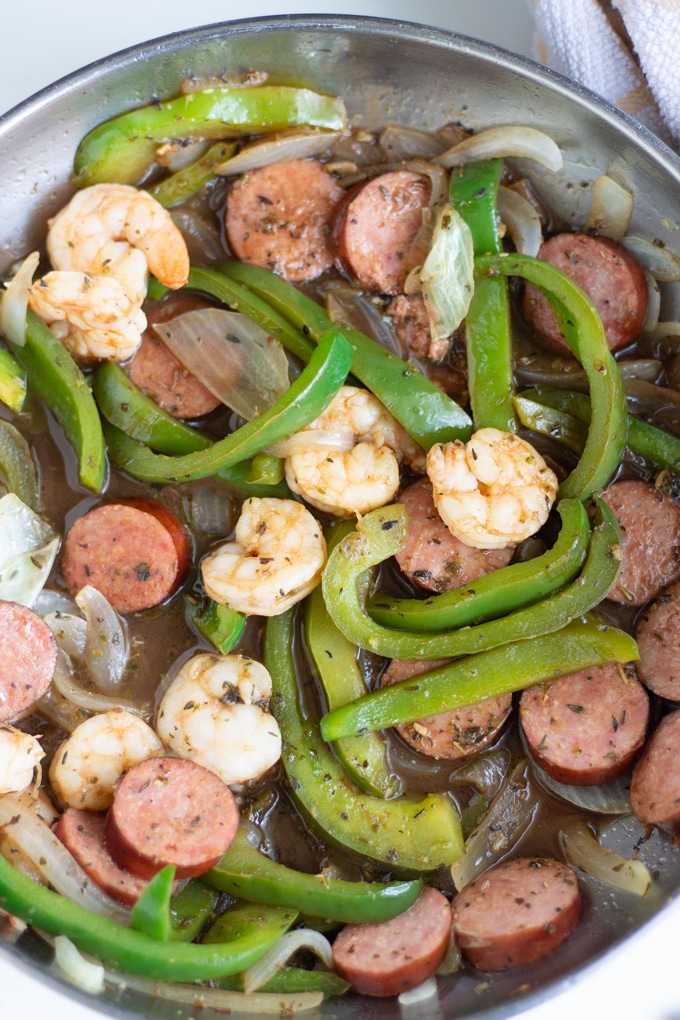 This post may contain affiliate links, please read my full disclosure here. This post was updated on 9/3/18 with photos, video, and additional helpful information.
Who doesn't love shrimp? Can you believe that there are people in this world who just don't like shrimp. It shocked me too. I don't understand why because shrimp is so delicious. Maybe because of the rumor that they are considered insects of the sea. Insect or not, shrimp is always a go to for me for a quick dinner meal. I could honestly go on and on about how great shrimp is (hehe, Forest Gump) but I'd rather get into this amazing recipe.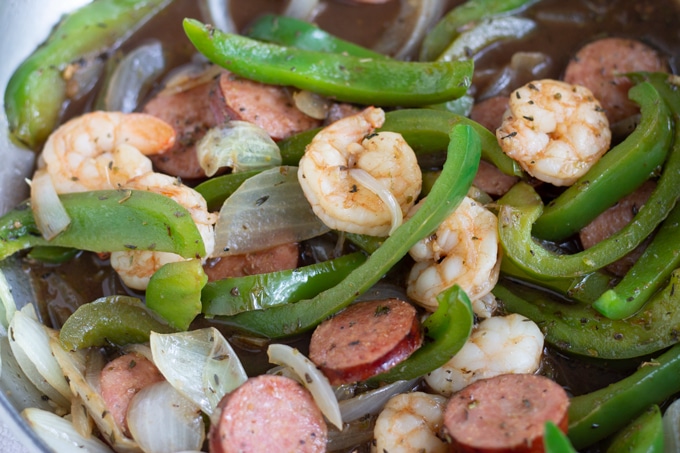 Balsamic Sausage Shrimp was created on a school night and a night that I was completely exhausted. I needed a quick meal and I wanted to make sure we got a good mix of veggies in the meal. The best way to do that is a skillet meal, yum yum. Side note, I hate calling this a skillet meal because I made it in my Dutch Oven, not my skillet. , after staring in the fridge in hopes that something would jump on the stove and cook itself, I decided to throw this recipe together.
How to make Balsamic Shrimp and Sausage Skillet Dinner
First, lay out all your ingredients. This is known as Mise en Place. I always pronounce it wrong but they say it on Food Network quite often. This makes cooking any dish so much easier. Who wants to be chopping an onion while the oil in the pot begins to burn. Have all your onions and peppers chopped and prepped before the stove burner even turns on. LESSON.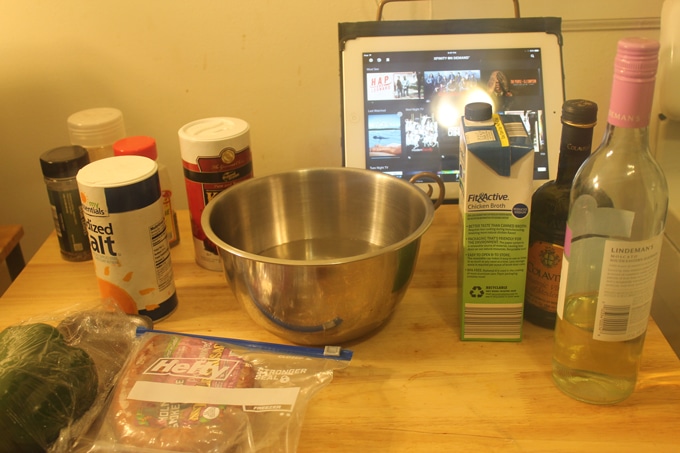 So this may not be the best of the best photo of my layout but it's the only photo I had the energy to take. Oh yea, my onions and garlic are missing in the photo and this recipe does not call for wine…but I sure did drink some while I cooked, hehe. I also love to watch tv on my tablet while I cook. Is there any other way to cook? I say no, the mindless tv shows must be playing while you cook. Any other cooks watch tv while the sauté?
Prepping Your Ingredients
Once you have gathered all your ingredients, you are going to julienne 1 medium sized onion and 1 green pepper. Mince 1 garlic clove or you can use the minced jar garlic. (Fresh garlic is much better but this does just fine). You will then want to chop your sausage, I used half of one of those sausage packs so about 7 ounces, and peel and devein about 6 large jumbo shrimp.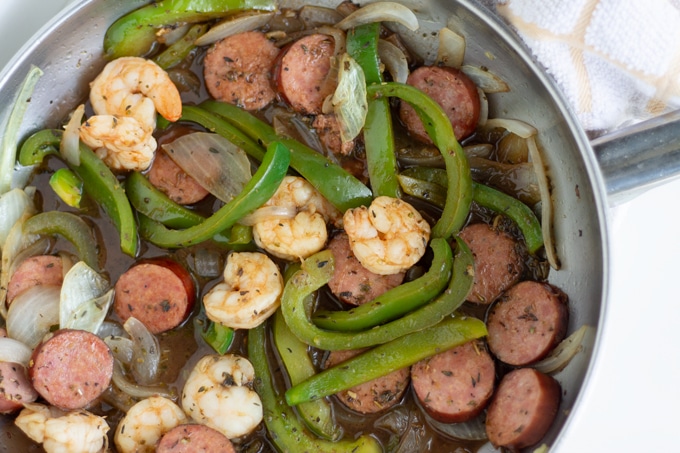 Oh yeah, my sausage. I chose a Pecan Smoked Andouille sausage because it was on sale. So glad I made this choice, it's sooo delicious.
First, Heat 2 TBS of olive oil over medium highish heat in a medium sized skillet, or Dutch oven, whichever you prefer or have available. Sautè the onions and peppers in oil until softened, around 5 minutes. Once softened, add garlic and sauté for about another minute.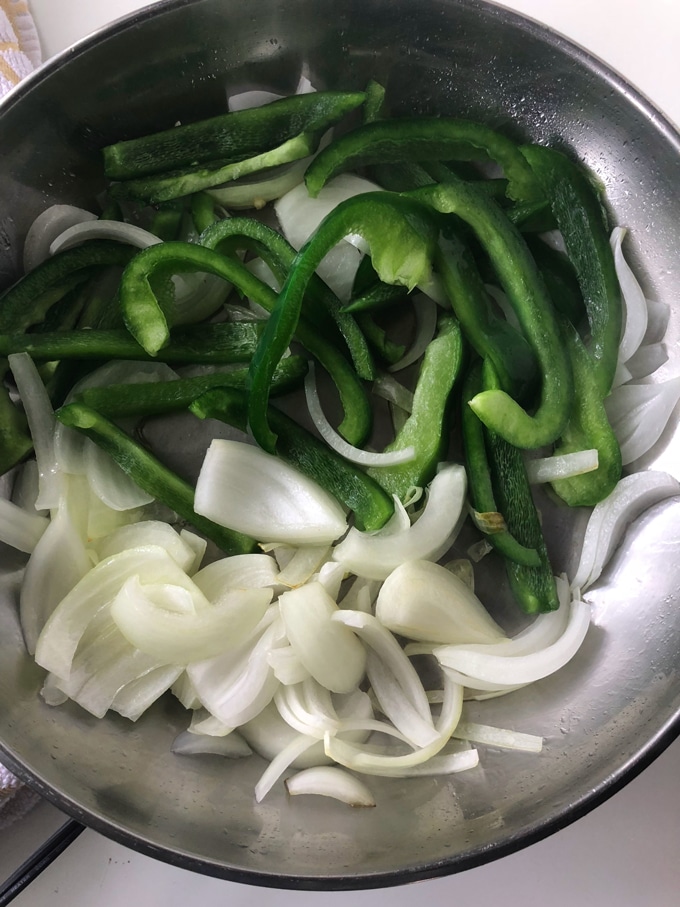 Then, measure out and have the following ingredients ready: 1/2 tsp dry basil, 1/2 tsp dry oregano, 1/4 tsp dry thyme, 1 tsp brown sugar, 1/4 cup chicken broth, and 3 Tablespoons balsamic vinegar.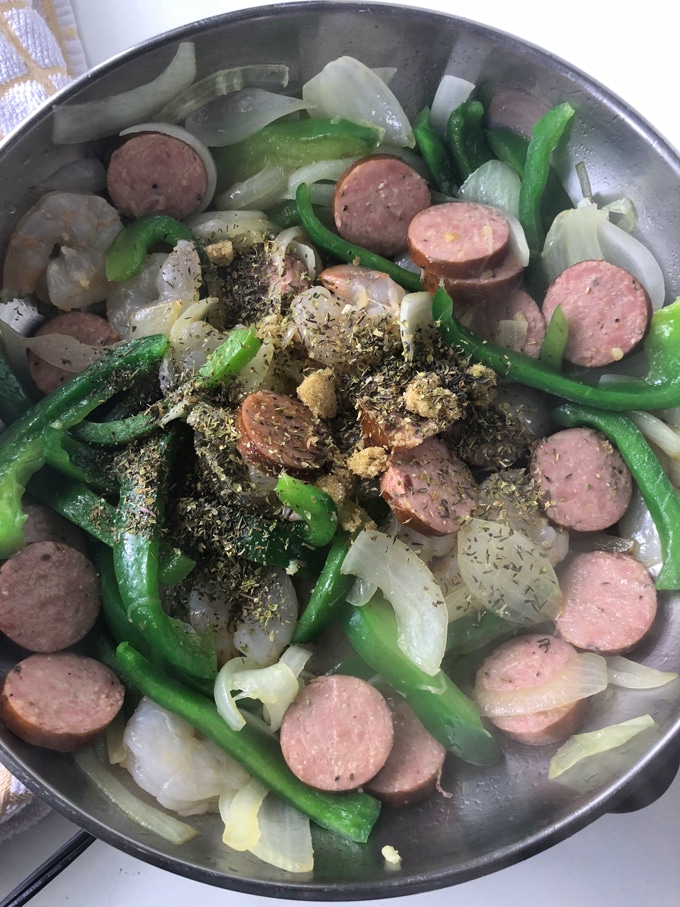 Next, add your sausages and shrimp to the pan and cook for about 2 minutes. At this time, your shrimp should start turning pink and the sausage should be warming up. Next, add your basil, oregano, thyme, brown sugar, chicken broth, and balsamic vinegar and stir to combine. Heat for about another 5 minutes until everything is cooked through and looks like this.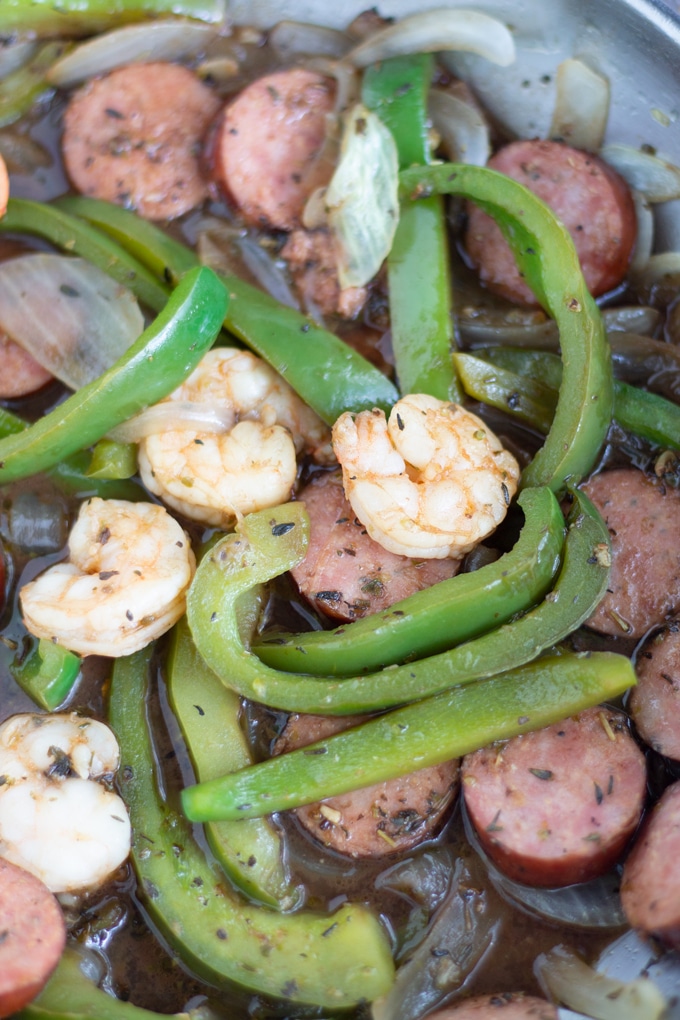 Season to taste with salt and pepper.
What to Serve with Balsamic Shrimp and Sausage Skillet Dinner
Serve this Balsamic Sausage Shrimp with white rice, brown rice, or pasta for a balsamic sausage pasta and enjoy 🙂
This dish is also great for meal prep and lunches.
Looking for more quick skillet meals? Try my Zucchini Mushroom Chicken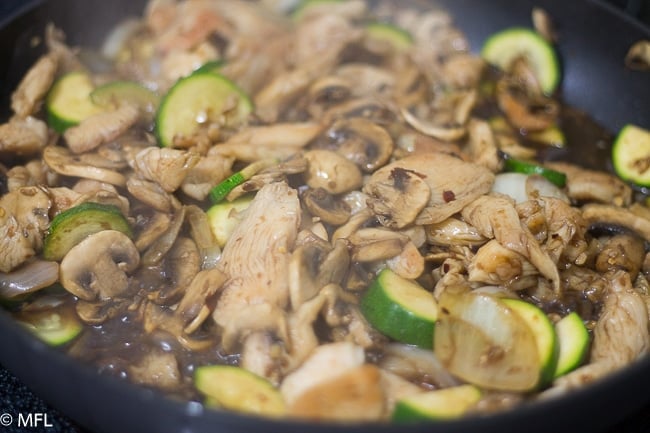 Enjoyed this Recipe? Consider Sharing by Pinning 🙂
Yield: 4 people
Balsamic Shrimp and Sausage Skillet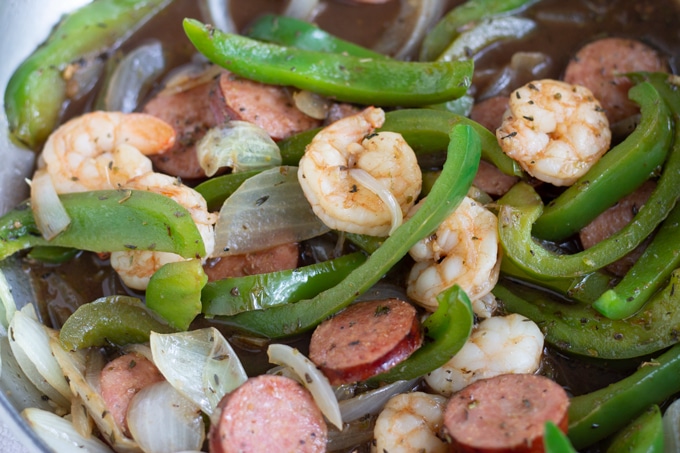 This Quick and Easy Balsamic Shrimp and Sausage Skillet Dinner is a fast, easy, and delicious dinner option for many families. Make it in less than 20 minutes. It's perfect for busy weeknights.
Ingredients
2 TBSP olive oil
1 onion, julliened
1 green pepper, jullienned
1 garlic clove, minced
6-8 jumbo shrimp, peeled and devined
7 oz Pecan smoked Andoullie sausage
1/2 tsp dry basil
1/2 tsp oregano
1/2 tsp thyme
3 TBSP balsamic vinegar
Instructions
Sautè onions and peppers in 2 TBS oil of medium high heat until softened, about 5 minutes.
Add minced garlic and stir, cook for about 1 minute.
Add sausage and shrimp. Cook for about 2 minutes.
Add the remaining ingredients, stir to combine and cook over medium heat for about 5 minutes, making sure your shrimp is cooked through.
Notes
Suggested Tools for Balsamic Shrimp and Sausage
Nutrition Information:
Yield:
4
Serving Size:
1 grams
Amount Per Serving:
Calories:

126
Unsaturated Fat:

0g
Although myforkinglife.com attempts to provide accurate nutritional information, these figures should be considered estimates. Varying factors such as product types or brands purchased, natural fluctuations in fresh produce, and the way ingredients are processed change the effective nutritional information in any given recipe. Under no circumstances will myforkinglife.com be responsible for any loss or damage resulting for your reliance on nutritional information.