This Instant Pot Brown Rice is perfectly nutty and fluffy. Pair it with your favorite meals for a delicious weeknight dinner.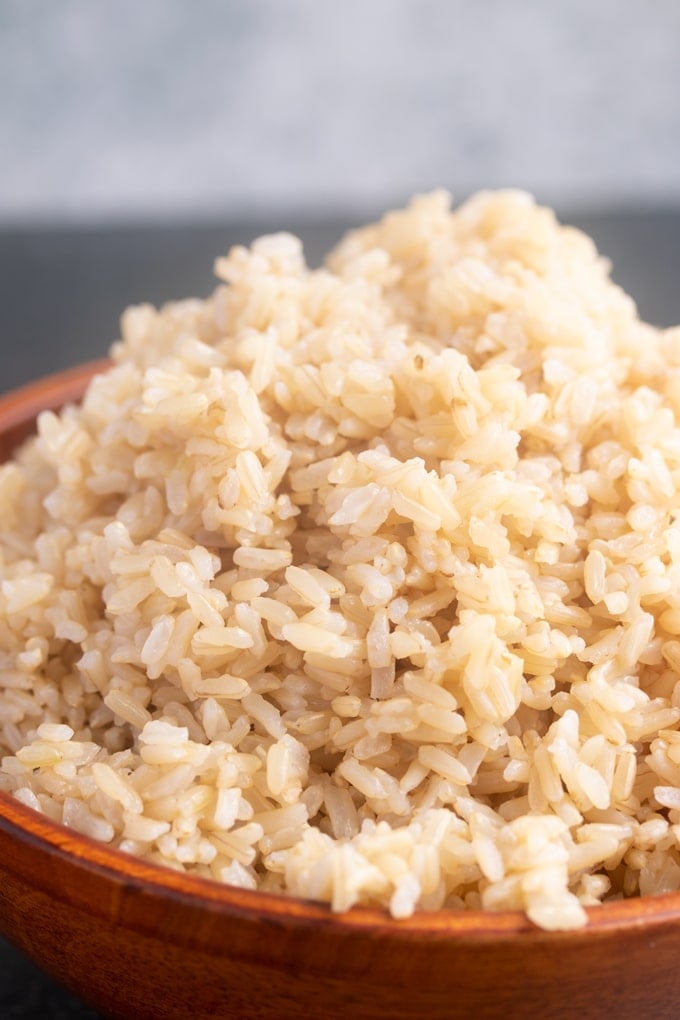 This post may contain affiliate links, please read my full disclaimer here.
Full Recipe/Instructions are available in the
recipe card at the bottom of the post.
You can find important tips/tricks in the
blog post.
I used to avoid brown rice like it was an icky stranger in the dark. Fact is, most brown rice was either too crunchy or just didn't taste as good as white rice. But once I started making my rice in the pressure cooker, my whole outlook on brown rice changed.

It's perfectly nutty and fragrant and fluffy thanks to the pressure cooker.

There are a few things you should know about brown rice in a pressure cooker:
It takes longer to cook than white rice. While white rice can have a minimum pressure cook time of 4 minutes, brown rice takes atleast 17 or up to 23 minutes on high pressure to cook.
The ratio of water is better if increased a bit. With white rice, a 1:1 ratio generally works for fluffy rice. With brown rice, I use a 1:1.25 ratio. 2 cups of brown rice, 2 1/4 cups liquid.
I always recommend rinsing rice (except for arborio) before placing it in the pressure cooker. It's what mother taught me and mother knows best.
Once you open the lid, the rice will look a little watery. It's absolutely fine. Go on ahead and fluff the rice and the liquid will magically disappear.
How to make Instant Pot Brown Rice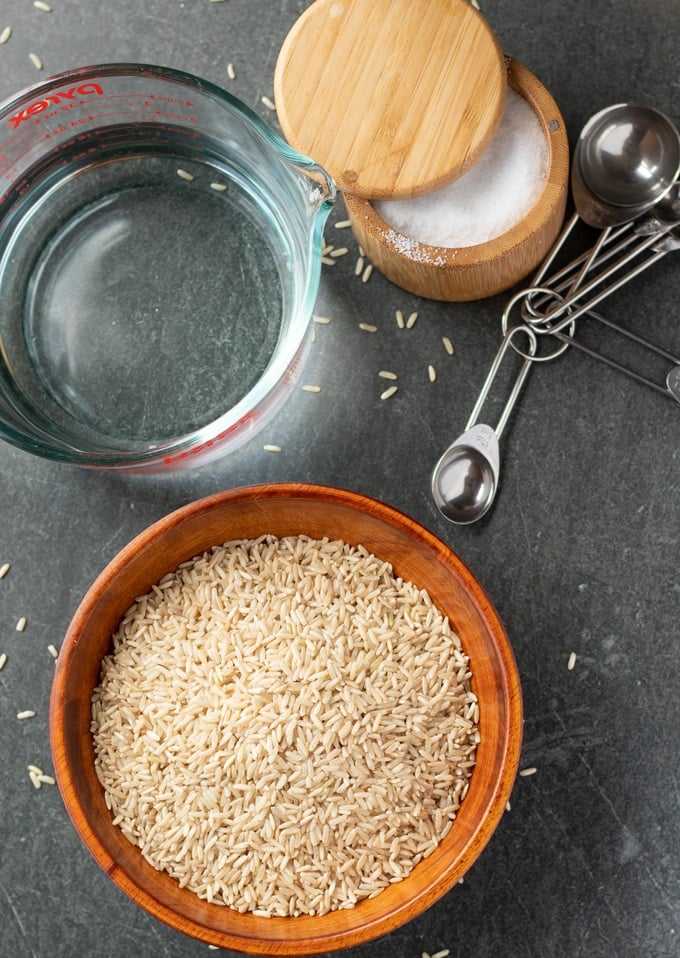 I start my rinsing my brown rice and then placing it in the Pressure Cooker with water and salt.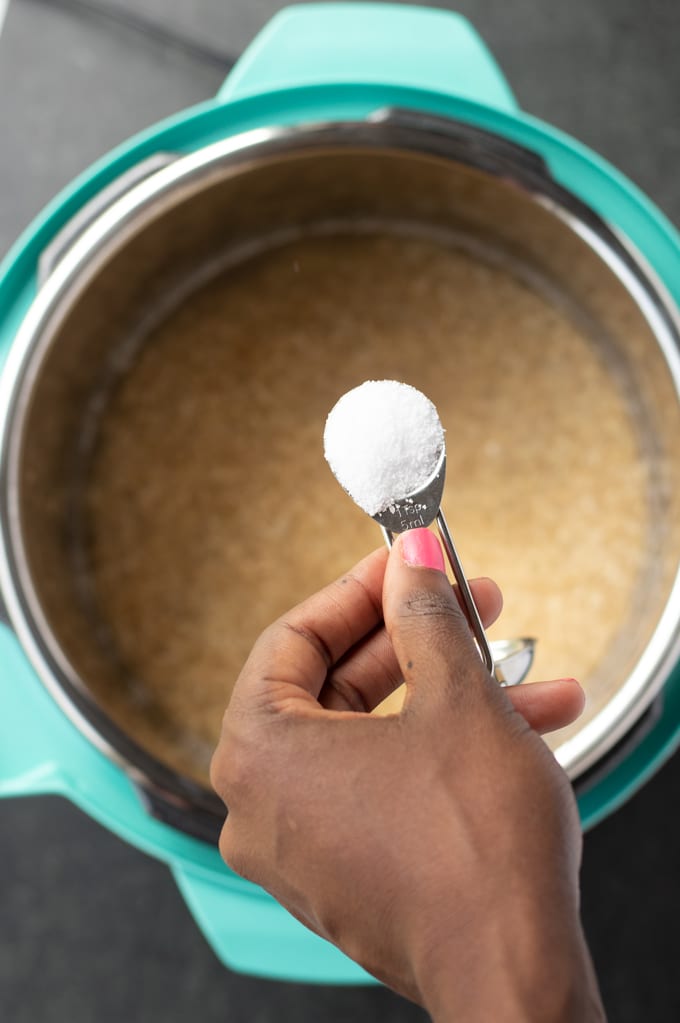 I then cook on high pressure for 23 minutes, then natural release for 10 minutes.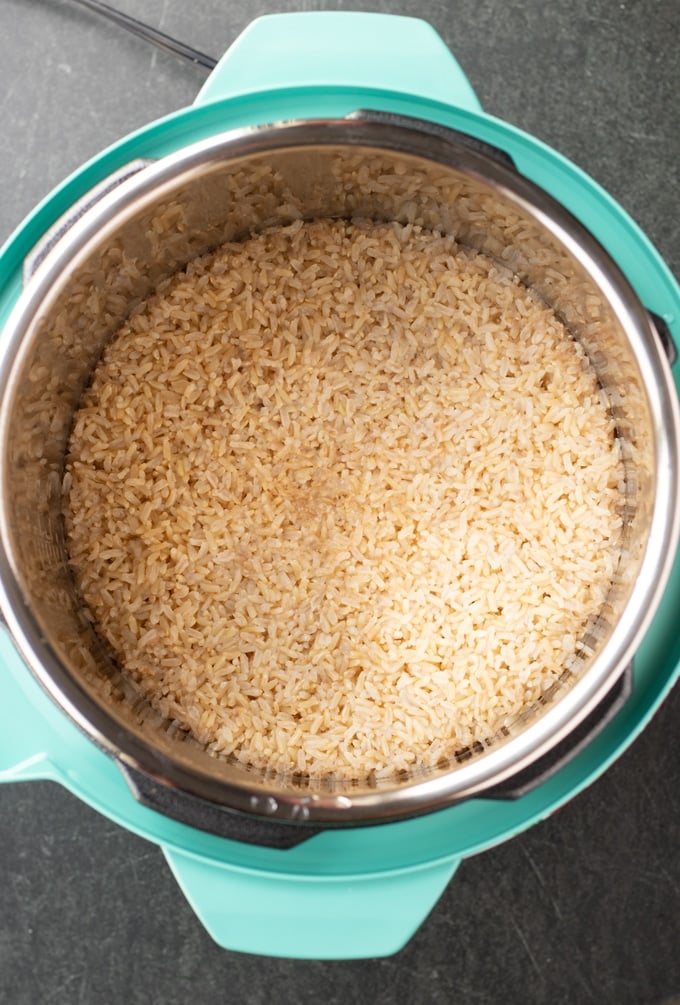 Once I open it, I fluff it and serve with my favorite dish.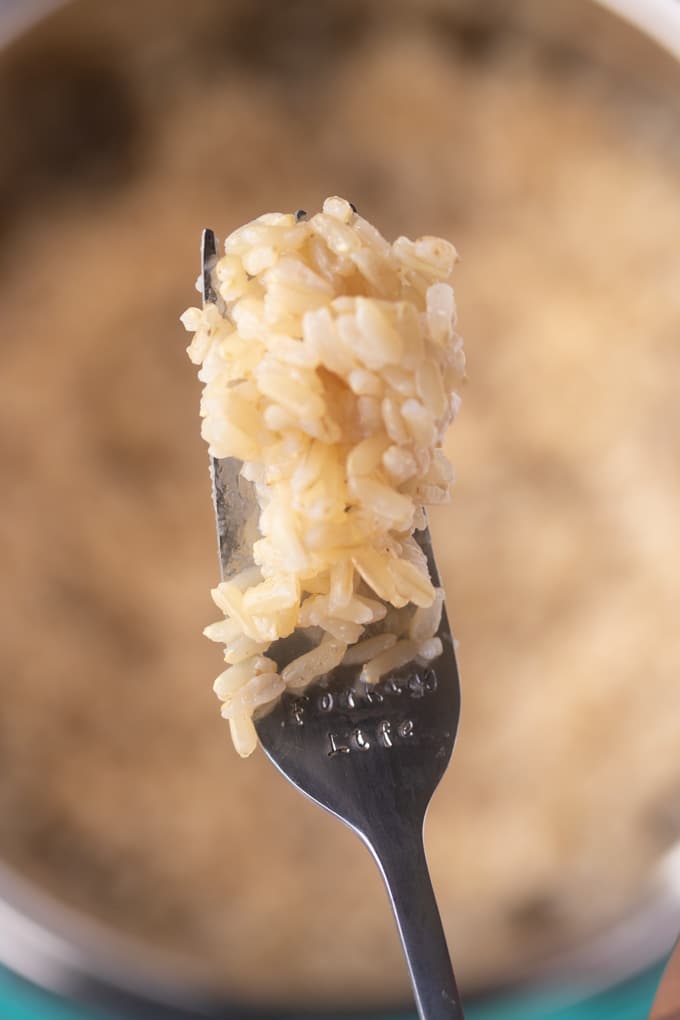 Notes
As with all pressure cooking recipes, your location/altitude may affect how long the cook time needs to be. This pressure cooking altitude chart should help with any necessary adjustments.
Chicken broth can be substituted for water if you want a more flavorful rice.
I use the cheapest brand of brown rice I can find in the store (generally the store brand) and it works perfectly. As long as it's not par-boiled or anything this method will work.
How long to cook brown rice?
This my friends depends. I've gone as short as 17 minutes and as long as 23 minutes of cooking brown rice on high pressure. Both yielded delicious similar results although I preferred the longer cook time a wee bit more. My husband could tell no difference. So if you're short on time, 17 minutes on high pressure and a 10 minute natural release will be just fine.

Suggested meals to serve with brown rice:
Looking for other Instant Pot Rice Recipes? Try these out:
Pressure Cooker (Instant Pot) Brown Rice
This Instant Pot Brown Rice is perfectly cooked and ready in less than an hour. Nutty and flavorful and perfect for any weeknight meal.
Time to Rise to pressure and Natural release
20
minutes
Ingredients
2

cups

brown rice

rinsed

2 ¼

cups

water

1 ½

tsp

salt
Instructions
Add rinsed brown rice, water, and salt to Pressure Cooker.

Cover and set Pressure Cooker on high pressure for 23 minutes. Make sure the valve is set to "Seal."

Once cooktime is done, allow the pressure cooker to naturally release for 10 minutes, then release any remaining pressure by moving the valve to "Vent."

Once all the pressure is released, open lid and fluff rice with fork. Serve with your favorite meal. Enjoy 🙂
Notes
This rice was prepared in a 6qt Instant Pot. I also use these measurements and methods in my Ninja Foodi pressure cooker.
Chicken broth can be substituted for the water
Nutrition
Calories:
344
kcal
|
Carbohydrates:
72
g
|
Protein:
7
g
|
Fat:
3
g
|
Saturated Fat:
1
g
|
Sodium:
883
mg
|
Potassium:
255
mg
|
Fiber:
3
g
|
Calcium:
36
mg
|
Iron:
1.7
mg