This Roasted Tomato Basil Soup Recipe is the best ever! Not only is it creamy and delicious, but it can be made in less than an hour with all fresh ingredients. With vegetables that are roasted in the air fryer, this flavorful soup can be on your table in less than 1 hour.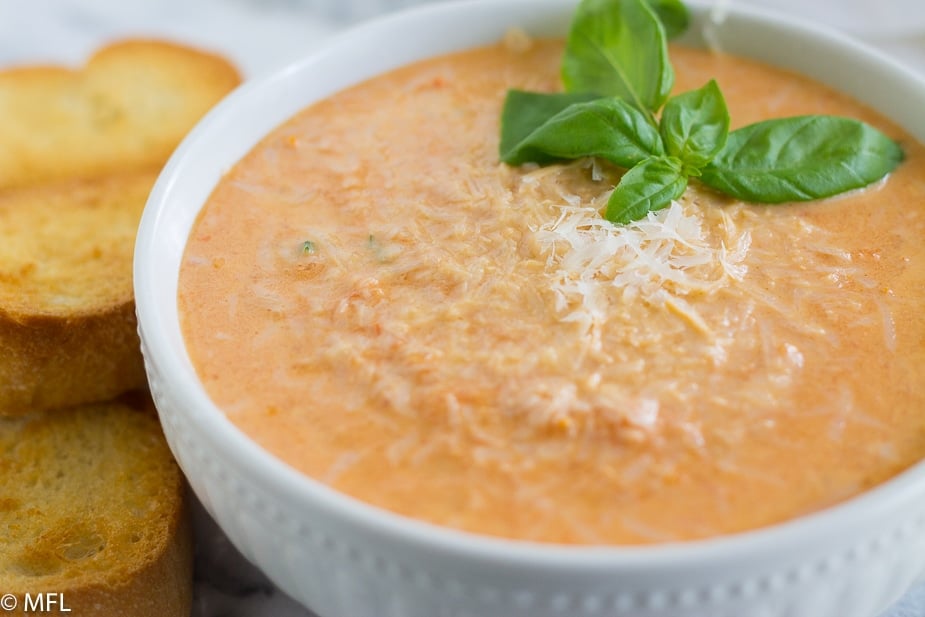 I love a good and delicious tomato soup. As a matter of fact, I have two rules when it comes to tomato soup.
The soup must be homemade and use fresh tomatoes, none from a can; and

My tomatoes and vegetables must be roasted
Why the rules? Because following that method has lead to some of the best tomato soup I've ever had. I used to roast my vegetables in the oven when I wanted to make tomato soup from scratch but found that it took longer than I wanted to roast the vegetables. Now that I have my air fryer, I can roast vegetables in half the amount of time it takes to roast in the oven.
How to make the best Tomato Soup from fresh tomatoes?
All you need is about 1 lb of any kind of fresh tomato. I tend to stick with roma or tomatoes on the vine for this recipe, whichever I have on hand. Both tomatoes roast beautifully in the air fryer.
Roast the tomatoes, along with onion, carrot, garlic cloves, and red bell pepper in the air fryer for about 25 minutes at 360 degrees. Roasting your vegetables will allow your tomatoes to roast, not burn, releasing the natural sweetness of the tomatoes and other vegetables.
Once your vegetables are roasted, you will add your stock and warm a bit for added flavor. Then blend, add your chopped basil, cream, and splash of balsamic vinegar.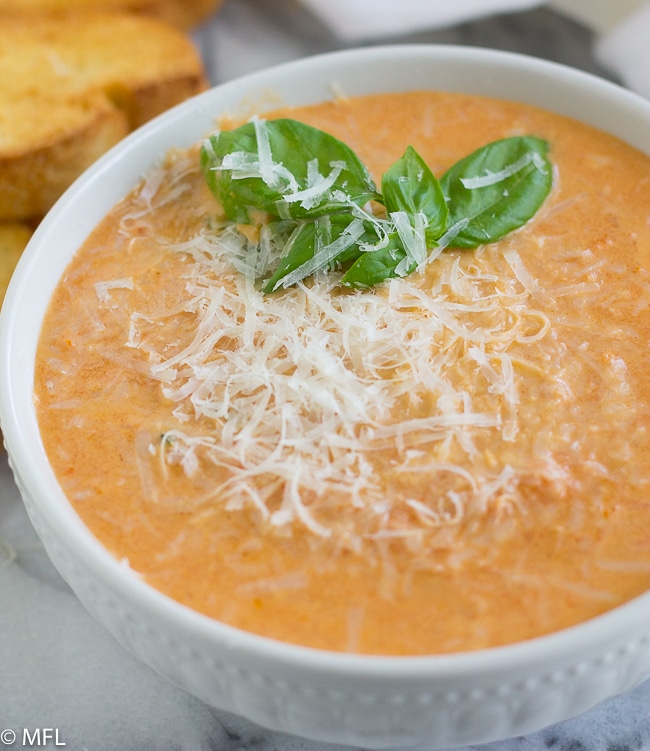 To Peel or Not to peel the tomatoes for the Best Tomato Basil Soup Recipe? That is the Question…
Once my tomatoes and vegetables are roasted, I sometimes peel the skin off of the tomatoes and red pepper. This results in a smoother finish to my soup once it's blended. It really depends on the day on whether I do this or not. The soup is still delicious either way but for the smoothest soup possible, you must do the following: peel, blend in a blender, and pour through a fine mesh strainer.
What Goes with the Best Tomato Basil Soup?
I like to serve our tomato basil soup topped with parmesan cheese. Serve along side a delicious grilled cheese sandwich if you want a full meal.
I hope you enjoy this roasted tomato basil soup as much as we do. During these summer months, enjoy those tomatoes and fresh basil as much as you can. 🙂
Watch this video tutorial and see how I make this tomato basil soup from start to finish.
The Best Tomato Basil Soup Recipe
Roast these tomatoes in the air fryer for The Best Tomato and Basil Soup. This soup can be on your table in less than 1 hour with robust flavor from the roasted vegetables.
Ingredients
Oil for spraying

1

lb

red tomatoes

cut in half

1

medium red bell pepper

quartered

1

large yellow onion

quartered

1

medium carrot

chopped into large pieces

4

garlic cloves

peeled

1.5

cups

chicken broth

½

cup

heavy cream

4

fresh basil leaves

finely chopped

Splash of balsamic vinegar

Grated Parmesan Cheese

optional
Instructions
Spray the bottom of the air fryer basket with a little oil to prevent sticking. Add the tomatoes, red bell pepper, onion, carrot, garlic cloves to the air fryer and set for 360 degrees Fahrenheit and 25 minutes to roast.

Check the air fryer basket about halfway through and shake to ensure even roasting. Shake again when there is about 5 minutes left on the timer.

Once air fryer timer goes off, transfer vegetables to a medium stock pan and add chicken broth to stock pan. Allow mixture to come to a boil. Reduce heat and simmer for about 5 minutes. Once done, blend soup with immersion blender or allow to cool and use a traditional blender to blend the soup.

Add basil, heavy cream, splash of balsamic vinegar. Salt and pepper to taste. Top with parmesan cheese.
Notes
*NEVER add liquid to an air fryer.
*You can peel the tomatoes and red bell pepper after removing from the basket if you choose to. Just make sure they cool a bit before you do so.
*Always allow the liquids to cool before adding to a traditional blender to avoid burns.
Suggested Tools
Air Fryer
Evo Oil Sprayer Bottle
Immersion Hand Blender
Nutrition
Subscribe to my YouTube
Subscribe to my YouTube Channel for full length recipe videos. Click the bell icon to be notified when I upload a new video.
Although myforkinglife.com attempts to provide accurate nutritional information, these figures should be considered estimates. Varying factors such as product types or brands purchased, natural fluctuations in fresh produce, and the way ingredients are processed change the effective nutritional information in any given recipe. Under no circumstances will myforkinglife.com be responsible for any loss or damage resulting for your reliance on nutritional information.
Notes on The Best Tomato Basil Soup
First and foremost, never ever put liquids in the Air Fryer. The Air fryer is used to roast the Vegetables. I use it in place of the oven because it roast my vegetables in half of the amount of time it would take to roast in the oven.
For a smoother soup consistency, pour soup into a fine mesh strainer once blended. I like my tomato soup a tiny bit chunky.
Never use over the counter aerosole spray cans in your air fryer. It's best to purchase a good spray bottle and use vegetable or olive oils to spray. I use the Evo Oil Sprayer Bottle

.
Step by Step Photos of the Best Tomato Basil Soup Recipe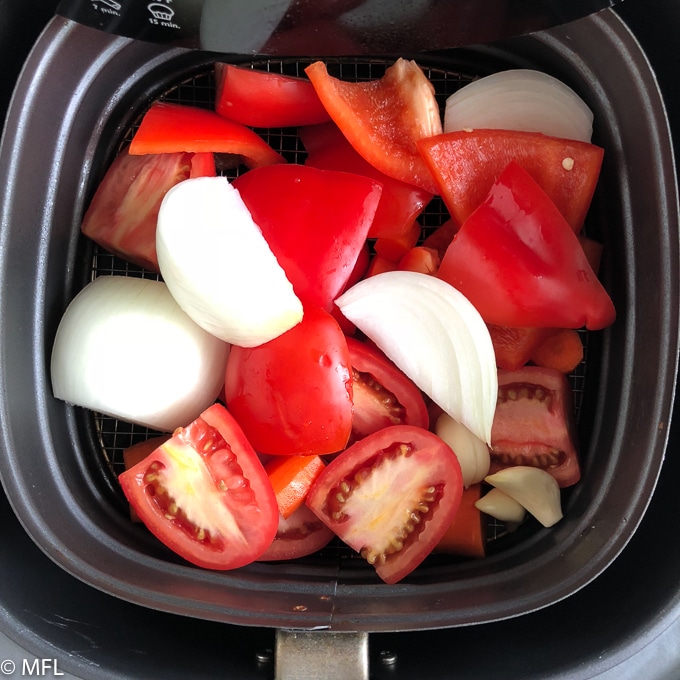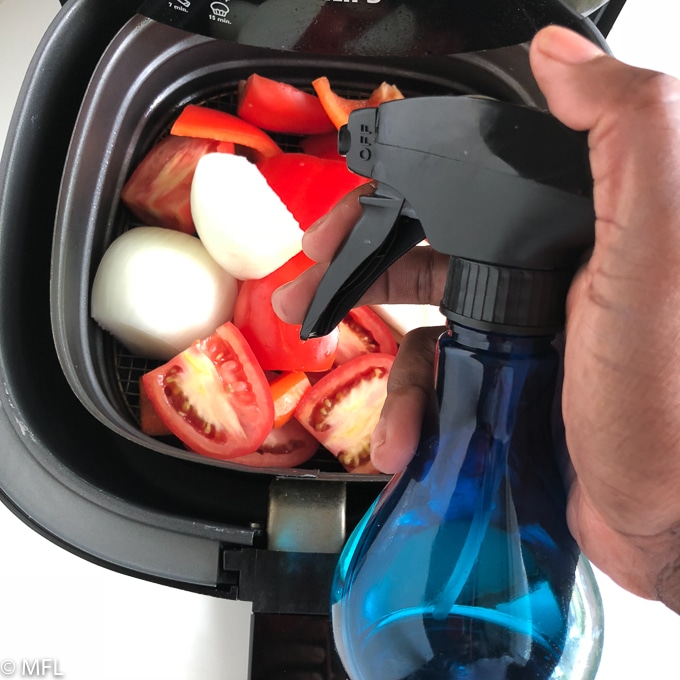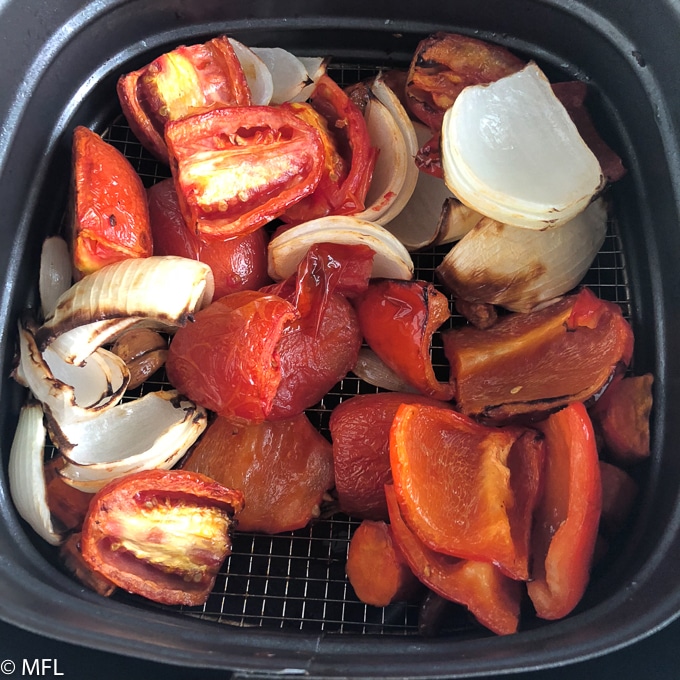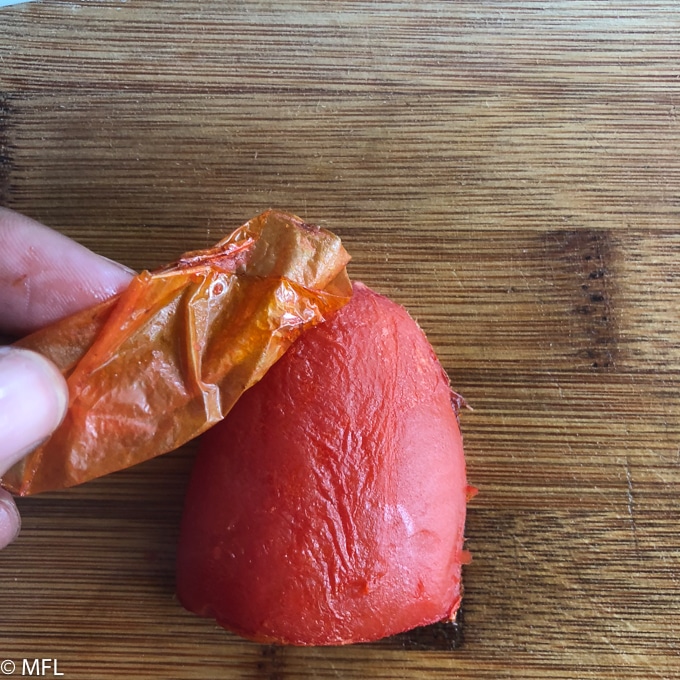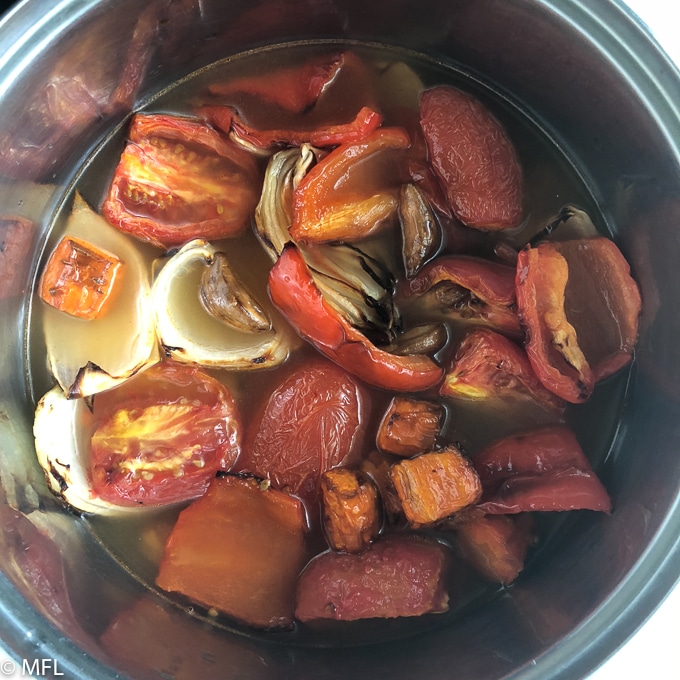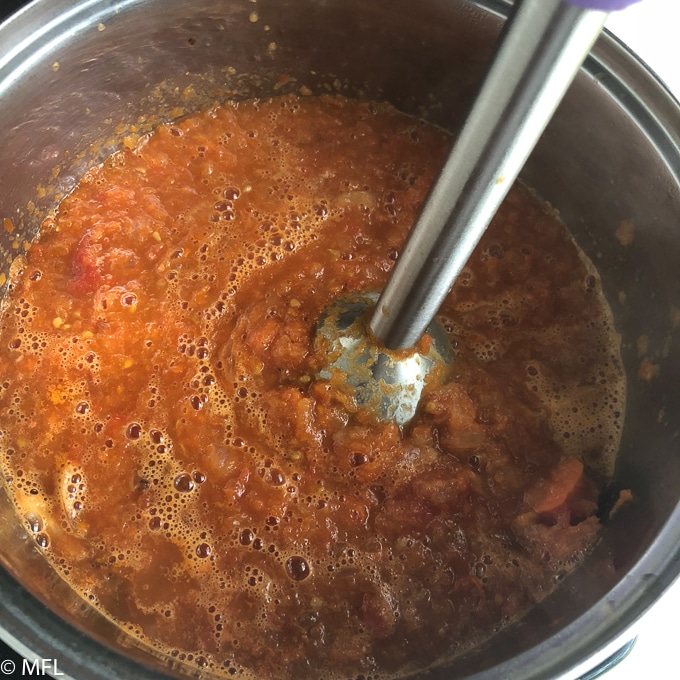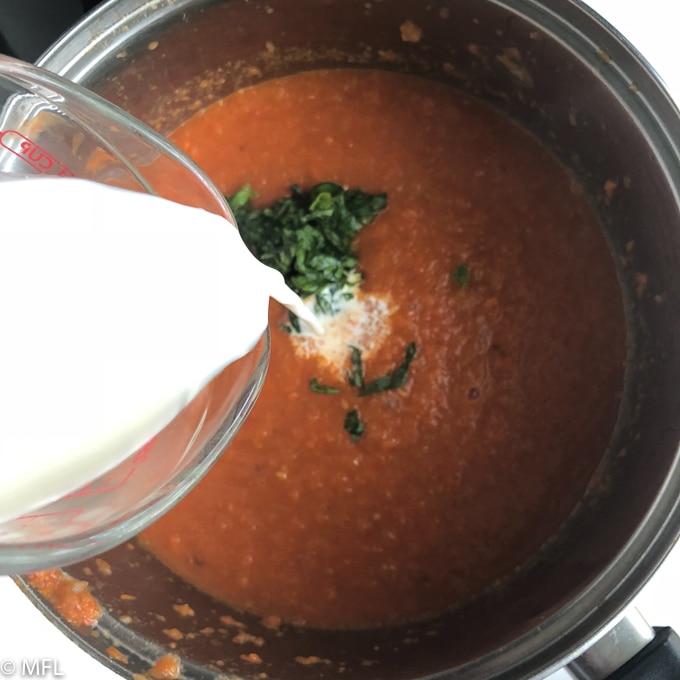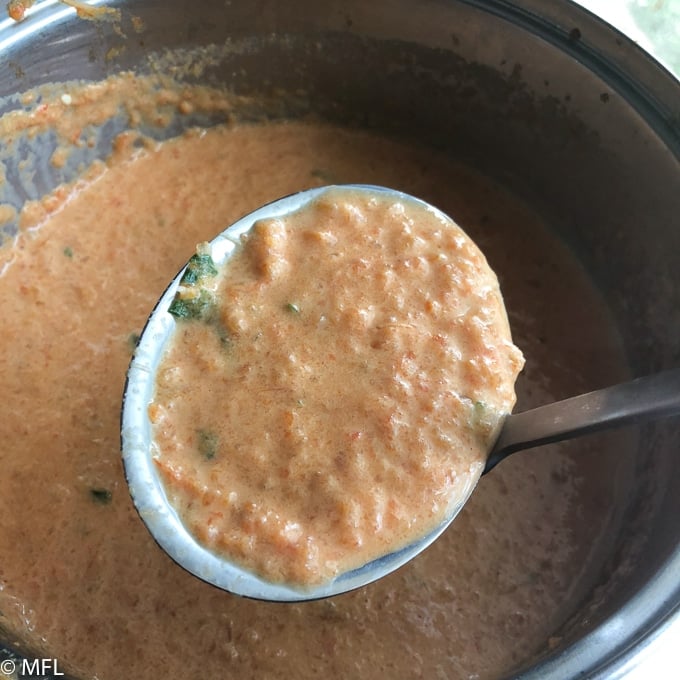 Pin The Best Tomato Basil Soup Recipe for Later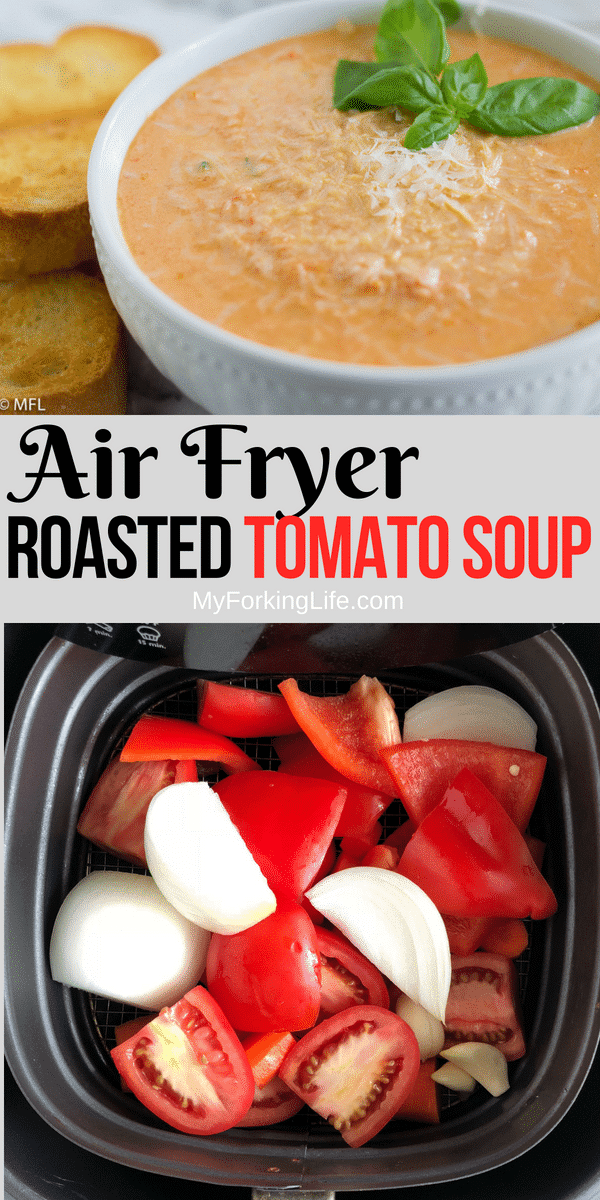 Looking for more Air Fryer Recipes to enjoy with this dish? Try my Perfect Air Fryer Steak or Air Fryer Potatoes.