Grab your Air Fryer and make this Crispy Air Fryer Fish ASAP. Covered in a crispy delicious crust, you can have guilt free fried fish as often as you like.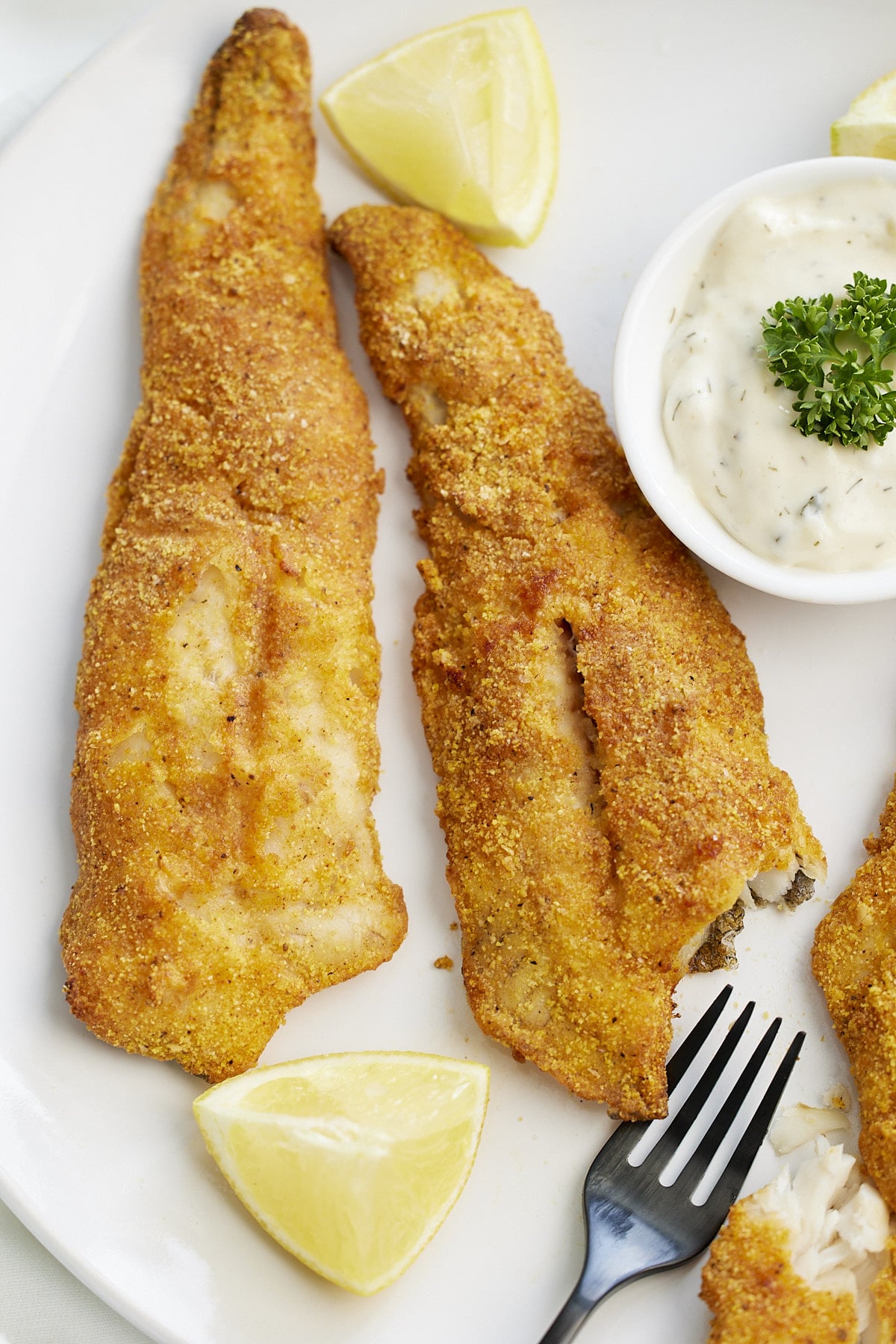 Summer fish fries are my favorite outings to attend. You know, the ones they have when your uncle who can season the fish like a champ comes over, fries up some amazing white fish, and the whole family gets together and enjoys. I'm talking that fried fish with that amazing golden fried glow. I'm talking that catfish, whiting, perch, yummy! I have those days that I want that amazing fish at home BUT I don't want to deal with frying in oil.
Now thanks to my air fryer, the one I bought on a whim during my pregnancy, I can make delicious golden fish filets whenever I want without all the grease, and guilt.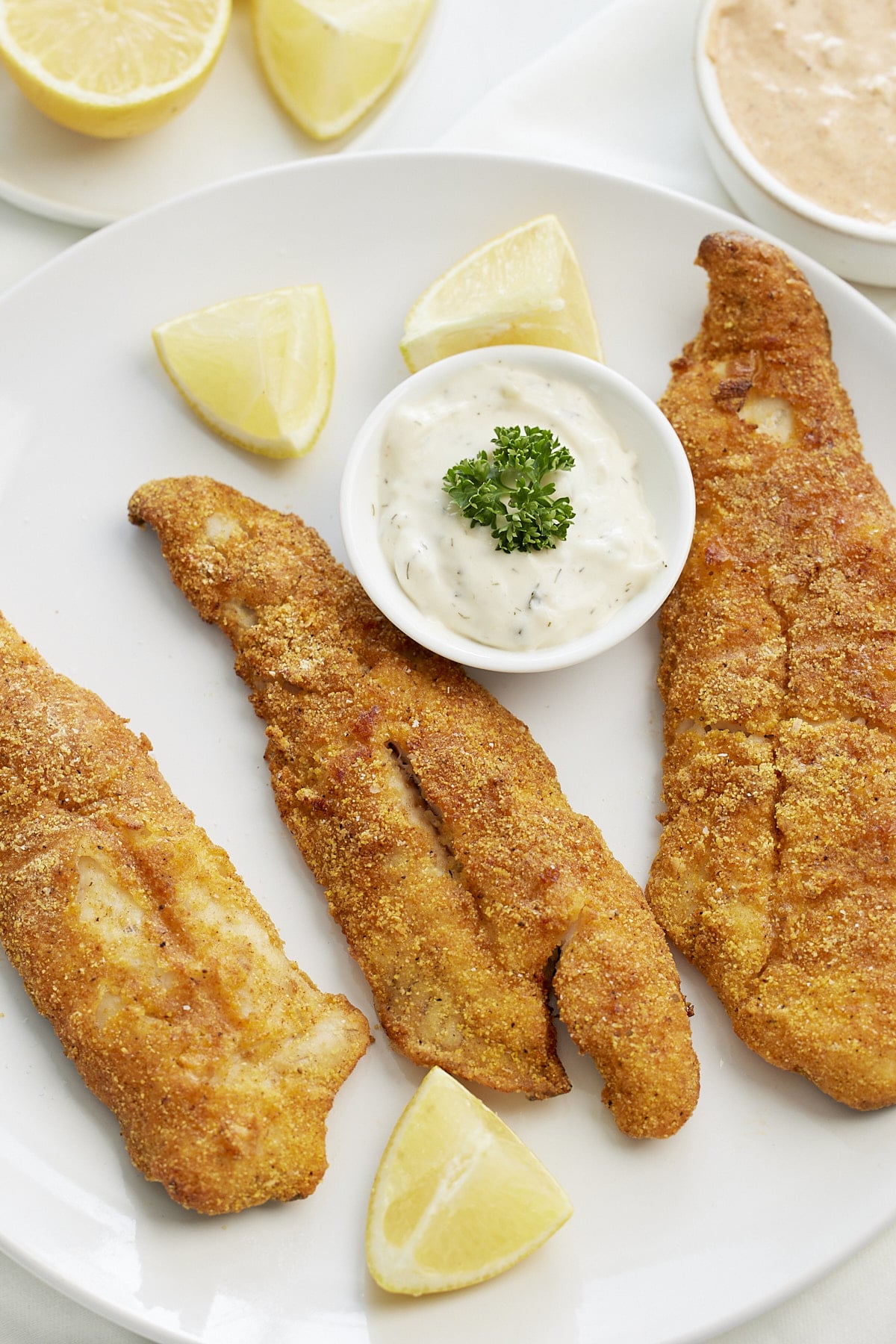 Now I bet a few people are reading in disbelief that I made these golden beauties in my air fryer. How is this air fryer fish so golden? How is it so crispy and flaky? It's all about the method, which I'll explain below in the recipe instructions as well as the step by step photos below.
How Do I Air Fry Fish?
Great Question! Air Fried Fish is pretty easy and takes about four simple steps. The beauty with this recipe is that you don't need any extra ingredients outside of your typical fish breading and a little bit of oil in a spray bottle. All you'll do is:
Place fish in your favorite fish seasoning
Place in greased air fryer basket
Cook, spray, turn, cook some more
All done.
I like to make my own fish breading for this air fried fish recipe as I always have the ingredients and I like to season my fish some more after it's cooked. I do the salt and pepper after it's cooked for extra flavor. You can create your own or use the store bought kind, both would work.
Tips for Air Fried Fish
I'd suggest using fresh fish fillets for this recipe or good quality frozen fillets. If you're fillets are too thin, they won't do well in this recipe as they won't have enough time to crisp well.
Spray your oil only halfway through cooking as this will increase crispiness.
Do not use the over the counter misting sprays in your air fryer (For Example, Pam). For whatever chemical reason, those things can take the coating right off your air fryer basket. Your best bet is to invest in a good oil mister. I use this one. If you really love your over the counter spray and want to use it anyway, remove the fish from the air fryer basket before spraying to make sure it doesn't land on your basket.
Do not overcrowd your air fryer basket or your fish will steam rather than fry.
Make sure when spraying, the fish is fully covered in oil and all seasoning has been fully covered with no flour spots showing. If flour spots are showing, you will not get that good golden color.
I use whiteing fish in this recipe however this method will work for any other white fish. If using catfish, follow my method for soaking in milk first, which can be found on my very first my forking life blog post, Fried Catfish..
Eat fried fish immediatley. All fried foods are better that way.
You must have hot sauce. I mean, it's just a must.

If you're looking for a delicious side to thit Air Fried Fish, try these Air Fryer Potato Wedges.
I'm having so much fun with my air fryer that I'm looking forward to sharing more Air frying recipes with you all. Make sure to check out my Marinated Air Fried Salmon, Lobster Tails in the Air Fryer, Perfect Air Fryer Steak , Crispy Air Fried Coconut Shrimp, Healthier General Tso's Chicken in the Air Fryer, Air Fryer Brussel Sprouts, Air Fryer Fried Chicken.
Air Fryer Fish
Crispy Air Fryer Fish is golden, crispy, delicious, and healthy.
Ingredients
4-6

Whiting Fish fillets

cut in half

Oil to mist
Fish Seasoning
¾

cup

very fine cornmeal

¼

cup

flour

2

teaspoon

old bay

1 ½

teaspoon

salt

1

teaspoon

paprika

½

teaspoon

garlic powder

½

teaspoon

black pepper

OR

Your favorite fish seasoning
Instructions
Combine ingredients for fish seasoning in a Ziplock bag and shake. Set to the side. In the alternative, you could use your favorite fish seasoning.

Rinse and pat dry your fish fillets with paper towels. They should still be damp.

Place fish fillets in ziplock bag and shake, until fillets are fully covered with seasoning.

Place fillets on a baking rack to allow any excess flour to fall off.

Grease the bottom of your air fryer basket and place the fillets in the basket. Cook filets on 400 degrees for 10 minutes.

Open basket and spray the fish on the side that is facing up before flipping, ensuring that the fish is fully coated. Flip and cook other side for 7 minutes. Remove fish and serve.
Notes
*Adjust cook times if needed depending on the thickness of the fillet.
Highly Recommended Tools
Air Fryer
Non-Aerosil Oil Sprayer Bottle
Silicone Kitchen Tongs
Nutrition
Subscribe to my YouTube
Subscribe to my YouTube Channel for full length recipe videos. Click the bell icon to be notified when I upload a new video.
Although myforkinglife.com attempts to provide accurate nutritional information, these figures should be considered estimates. Varying factors such as product types or brands purchased, natural fluctuations in fresh produce, and the way ingredients are processed change the effective nutritional information in any given recipe. Under no circumstances will myforkinglife.com be responsible for any loss or damage resulting for your reliance on nutritional information.
Step by Step photos of Air Fryer Fish
Pin Crispy Air Fryer Fish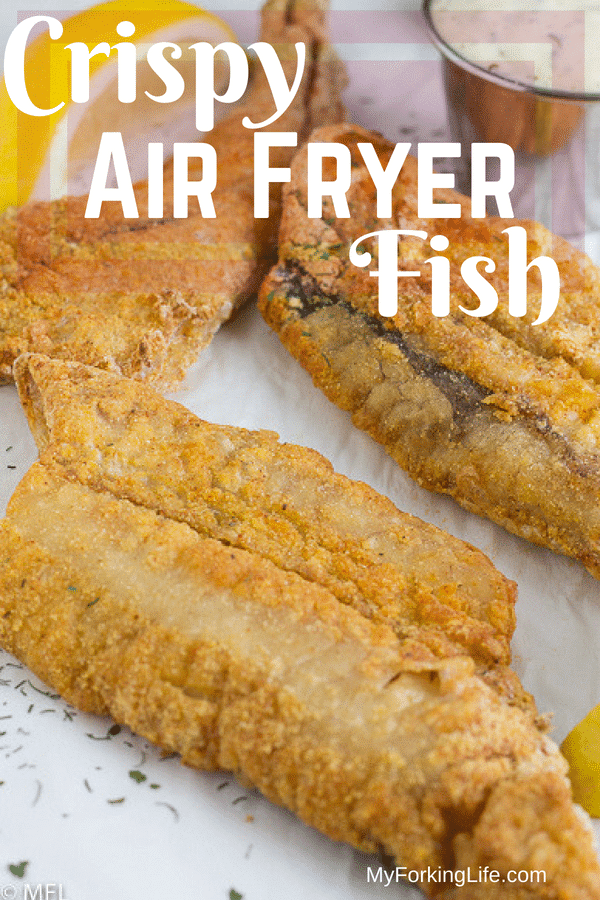 Find more Air Fryer Tips and Trick here.