We've had ButcherBox for the last 9 months. In this post, I'll give you my Butcher Box review and let you know my experience with this meat delivery company.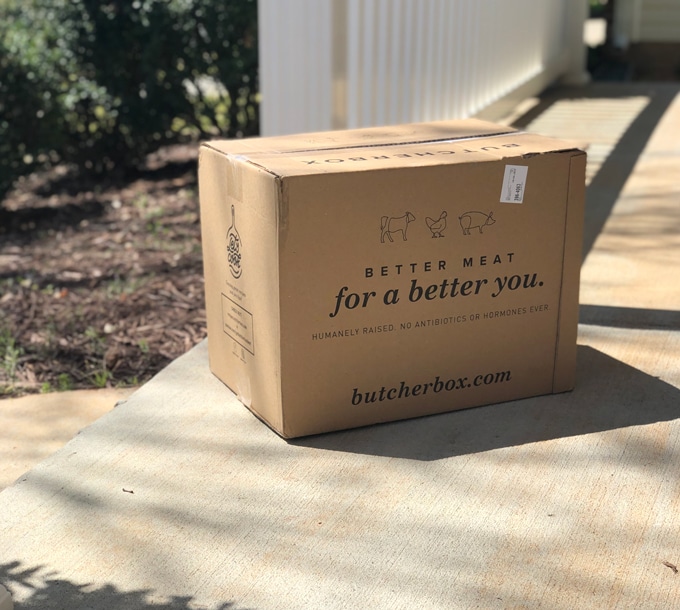 This post contains ButcherBox affiliate links, please read my full disclosure here. Please note that I only recommend brands that I love and trust.
Butcherbox has landed on our doorstep over the last 9 months and I want to share our experience with ordering meat online.
I'll give you my full and honest review of Butcherbox, what to expect, pricing, pros and cons, and my personal experience with this meat delivery company.
What is ButcherBox?
ButcherBox is a meat delivery service that delivers grass fed and grass finished beef, free range organic chicken, and heritage bred pork. To sum it up, all of their meats are free of antibiotics and added hormones. They are also humanely raised.
ButcherBox is also a subscription delivery service, meaning once you sign up, you can expect a box full of meat delivered right to your front door every single month. You as a customer would pay a monthly subscription fee each month your meat is delivered.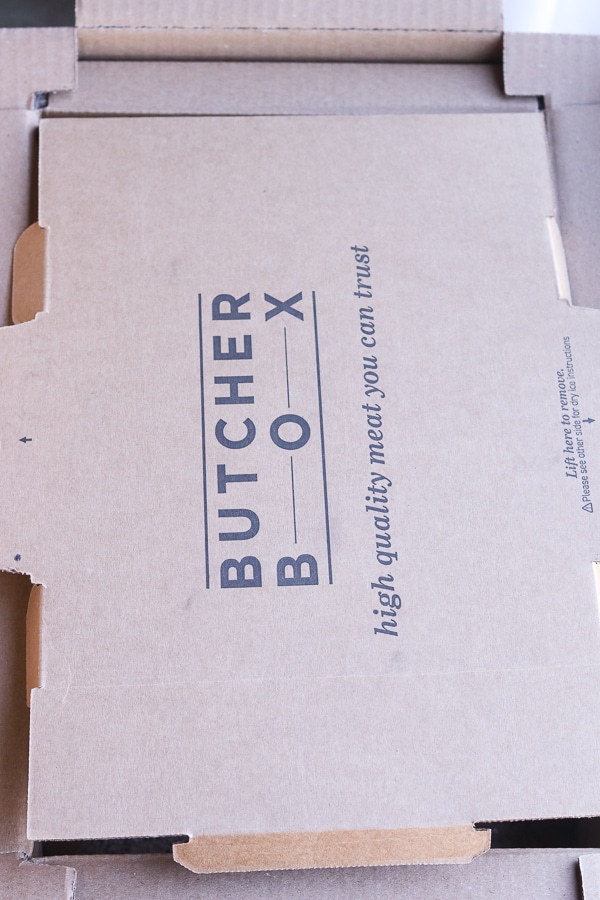 How much Does ButcherBox Cost?
Over the last 9 months, the cost of our ButcherBox subscription has not changed. The ButcherBox plans are:
Curated Box – $129 per month for 6-11 lbs of meat (approximately 24 meals) and $238 per month for 16-22 lbs of meat (approximately 48 meals) – This box is the most fun! Each month ButcherBox will send you an assortment of meats in your box with a few new and exciting cuts of meat they may have.
Custom Box – $149 per month for 9-14lbs of meat (approximately 30 meals) and $270 per month for 18-26 lbs of meat, (approximately 60 meals). – This box is for the planners. All of us don't need to be surprised and would like to know what's in our box each month.
We are currently on the Custom Box $149 plan and I select the meats that I want. I generally choose a whole organic chicken, pork ribs, PORK CHOPS (I've capitalized those for a reason), and STEAK (also capitalized for a reason) in each and every box we order. I'll switch up the remiainder between bacon, ribs, and ground beef.
How often will ButcherBox charge me?
Since it's a subscription service, you do pay each time your shipment is sent. The awesome thing is you can cancel your subscription at any time or even pause the subscription. All of this is done in your account in ButcherBox.
ButcherBox even has the option to choose to have the box delivered every 8 weeks rather than every 4 weeks. I chose this option when I was traveling a ton and we switched to a vegetable and fish heavy diet. I love that they have that option to switch how often your meat is delivered and how often you are charged.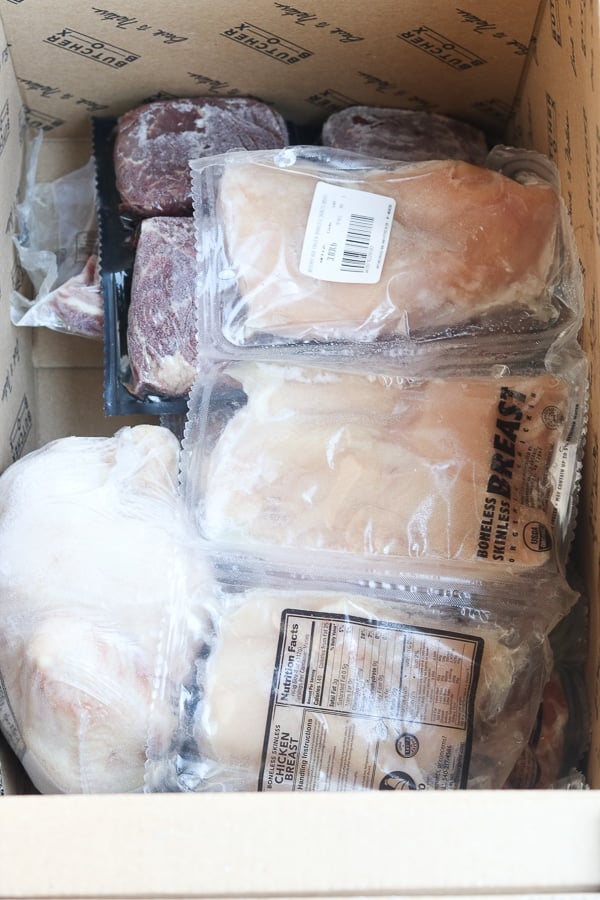 How does Butcherbox deliver meat to my front door? Wouldn't it go bad?
ButcherBox meat is delivered to your front door frozen and vacuumed packed. The first ButcherBox delivery comes with a nice black freezer bag and dry ice to ensure your package arrives to your door frozen. All boxes after that won't have the black bag but will still be shipped with dry ice.
By the time the ButcherBox gets to our house, the dry ice has melted but the meat is usually still frozen. I'll get to more of that in my pros and cons section below.
Your Butcherbox is shipped 3-6 days after they charge your credit card. You will get an email with a tracking number that shows the location and the approximate delivery date of your box. You do not have to be home to sign for it. The box will land on your front door.
I strongly suggest that you add ButcherBox's email to your contact list with your email service to ensure that any emails they send don't go to a promotions or spam account. You're going to want to know when your box has been shipped. Generally the boxes are shipped around the same time each month but it's easy to forget. The tracking email they send or even the bank transaction when they charge your account is a great way to know when your box is on the way.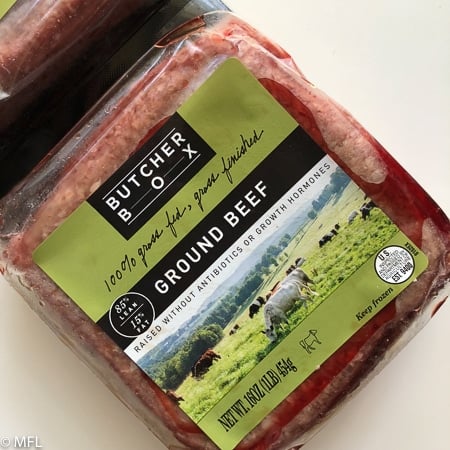 What if some of the meat defrosted once it got to my house?
ButcherBox informs you of what to do in this case. But as a rule of thumb, if it's still rock frozen, put in the freezer until you're ready to cook it. If it's still very cold, but defrosted, put it in the fridge or make it immediately. If it's warm and completley defrosted, throw it out and contact ButcherBox immediately to ensure they replace that meat in your next delivery.
I'll add that in our 9 months of using ButcherBox, the majority of our meats have arrived frozen. There was only one instance that we had missing meat in a box and a few items were thawed and/or damaged.
I simply snapped some photos of the damaged product and emailed ButcherBox. They ensured that my missing products and the damaged meats would be replaced in my next shipment. ButcherBox also took a few bucks off my next shipment to make up for their mistake. I'd say that's A+ customer service.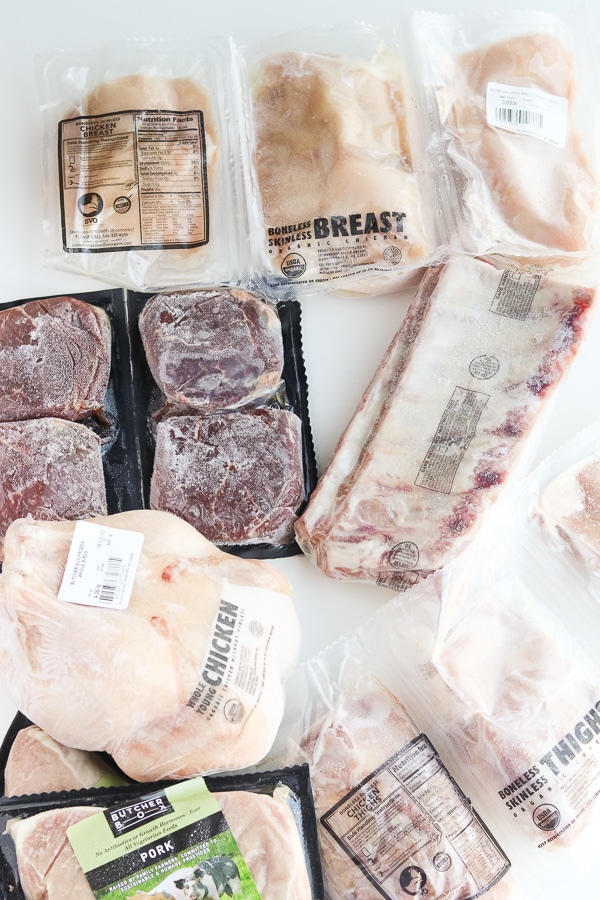 What is the Quality of ButcherBox Meat?
The quality of the meats at ButcherBox are top notch. One of the things that hubby and I were extremely impressed with is their thick cut pork chops. I know ButcherBox is generally known for their steaks, which are good, but their pork is on another level.
Our first ButcherBox pork chops were seasoned with simply salt and pepper and air fried. The chops were juicy but the flavor of that pork was like no other.
We also found the steaks and chicken do have a superior taste than non-organic or grass-fed meats. It's now the only kind of meat we buy.
Now I'll be honest, their steak and chicken taste just as good as the organic and grass fed steak and chicken I've received at my local grocery store. But I've yet to find pork chops on their level.
Is Butcherbox worth the cost?
That depends on what you're looking for and what you find is worth it. I found the following factors worth it:
Free delivery – You can't beat the cost and convenience of having meat delivered to your front door. And yes, there are ton of options from grocery delivery (we get groceries delivered often) but the free shipping is definitely something we find helpful.
The quality of the meat – Paying a bit extra is worth the cost when you know you're getting quality cuts of meat.
Butcherbox's meat boxes tend to equate to about $5.30 per meal with the smaller box and $4.96 per meal with the the larger box.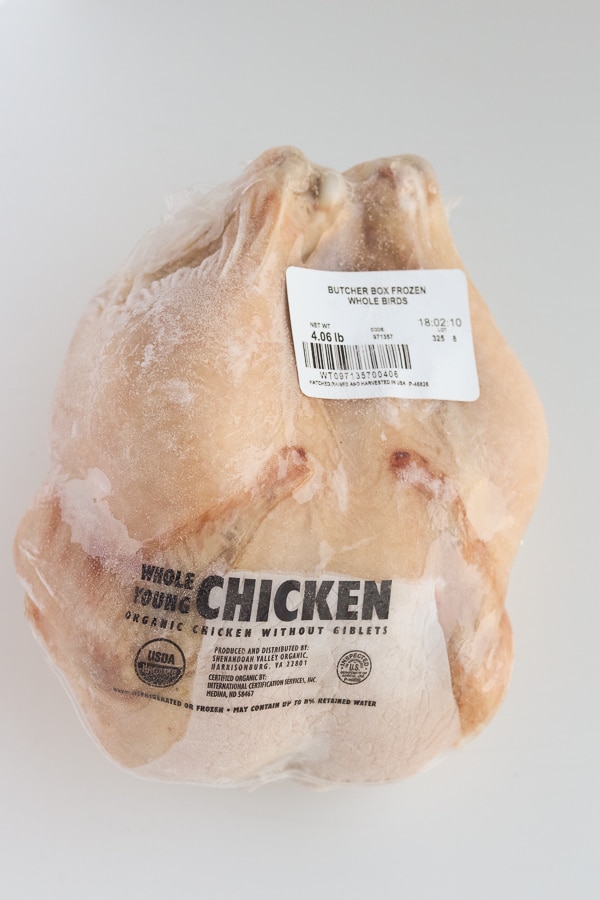 Does ButcherBox offer more than steak, chicken, and pork?
Yes. Butcherbox now has Wild Alaskan Salmon, spiral ham, breakfast meats such as bacon and sausage, and more as a part of their add ons. They also have member exclusive meals where you can order certain cuts of meat in bulk.
Pros and Cons of ButcherBox
For the most part, Butcherbox has been good to us but I want to take a moment to point out a few pros and cons of Butcherbox that I have experienced.
Pros:
Meat has been delivered in the time frame they said it would be.

Meat is superior quality.

A variety of meats and cuts you never thought of eating. Especially in that curated box. Helps keep creativity in the kitchen.

Customer service is top notch. But note, you can only contact them by email. It may take a day or two to get a response but with proof of damage, they will ensure you are satisfied.
Cons:
Chicken doesn't have guts and livers. I'm an adventurous cook and I use all parts of the animals, especially the chicken. Butcherbox's organic whole chicken does not come with the extra chicken parts on the inside. Most people won't care about that, but for me, I use chicken livers in a few recipes, like my authentic dirty rice.

They mess up sometimes. I've had one box that came with damaged and missing meat. However, see pro above, lol. Customer service fixed it with no issue.

You can find cheaper grass fed and grass finished meats from other sources. But again, you have to go find it. You will have to determine whether that is worth your time and effort.
You'll have to still shop elsewhere for certain cuts if you run out. Since they are a meat delivery subscription service, you will either have to wait to your next shipment to order a ceratin cut of meat or purchase it from a local grocer. Some weeks we eat more meat than others so there are a few occasions when i have to buy my meat from the grocery store.
Will we keep ButcherBox?
Yes. Although, I'm switching us from the custom box to the curated box for $129. I'm ready to be surprised and come up with some new and exciting recipes for you all with different cuts of meat. Plus, it's cheaper.
Additional info about ButcherBox?
You can find additional information about ButcherBox through their very own site. They also have a ButcherBox blog that provides tips and tricks on how to cook different cuts of meat. Happy cooking ya'all.
You can also check out our Facebook Live unboxing of our first Butcher Box here.
Looking for recipes to create with your first ButcherBox order? Try these out: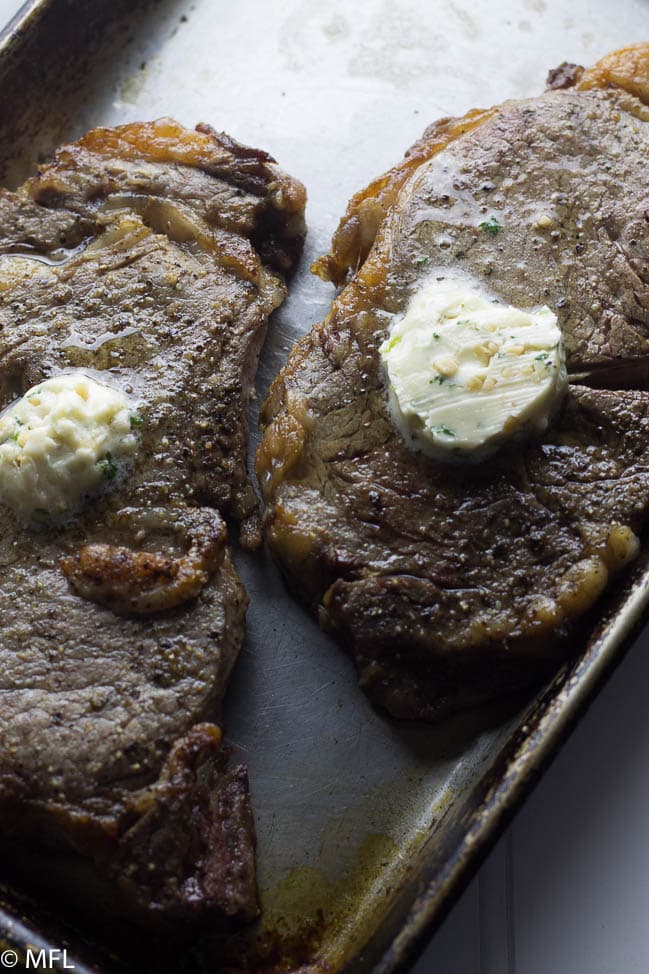 Air Fryer Steak with Garlic Herb Butter