This quick and easy Corned Beef & Cabbage Recipe, Jamaican style, is our go to recipe for busy weeknights. It's a flavorful and quick traditional recipe.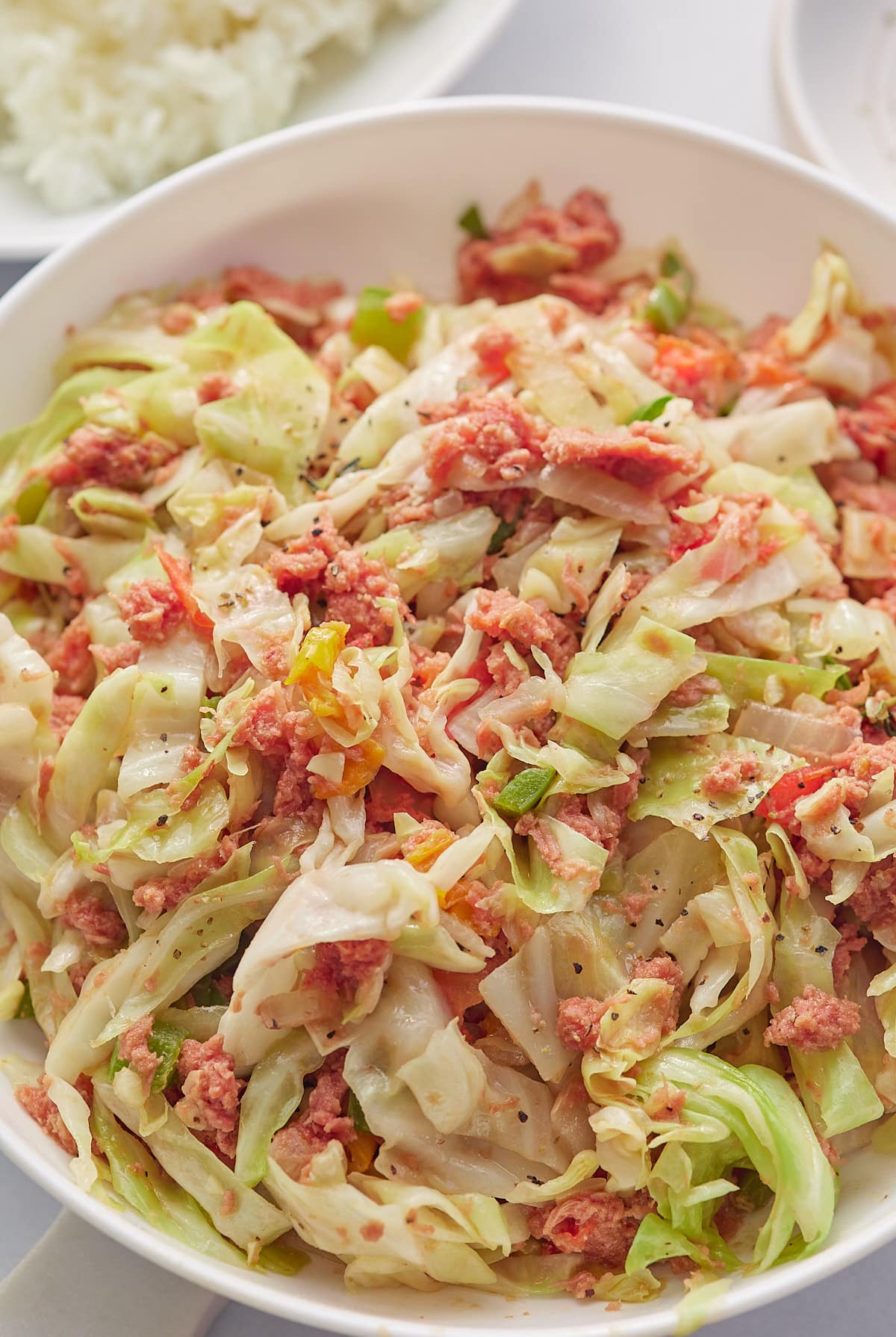 This post contains affiliate links, please read my full disclaimer here.
Full Recipe Ingredients/Instructions are available in the
recipe card at the bottom of the post.
You can find important tips/tricks in the
blog post.
Corned Beef and Cabbage recipe, just in time for St. Patrick's Day. When I think of St. Patrick's day, I think of the color green, the movie Leprechaun in the Hood (great movie by the way), beer, and Corned Beef and Cabbage. Growing up in a Jamaican household meant this was a dinner option quite often and I loved it. Still love it. So when anyone talks about corned beef and cabbage, all I can think of is the Jamaican version, also sometimes referred to as "bully beef."

So what makes Jamaican Corned Beef and Cabbage different? Canned meat of course! Meat in a can? Yes, I know it sounds utterly disgusting but seriously, this meat in a can is amazing.
First, Mise en place! Love that word. Get all your ingredients ready for cooking, because this is a quick recipe. Shred half a medium sized cabbage into medium sized shreds, chop 1 green pepper, chop 1 medium sized onion, mince 2 cloves garlic, and chop 2 roma tomatoes.
Next, you will heat 1 TBSP olive oil over medium-high heat in a skillet. I did this in a "Dutch pot." OMG, how cool is it that I own a Dutch Pot! I got this from my dear mother and I barley use it so I get excited every time I whip it out.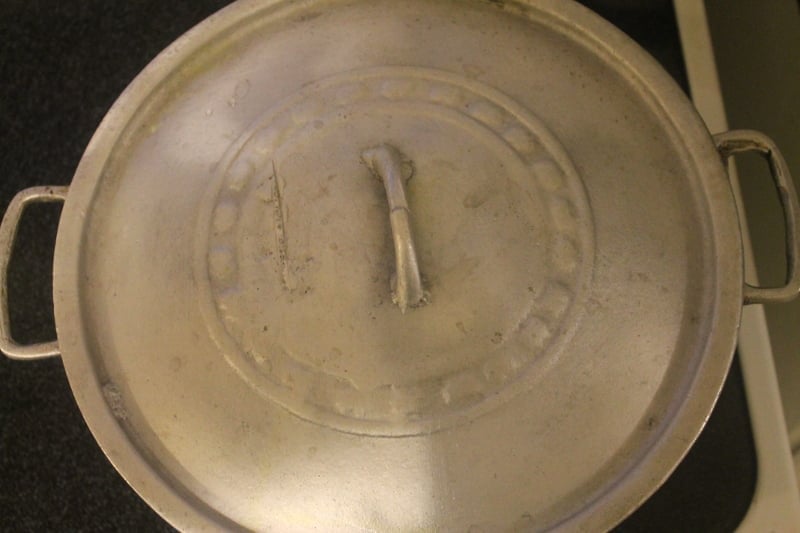 Look, how cool 🙂
Once your oil is heated, sauté green peppers and onions for about 3 minutes, or until softened.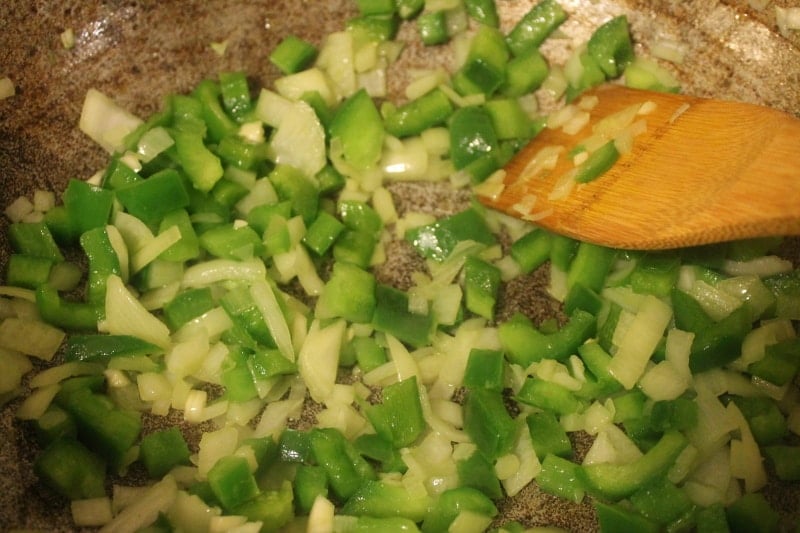 Next, add garlic and stir for about a minute more. Next, add your shredded cabbage to the skillet (or Dutch pot) and continuously stir for about 3 minutes, allowing the cabbage to soften but not get too mushy. Add your roma tomatoes and 2 springs of thyme. Then the fun part, adding your corned beef.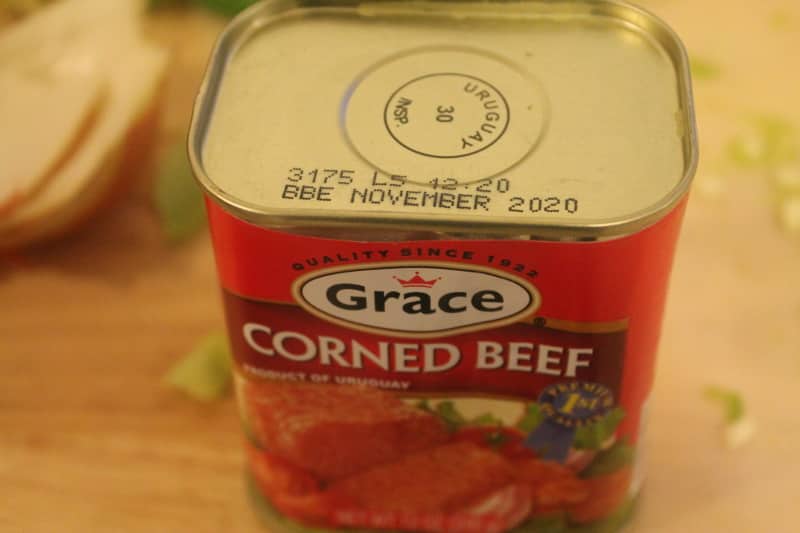 I use this brand. I have tried other brands but this is my all time favorite. Also, I should note that opening corned beef is an interesting adventure. Seriously, there is this weird key on the side that you turn to get it open. It has directions but it took me a while to get it right.
Once you add your corned beef, you will need to break it up in the pot and stir it with the other ingredients.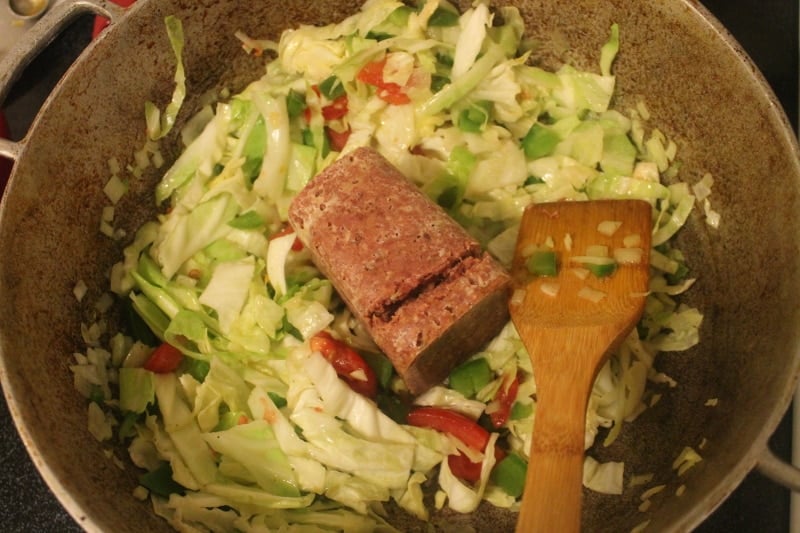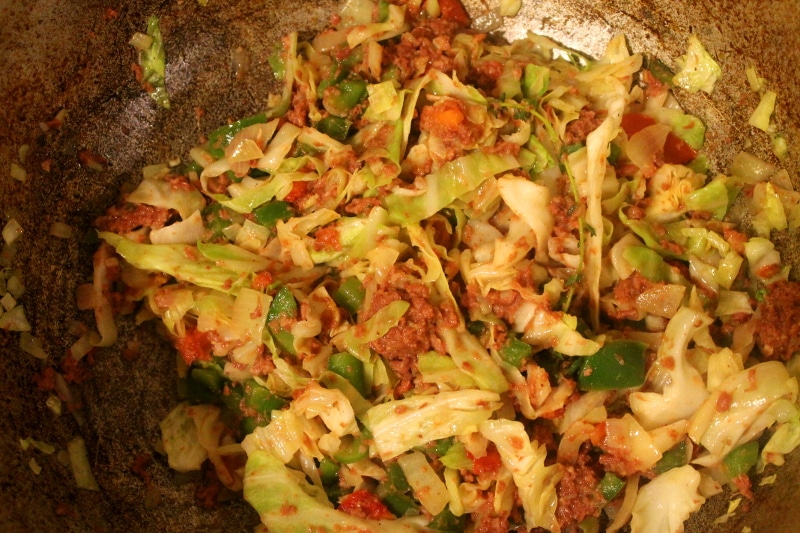 Looks delicious, right! Well, you're not done. Add 1 TBSP ketchup (Yup, ketchup on corned beef) and stir. An optional, but yet strongly recommended ingredient, is "hot peppa" sauce, also known as scotch bonnet sauce. It's a sauce made from scotch bonnet peppers which I have a difficult time finding in my city, so the sauce will have to do. I can find this sauce in any international supermarket. Just know, it's delicious but spicy. I added only 1/2 tsp to this dish to keep it kid friendly. Reduce heat to medium and let this cook for 3 to 5 minutes, or until the corned beef is heated through. Season with salt & pepper to taste, but go easy on the salt, corned beef already has a good amount of salt.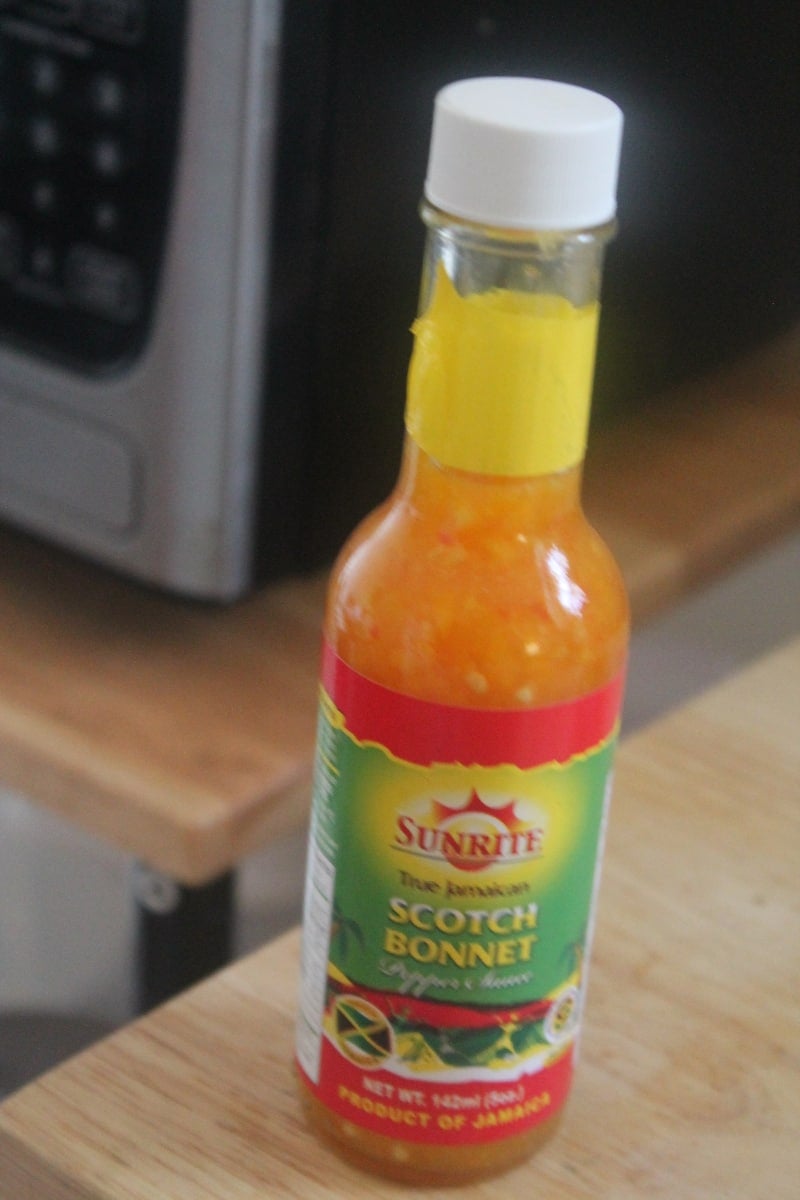 *hot peppa sauce. spicy!!!
And there you have it, corned beef and cabbage, Jamaican style! I like to serve mine over plain white rice or put it on bread to make a samich. Yums!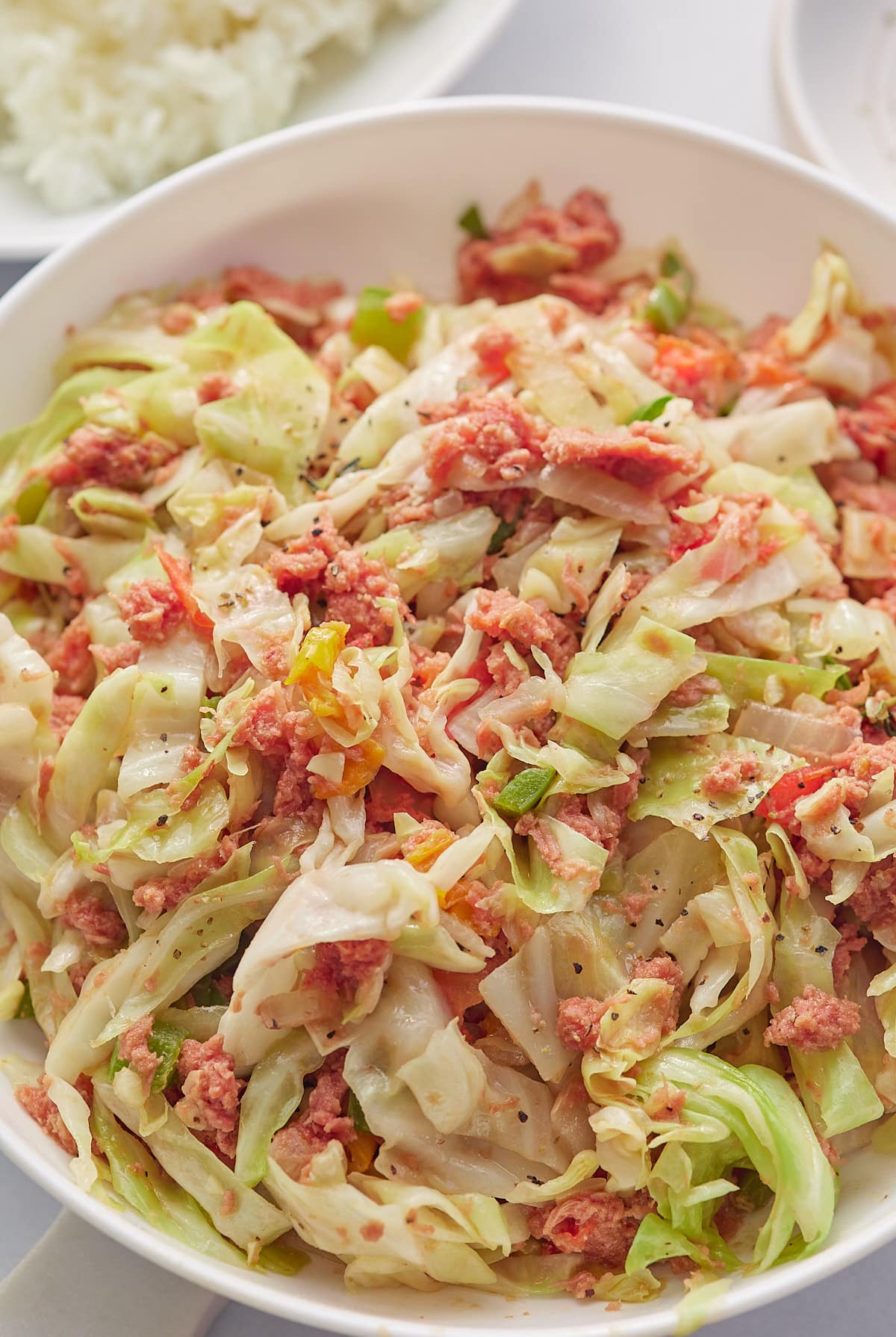 Looking for more Jamaican Recipes? Try these out…
Jamaican Cornmeal Porridge (Instant Pot)
Jamaican Jerk Pork (Air Fryer)
Jamaican Jerk Chicken Soup (Instant Pot)
Jamaican Rice and Peas (Instant Pot)
Jamaican Oxtails (Instant Pot)
Corned Beef and Cabbage – Jamaican Style
Ingredients
1

Tablespoon

olive oil

1/2

medium sized cabbage

shredded

1

green pepper

chopped

1

onion

chopped

2

cloves

garlic

minced

1

tin corned beef

2

roma tomatoes

chopped

2

springs of fresh thyme

1

Tablespoon

ketchup

1/2 – 1

teaspoon

scotch bonnet pepper sauce

optional

salt and pepper to taste
Instructions
1. Heat 1 TBSP of olive oil in a skillet or dutch pot over medium high

heat. Add onion and green pepper and sauté for about 3-5 minutes.

2. Add garlic and stir for about 1 minute.

3. Add shredded cabbage and stir. Cook for about about 3 minutes,

stirring often.

4. Add corned beef, roma tomatoes, thyme and stir. Add 1 TBSP ketchup and

scotch bonnet pepper sauce and stir. Reduce heat and cook on medium

for about 3-5 minutes.

5. Serve with white rice, bread, or on its own.
Subscribe to my YouTube
Subscribe to my YouTube Channel for full length recipe videos. Click the bell icon to be notified when I upload a new video.
Although myforkinglife.com attempts to provide accurate nutritional information, these figures should be considered estimates. Varying factors such as product types or brands purchased, natural fluctuations in fresh produce, and the way ingredients are processed change the effective nutritional information in any given recipe. Under no circumstances will myforkinglife.com be responsible for any loss or damage resulting for your reliance on nutritional information.