Sharing is caring!
This Lace Cookies Recipe is easy yet delicious. With just a few ingredients, you can have a batch of these thin, crispy, and chewy cookies in no time.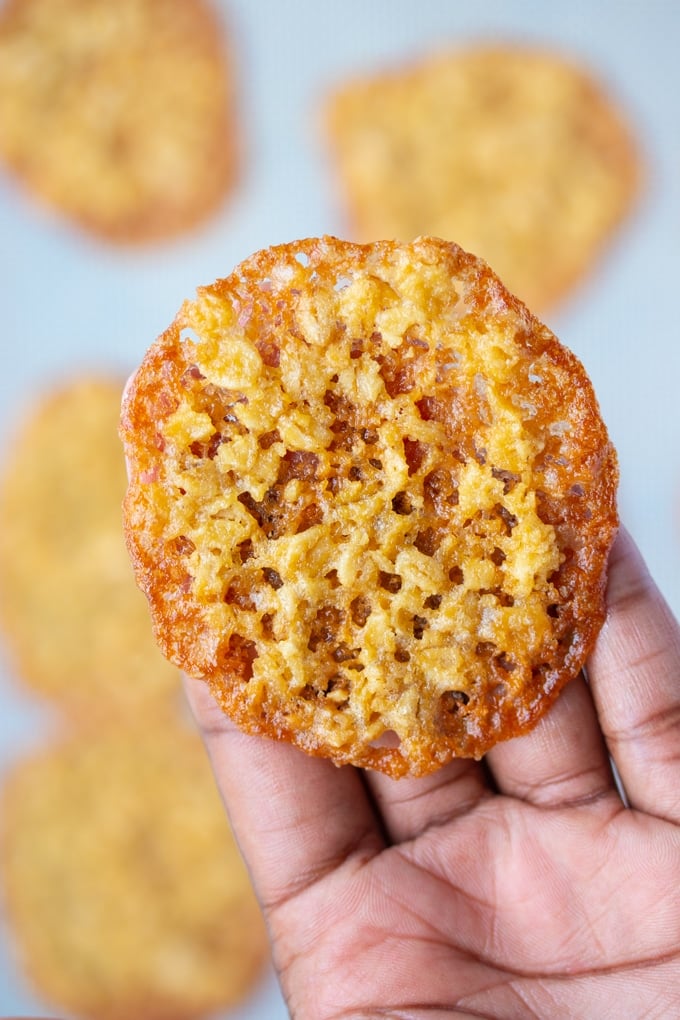 Full Recipe Ingredients/Instructions are available in the
recipe card at the bottom of the post.
You can find important tips/tricks in the
blog post.
One of my favorite things to do with my baby girls is bake cookies. We like to eat them when they are warm out of the oven and we will snack on them for days to come. These lace cookies , also known as oatmeal lace cookies, are no exception and they are so easy to make.

If you haven't heard of lace cookies, they are the cutest thing. They are thin, crunchy cookies that somewhat look like lace. If you pick one up, you can see the cute little lace patterns. And if you're a fan of thin cookies, then these are perfect for you.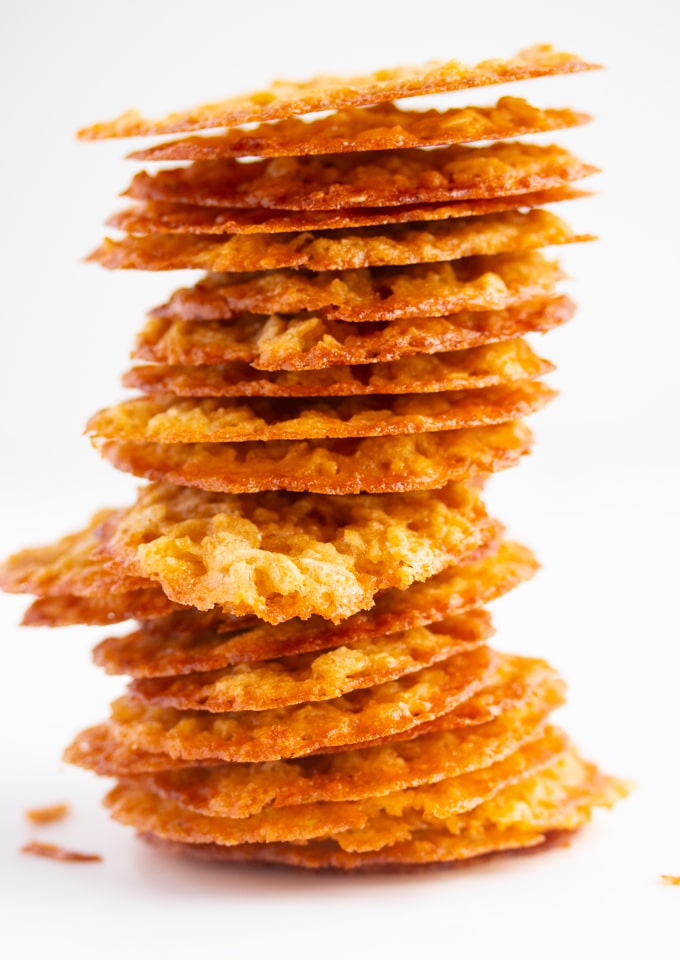 I also love a thin cookie, like these thin and crispy chocolate chip pecan cookies. These lace cookies take it to another level when it comes to crispiness. They're not only crispy, but they also have a slight nice chewy component.

Ingredients Needed for this Recipe
For this recipe you will need the following ingredients:
Softened butter
White sugar
Egg
Molasses
Vanilla extract
Old fashioned oatmeal
Flour
Salt
You've probably got all of those in your pantry. If so, let's get baking…
How to make Lace cookies
Move the rack to the middle rack in your oven and preheat your oven to 350 degrees Fahrenheit.

Prepare a baking sheet by adding parchment paper or a silicone baking mat. I love my silicone mat for baking cookies, nothing ever sticks.

In a stand mixer, mix softened butter and white sugar on low speed until thoroughly combined. If your butter is not softened, you can always soften butter quickly in about 10 minutes.
Then add in in egg, molasses, and vanilla extract.
Mix until combined. Then mix in oatmeal, flour, and salt. Mix until combined.

Add your cookie dough to the prepared baking sheet in 1 tsp drops about 2 inches apart.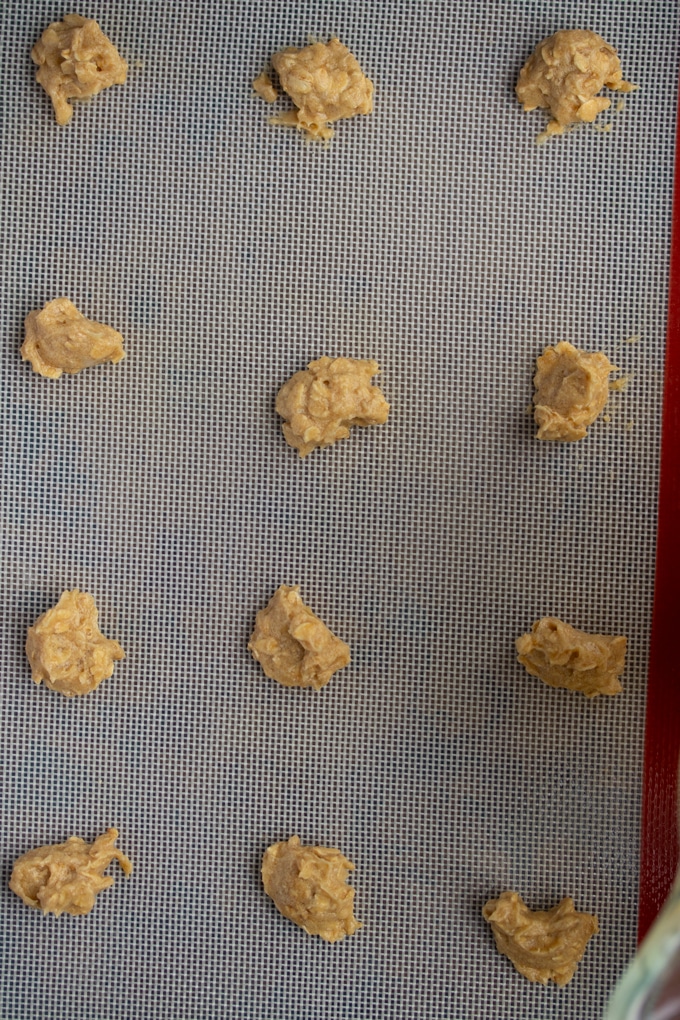 Place in oven and bake for 5-7 minutes. But please, please check on these cookies at the 5-minute mark. If they are golden, pull them out. They bake quickly so keep an eye on them. Continue to bake the cookies in batches until all your dough is gone.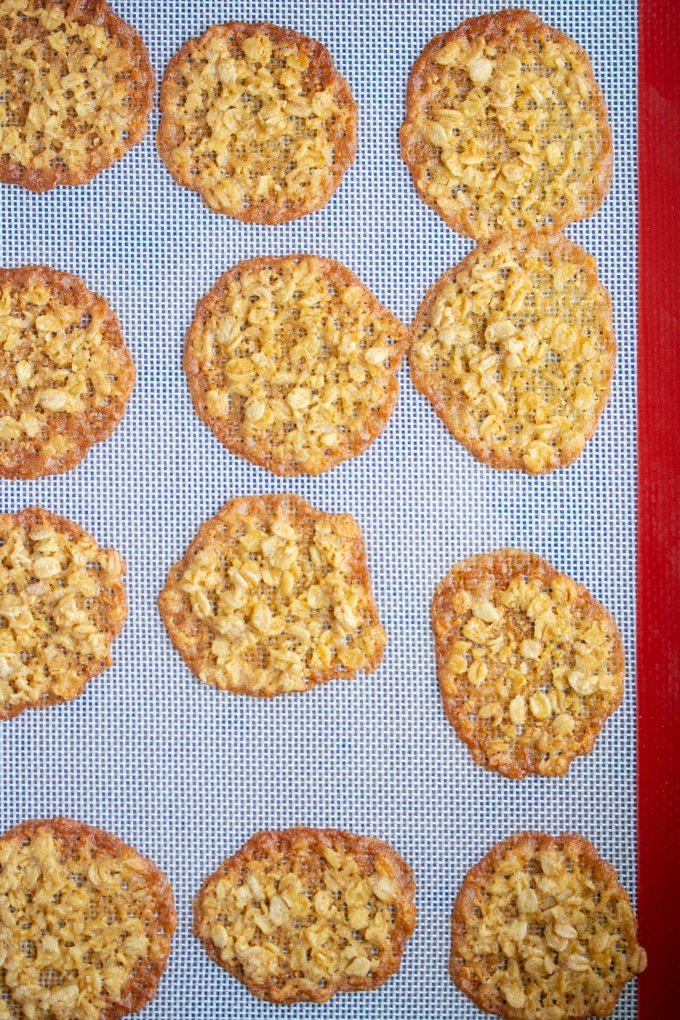 Can you freeze Lace Cookie Dough?
I've never tried to freeze these but my research says it won't hold up well. This article on how to freeze cookie dough will be helpful on deciding which cookie doughs freeze the best. But for these, I'd make them fresh.
Storing Lace Cookies?
Store cookies in an airtight container for up to a week.
I hope you enjoy this cookie recipes as much as we do. Looking for more cookie recipes? Try these out:
Sharing is caring!