Sharing is caring!
Fall baking just got easy with these delicious pumpkin cookies! Made with just 3 ingredients, it takes minutes to make up a big batch for the whole family to enjoy. I know you are going to love these!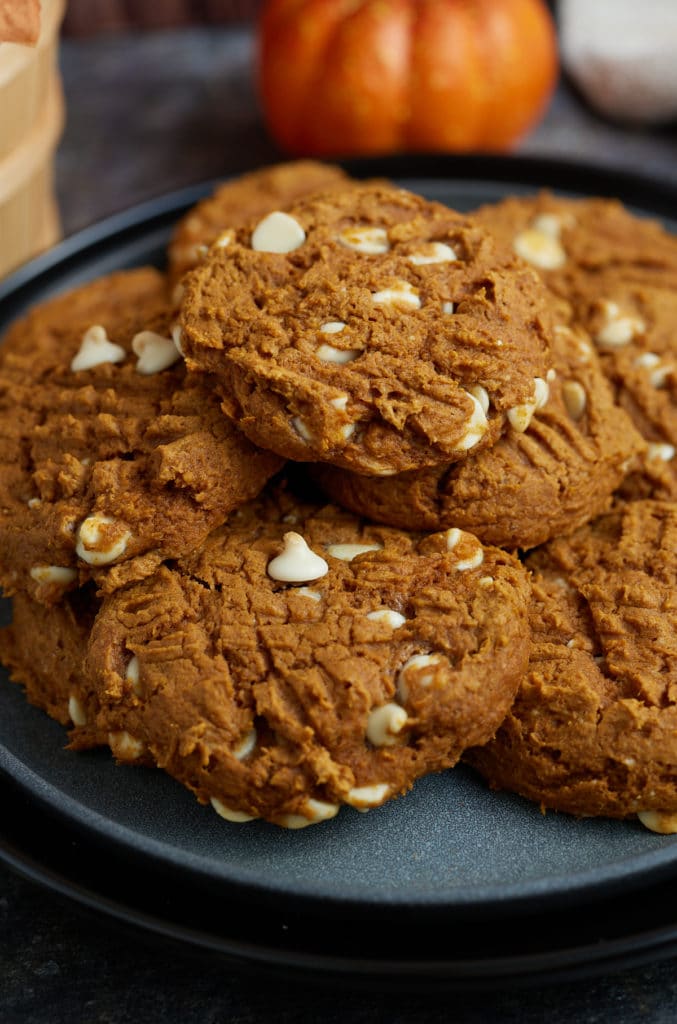 This post contains affiliate links, please read my full disclaimer here.
Full Recipe Ingredients/Instructions are available in the
recipe card at the bottom of the post.
You can find important tips/tricks in the
blog post.
Let's get the fall baking off to a tasty start with these delicious and easy 3 ingredient pumpkin cookies! So simple to make, this is a great recipe to get the kids to help you out in the kitchen!
These pumpkin spice cookies are made with white chocolate chips for a perfect treat that the whole family will love. Made with a box cake mix and pumpkin puree, they come together in minutes. Even the most novice of bakers will easily master these!
Be sure to try my Pumpkin Pie and Pumpkin Waffles too!
How to make easy pumpkin cookies
Preheat the oven to 350 Fahrenheit.
Prepare a baking sheet with parchment paper or silicone liner. Set aside.
Add the cake mix and pumpkin puree to a bowl.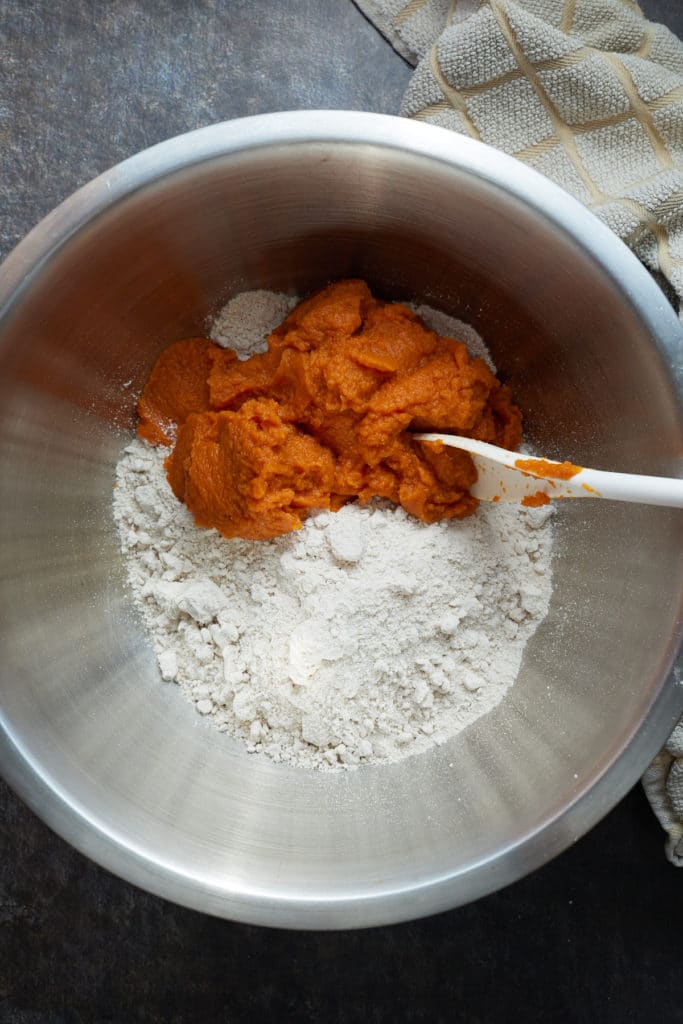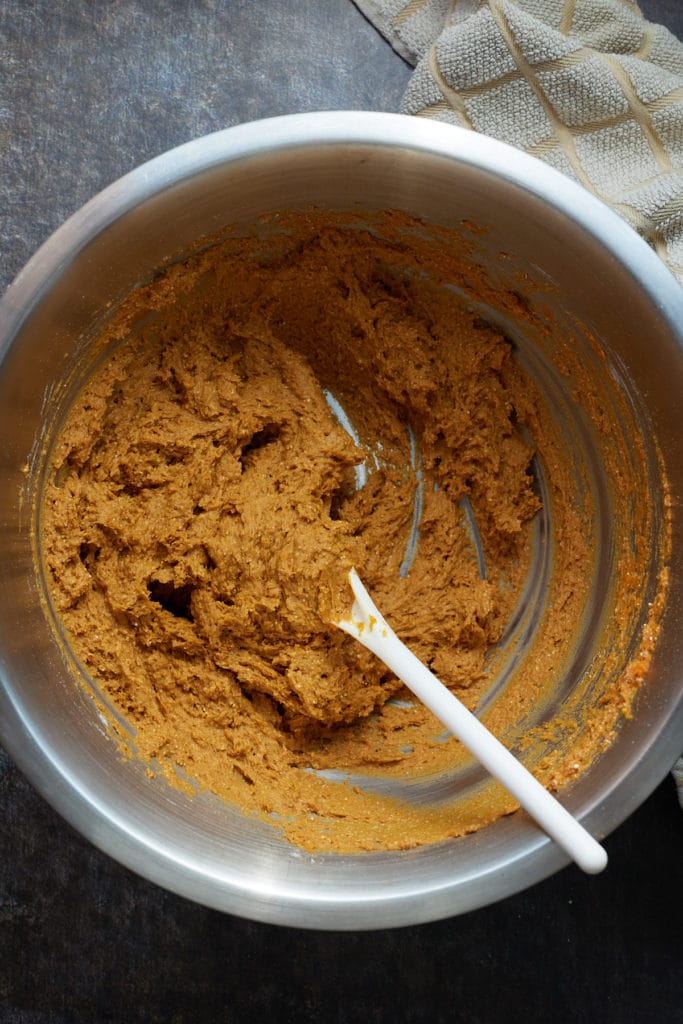 Then fold in the chocolate chips.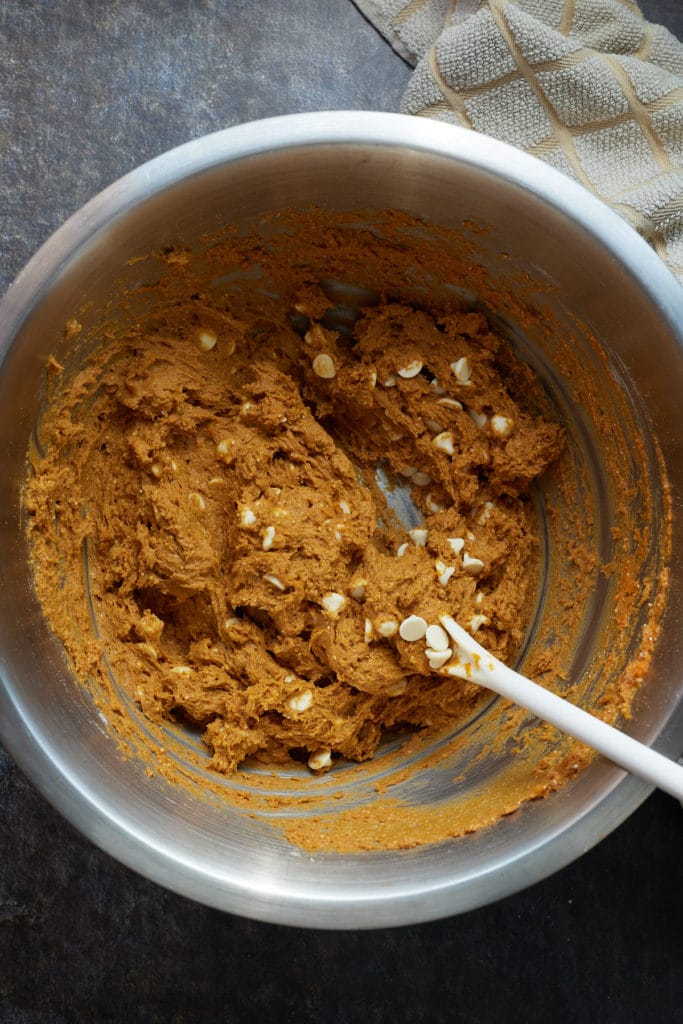 Place dough on a cookie sheet by rounded Tablespoons, about 2 inches apart. Spray the top of the cookies with cooking spray if using.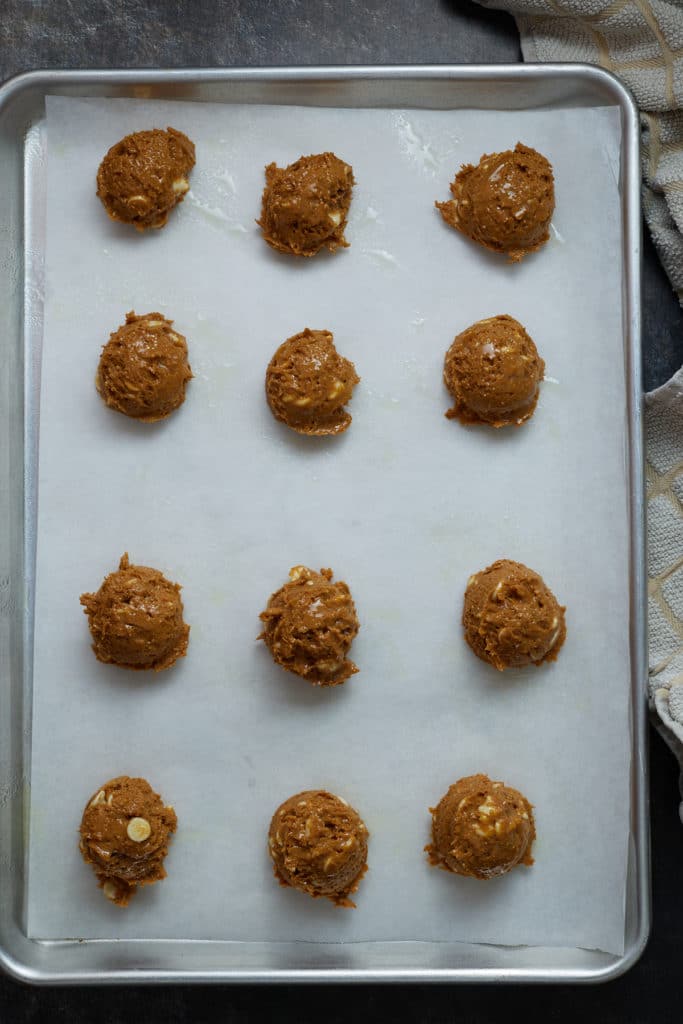 Lightly flatten each cookie with the back of a fork or some parchment paper. I spray the cookies with cooking spray if using a fork, so the fork doesn't stick to the dough.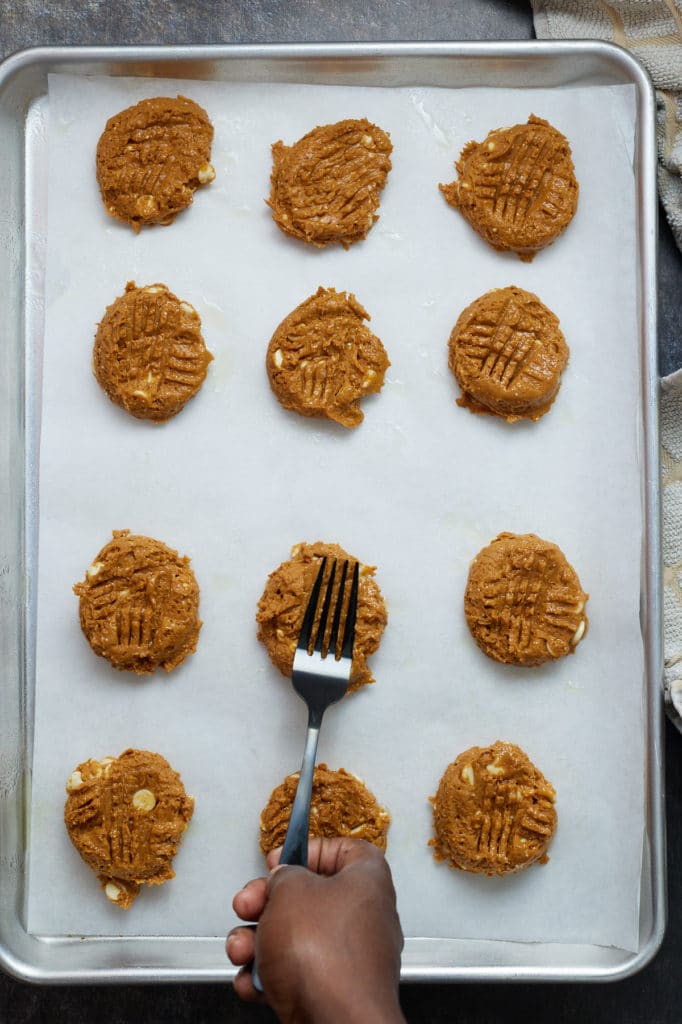 Bake in the preheated oven for 15-17minutes, until cookies are set. Remove from the oven and allow to cool on the pan for about 5 minutes. Transfer cookies to a cookie sheet and continue to cool.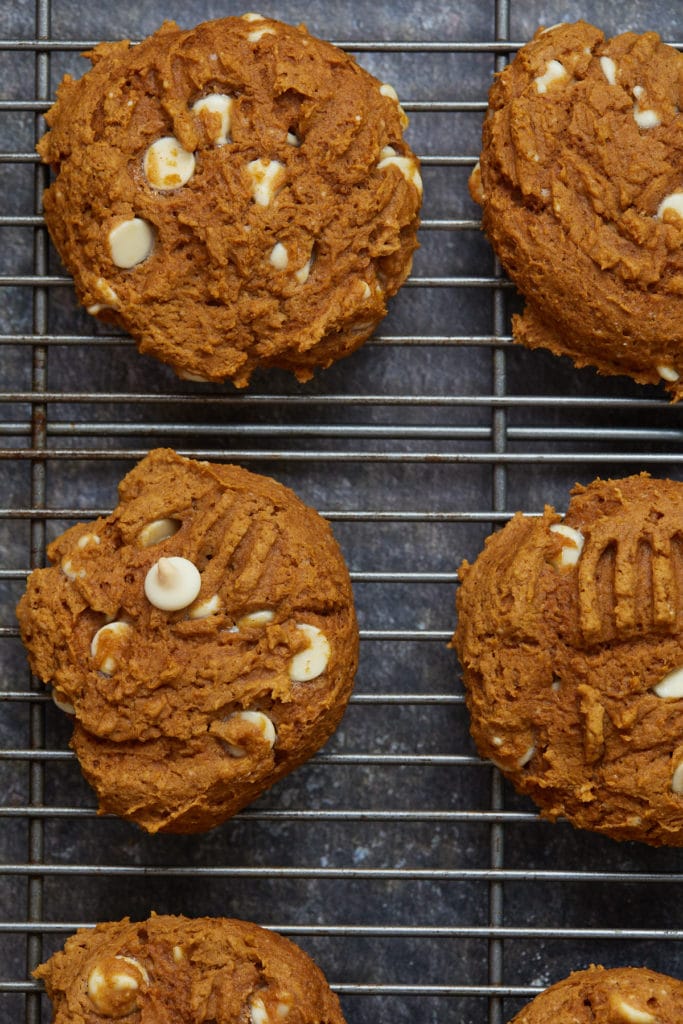 How long do they keep?
These pumpkin cookies will keep well for around 3 to 4 days. Let them cool completely before placing them in an air-tight container at room temperature. They will keep well in the fridge for around 5 days, and if keeping this way, I like to allow them to sit at room temperature for 20 minutes before enjoying.
Can you freeze them?
Yes, these cookies freeze really well! Place the cooled cookies on a baking sheet and freeze them solid before transferring them to a freezer bag or container. They will keep well for up to 3 months and you can allow them to thaw at room temperature for a couple of hours before devouring!
Recipe Variations
These easy 3 ingredient pumpkin cookies are delicious as they are, but you can easily mix things up! I love these with white chocolate chips, but you can use milk or dark if you prefer. If you are a chocolate lover, you could even finish them with a drizzle of melted chocolate.
I made these with a spiced cake mix to get that signature fall flavor, but you could use a plain cake mix and add in some of my homemade pumpkin spice.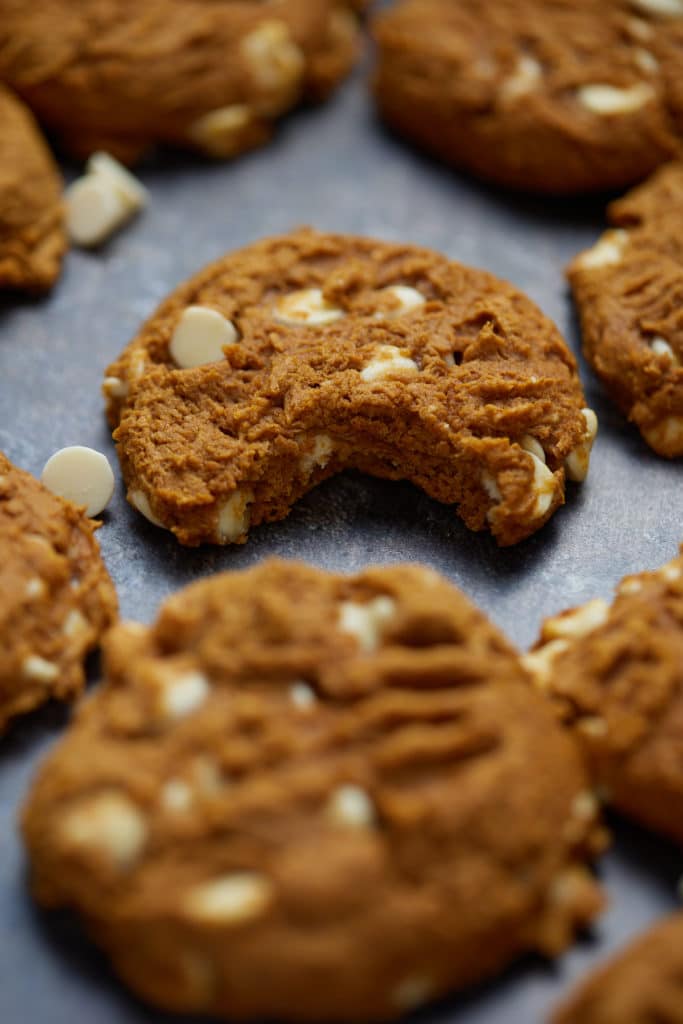 Recipe Notes and Tips
Make sure that you combine the pumpkin and cake mix really well, it should be nice and smooth before you add the chocolate chips.
Use a canned pumpkin puree for this recipe. Homemade puree can often be too watery to make these. Use a pure puree rather than one with added sweeteners or spices.
Make sure that your oven is fully pre-heated so that the cookies bake through evenly.
Allow the cookies to fully cool before serving or storing.
These cookies don't spread much while baking, so make sure to flatten them a little before placing them in the oven. The cooking spray in this recipe is optional. Use it to lightly oil the top of the cookies before flattening them with a fork. In the alternative, you could use parchment paper.
More Cookie Recipes
Watch this video tutorial and see how I make these pumpkin cookies from start to finish.
Sharing is caring!