This Healthy General Tso's Chicken Recipe is still fried but "fried" in the air fryer and can be made in less than 30 minutes. Top it with the amazing general tso's sauce for an easy and quick weeknight dinner.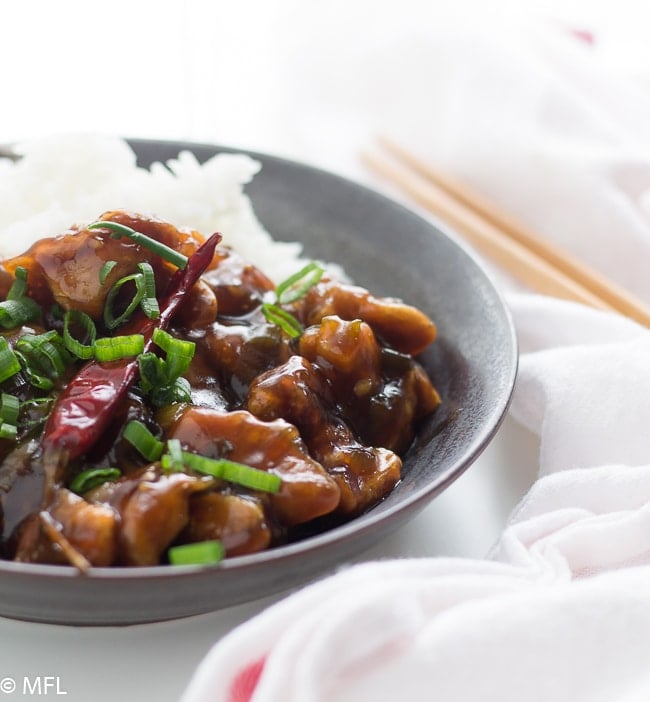 This post contains affiliate links, please read my full disclaimer here.
Full Recipe Ingredients/Instructions are available in the
recipe card at the bottom of the post.
You can find important tips/tricks in the
blog post.
I have a few rules when it comes to General Tso's chicken. It must have crunch, it must have a little spice, and it must be saucy! At least that was my experience the first time I tried this dish.
It was almost 10 years ago when I first had it at a restaurant in Durham, NC during law school. I first tried this dish during a study break with friends and I fell in love.
It was also during this study break that I bit into one of the hot peppers that comes in the dish and I couldn't breathe for a good minute. The peppers are not to be eaten, the peppers are not to be eaten. I wish I knew that before I took a bite.
Despite the incident with the pepper, the dish was delicious. The chicken had the perfect crunch and the sauce was a perfect combination of sweet and salty. The depth of flavor was amazing. It's a dish that I came to love and recreate in my kitchen quite often.
Initially, my general process when creating general Tso's chicken was to batter and fry the chicken pieces until crunchy and then coat them in my sauce.
Although delicious, it became a bit cumbersome for weeknight dinners. My deep fryer broke which was a bummer and the time it took to heat oil on the stovetop just didn't fit into my tight schedule for weeknights.
So one night when my daughter requested this for dinner, a light bulb clicked in my head and I found that my Air Fryer would be the perfect fix. It became a win win because the air fryer cut the time it took to prepare the general tso chicken recipe but it also became my new healthy general tso chicken recipe since I needed no oil to fry it.
I initially purchased my air fryer to deal with a pregnancy craving I had for french fries. Well to be fair, I always crave french fries so I shouldn't blame that on pregnancy. Either way, I use my air fryer for much more than french fries and I am excited to share with you all the recipes I create in this amazing appliance.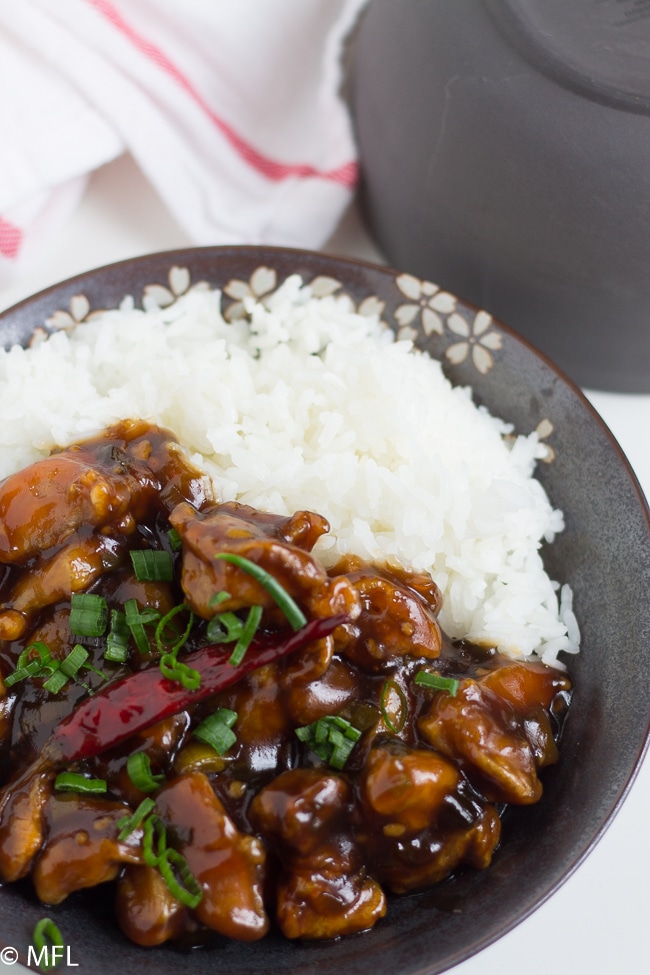 What is an Air Fryer?
So what's an air fryer you may ask? In general, it's an appliance that recreates fried foods without actually frying the food in tons of oil. It also roasts and bakes food but its main claim to fame is the fact that it can give the same texture as fried foods without using a ton of oil.
It's a healthier option for home cooks who desire the delicious crunch that comes with fried foods but not the delicious calories and fat. It also tends to have a quicker cook time than many foods that are typically baked in the oven.
With help of my air fryer, I create this dish in less than 30 minutes. That's right, I use the air fryer to prep my chicken and I create my sauce while that's going.
There are a few tips and tricks to make this recipe a success. For one, you will want to coat your chicken pieces in potato starch. It's a tip I picked up from This Old Gal. It provides the perfect crunch for the chicken pieces without changing the taste profile.
You will also want to make sure that your air fryer basket is properly oiled. I just put a little olive oil on a paper towel and rub it all over the bottom of my basket. That way the chicken pieces won't stick when frying. This is the only oil you will need for frying the chicken pieces in this recipe. How awesome is that?!?
The last tip is to shake the air fryer basket about every 5 minutes when cooking. This will ensure that your chicken pieces are evenly cooked and crisp.
The beauty of this dish is that while your chicken pieces are cooking in the air fryer, you can work on creating your sauce on the stovetop. Dump the chicken pieces into the sauce when they are done cooking for the perfect weeknight dinner.
I like to serve our healthy general tso chicken recipe with a side of white rice I make in my Instant Pot. For veggies, I serve with steamed or air fried broccoli.
I hope you enjoy this healthy General Tso Chicken recipe in the air fryer as much as we do.
Looking for other Healthy Air Fryer Recipes? Try these out…
Healthier General Tso's Chicken Recipe
This healthy General Tso's Chicken Recipe is still fried but "fried" in the air fryer and can be made in less than 30 minutes. Top it with the amazing general tso sauce for an easy and quick weeknight dinner.
Ingredients
1.5-2

lbs

chicken thighs, boneless and skinless

cut into bite sized pieces

1/3

cup

potato starch

1

Tablespoon

vegetable oil

6

dried red chillies

3

green onions

chopped

2

teaspoon

garlic

minced

1

teaspoon

ginger

minced

3/4

cup

brown sugar

1/2

cup

chicken broth

1/2

cup

soy sauce

2

Tablespoon

rice vinegar

1

teaspoon

sesame oil

1

pinch of salt

2

teaspoon

corn starch

1/4

cup

water
Instructions
Set Air Fryer to 400 degrees Fahrenheit. Coat chicken thighs with potato starch making sure all pieces are fully covered. Use tongs to place chicken pieces in Air Fryer basket. Cook chicken pieces for 20-25 minutes until crispy, shaking basket every 5 minutes.

Meanwhile, prepare sauce by heating vegetable oil in skillet over medium-high heat. Once hot, add green onions, dried chilies, garlic, and ginger and stir fry for about 1 minute, until chillies brighten in color and onions have softened.

Add brown sugar, chicken broth, soy sauce, rice vinegar, sesame oil, and pinch of salt to the skillet and stir. Bring to a boil and cook for about 3 minutes.

Once chicken in air fryer is finished, add to sauce and stir in.

Create a thickener by whisking 2 teaspoons of corn starch in 1/4 cup cold water. Stir into boiling sauce and allow to cook for about 1 minute, until sauce has thickened.

Serve with rice and vegetable and Enjoy 🙂
Notes
Note for Healthy General Tso's Chicken Recipe
Break a few of the chills peppers in half before adding to skillet for a spicier dish.
Suggested Tools for Healthy General Tso's Chicken Recipe
I have this Air Fryer
You will want to coat chicken with Silicone Kitchen Tongs
so coating stays on chicken when mixing and transferring to air fryer.
A skillet
for making the sauce on the stove top.
Some Ingredients You Will Need
Dried Red Chillies
Potato Starch
Nutrition
Subscribe to my YouTube
Subscribe to my YouTube Channel for full length recipe videos. Click the bell icon to be notified when I upload a new video.
Although myforkinglife.com attempts to provide accurate nutritional information, these figures should be considered estimates. Varying factors such as product types or brands purchased, natural fluctuations in fresh produce, and the way ingredients are processed change the effective nutritional information in any given recipe. Under no circumstances will myforkinglife.com be responsible for any loss or damage resulting for your reliance on nutritional information.
Step by Step Photos of Healthy General Tso Chicken Recipe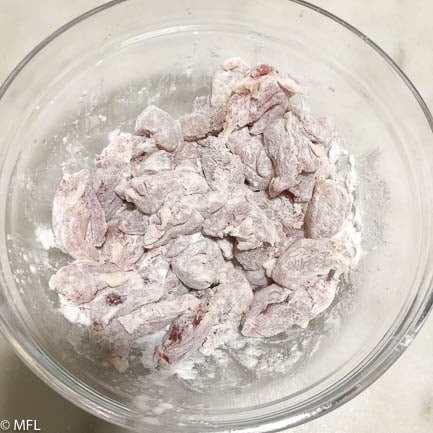 Want more Chinese recipes? Try my Zucchini Mushroom Chicken Recipe.
Pin Healthy General Tso's Chicken Recipe for Later