When it comes to S'mores, you don't need a campfire when you have an Air Fryer. Here's how to make Indoor S'mores in an Air Fryer.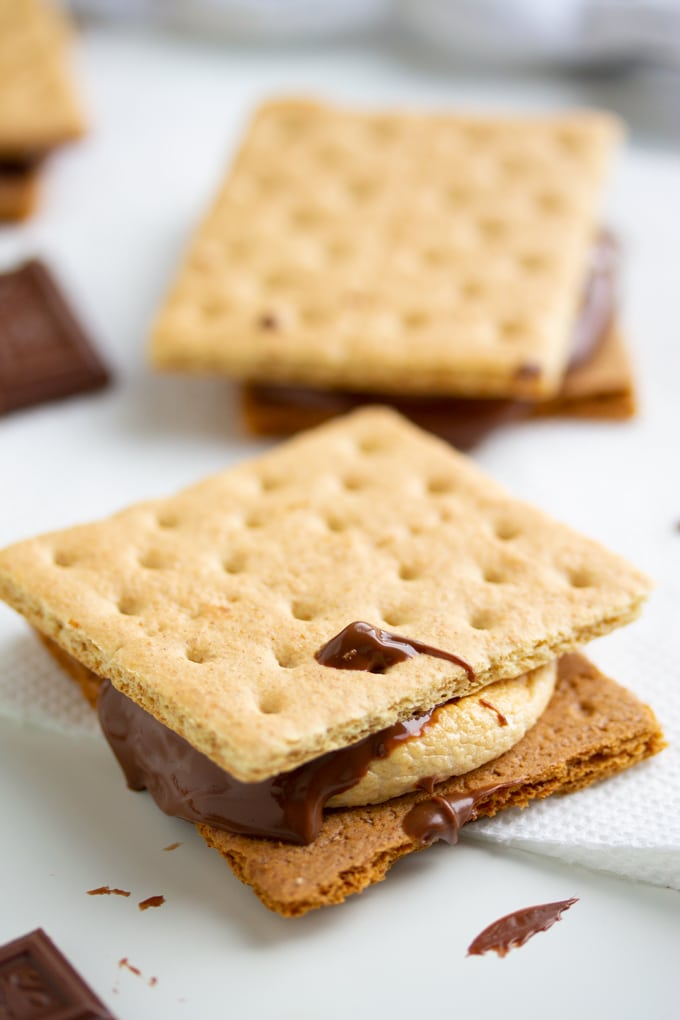 This post may contain affiliate links, please read my full disclosure here.
Full Recipe/Instructions are available in the
recipe card at the bottom of the post.
You can find important tips/tricks in the
blog post.

I love chocolate desserts. From brownies, to hot chocolate, to cookies with chocolate in them…Chocolate is my weakness. Now when you add Graham Crackers and a roasted marshmallow…I'm in Bliss!
Yes my friends, I'm talking about delicious s'mores. The wonderful campfire treat that involves roasting a marshmallow over an open fire and them smashing it between two graham crackers and a piece of chocolate.
I have days when I'm craving this campfire dessert. But in no ways am I going outdoors to create a fire to roast two marshmallows. That's where my air fryer comes into play and these air fryer s'mores come to life.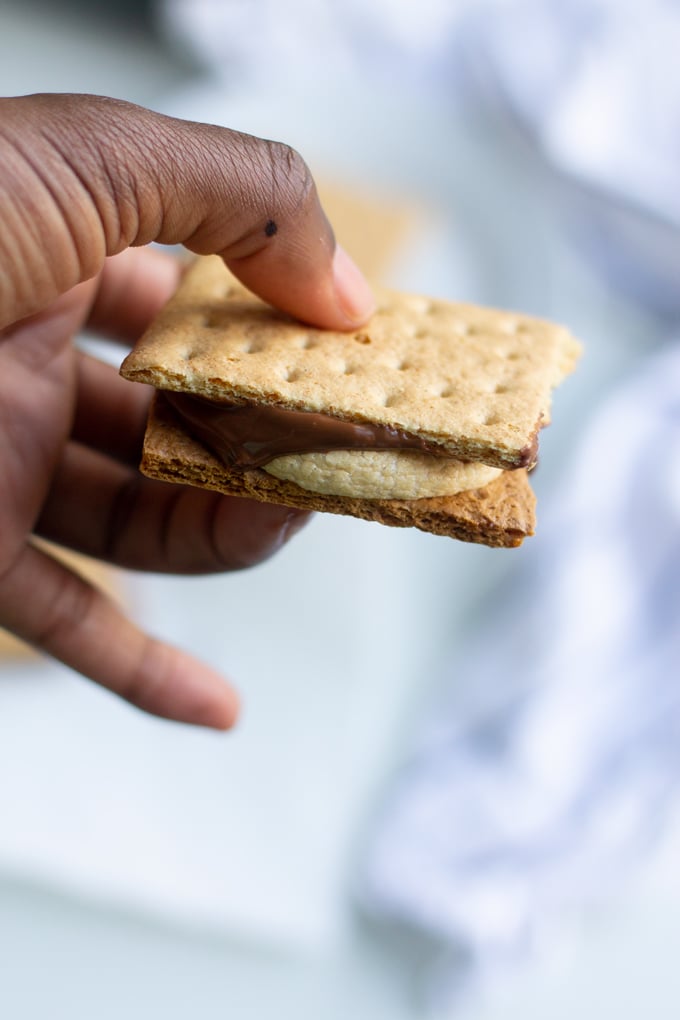 How to make S'mores Indoors in an Air fryer
First, you'll grab a few Graham Crackers and snap them in half and lay them in the bottom of your Air Fryer. For this recipe, I use my Ninja Foodi Pressure Cooker/Air Fryer to make these s'mores. I actually tried them in my Phillips Avance XL Air Fryer and I found that my graham crackers moved around a bit. My guess is that the fan in my Phillips is super strong.
Then I grab medium sized marshmallow and break them half. I then place the sticky side of the marshmallow on the graham cracker sides. That way, my marshmallows stick to the graham crackers and won't blow away during the air cooking cycle.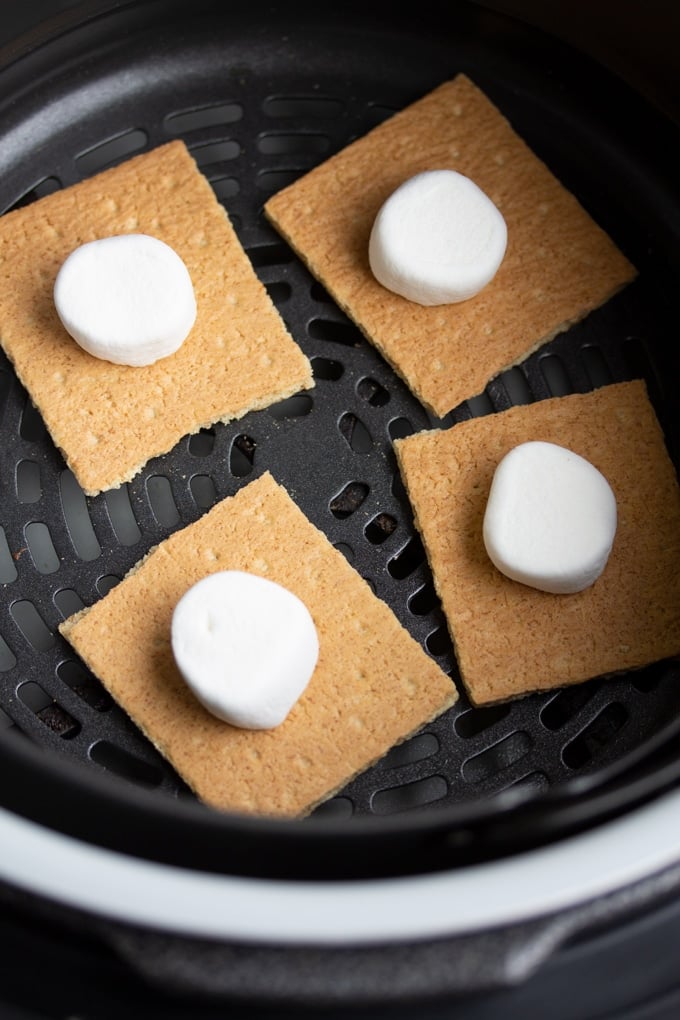 Then I close my Air Fryer and cook on 390 degrees Fahrenheit for 5-7 minutes. I found that in my Ninja Foodi, I have to cook around 7 minutes to get a nice roast on the marshmallow but it's only about 5 minutes in my Phillips. I'd recommend checking for brownness after 5 minutes.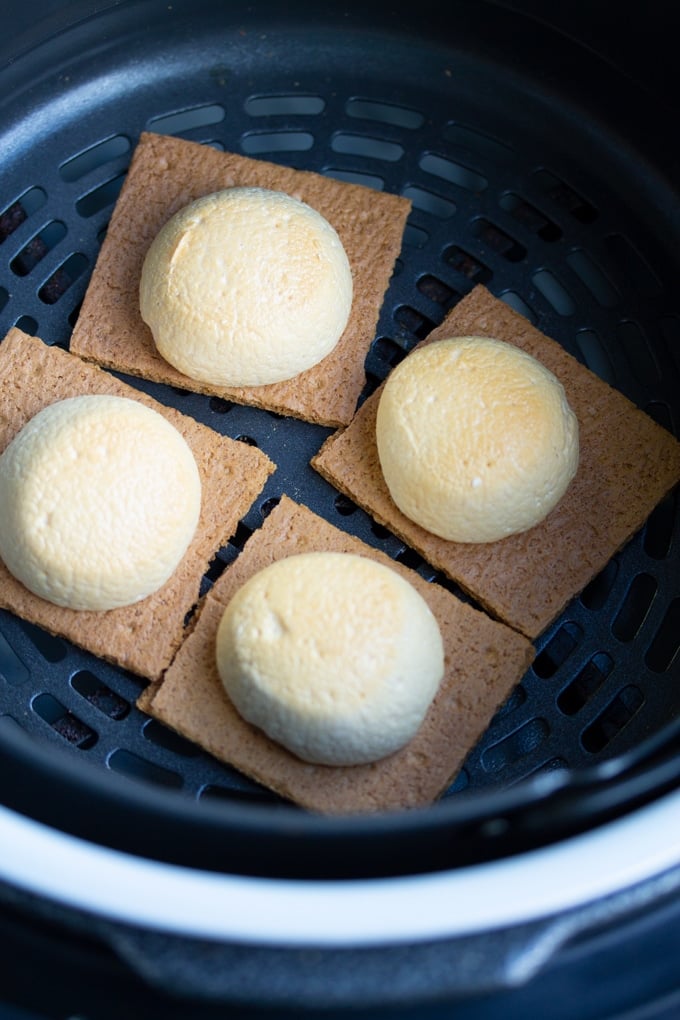 Once your marshmallows are nice and roasted, place a piece of chocolate on top, followed by the other side of the Graham cracker.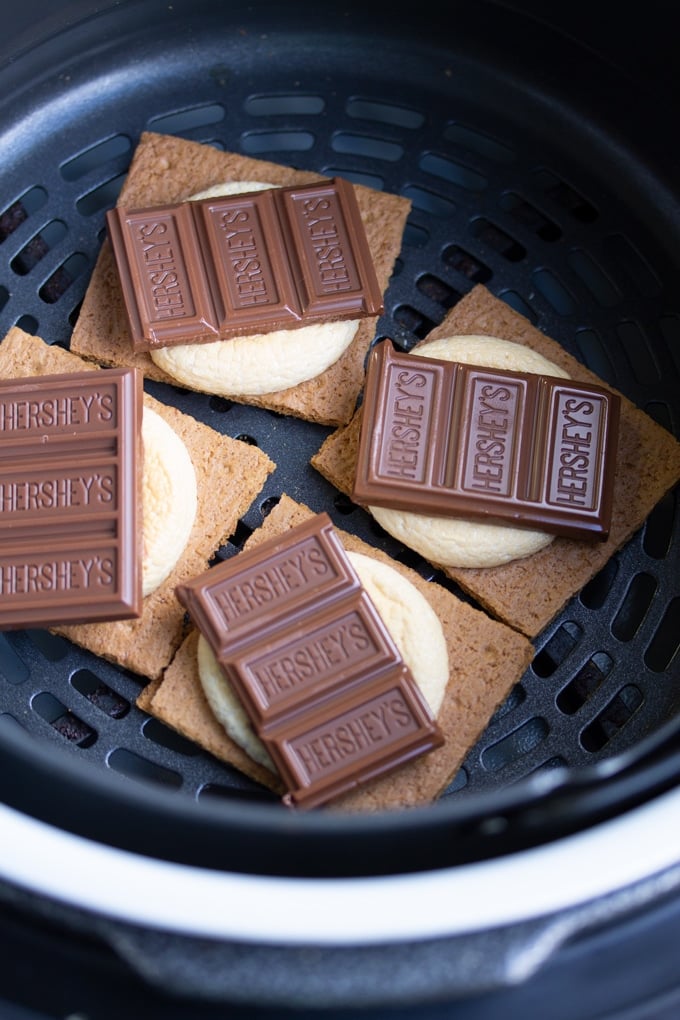 The warmth of the marshmallow will melt the chocolate. Take a bite and enjoy 🙂
Notes on Air Fryer S'mores
Different brands and sizes of Air Fryers cook differently. Some marshmallows will roast quicker than others depending on the air fryer. I recommend checking your s'mores after 5 minutes. They are done when the tops are a nice brown color.

We made these by adding the chocolate before the air frying cycle and after. My 10 year old taste tester and I decided that the chocolate was best added after.
Pin Air Fryer S'mores for Later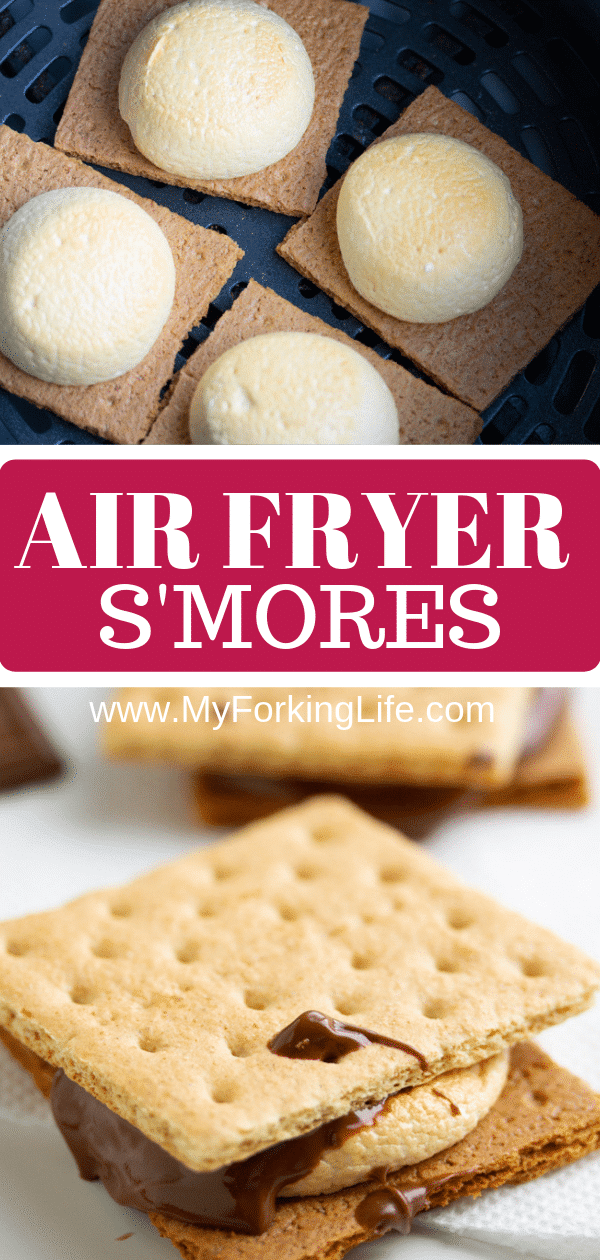 If you like this s'mores recipe, check out my Air Fryer Brownies, Air Fryer Cinnamon Sugared Pecans, or these Chocolate Molten Lava Cakes made in the air fryer.
Watch this video tutorial and see how I make these s'mores from start to finish.
Air Fryer S'mores
Who needs a campfire when you have an Air Fryer to make these delicious S'mores.
Ingredients
2

Graham Crackers

broken in half

2

marshmallows

broken in half

2

small pieces of chocolate
Instructions
Place Graham cracker halves in bottom of Air fryer.

Take sticky side of broken marshmallow and place it on the Graham Cracker, pushing down a little so it sticks to the cracker.

Close Air Fryer and cook on 390 degrees Fahrenheit for 5-7 minutes, or until the tops of the marshmallows are a nice golden color.

Once done, add a piece of chocolate on top of the marshmallows, followed by the other half of the graham cracker. Enjoy 🙂
Notes
Overall cook time will change depending on the air fryer size and model. Check on s'mores after about 3 minutes.
Please make sure to break marshmallows in half and place the sticky side on the graham cracker so the marshmallows don't fly off. It'll be the glue you need to stop them from flying around.
These S'mores were made in the Ninja Foodi Air Fryer.
Nutrition
Calories:
249
kcal
|
Carbohydrates:
29
g
|
Protein:
3
g
|
Fat:
13
g
|
Saturated Fat:
7
g
|
Sodium:
103
mg
|
Potassium:
224
mg
|
Fiber:
3
g
|
Sugar:
13
g
|
Calcium:
31
mg
|
Iron:
3.9
mg
Subscribe to my YouTube
Subscribe to my YouTube Channel for full length recipe videos. Click the bell icon to be notified when I upload a new video.
Although myforkinglife.com attempts to provide accurate nutritional information, these figures should be considered estimates. Varying factors such as product types or brands purchased, natural fluctuations in fresh produce, and the way ingredients are processed change the effective nutritional information in any given recipe. Under no circumstances will myforkinglife.com be responsible for any loss or damage resulting for your reliance on nutritional information.