This Copycat Rice a Roni recipe is even better than the boxed version. Make it in the Instant Pot for a hands off quick, easy, and healthier side dish.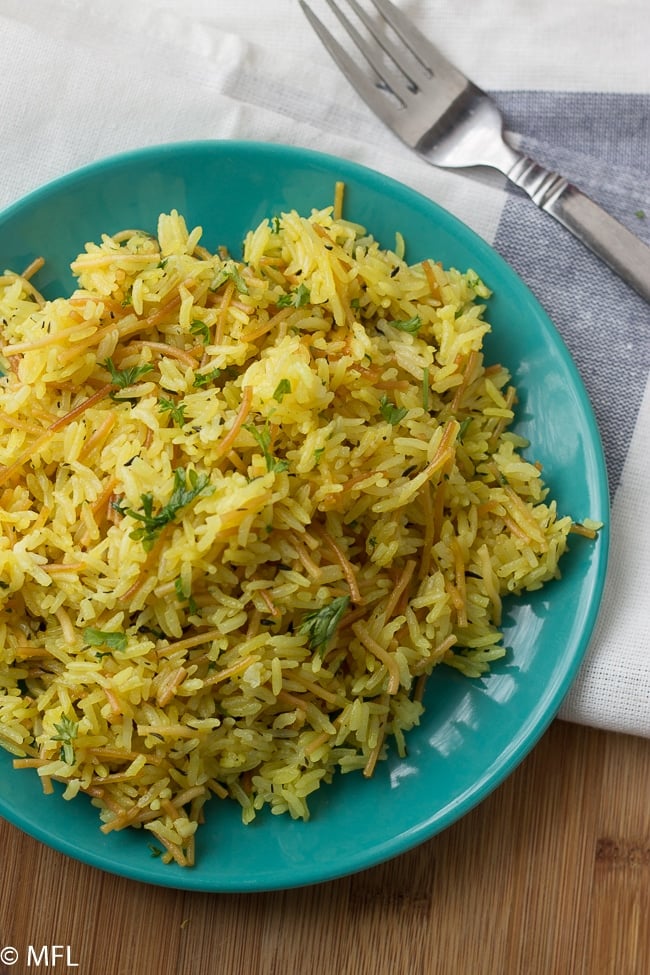 This post contains affiliate links, please read my full disclaimer here.
Full Recipe Ingredients/Instructions are available in the
recipe card at the bottom of the post.
You can find important tips/tricks in the
blog post.
You ever have a random craving for a meal from your childhood? Happens to me quite often. I'll be thinking of what to create in my kitchen and I'll get a sudden urge for a dish I hadn't had in years. That's how it was when it came to this Rice a Roni.

Even as an adult, I used to buy the flavored rice and pastas from the dried goods section of the supermarket. Once I realized that these things were full of sodium and other no no ingredients, I stopped buying them.
As a matter of fact, I discovered that it was much easier and cheaper to make flavored rice out of ingredients I already had in my pantry.
Hence this homemade copycat rice a roni was born. I recall the first time I made it to go along with a delicious steak dinner I made for hubby and myself. Apparently he used to eat rice a roni as a kid too and loved it. So I made this copycat rice a roni, plated it beside a delicious steak and asparagus dinner, and waited for the verdict.
Initially, he thought it came from the box and he claimed I doctored it up somehow because it tasted so delicious. He was in shock when I told him it wasn't from a box. As a matter of fact, he didn't believe me, still doesn't believe, and always looks in the trash for a rice a roni box as evidence when I make it.
I tend to make all my rice in my Instant Pot now and this copycat rice a roni is no different. Reason being is that with the right ratio, rice cooked in the pressure cooker always comes out perfect. I tend to walk away and forget to lower the stove when it comes to stove top rice. The pressure cooker allows me to place my ingredients in the pot, set my timer, and go on to the rest of my meal. Perfection and no more burned rice bottom.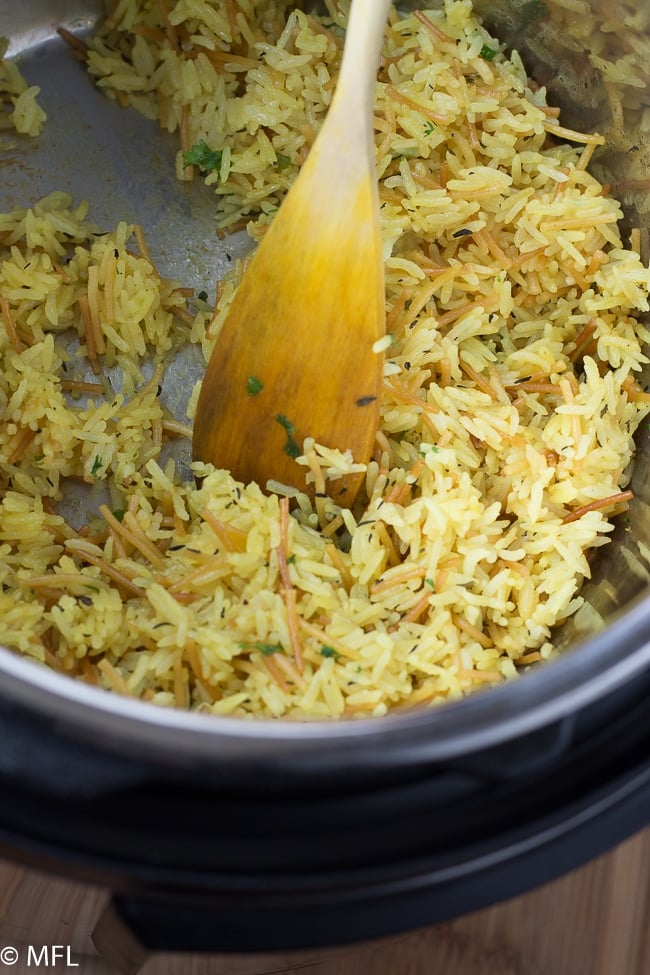 The great thing about this rice a roni is that you can prep the majority of the ingredients ahead of time. No need for a rice a roni seasoning packet when all the dry herbs and spices are in your cupboard. The only herb in this recipe that isn't dried is the parsley. Dry parsley can be substituted but fresh parsley is so much better.
I hope you enjoy this homemade copycat rice a roni as much as we do. I hope your family believes you when you tell them it's not from the box. As always, Enjoy 🙂
Looking for more Instant Pot recipes with rice? Try these out:
Instant Pot Chicken and Rice (Halal Cart Copycat)
Instant Pot Rice and Beans (Jamaican Style)
Or Find All of My Pressure Cooker Recipes Here.
CopyCat Rice a Roni in the Instant Pot
Copycat Rice a Roni is the perfect side dish for your dinner table.
Ingredients
2

Tablespoon

butter

2

oz

thin spaghetti noodles

broken into small pieces

1

cup

long grain white rice

1 1/4

cup

chicken broth

½

teaspoon

dry thyme

½

teaspoon

minced dry onion

½

teaspoon

garlic powder

½

teaspoon

salt

¼

teaspoon

turmeric

1

Tablespoon

fresh parsley*

chopped
Instructions
Combine dry thyme, minced dry onion, garlic powder, salt, and turmeric. Set aside.

Set pressure cooker to sauté. Once Hot, add butter and let melt. Once melted, add thin spaghetti noodles and stir until toasted, about 2 minutes.

Add rice and stir for about 30 seconds, until slightly toasted.

Add spice mixture and chicken broth and stir, ensuring that there are no pieces stuck to the bottom. Turn off sauté mode on pressure cooker and set pressure cooker on Manual mode for 8 minutes. Cover pressure cooker, making sure valve is set to sealed.

Once pressure cooking time is done, allow to natural release for 10 minutes, then quick release any remaining pressure by moving valve to "venting"

Open lid and add chopped parsley. Fluff with fork and Enjoy!
Notes
Make sure there are no dry bits stuck to the bottom of the pot. This could result in that annoying "burn" signal some pressure cookers give off. Once you add your broth, stir with a wooden spoon to ensure there is no food stuck to the bottom.
Basmati rice can be substituted for the long grain.
I always rinse my rice under cold water before cooking. I started doing it out of habit because mama taught me that way. It yields a much fluffier non sticky rice.
*If subbing dry for fresh parsley, reduce amount to 1 tsp.
Nutrition
Subscribe to my YouTube
Subscribe to my YouTube Channel for full length recipe videos. Click the bell icon to be notified when I upload a new video.
Although myforkinglife.com attempts to provide accurate nutritional information, these figures should be considered estimates. Varying factors such as product types or brands purchased, natural fluctuations in fresh produce, and the way ingredients are processed change the effective nutritional information in any given recipe. Under no circumstances will myforkinglife.com be responsible for any loss or damage resulting for your reliance on nutritional information.
Step by Step Photos of Copycat Rice a Roni in Pressure Cooker
Pin Copycat Rice a Roni for later