This Creamy Instant Pot Risotto Recipe is flavored with mushrooms, parmesan, and a squeeze of lemon. It's so creamy and flavorful and easy in the Pressure Cooker.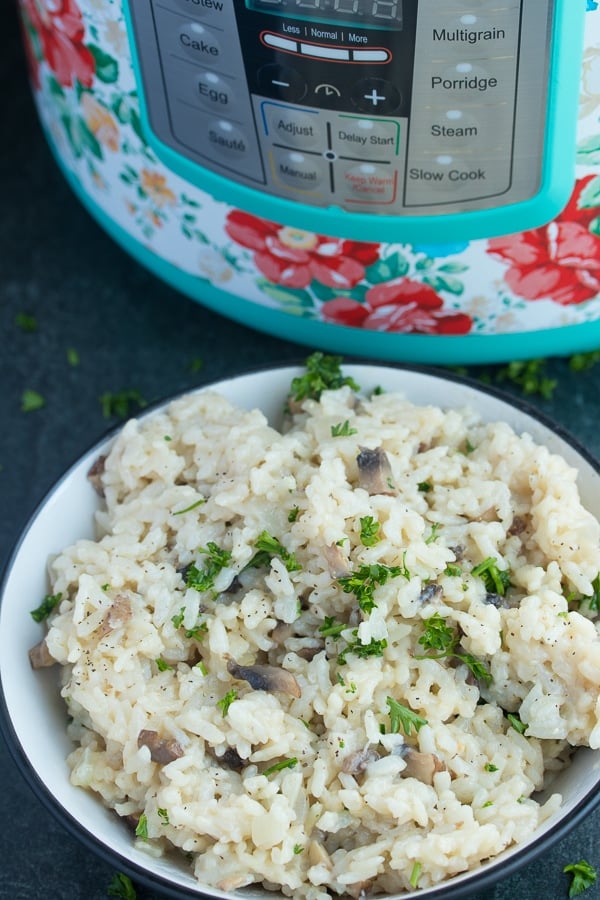 This post may contain affiliate links, please read my full disclaimer here.
Full Recipe/Instructions are available in the
recipe card at the bottom of the post.
You can find important tips/tricks in the
blog post.

It's no secret that the Electric Pressure Cooker makes some amazing rice dishes. I'm talking Cajun dirty rice, Jamaican rice and peas, and even Copycat Rice a Roni from scratch! I love making rice in my Instant Pot so it was about time I share this mushroom risotto recipe with you all.

I first had risotto when I took a trip to the Hamptons and a private chef made it for me and a group of friends. It was so smooth and creamy that I knew it was something I had to make at home. The only issue is when it comes to making traditional risotto, a whole lot of stirring is involved. It's just not something I feel like doing and I'm thankful the Pressure Cooker gets rid of that tedious step.
I've made all kinds of risotto in my pot, some calling for saffron, peas, or whatever other kinds of ingredients but this has to be my favorite. It's so simple and easy and full of flavor thanks to the mushrooms and broth.
How to make Instant Pot Mushroom Risotto
First, you'll need to mis en pase your ingredients and get the all ready to go. That means chopping your onions and mushrooms, mincing your garlic, and measuring out your rice and broth.
Then you'll need to set your Pressure Cooker to sauté and select the "More" setting. Once your display says "HOT", add your butter and allow it to melt, watching it so it does not burn.
Add your onions, mushrooms, and garlic and stir. I allow this to cook in the butter mixture for about 10 minutes, stirring occasionally. After 10 minutes, your onions and mushrooms should have softened and there should be a little but of liquid.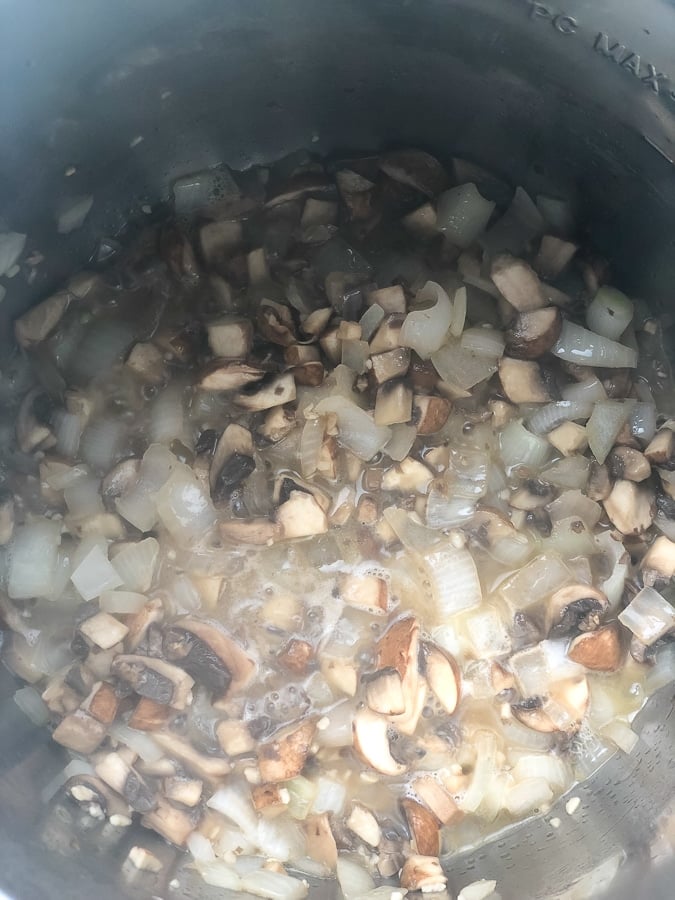 Add your rice and stir for about 20 seconds, until all of the rice is coated with the mushrooms, onions, and liquid in the pressure cooker.
Then add your chicken broth and salt and stir.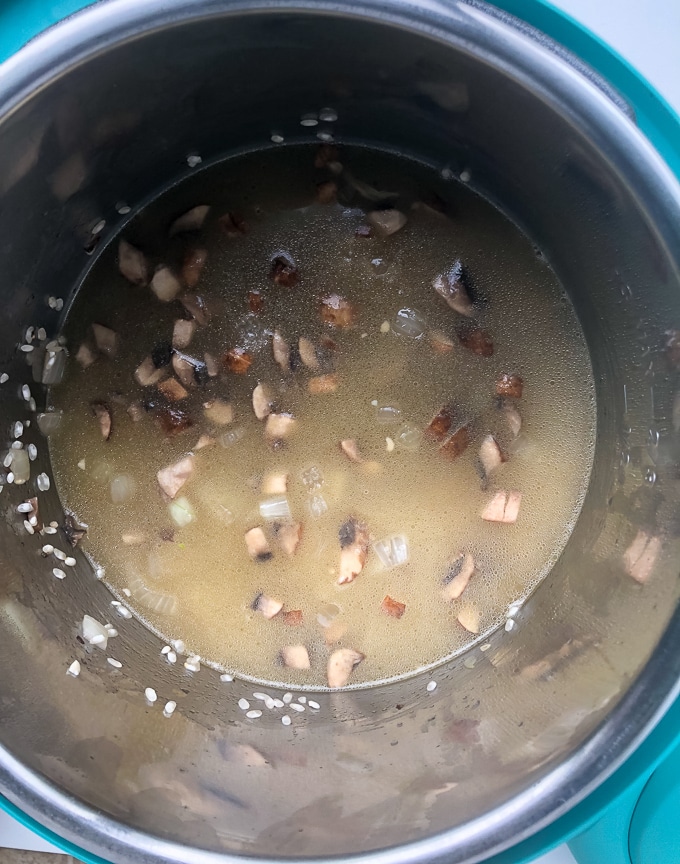 Press "Cancel" on the Pressure Cooker and cover your Pressure Cooker with the lid, ensuring the valve is set to "Seal."
Set your Pressure Cooker on High Pressure and for 6 minutes cook time. Once your 6 minute cook time is done, Press "Cancel" and quick release the pressure by moving the valve to "Vent".
Once all the pressure is released, remove the lid and stir. Add parmesan cheese and lemon juice and stir. Sprinkle with fresh parsley. Enjoy 🙂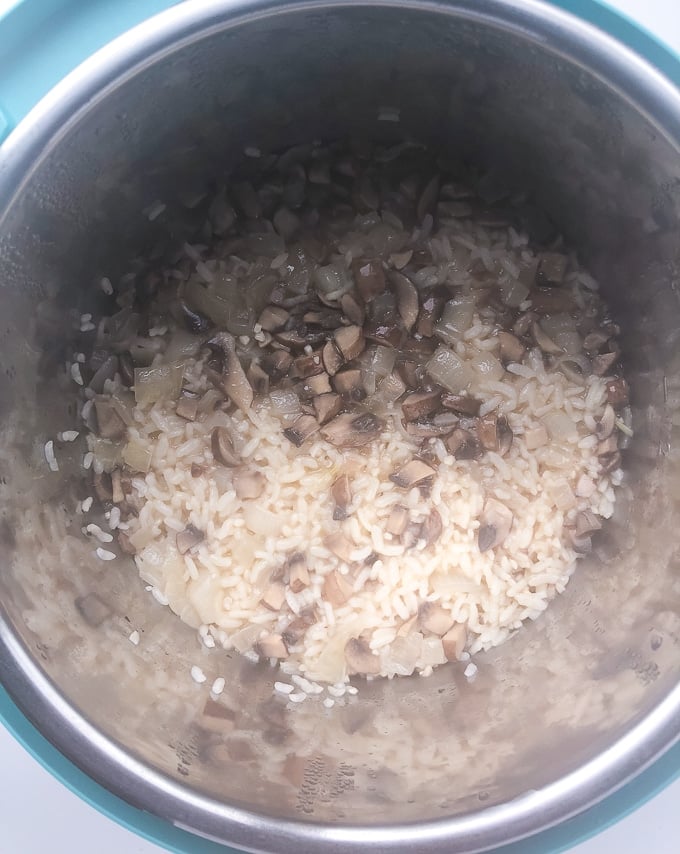 Pro Tips: I only use Arborio rice for risotto and I don't rinse it before using it in the pressure cooker. It gets the perfect results in my risotto.
If you don't like the rice, keep it out. I use this pressure cooker risotto recipe when I don't want to add the mushrooms.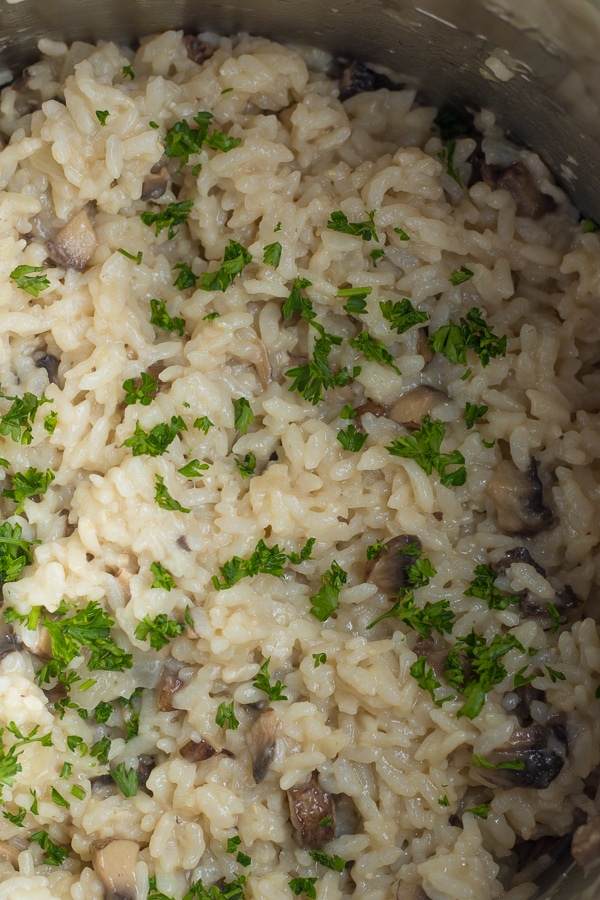 Looking for more Pressure Cooker rice recipes? Try these out:
Creamy Mushroom and Parmesan Instant Pot Risotto
This Creamy Instant Pot Risotto is so creamy and delicious without all the consistent stirring. The Pressure Cooker makes some amazing risotto and it's so easy.
rise to pressure
10
minutes
Ingredients
4

tbsp

butter

1

onion

chopped

8

oz

mushrooms

chopped

1

Tbsp

minced garlic

2

cups

Arborio rice

4

cups

chicken broth

½

tsp

salt

½

cup

grated parmesan

1

Tbsp

fresh lemon juice

Fresh parsley for garnish

Fresh cracked black pepper
Instructions
Select "Sauté" on your pressure cooker. Once the display reads "HOT" add butter and melt. Add onions, mushrooms, and garlic and stir until softened, around 8-10 minutes. Add rice and stir until rice is coated.

Add chicken broth and salt. Press "Cancel" on the Pressure Cooker. Cover the Pressure Cooker with the lid, ensuring that the valve is set to "Seal". Cook on High pressure for 6 minutes.

Once the 6 minute cook time is complete, quick release the pressure by moving the valve to "Vent"

Once all the pressure is released, open the lid and stir the risotto. Add Parmesan cheese and lemon juice and stir. Top with parsley and fresh cracked black pepper. Enjoy 🙂
Nutrition
Calories:
553
kcal
|
Carbohydrates:
86
g
|
Protein:
15
g
|
Fat:
16
g
|
Saturated Fat:
10
g
|
Cholesterol:
42
mg
|
Sodium:
1449
mg
|
Potassium:
500
mg
|
Fiber:
4
g
|
Sugar:
3
g
|
Vitamin A:
465
IU
|
Vitamin C:
22.3
mg
|
Calcium:
169
mg
|
Iron:
5.1
mg