These Air Fryer Meatballs are flavorful and perfect for your weeknight meals. Make them fresh or frozen in your Air Fryer in less than 15 minutes.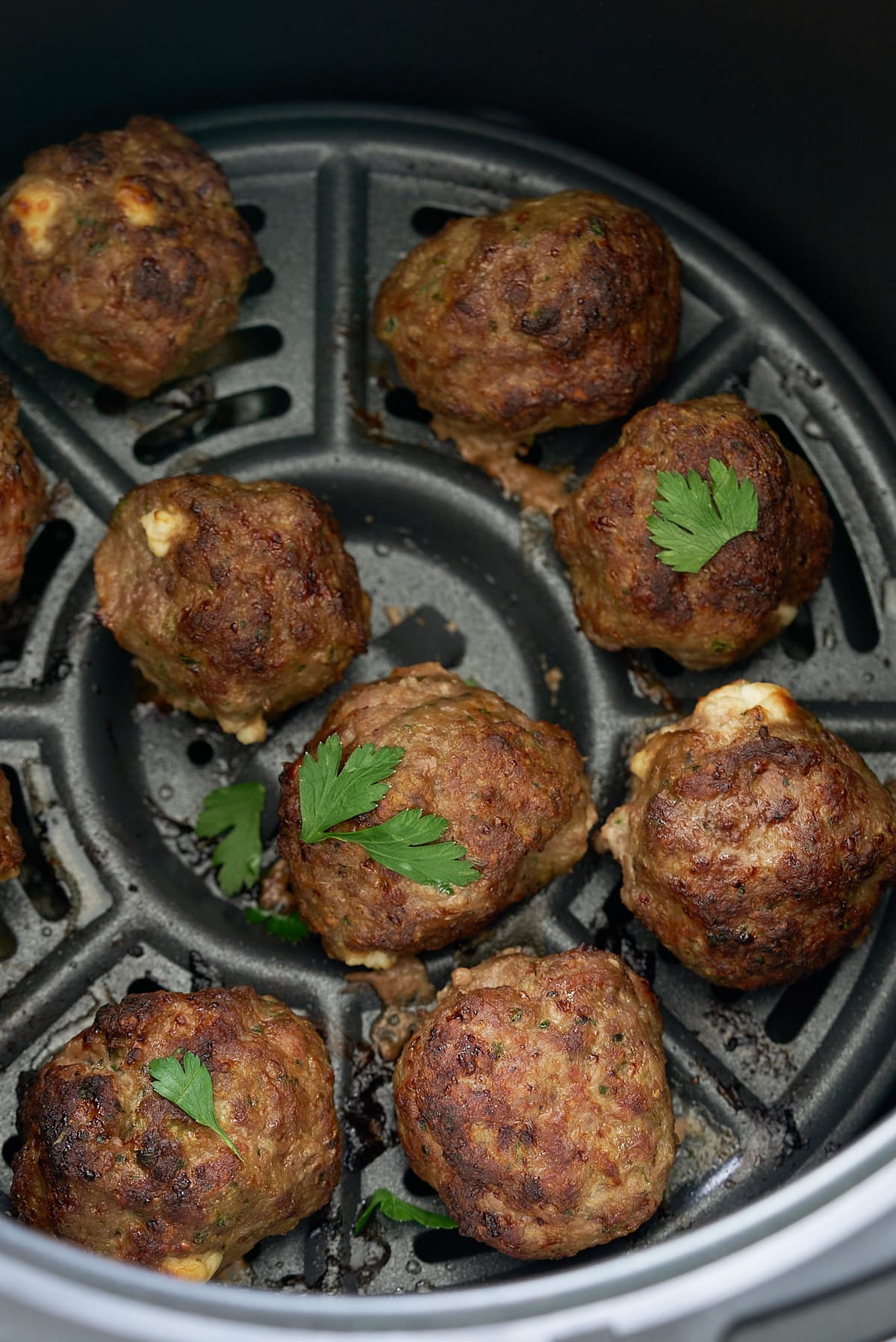 This post may contain affiliate links, please read my full disclaimer here.
Full Recipe/Instructions are available in the
recipe card at the bottom of the post.
You can find important tips/tricks in the
blog post.
Meatballs have quickly become a favorite in our household. Not only because they are cute little balls full of flavor but because they are so versatile when it comes to getting a quick dinner on the table.
I first developed this recipe on a weeknight when I had less than 30 minutes to get dinner on the table before heading out for a night of fun with friends. I was stumped on what to make; lucky for me, all the ingredients were in the fridge.
This recipe makes a good bit of meatballs, so I recommend using the amounts as recommended and freezing the rest for later. Then, when you're in need of meatballs, grab a bunch and cook them from frozen right in your Air Fryer.
Try my turkey air fryer meatballs too.
Ingredients for Air Fryer Meatballs
Meat: Ground beef and pork. I use ground beef for flavor, and the pork helps provide flavor and keep the meatballs juicy.
Aromatics: Onion, garlic cloves, parsley – I use these for added flavor and texture. Grate or grind these ingredients, and they will add extra moisture to the meatballs.
Other ingredients: eggs, Italian breadcrumbs, crumbled feta cheese, Worcestershire sauce, salt, and pepper.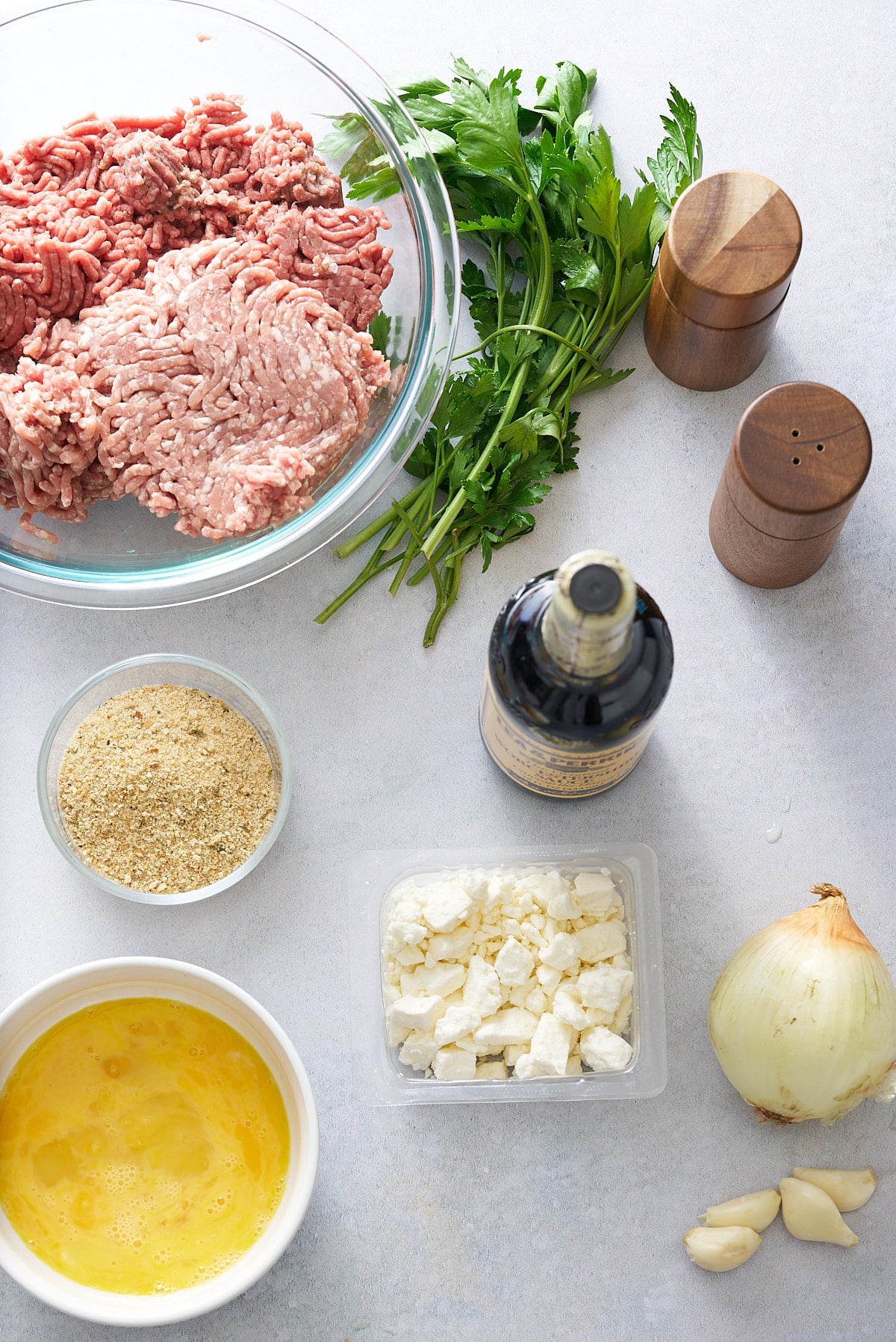 How to Make Air Fryer Meatballs
First, place onion, garlic cloves, and parsley in a mini food processor and process until finely chopped. I highly recommend this step to avoid huge chunks of onion, garlic, or parsley in your meatballs. If you don't have a food processor, feel free to use your knife skills and finely chop these ingredients or grate the onion on a grater.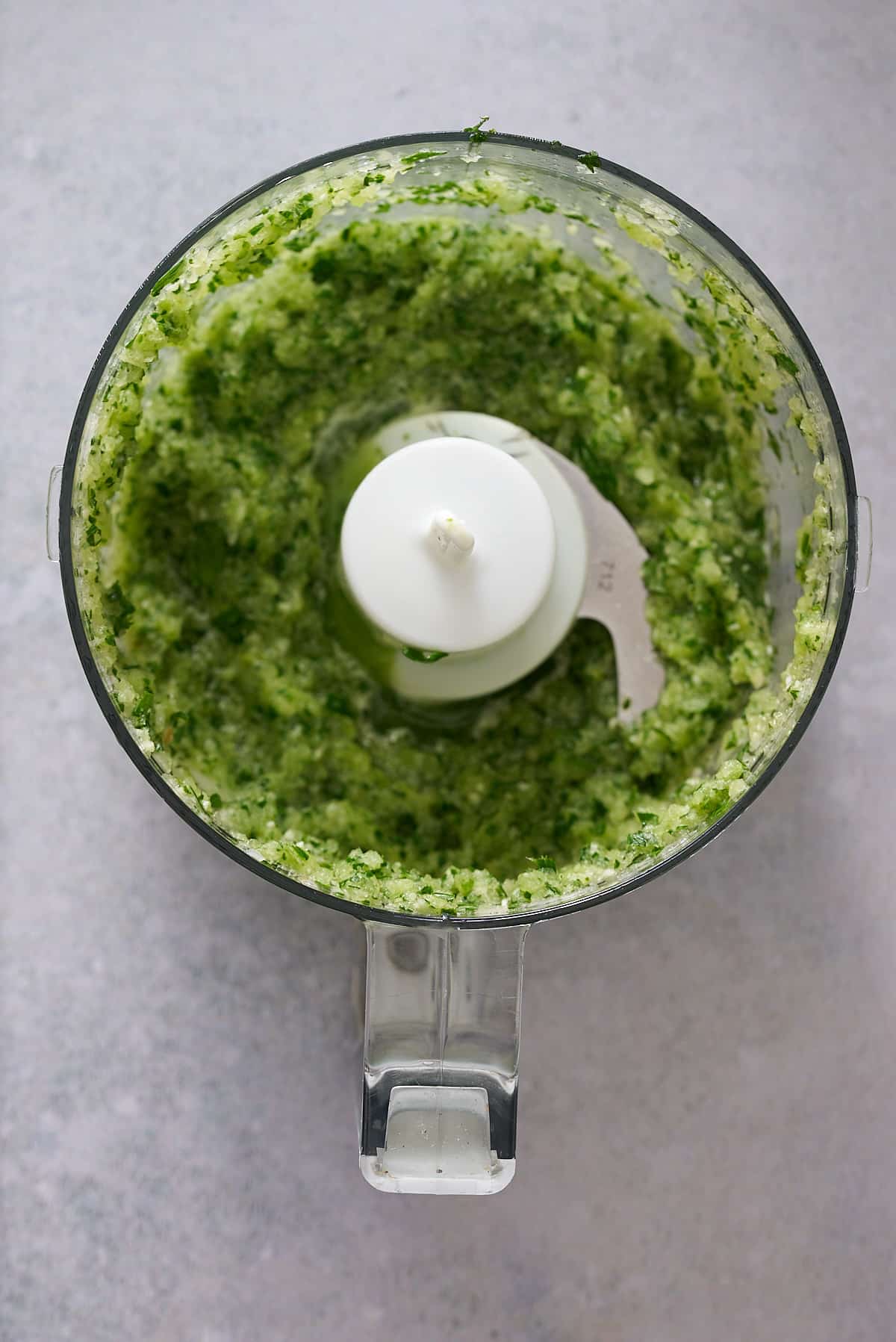 Then grab a big bowl and add your ground beef, ground pork, beaten egg, the chopped onion mixture, breadcrumbs, Worcestershire sauce, and feta cheese. Use your hands and mix the ingredients until combined.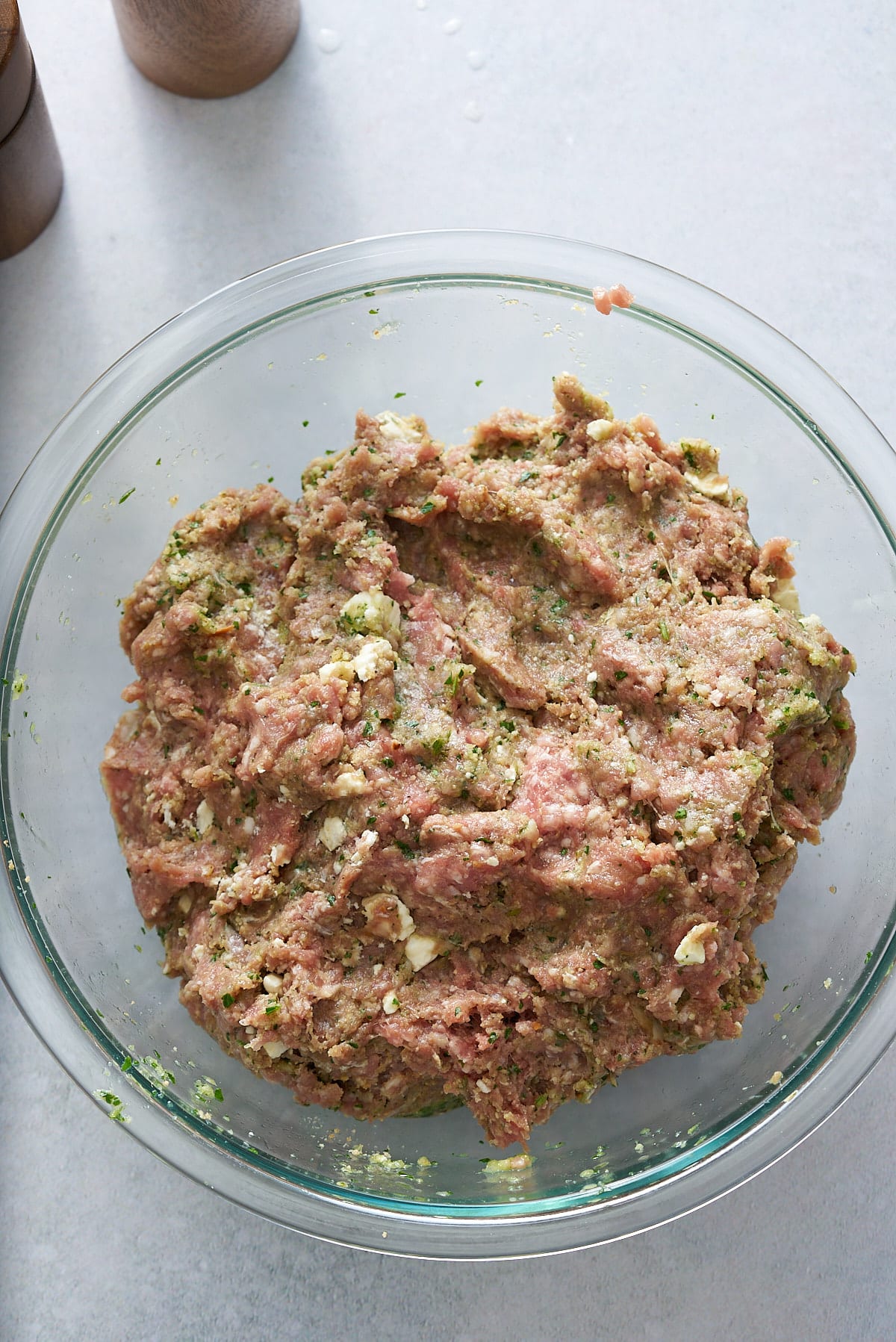 I recommend using your hands to mix the meat. It helps so that you don't overmix the meat. Rumor is that overmixing the meat can lead to tough meatballs.

Once combined, take about 2 Tbsp of meat and roll it into balls. Or, you can use a meatball master for molding the meatballs.
Place meatballs in your Air Fryer basket, making sure there is space in between each meatball.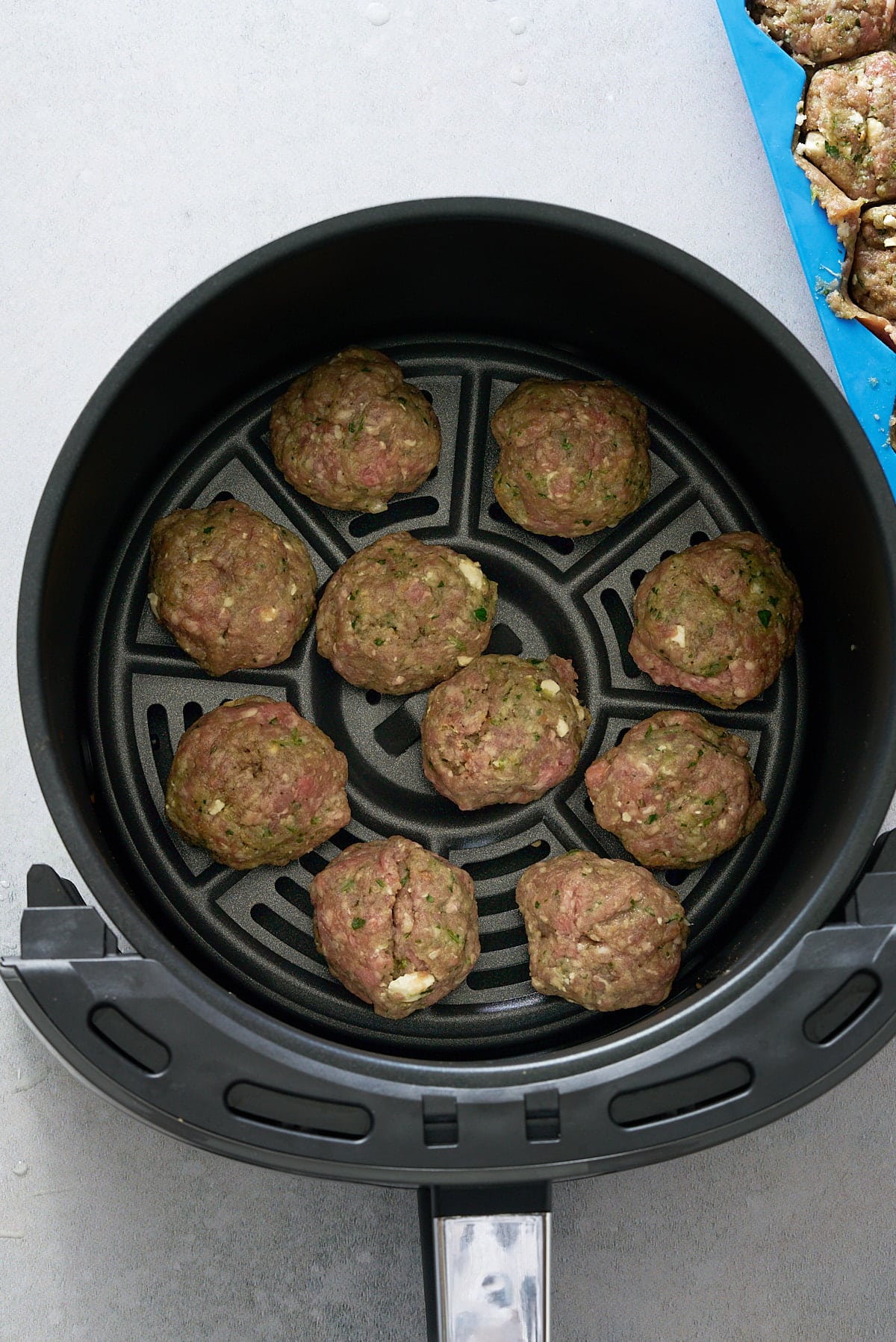 Cook at 400 degrees Fahrenheit for 10-12 minutes or until a meat thermometer registers at 165 degrees Fahrenheit.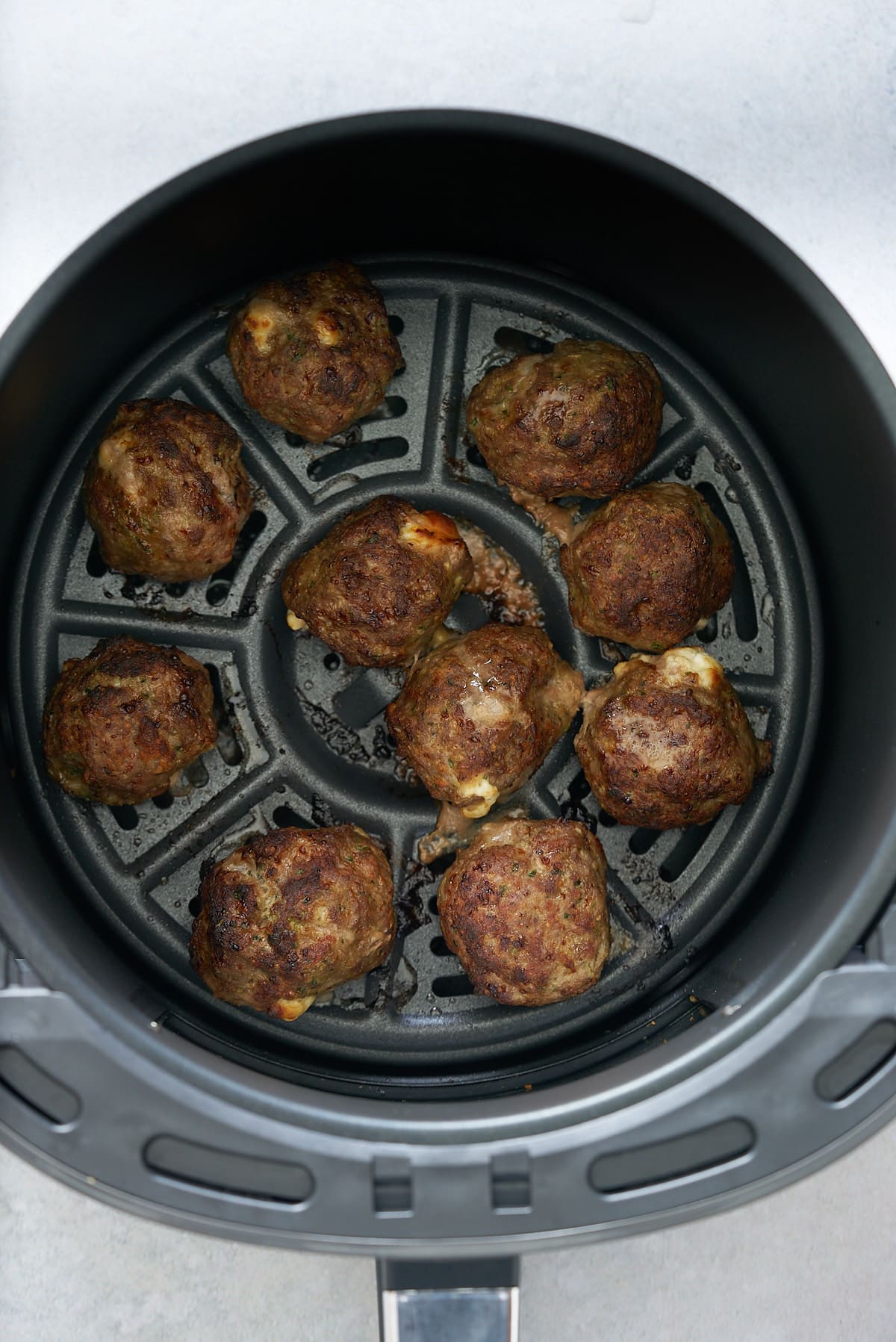 And that's it. Delicious meatballs that are nice and juicy on the inside with the perfect crisp on the outside.

What about frozen meatballs?
This recipe makes a ton of meatballs, which I like so we can freeze the leftovers for another meal.
In order to freeze the extra meatballs, after rolling them, place the raw meatballs on a parchment-lined baking sheet, making sure that they aren't touching. Place in the freezer and allow to freeze until they are frozen for about 1 hour. Then remove and place them in a ziplock bag and place them back in the freezer.

When you're ready to cook the meatballs from frozen, just place them directly in the Air Fryer basket. You'll need to increase the cooking time by a few minutes. I cook frozen meatballs for 14-15 minutes at 400 degrees Fahrenheit.

For this meatball recipe, I like to either eat the meatballs as is for a nice appetizer or try this instant pot spaghetti recipe. You can also add these to your favorite marinara sauce, BBQ sauce, or Jerk BBQ sauce.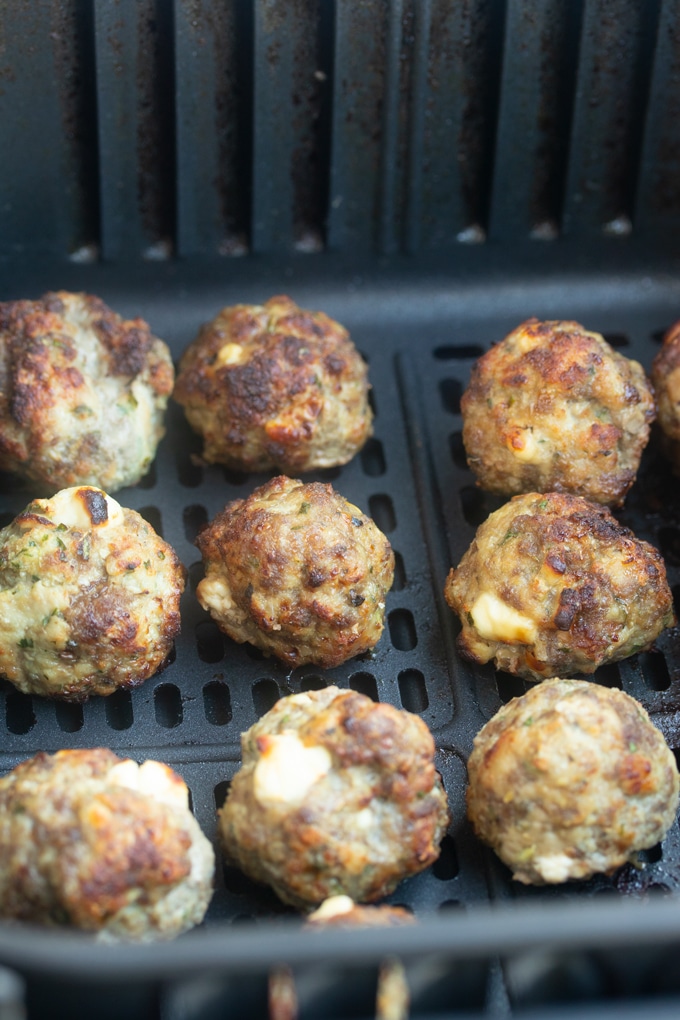 Pro Tips
It's best to separate the meatballs in the Air Fryer for the best results. If they are on top of each other, they won't get that nice crisp on the outside. I suggest making meatballs in batches if you need to make a lot. Alternatively, you can put them in the oven.
Have fun with these meatballs! I welcome and love when my readers adapt my recipes to suit their tastes. Some recommended changes are using turkey rather than beef or pork, Parmesan cheese rather than feta, or adding your favorite seasonings.
Surround the meatball around a small piece of mozzarella cheese to get that oozy cheese once you bite in.
FAQs
Do I need to preheat the air fryer before cooking meatballs?
No, I don't preheat the air fryer when making meatballs.
Can I stack meatballs in an air fryer?
I don't recommend stacking meatballs in the air fryer. The air fryer cooks food by circulating hot air around it. Placing the meatballs in the air fryer in a single layer will allow them to cook evenly.
How do I know when the meatballs are done cooking in the air fryer?
Your meatballs are done when they reach an internal temperature of 165 degrees Fahrenheit. Use a quick-read thermometer to check the temperature.
Looking for more easy meat recipes to try for dinner? Try these out:
Quick and Easy Air Fryer Meatballs
Quick and Easy Air Fried meatballs that are crispy on the outside and juicy on the inside. They're full of amazing flavor and can be made in the Air Fryer in less than 15 minutes.
Ingredients
1

lb

ground beef

1

lb

ground pork

1

medium onion

peeled and roughly chopped

4

garlic cloves

peeled

1/4

cup

parsley

roughly chopped

2

eggs

lightly beaten

1/2

cup

Italian seasoned breadcrumbs

1/2

cup

crumbled feta cheese

1

Tablespoon

Worcestershire sauce

1

teaspoon

salt

1/2

teaspoon

black pepper
Instructions
Combine onion, garlic cloves, and parsley in a mini food processor. Process until finely chopped. Set aside.

In a large bowl, place ground beef, ground pork, onion mixture, eggs, italian seasoned breadcrumbs, feta cheese, Worcestershire sauce, salt and black pepper. Use hands to mix until combined.

Grab 2 Tbsp of meat mixture and roll each into a ball. Repeat with the meat mixture to all meatballs are rolled.

Place meatballs in Air fryer basket in single layer making sure the meatballs don't touch. Place basket in Air Fryer and cook on 400 degrees Fahrenheit for 10-12 minutes or until a internal temperature reaches a temperature of 165 degrees.
Suggested Tools
Notes
Feel free to modify the ingredients to your favorite meatball recipe. The ease and short cook time of the meatballs is most important.
Invest in a quick read meat thermometer to ensure your meatballs are cooked to the right temperature.
Nutrition
Calories:
373
kcal
|
Carbohydrates:
8
g
|
Protein:
23
g
|
Fat:
27
g
|
Saturated Fat:
11
g
|
Cholesterol:
130
mg
|
Sodium:
604
mg
|
Potassium:
408
mg
|
Fiber:
1
g
|
Sugar:
2
g
|
Vitamin A:
270
IU
|
Vitamin C:
4.9
mg
|
Calcium:
95
mg
|
Iron:
2.5
mg
Subscribe to my YouTube
Subscribe to my YouTube Channel for full length recipe videos. Click the bell icon to be notified when I upload a new video.
Although myforkinglife.com attempts to provide accurate nutritional information, these figures should be considered estimates. Varying factors such as product types or brands purchased, natural fluctuations in fresh produce, and the way ingredients are processed change the effective nutritional information in any given recipe. Under no circumstances will myforkinglife.com be responsible for any loss or damage resulting for your reliance on nutritional information.
This post was originally published on June 25, 2019. It has been updated with new photos and helpful information.