Enjoy the flavors of the popular New York street cart chicken (Halal Guys Copycat) right in your pressure cooker with this Instant Pot Chicken and Rice Dish. This quick and easy delicious dinner can be ready in less than 30 minutes.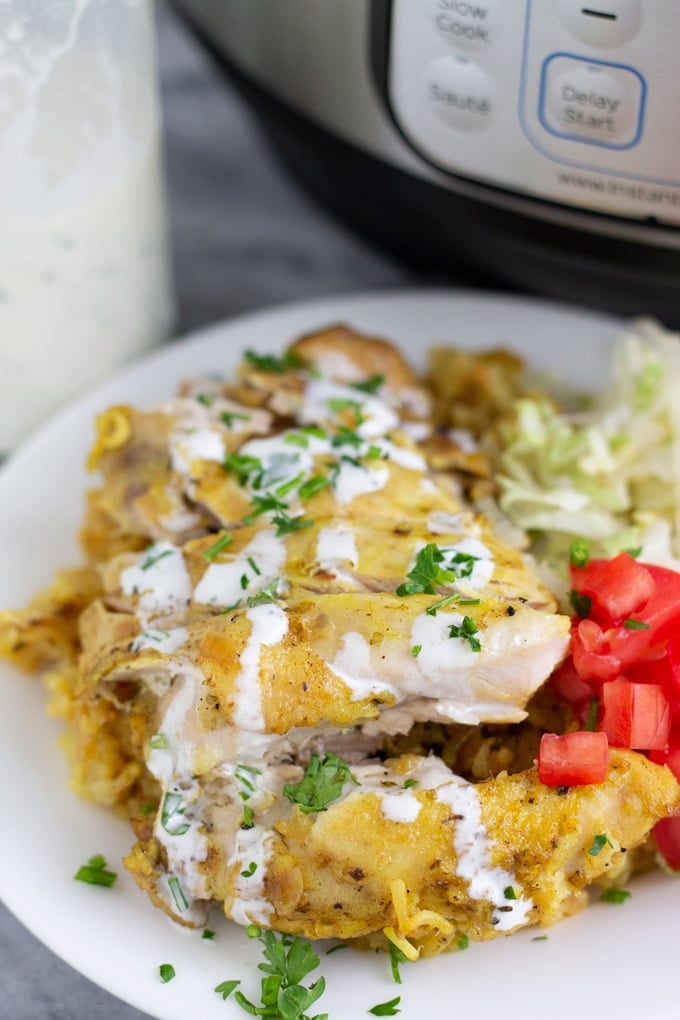 This post contains affiliate links, please read my full disclaimer here.
Full Recipe Ingredients/Instructions are available in the
recipe card at the bottom of the post.
You can find important tips/tricks in the
blog post.


I love New York City, especially the food. In law school, I took a trip to New York for a conference. Ask me if I remember what the actual conference was about…I don't. What I do remember is traveling with some wonderful law school colleagues, seeing Swizz Beatz on the street and asking for a pic (he was so cool about it too), partying at the 40/40 club, and standing in a long line at 3am waiting for some chicken that was sold in a cart. Yes, you read that right, I like to eat chicken at 3am. That literally was the best street food I had in my life and I knew for sure it was something that I had to recreate in my own kitchen.
MAKE NY STREET CHICKEN IN YOUR INSTANT POT
I found that my Instant Pot Pressure Cooker was the perfect vessel to recreate this dish. I'm always making one-pot meals in my Instant Pot, like my ever so popular Pressure Cooker Shrimp Paella. In fact, I use my pressure cooker so often I've made a whole recipe category just for you all in the recipe section of the site.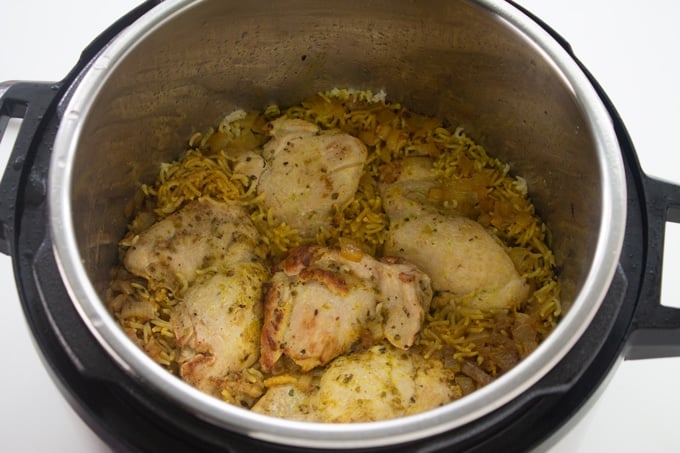 I adapted this street chicken and rice recipe from the Serious Eats website and perfected it for my Instant Pot. The recipe as written on their site is pretty delicious but I truly didn't feel like marinating the meat when it came to this dish. Making this dish in the pressure cooker is perfect for a weeknight meal.
HOW TO MAKE CHICKEN AND RICE IN THE INSTANT POT
First, you'll want to make the famous white sauce for this chicken and rice dish. This sauce has a tangy yet slightly sweet taste that pairs well with the rice and chicken. Prepare this first and set it aside.
Brown your chicken for flavor
Then it's time for the pot. You'll want to brown your chicken in the pot to build flavor, especially since we are skipping the traditional step of marinating the chicken. I like to set my sautè function on high to get a good caramelization. Just make sure you don't overcrowd the pot when browning as you won't get a nice sear. Cook your chicken thighs in batches for the best results.
Next, you will have nice brown bits (they may even look a little burnt). This is fine, don't freak out, it's flavor! Take a bit of chicken broth and deglaze the bottom by pouring the broth into the bottom of the pot. Take a wooden spoon and scrape the bottom bits up. Make sure it's a wooden spoon as you don't want to scrape the bottom of your pot with metal utensils.
Add your onions and garlic
Next, add your onions and garlic and sauté them until the onions have softened. Make sure onions are softened a bit before adding the garlic. You don't want the garlic to burn or it will give your dish a horrid taste.
Add your rice…but rinse it first
Then add your rinsed rice. Rinsing your rice will allow the rice to remain fluffy and not stick to the bottom. Rinsing your rice is key for any rice dish in the Instant Pot Pressure Cooker.
Add the rest of your ingredients
Add your remaining seasonings, broth, and your chicken back to the pot. Push chicken into the broth to ensure it gets fully cooked.
Set the pressure cooker for 10 minutes. Once time is up, allow it to naturally release for 10 minutes, dinner is served.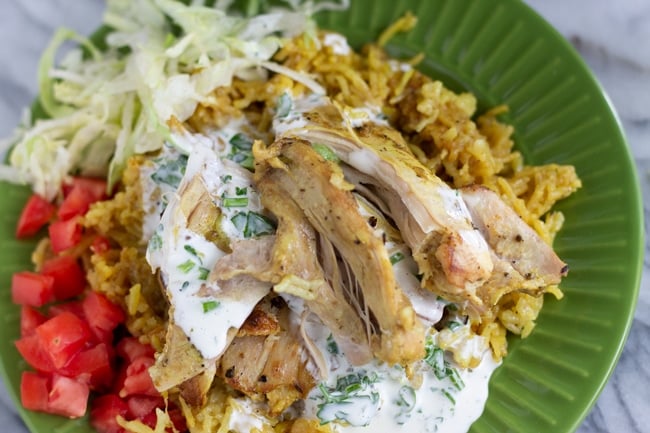 Do you really have to brown the chicken in the Instant Pot first…that is the question?
Yes, yes, and yes. I get it, you may not want to but the purpose is to build flavor since you aren't marinating the meat.
I hope you enjoy this recipe as much as we do…and don't forget the sauce.
I've included step by step photos below for those who prefer those over video. Enjoy 🙂
For more photos of the operation of the Instant Pot, check out my Pressure Cooker Shrimp Paella recipe.
Other Instant Pot Recipes
Instant Pot Chicken and Rice (NY Street Cart Style)
Enjoy the flavors of the popular New York street cart chicken (Halal Guys Copycat) right in your pressure cooker with this Instant Pot Chicken and Rice Dish. This quick and easy delicious dinner can be ready in less than 30 minutes.
Ingredients
White Sauce
½

cup

mayonnaise

½

cup

Greek yogurt

1

Tablespoon

sugar

2

Tablespoon

white vinegar

1

teaspoon

lemon juice

¼

cup

fresh parsley

chopped

Kosher salt and fresh ground pepper
Instructions
Instructions:

Make the white sauce by whisking all white sauce ingredients in a medium-sized bowl. Set aside.

Combine chicken, lemon juice, 2 Tbsp olive oil, oregano, garlic powder, and ground coriander.

Set the Instant Pot to saute function. Once Instant Pot says "Hot," add 2 Tbsp olive oil to the pot. Add 2 or 3 chicken pieces to the pot and allow to cook until browned on each side, about 3-4 minutes each side. Remove and set aside.

Add about ¼ cup chicken broth to the pot and use a wooden spoon to deglaze pot by stirring up brown bits. Then add onions and garlic and cook until onions have softened. Next, add turmeric powder, cumin, and rice and stir to coat rice. Add remaining chicken broth and place chicken thighs on top of rice, ensuring they are covered by the broth.

Turn the Instant Pot off by pressing "Cancel." Press "Pressure cook (make sure it's set to high pressure), set timer to 10 minutes. Place cover on Instant Pot and make sure valve is set to sealing.

Once the timer is up, allow Instant Pot to natural release for 10 minutes, then quick release. Open the cover and add the desired amount of salt and pepper.

Top chicken and rice with white sauce. Serve alongside with shredded lettuce and chopped tomatoes. Enjoy 🙂
Notes
Suggested Tools for Instant Pot Chicken and Rice
Notes on Instant Pot Chicken and Rice
This recipe was prepared in a 6qt Instant Pot. Please adjust accordingly for 3qt and 8qt models.
Nutrition
Calories:
575
kcal
|
Carbohydrates:
42
g
|
Protein:
24
g
|
Fat:
33
g
|
Saturated Fat:
7
g
|
Cholesterol:
119
mg
|
Sodium:
503
mg
|
Potassium:
410
mg
|
Sugar:
3
g
|
Vitamin A:
310
IU
|
Vitamin C:
11.8
mg
|
Calcium:
51
mg
|
Iron:
1.8
mg
Subscribe to my YouTube
Subscribe to my YouTube Channel for full length recipe videos. Click the bell icon to be notified when I upload a new video.
Although myforkinglife.com attempts to provide accurate nutritional information, these figures should be considered estimates. Varying factors such as product types or brands purchased, natural fluctuations in fresh produce, and the way ingredients are processed change the effective nutritional information in any given recipe. Under no circumstances will myforkinglife.com be responsible for any loss or damage resulting for your reliance on nutritional information.
Step by Step Photos of Instant Pot Chicken and Rice NY Street Cart Style
Pin Instant Pot Chicken and Rice for Later