A well stocked pantry is one of those things I used to believe only existed for the super organized people of the world. But with a few basic ingredients and a wee bit of organization, a well stocked pantry can be achieved by anyone. Here are a few essential tips and a list for a well stocked pantry.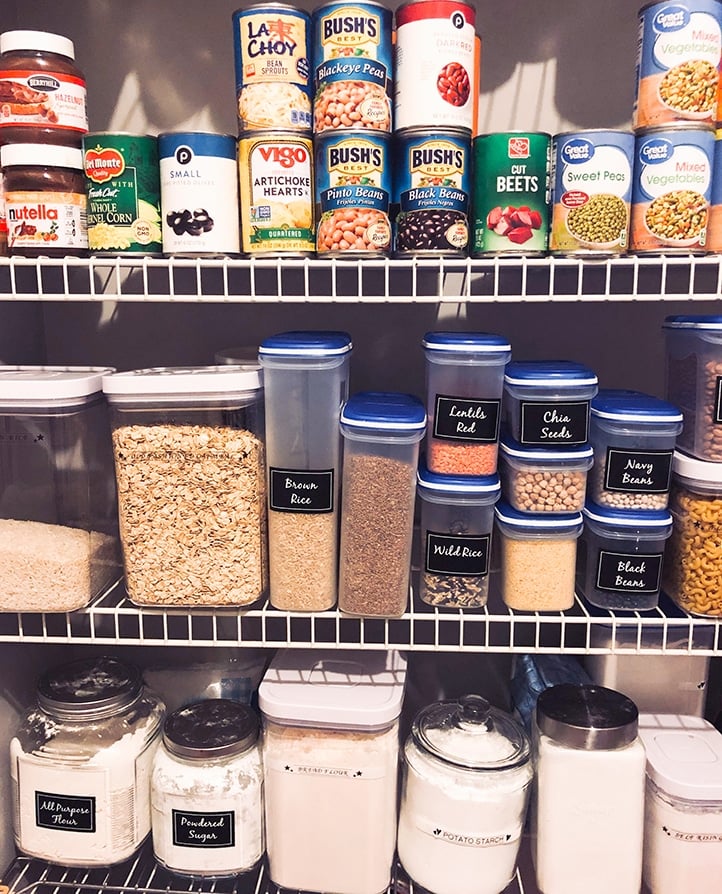 This post contains affiliate links, please read my full disclaimer here.
Turns out having a great pantry is very attainable. You can even have an organized pantry where it is always possible to find what you are looking for. And by that, I mean when you actually need it, and not after you ran to the store to get something you find out later you already had!
Stocking the pantry means:
Getting all your items organized and easy to access
Clearing out all the past date items that have been on the shelf too long unused
Organizing by type and size
Keeping handy inventory of the items you will use on a regular basis
Using tools to make access easier like carousels, roll outs, baskets, and containers
Tips For Stocking With Pantry Essentials
The perfect pantry should be organized by types of ingredients and products and how you most often use them. Rather than running out to the store for every single recipe, your pantry should include some basic ingredients that can be used in everyday recipes. These ingredients would be organized into the following general categories.
Spices and herbs (Most people store these in a spice cabinet)
Baking products available for if you make bread or decide to bake a cake and everything in between
Oils, vinegars, and special wet sauces
Dried goods from pastas to beans and lentils
Canned goods
Cereals, snacks, and other similiar items
Remember, these categories are only a guideline and you should organize your pantry how best it suits you.
Starting With Spices
Collect all the spices and group them according to types. Salts with salts. Savory herbs with savory herbs, blends with blends, pepper and chilis, and so on.
I store my most common used spices in a spice carousel and label all the spices. That way I can easily grab them when cooking and baking. Excess spices that I can't fit into my carousel get stored in my spice cabinet.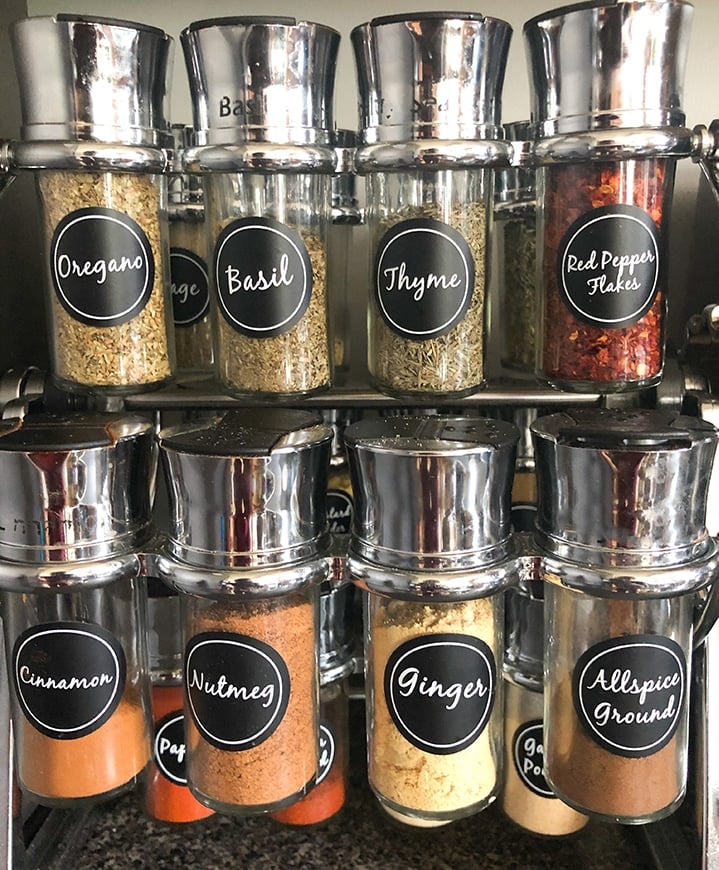 Here are the basic core spices and dried herbs I recommend:
Cinnamon, Nutmeg, Ginger, Allspice (Mostly used in Baking)
Basil, Thyme, Oregano, Dill (Great for sauces, stews, and salad dressings)
Dried Mustard, Onion Powder, Garlic powder (not to be confused with garlic salt!), and Paprika (There are several types and all of them come in handy, smoked paprika, hot paprika, and sweet paprika)
Red chili pepper flakes – for a little spice
Black pepper, both ground black pepper and whole peppercorns
Spice Mixtures: poultry seasoning, taco seasoning, bbq seasoning, jerk seasoning, and curry powder.
Then of course there are a few types of salts I recommend:
Kosher salt – The main salt I use in all my recipes.
Finishing salt that has a wide flat grain like Himalayan salt or various varieties of sea salt
Pickling salt – this is a coarse salt that does not have an anti clumping ingredient added
All The Baking Essentials
I like to keep all baking's regular cast of characters together. Everything that might be typically used in a baking recipe could include a few crossover items, but if I use it mostly for baking then I keep it with the other baking supplies.
For baking supplies to keep on hand, I recommend stocking the pantry with the following essentials:
All-Purpose Flour
Bread Flour
Wheat Flour
Self-rising flour
Cake flour
Baking soda
Baking powder
Dry active yeast (If in the jar, store in the refrigerator after opening)
Corn Starch/Potato Starch
Cornmeal
Cocoa Powder
Shortening
Also, of course you should have some types of sugars and/or sweetners handy along with other baking essentials.
Honey
White Granulated Sugar
Brown Sugar
Powdered/confectioners sugar
Raw sugar like turbinado
Molasses
Chocolate Chips, Chocolate Bars
Vanilla Extract
Oils, Vinegars, Bottles Sauces
Oils, vinegars, and various bottled sauces go together.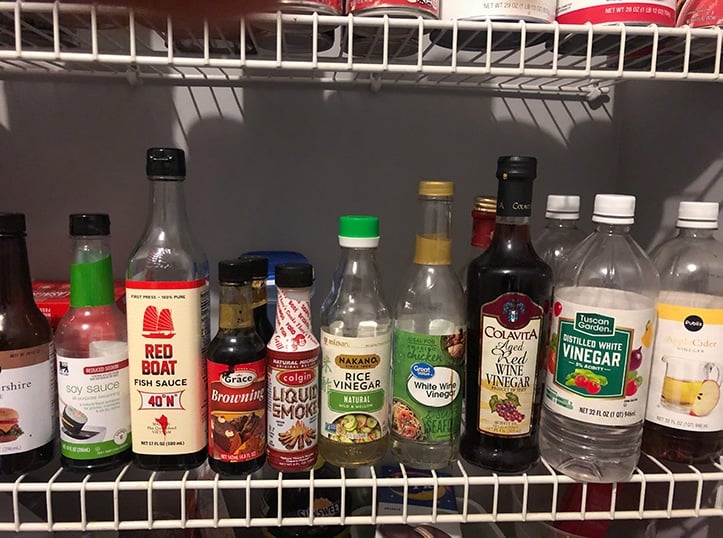 For the list of oils, vinegars and sauces I suggest these:
White vinegar
Red Wine Vinegar and Balsamic vinegar (Great for salad dressings or using in sauces)
Cooking oil for deep frying like peanut oil, vegetable oil, or Canola oil
Olive oil (for roasting vegetables and meats)
Extra virgin olive oil (for salad dressings and as a finishing oil)
Fish sauce (delicious in soups and salad dressing)
Soy sauce
Worcestershire sauce
Ketchup
Tabasco or similar hot sauce
Dried Goods
Dried goods should be stored together according to the kind and what they are typically used for. For example, oatmeal and grits are generally stored together in my pantry as I use them most often for breakfast.
I store the majority of dried goods in large storage containers for easy access.
Old Fashioned Oatmeal or Steel Cut Oats
Stone Grits
Rice (White long grain, Jasmine, Basmati, Brown, or Wild)
Bulgar
Quinoa
Lentils (Green, Brown, or Red)
Dried Beans (If you prefer this over canned)
Dried Fruit and Nuts (Great for snacking, salad toppings, and making granola)
The Canned Goods
Finally, you want to keep a good selection of canned goods on hand. The great thing about canned goods is they keep pretty much as long as you need…or until the expiration date on the can. They are your go to when you want to cut a few corners and save some time, and they stack so conveniently!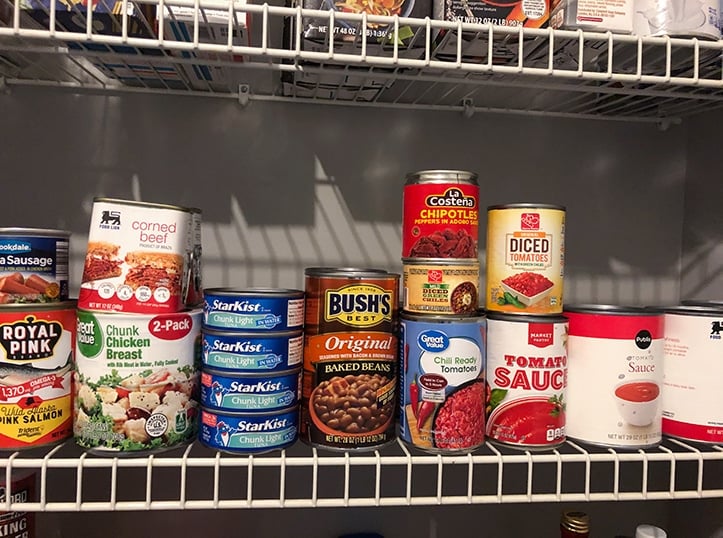 For canned goods, I would recommend the following:
Tomatoes (whole and diced)
Tomato paste
Tomato sauce
Canned Vegetables
Tuna
Canned Chicken (great for adding to pastas and chicken salads, especially if you run our of refrigerated chicken)
Beans (Pinto, Black, Kidney, and Garbanzo are some great ones to have on hand). Rinse them to remove excess salt and sodium before using.
Anchovies – I know you might say "are you kidding?" but anchovies can turn a sauce into something special and you wouldn't even know they were in there! If you ever enjoyed worcestershire sauce then guess what… you were enjoying anchovies!
Corned Beef (Perfect for this corned beef and cababge recipe)
Canned Milks (Evaporated, Condended, and Coconut Milk)
Pastas And Other Miscellaneous Items
You should also keep a few varieties of pastas on hand. These always come in handy when you want a quick and easy no muss no fuss meal that satisfies.
Fettuccine
Spaghetti
Macaroni
Broth in boxes or cans (Chicken, Beef, or Vegetable)
Popcorn Kernels (cheap and easy to make for a snack)
Peanut or other Nut Butters
Crackers (for snacking and tasty with peanut butter or cheese)
Make sure you keep your dried goods together for easy access. You can use mason jars to hold things like dried lentils or garbanzos.
Your Winning Pantry Organization Strategy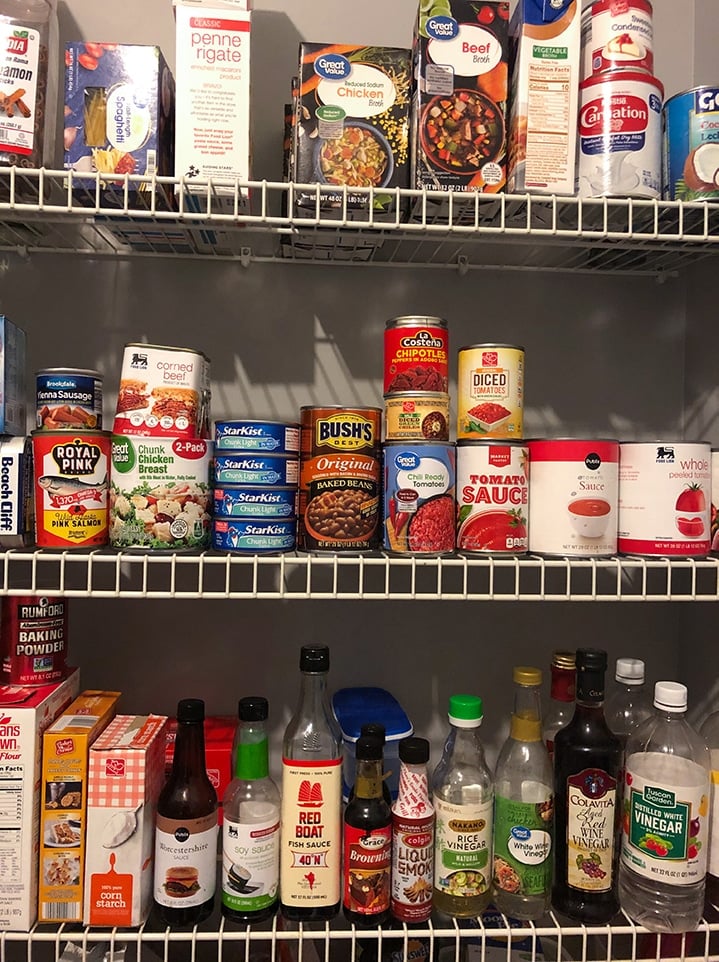 Now it's time to clear everything and start organizing.
Clear and Take Inventory: You have to clear everything out to see what you have and what you don't have. (Like what you need and what you probably should toss because you haven't used it in seven years anyway.)
Buy What You'll Use Often: Make a list of items you would use often or items you need based off your meal plan. Buy only the items you can use in multiple recipes.
Keep Track: Kepping track of items as you use it can help avoid buying duplicate items after you have organized your pantry. The Nowaste App is a great way to keep track of your items and how long they will last before they go bad.
Helpful Items for Organizing your Pantry
There are certain tools you can buy to help keep your pantry nice and organized. I like to use large containers to store my rice, grains, and similiar items. Other tools you can purchase are shelves and carousels.
What an Organized Pantry Gets You in the End
Time and the ability to cook easy pantry recipes. You will literally find yourself saving tons of time just because the pantry is perfectly organized and you have your basic ingredients.

You will suddenly feel a great connection with all the ingredients. Simply put, that is what a well stocked pantry with good organization can do for you!