This Roasted Cauliflower and Sweet Potato Recipe is a perfect easy side dish for any dinner. The added rosemary and garlic give it wonderful flavor.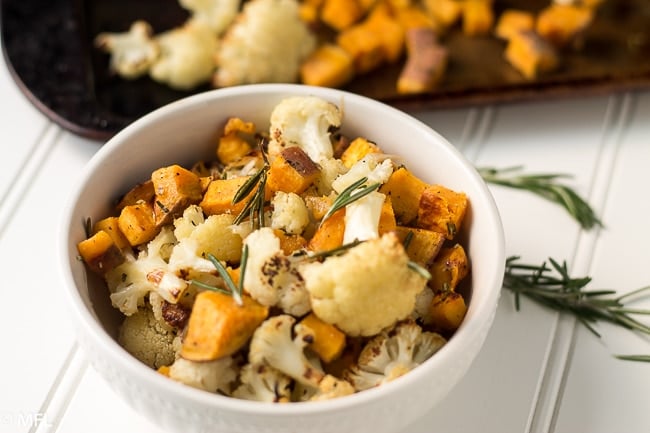 This post contains affiliate links, please read my full disclaimer here.
Full Recipe Ingredients/Instructions are available in the
recipe card at the bottom of the post.
You can find important tips/tricks in the
blog post.
Cauliflower…oh the wonderful neglected vegetable in my kitchen. I loved cauliflower growing up, especially raw dipped in tons of ranch. But for the last few years, cauliflower has been pretty absent from my diet. Such a shame.
Now that I'm a grown up, a wife, and a parent, I think it's time I start incorporating this vegetable (and a host of others I neglected) back into our kitchen and into our diet. First step will be with this easy roasted cauliflower and sweet potato recipe.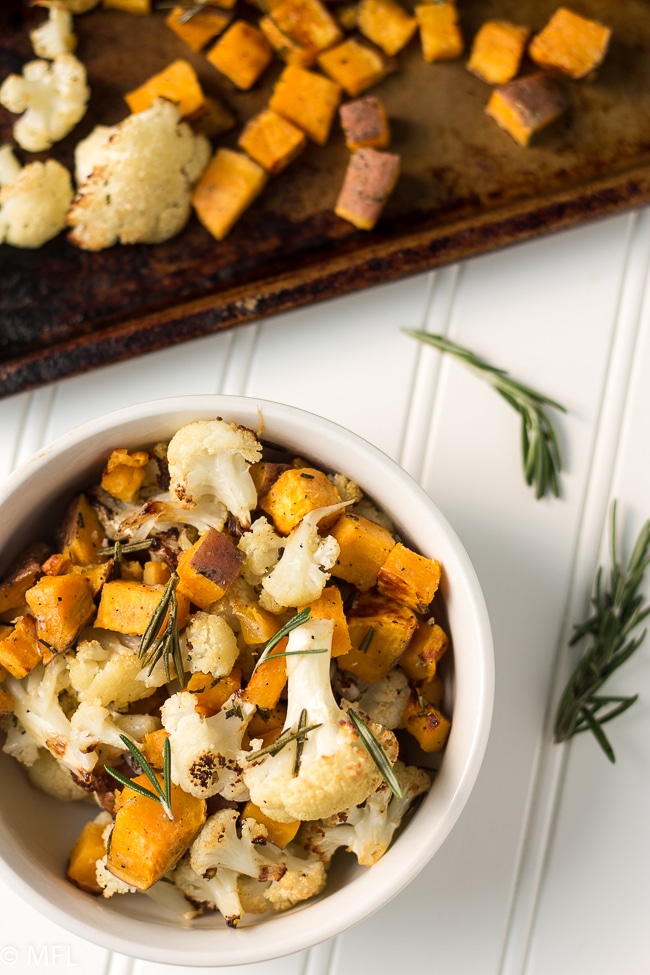 Now when I say easy, I mean easy. I just preheated my oven, chopped these veggies, added some oil and rosemary and garlic, and popped it in the oven.
This was the perfect side dish for my entrees. One night I ate this as the main course without meat. I don't know if that's healthy but I sure got full.
Speaking of full, my time has been feeling quite full lately…watching reruns of Living Single. Remember that show? Best friends in the 90s living as roommates.
It's funny because I was around 10 when that show was on t.v. I never could relate to the characters at that time (I mean, I was 10) but watching it in my 30s (early 30s) I absolutely can relate.
One episode in particular really sparked my interest. Maxine Shaw, an attorney who worked at a law firm, was fired from her job and had took up new employment at a telephone agency. Well…the agency turns out to be shady and all the employees and the owner end up getting arrested and find themselves in court.
Maxine Shaw is appointed a public defender and this guy is terrible. As a matter of fact, he represents the stigma t.v. gives a lot of public defenders, overworked, cases not even looked at before court, and urging clients to plea.
Well no worries…Maxine Shaw fired him, defended herself, and won her case! She also ended up representing all of the other employees of the call agency and got them all off. As a matter of fact, the Judge was so impressed by Maxine's work that she recommended her to the Public Defender's Office and she began to work there.
Ok, so I just recapped an entire episode of Living Single (spoiler alert) but I do so with good reason. I work as a Public Defender and the stigma giving to these lawyers, well it is a tad bit annoying.
I know many Maxine Shaw's who handle heavy case loads like a boss. Researching issues and ensuring that every client's case gets the care and attention it needs.
Either way, I was impressed how although the show initially cast Public Defenders in a bad light, I did like how Maxine Show represented quite the opposite.
A maverick attorney who is sharp, hard working, and aggressive for her clients. Now what does this have to do with this roasted cauliflower and sweet potato recipe? Not a darn thing…I just really like that episode and wanted to shout out my amazing Public Defender friends.
I hope you enjoy this cauliflower and sweet potato recipe as much as we do. Now off to watch more Living Single…
Looking for more cauliflower recipes? Try my roasted cauliflower dip recipe.
Looking for a few recipes to serve this side dish with? Try these out:
Air Fryer Steak with Garlic Herb Butter
Notes on Roasted Cauliflower and Sweet Potato
Make sure Cauliflower and Sweet Potato are completely dry before you oil and garlic and rosemary. It ill give it a nice crisp. If not, you will have mush. No one wants mushy veggies.
Dried Rosemary may be substituted for fresh. I just like fresh rosemary because it's so perty.
Cauliflower is known as a super food, known to aid with the fighting of cancer, good for digestion, and good for the heart.
Roasted Cauliflower and Sweet Potato
Ingredients
1

medium

cauliflower head

broken into small pieces

1

medium

sweet potato

chopped

4

cloves

garlic

minced

2

Tablespoon

fresh rosemary

chopped

1/4

teaspoon

salt

1/8

teaspoon

black pepper

2-3

Tablespoon

olive oil
Instructions
Preheat oven to 425 degrees Fahrenheit. Line a baking sheet with foil and set aside.

Add cauliflower, sweet potato, rosemary, garlic, salt, and black pepper to a large bowl and stir. Add enough oil and stir to make sure all pieces are coated with a little oil.

Place on baking sheet and cook for 25 minutes, or until sweet potato is softened.

Enjoy 🙂
Nutrition
Subscribe to my YouTube
Subscribe to my YouTube Channel for full length recipe videos. Click the bell icon to be notified when I upload a new video.
Although myforkinglife.com attempts to provide accurate nutritional information, these figures should be considered estimates. Varying factors such as product types or brands purchased, natural fluctuations in fresh produce, and the way ingredients are processed change the effective nutritional information in any given recipe. Under no circumstances will myforkinglife.com be responsible for any loss or damage resulting for your reliance on nutritional information.
Step by Step Photos of Roasted Cauliflower and Sweet Potato Recipe
Pin Roasted Cauliflower and Sweet Potato Recipe for Later