Air Fryers are amazing kithcen devices and there is so much you can do with them. I bet you're wondering which accessories for your Air Fryer are worth it and which ones aren't really useful. I've got you covered with this list of Air Fryer Accesories that are worth your money.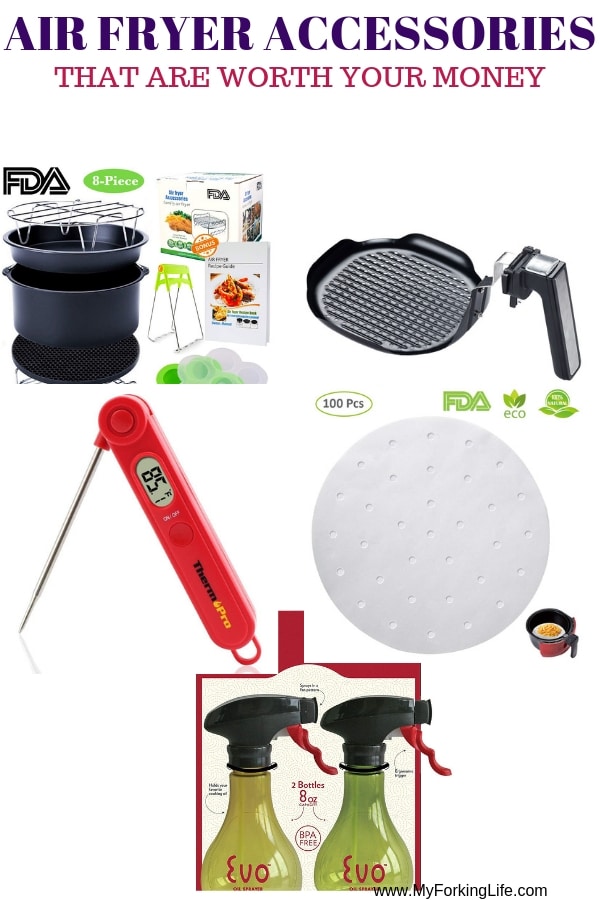 This post contains affiliate links, please read my full disclosure here.
An Air Fryer Accessory Kit – Rather than buying accessories piece by piece, this kit has a ton of pieces in one package to get you started. There are a ton of kits like these on Amazon to choose from. Just make sure you check out the specs to ensure that the pieces will fit the size of your Air Fryer. I also use some of the pieces in my Instant Pot Pressure Cooker and my Ninja Foodi Pressure Cooker with Air Crisp.

Buy this Air Fryer Accessory Kit

2. A Spray Bottle for Oil – I love love love my spray bottle. I bought this bright blue spray bottle a while ago and it works wonders, although it's been hard to find lately. However, the Evo brand spray bottles work just as well. Most commercial sprays aren't good for your Air Fryer. Overtime, these can fade the protective coating on most Air Fryer baskets. I recommend investing in a good quality spray bottle for spritzing your food. Great thing is, you can use the spray bottle for other kitchen cooking. I use it for spritzing my regular pans when I am cooking on the stove.
3. Air Fryer Liners– I love these parchment liners. Some foods, especially those with a flour or breadcrumb coating, are known to stick to the bottom of the Air Fryer. I've never had that problem when using these liners and they make clean up so much easier. The liners are also good for when you are cooking items that could stick or slide through the racks while baking, like cookies. Just remember to put the food on the liners before you turn on the Air Fryer. If not, your liner will fly around and possibly get caught in the heating element and burn.
4.
Instant Read Thermometer – This goes without saying, you'll aways want to cook your foods, especially meats, to the right temperature. Investing in a good quick read thermometer is key to cooking perfect foods in the Air Fryer. For example, I'm able to get my Air Fryer Steaks perfect by checking the temperature with my quick read thermometer.
5. Grill Tray Attachment – Some Air Fryers brands come with a grill tray attachment (Phillips and GoWise have one). Rather than placing the whole basket in the Air Fryer, you can place food on the grill attachment. Ammidtantly, I first thought this was useless…but it's the best thing ever when cooking steaks, burgers, and fish. It's also easier to clean than the basket and makes food flipping easier. Check out my Air Fryer Steak Kebab or Air Fryer Meatloaf recipes to see it in action.
If buying, make sure you are purchasing the right grill tray that matches your Air Fryer brand.

Buy this Air Fryer Grill Attachment for the Phillips or GoWise
6. Heat Resistant Tongs – Most food cooked in the Air Fryer will need to be flipped halfway through. Having a set of quality tongs is helpful. I like to use plastic ones that are heat resistant to avoid scratching the surface of my Air Fryer basket.
Buy these Heat Resistant Tongs
7. Pie Weight Chain – Since the Air Fryer has a strong fan that circulates air within the device, some smaller lightweight items are known to fly around. A great suggestion given to me by one of my readers is to invest in pie chain to hold the smaller items down in the Air Fryer. It's pretty genuis. You can see that tip and other helpful ones on this 10 Air Fryer Tips Post.
9. Platinum 4x More Dawn Dish Soap – If you're like me and cook a lot of meats in your Air Fryer, the grease can be a nightmare to get off. I like to soak mine in this strong Dawn to get the grease to come right off.
10. An Air Fryer Cooking Chart – A handy reference chart is helpful when figuring out cooktimes. This is great for when deciding how long to cook certain meats and vegetables in your Air Fryer. The fact that it's magnetic is another plus.
There you have it, 10 Air Fryer Accessories that are worth your Money. What are some Accessories for your Air Fryer that you love?