If you are wondering how to make the perfect air fryer steak than look no further. This method of cooking steak in the air fryer provides perfect juicy steak each and everytime.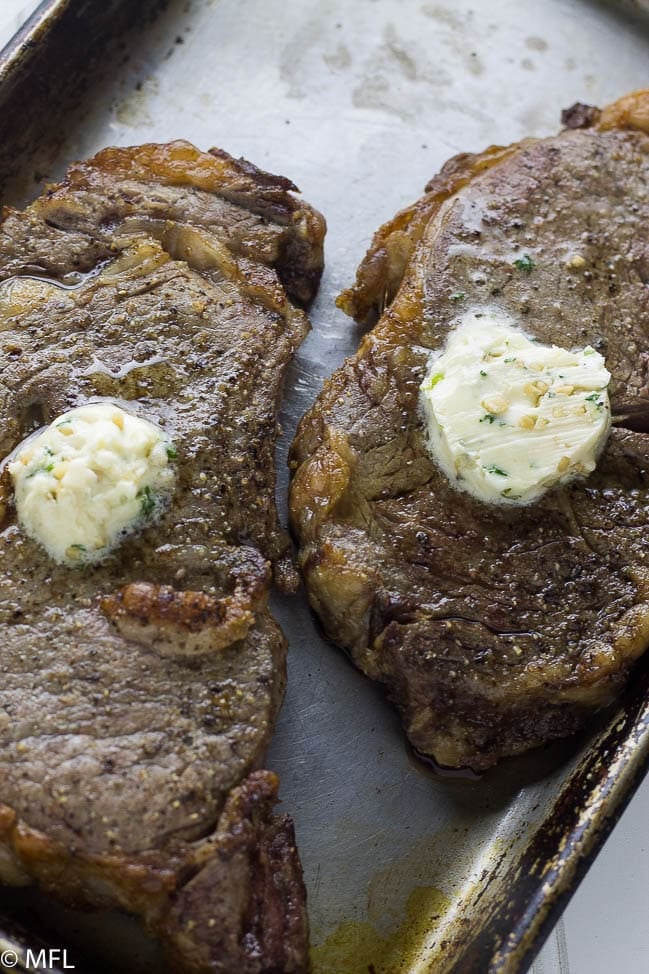 This post contains affiliate links, please read my full disclaimer here.
Full Recipe Ingredients/Instructions are available in the
recipe card at the bottom of the post.
You can find important tips/tricks in the
blog post.
I only had the intention of making fried foods when I purchased my Air Fryer. Little did I know how amazing this appliance was and that it could make much more than fried food.
I already used it to make chicken for my Healthier General Tso's Chicken in the Air Fryer and I used it often for roasting vegetables, but that was it. Then I discovered that my air fryer could make juicy steak.
Well to be fair, it wasn't my discovery…I was scrolling through Facebook and someone posted a picture of a beautiful ribeye they had prepared in their air fryer.
I was so in awe and excited about steak in the air fryer that I couldn't wait to tell my husband. I expected him to be just as shocked and in awe as I was but apparently he already knew that the air fryer could cook steak.
Unbeknownst to me, there is a picture of a steak with cooking times right on the side of my air fryer. I guess I'm not that observant. Either way, I was determined to make steak in my air fryer and I went out and bought a ribeye that very same day.
I followed the directions as indicated on my air fryer and I was amazed at how simple and easy it was to make a beautiful steak in the air fryer. I actually felt kind of bad because it really takes no skill at all to create the perfect steak when it's cooked in the air fryer. It's now my go to way to prepare steak.
Top your steaks with my homemade garlic butter that can be whipped up easily and can go on many dishes including fish, bread, and vegetables. I like to create more than we need for our steaks and save the rest for later in the fridge. I would eat the stuff by the spoonful if I could.
Many people will read this and wonder why even bother making a steak in the air fryer. Yes, steaks on the grill are amazing and a cast iron steak is also a good alternative but there are many reasons why some may choose to cook steak in an air fryer.
Your steak gets cooked perfectly every time. Since the air fryer is operated in a small space with a fan, the heat

temperature

is consistent. This means everytime you decide to make a steak, it will be cooked at the perfect temperature and come out just the way you want it so long as you follow your time settings.
It's a hands off dinner. I literally season my steaks, place them in the air fryer, and flip when my halfway timer goes off. There is no need for me to watch it. This comes in handy when I'm going back and forth between my kitchen and my dining room to help my daughter with her homework.
The stove/grill isn't always available. My husband does all the grilling in our house and his steaks are AMAZING but it's not always grill weather. Also, my stove top steaks always get finished in the oven, which can make the house hot. With the air fryer, everything gets done in the air fryer basket and you don't have to worry about the whole house getting hot.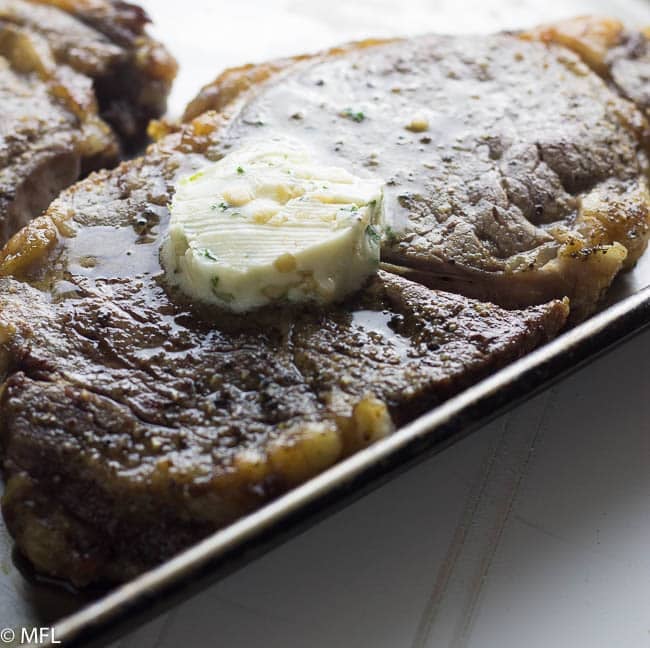 The beauty about air fryer steak is that you can make different cuts in the air fryer. I've made delicious filet mignon, skirt steak, and ribeye. Just remember to adjust cooking times based on thickness of steak and doneness preference.
If you're looking for a place to get awesome steaks and other meats, try Butcher Box. They are a meat delivery service specializing in grass fed and organic meats. You can check out my unboxing of my first meat order on Facebook and my 9 month review of ButcherBox.
Watch this video tutorial and see how I make this steak from start to finish.
Perfect Air Fryer Steak
Perfect juicy air fryer steak.
Ingredients
2

8 oz

Ribeye steak

salt

freshly cracked black pepper

olive oil*
Garlic Butter
1

stick

unsalted butter

softened

2

Tablespoon

fresh parsley

chopped

2

teaspoon

garlic

minced

1

teaspoon

Worcestershire Sauce

1/2

teaspoon

salt
Instructions
Prepare Garlic Butter by mixing butter, parsley garlic, worcestershire sauce, and salt until thoroughly combined.

Place in parchment paper and roll into a log. Refrigerate until ready to use.

Remove steak from fridge and allow to sit at room temperature for 20 minutes. Rub a little bit of olive oil on both side of the steak and season with salt and freshly cracked black pepper.

Grease your Air Fryer basket by rubbing a little bit of oil on the basket. Preheat Air Fryer to 400 degrees Fahrenheit. Once preheated, place steaks in air fryer and cook for 12 minutes, flipping halfway through.*

Remove from air fryer and allow to rest for 5 minutes. Top with garlic butter.
Notes
*Adding olive oil to the steaks is optional. I do it for flavor.
*This recipe creates Medium cooked steak. For medium rare, cook for 10 minutes, flipping halfway through. For medium well, cook for 14 minutes, flipping halfway through. To ensure it is done to your liking, use a quick read thermometer to check the temperature.
The thickness of your steak will determine how long you need to cook your steak. For thin ribeyes, I lower the cooktime to 7-8 minutes for medium steak.
Temperatures for Steak are as follows:
125°F for rare
135°F for medium rare
145°F for medium
150°F for medium well
This Garlic Herb Butter is delicious on it's own. You will not need all of it for this recipe.
Equipment for the Perfect Air Fryer Steak
I personally like Butcher Box ribeyes.
Nutrition
Subscribe to my YouTube
Subscribe to my YouTube Channel for full length recipe videos. Click the bell icon to be notified when I upload a new video.
Although myforkinglife.com attempts to provide accurate nutritional information, these figures should be considered estimates. Varying factors such as product types or brands purchased, natural fluctuations in fresh produce, and the way ingredients are processed change the effective nutritional information in any given recipe. Under no circumstances will myforkinglife.com be responsible for any loss or damage resulting for your reliance on nutritional information.
You may also like…
Step by Step Photos of Air Fryer Steak and Garlic Herb Butter
Pin Perfect Air Fryer Steak with Garlic Herb Butter for Later