Want to start meal planning but not sure where to start? Here's a beginner's guide to starting meal planning!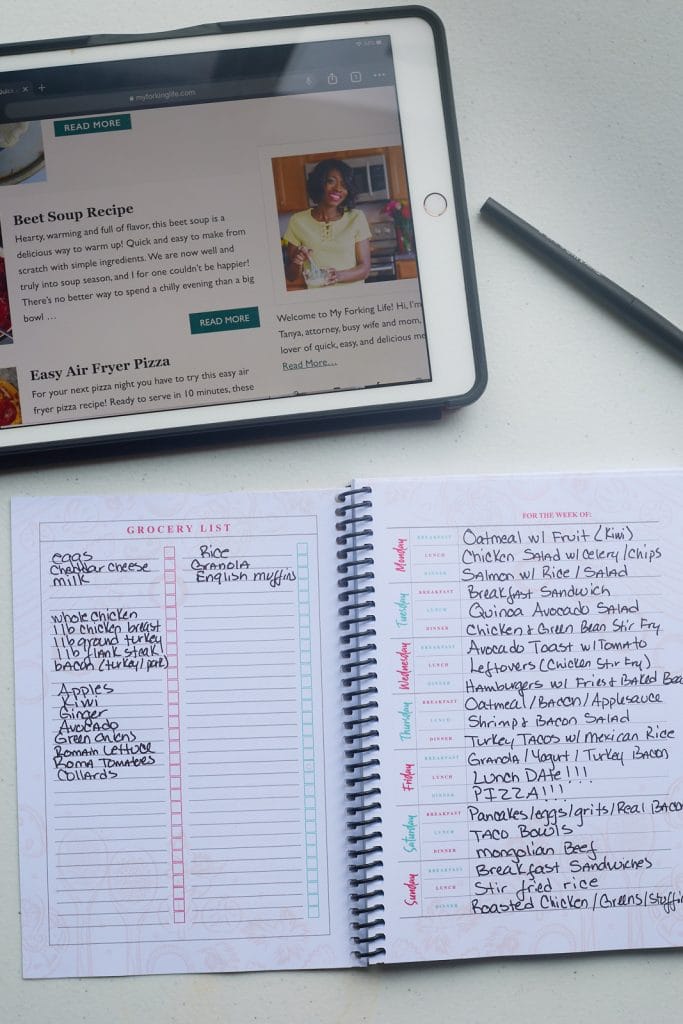 This post contains affiliate links, please read my full disclaimer here.
Eating healthier, saving money, and stressing less sounds amazing right? With meal planning, you can check all those boxes! Meal planning can sound stressful at first as the mental images of calendars and spreadsheets may be overwhelming but I promise you that with this meal planning guide, we'll have you going from "how do I meal plan?" to "I got this!"
You can purchase the My Forking Life is Organized meal planner at the link below.
What is Meal Planning?
Meal planning is eliminating the stressful meal time question of "what's for dinner?" through organization. If you're tired of standing in a grocery store aisle after work wondering what to buy for dinner that night, scrolling through Pinterest in the fresh produce section, accidentally purchasing ingredients you already have at home (or not purchasing something, thinking you had it at home!), then doing it all again the next day, you're not alone!
Meal planning will help you figure out what you will be eating, avoid multiple trips to the store for forgotten items or last minute additions, and even having parts or all of your meals pre-cooked! It only takes a handful of hours once a week (or month!) and is quite easy once you get the hang of it!
Let's go through this step by step to see.
1. What Are Your Goals?
What are your goals with meal planning? This helps determine what your next steps are. Are you to save money? Eat healthier? Get out of a cooking rut? Make enough food for lunch the next day?
If your goal is to save money, you'll want to make sure that on Sunday, you take inventory of your pantry and fridge then your weekly flyers for sales before you pick recipes around what you already own and what's on sale. Pick recipes that have overlapping ingredients that you can buy in bulk.
If your goal is to eat healthier, you'll want to plan your recipes around your diet of choice. Maybe you'll look for recipes with more vegetables, healthier versions of your favorite takeout, recipes with more protein to keep away from fast food snacks.
If your goal is to get out of a cooking rut, you can get adventurous by trying one to two new recipes a week (this keeps you from being overwhelmed!). Pick a cuisine at random then find what new recipe looks appealing to you!
If your goal is to make enough food for later, this means you'll have to plan further ahead. For example, you'll want to pick meals that are freezer or leftover friendly that you'll have at a later date. My favorite thing to do is to cook two batches of one freezer-friendly recipe, freeze it, then slot it into my schedule next month so I can skip a day of cooking!
2. Pick and Plan Your Recipes
After setting your goal for the week, pick your recipes! You can find an assortment of recipes on the blog here! While the idea of picking your recipes may seem simple, this is the bulk of your meal planning stage.
Refer back to your goals to help you pick your recipes.
For example, recipes that use the same ingredient that can be purchased in bulk or recipes that can be frozen for later.
Here are three different recipes that uses spinach that you could make this week if you buy spinach in bulk: Shrimp and Bacon Spinach Salad, Mini Spinach & Mozzarella Stuffed Meatloaf, and Quinoa Avocado Salad
Here are some freezer friendly recipes that you can prep for later: Salmon Wellington, Chicken Patties with Garlic Aioli, and Air Fryer Meatballs.
Consult your calendar.
Are there days where you'll have no time to cook dinner? Have a freezer meal ready for that day. Are there days where you have a later work day? Pick a recipe where you can prep your ingredients ahead of time so you can dump and go in a slow cooker in the morning! What about Friday nights or weekend plans? If you've got date night, there's no point in picking and purchasing ingredients for 7 days when you won't be home to cook!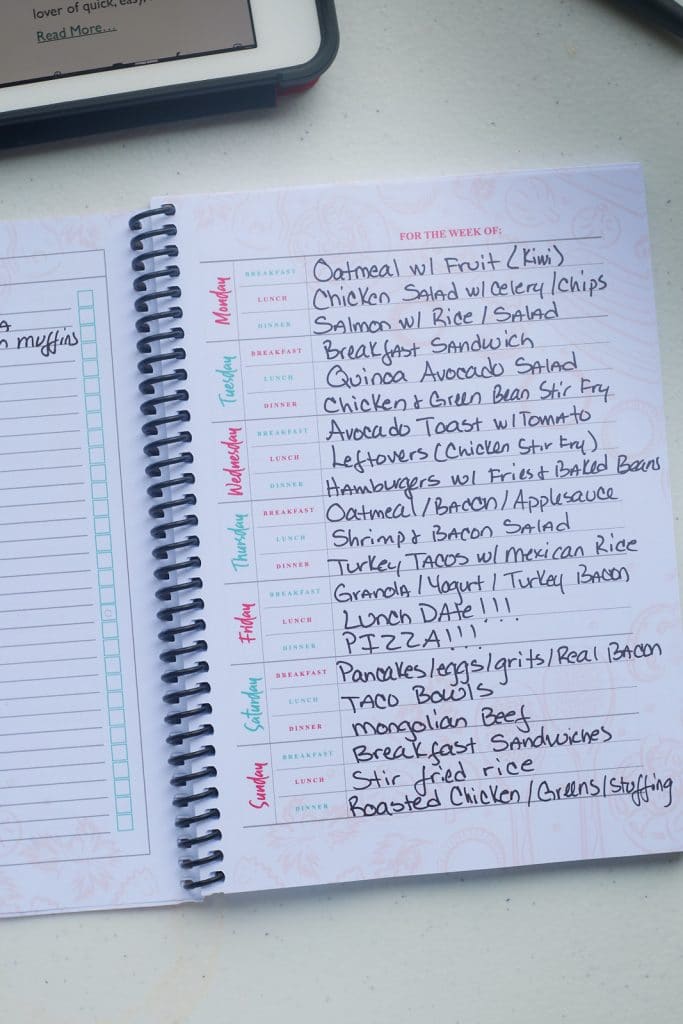 Be realistic.
Pick recipes that you like and you're more than likely to stick to your plan! If you hate asparagus, don't pick a recipe using it. Or if you've never had okra before, now is not the time to buy it in bulk and try to incorporate it into every meal this week! It can be tempting to stray away from your plan if you're not enjoying your meal plan.
Here's a couple of my favorite recipes on my meal planning rotation: Garlic Parmesan Spatchcock Chicken, Mongolian Beef, and Chicken and Green Bean Stir Fry.
3. Make a Grocery List and Stick To It!
If I had a nickel every time I told myself I'll remember something then completely forget! Whether it's an old fashioned pen and paper method or a notepad app on your phone, make a list of all the ingredients you need to purchase (again, making sure to double check your own pantry first!).
This is also a great time for you to cross reference your ingredients with your local flyers. If you're not doing this alone, making a list is a great time saver as well as you can split your list up and have each person shop a section of the store or different stores!
I use my "My Forking Life is Organized" notebook to keep my list and grocery list organized. Any calendar will do, but I love that this one is spiral bound, so I can tear my grocery list out when I go shopping. It's the best way I've found to stay organized with meal planning.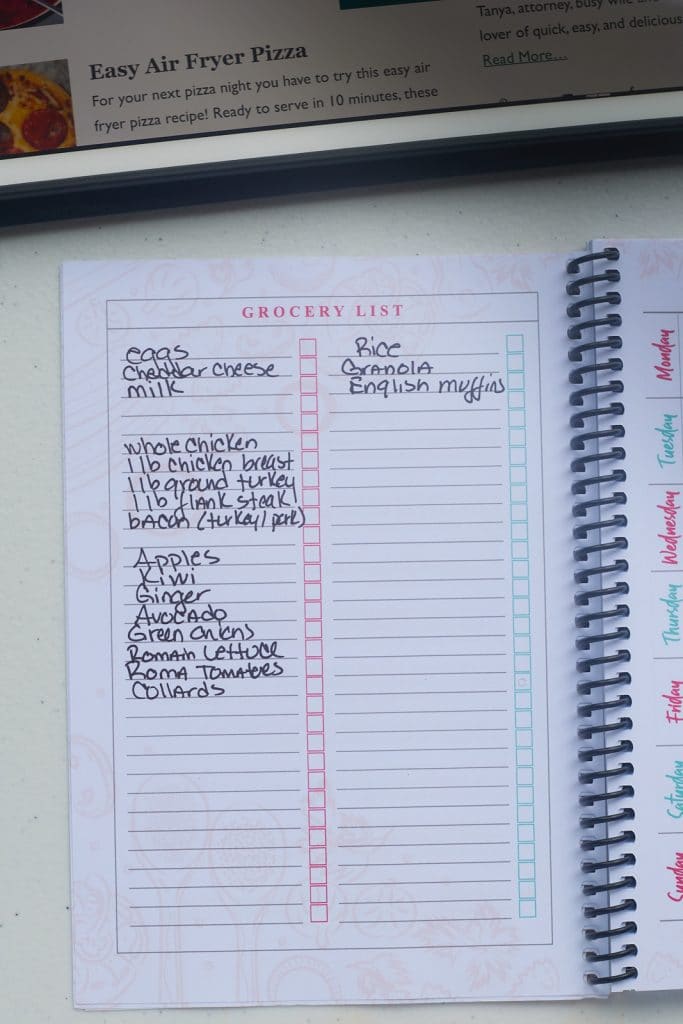 4. See What You Can Prep Ahead of Time
Ok, so you've made your list and you've brought everything home. Now is the time for you to figure out what you can do to save yourself more time throughout the week.
For example, you can have breakfast ready for the week by prepping breakfast sandwiches.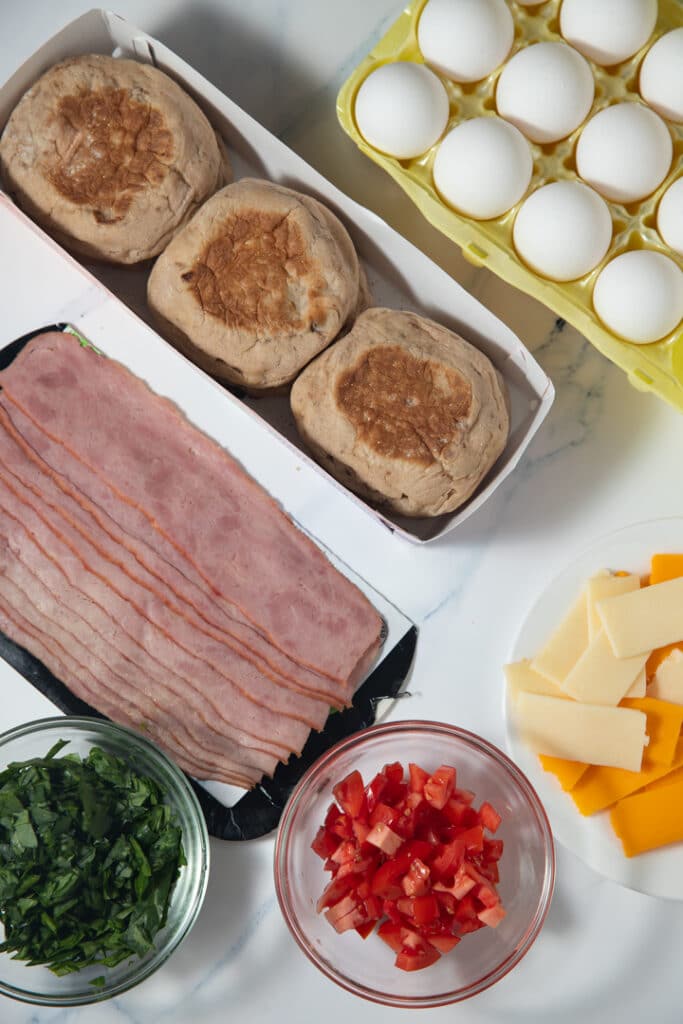 And for lunch, if you've got a salad planned, check if any of the ingredients can be cut ahead of time so all you have to do is add it in? Do you have beans or chickpeas in any of the recipes? Can you cook them up ahead of time? Is there any meat that needs to be marinated? Now is the time to find small things that you can do to make your week go smoothly.
Be sure to check out these tools to help with meal planning and prepping.
5. Follow Your Meal Plan, then Repeat It!
You've done all of the hard part so now all you've got to do is follow your plan and then next Sunday, repeat the process all over again. No more stressing about what tonight's dinner is, no more wasting money on takeout every night, and no more wasting food!
That pretty much sums it up! If you're looking for an awesome little notebook to meal plan, check out the "My Forking Life is Organized Weekly Meal Planner.: