These homemade seasonings are so easy to whip up and are delicious in your favorite recipes. From chicken seasoning, fish seasoning, ranch seasoning, and so much more, these seasonings are perfect sprinkled over your favorite foods.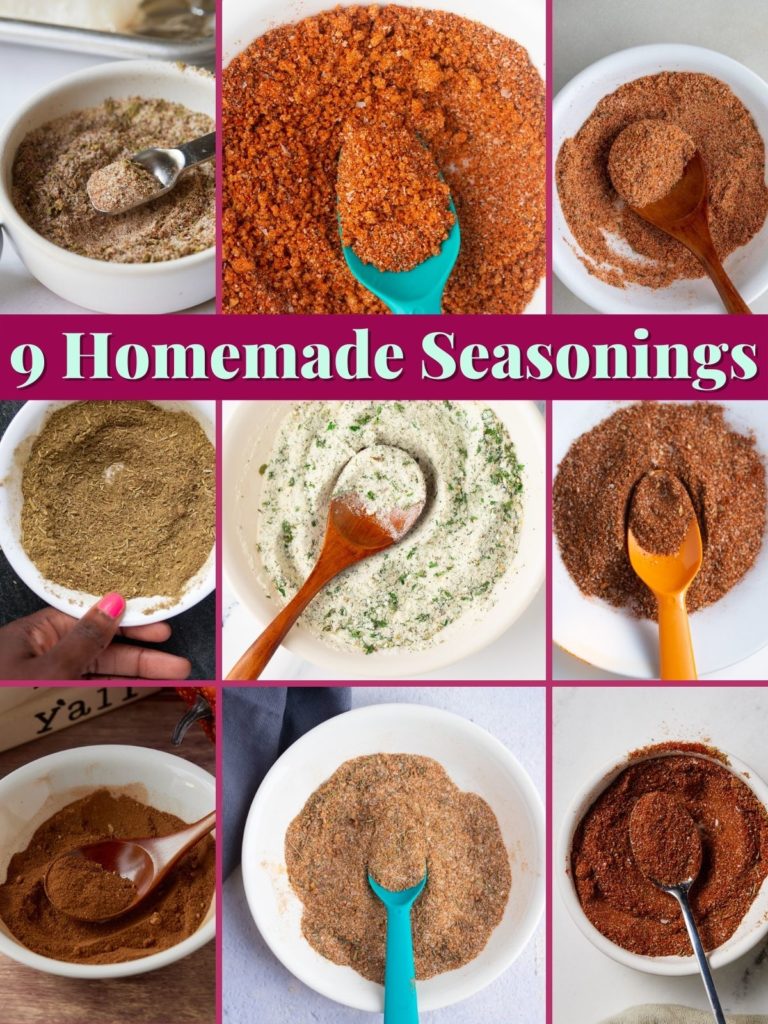 This post contains affiliate links, please read my full disclaimer here.
Full Recipe Ingredients/Instructions are available in the
recipe card at the bottom of the post.
You can find important tips/tricks in the
blog post.
Having seasonings blends at your fingertips is a game-changer in the kitchen. Fact is, many recipes call for multiple seasonings and looking through a spice cabinet to pull 4-6 seasonings out at a time can be a lot.
That's why it's best to have a few go-to seasoning blends as a part of your pantry. These homemade blends contain common spices that you likely already have in your pantry. They also don't contain any additional additives. Just ground spices in the exact amount you need.
Why make your own homemade spices?
There are plenty of reasons why you may want to make your own homemade spice blends, but here are a few:
It can be cheaper – You likely have all of the spices needed for these seasoning blends in your pantry already. Why run out and spend extra money buying new spice combos when you've got the ingredients at home. Also, buying spices in bulk or when they're on sale will help keep the cost down.
You control the ingredients – I like to read labels and some spice mixtures have additional ingredients that just aren't needed. Making your own homemade blend ensures you know every ingredient going into your spices. You can also control the sodium content in these. Reduce the salt or leave it out.
You can give them away as gifts! – Make these spice blends and give them away as gifts! Some of my favorite blends to gift are my homemade BBQ seasoning and my pumpkin spice blends.
How to make Your own Homemade Spices?
The process is simple. Add ingredients to a jar or bowl, combine, and store in an air-tight container and use when ready. Homemade spices can last up to 3 years.
Homemade Spice Blends